It's hard not to fall in love with San Francisco with all the beautiful views and world-famous sites. My name is Andrew Eggers and I'm fortunate enough to explore the city somewhat regularly with my Sony α7 II and 28-70mm f/3.5-5.6 lens. My friends and I scour the city, mostly at night, to shoot anything from the popular spots to the unique locations we stumble on. Night photography and long exposure fascinates me most!
Sony α7 II, Sony 28-70mm f/3.5-5.6 OSS lens at 37mm. 30-sec., f/9, ISO 50.
This was shot in the famous Twin Peaks area, but not all the way at the top where most photos seem to be taken. This unique vantage point made it possible to get light trails with the skyline in the background. It was a pretty hazy night and there was a blue glow from the city lights including the beacon on top of the Transamerica building. They only turn it on during special occasions and during the holidays when this was taken last month.
To get both the white and red car trails, I shot this at 30 seconds because there wasn't much traffic on the road below and was lucky to get a car going each way. The aperture was set to f/9 and ISO was 50 in a hope to catch a sharp image that was a bit underexposed. The shadows were brought out in post-processing like almost all of my long exposure photos. Also, I had to turn down the saturation of the orange because it can be a little overpowering in San Francisco.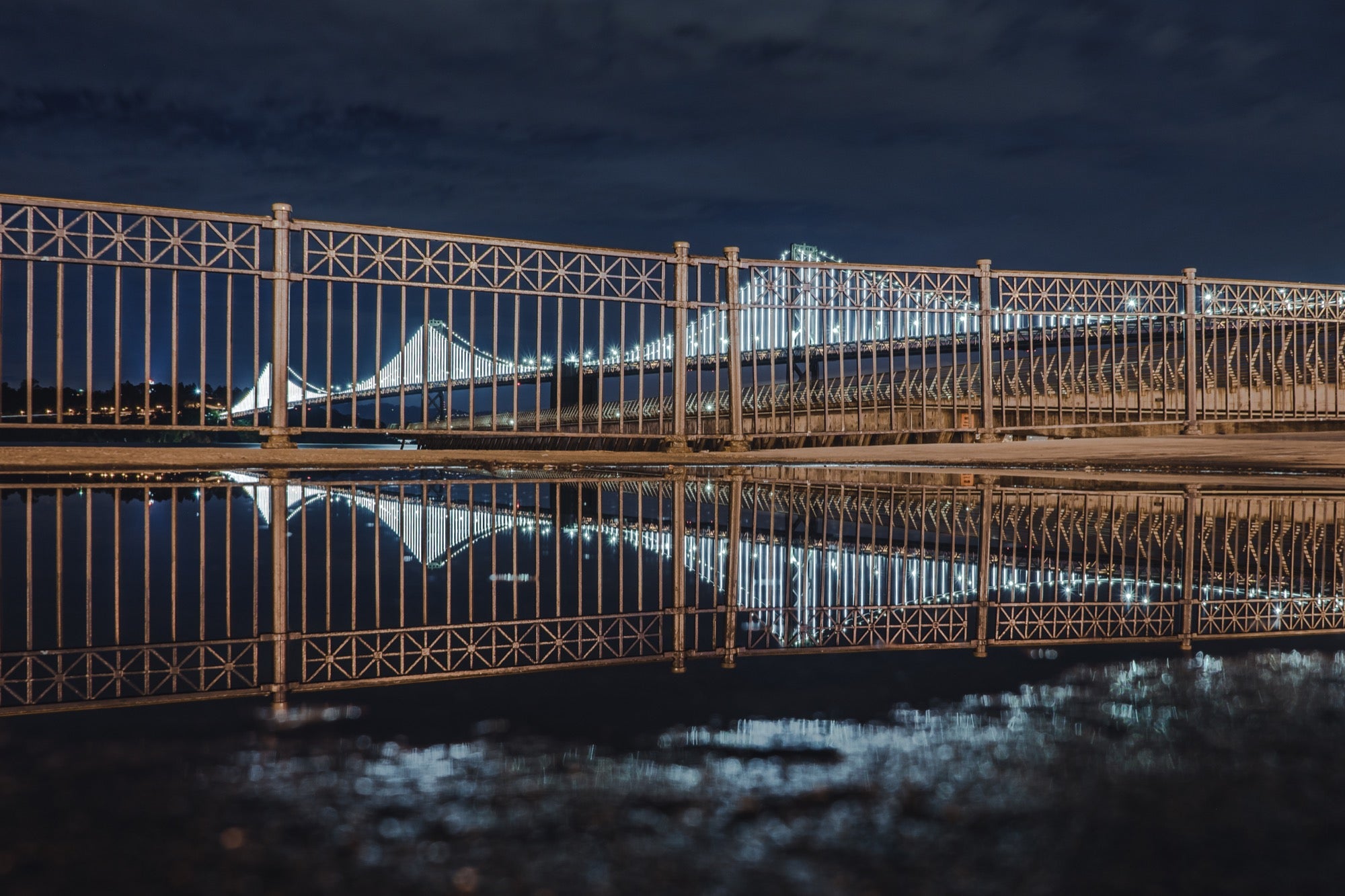 Sony α7 II, Sony 28-70mm f/3.5-5.6 OSS lens at 28mm. 30-sec., f/9, ISO 50.
There has been plenty of rain in the Bay Area and this one at Pier 7 usually stays around awhile even when the others dry up as San Francisco drains pretty well. I gently propped the camera on the ground for 30 seconds at f/9 and ISO 50 to get the glowing bokeh in the foreground with reflection from the puddle. It is just another example of how awesome the dynamic range is with the Sony Alpha line of cameras.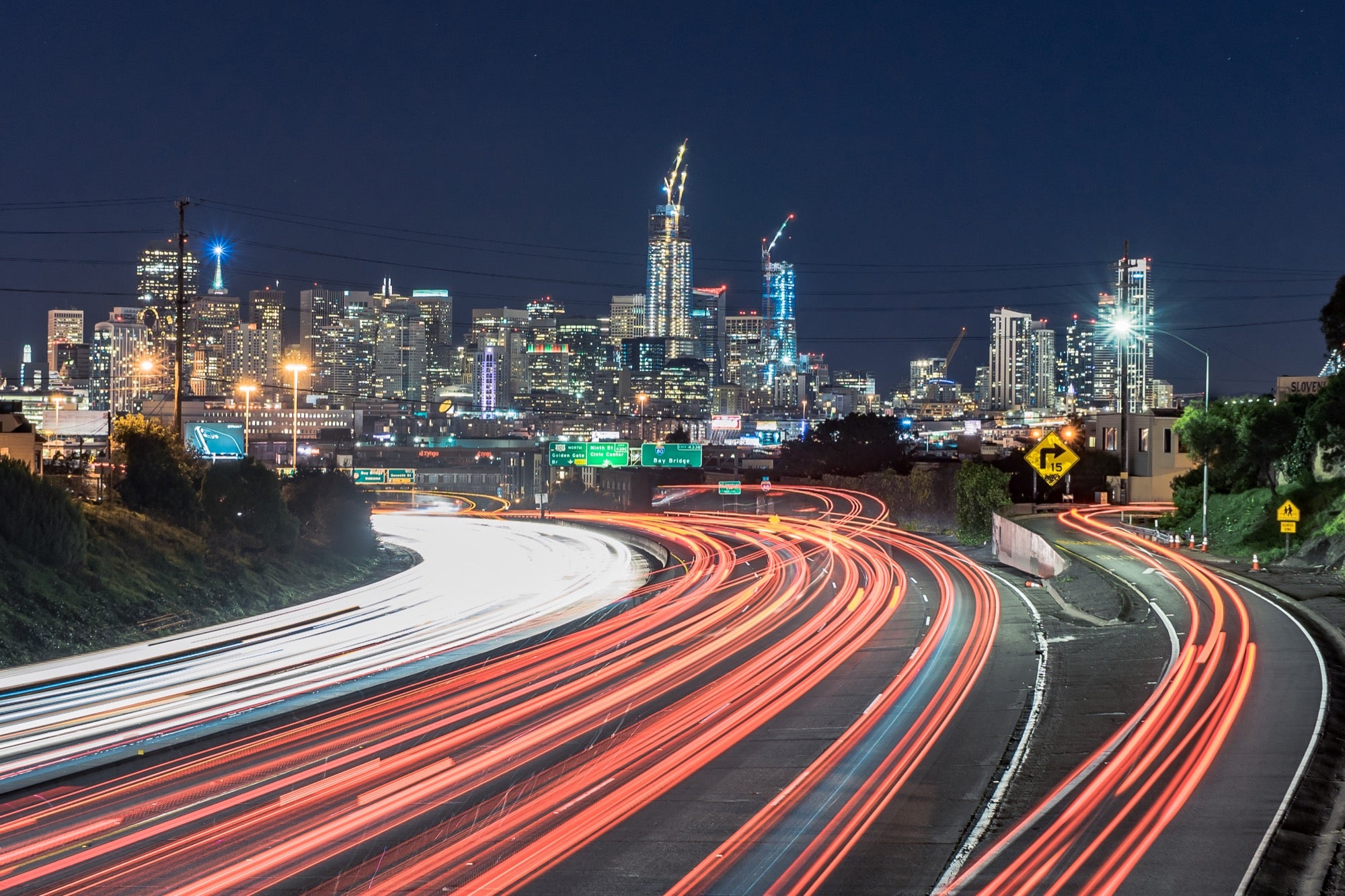 Sony α7 II, Sony 28-70mm f/3.5-5.6 OSS lens at 35mm. 15-sec., f/8, ISO 100.
Here is another light trail spot and shooting from a pedestrian walking bridge looking back at the City. This 15-second shot may have been a few seconds too much in hindsight, but you can't go wrong with pairing f/8 and ISO 100. The white trails are pretty intense without much definition and a shorter exposure would likely reduce that.
I purposely set up on the pedestrian bridge to be standing over the cars going away, making the 'red' trails, because it was a better look at the skyline and you could catch the trails from cars going on the off ramp. The focus peaking feature really makes life easier when manually focusing your long exposure shots.
Sony α7 II, Sony 28-70mm f/3.5-5.6 OSS lens at 28mm. 30-sec., f/22, ISO 50.
Photographing the moving trolleys can be a hobby in itself for some of us night shooters. A good friend and I camped at the Powell Street trolley turnaround to get this 30 second exposure. Being fully wide at 28 mm isn't really enough to capture the entire scene, but you have to work with what you got.
My goal with this shot was to open the shutter while the trolley was still stationary for a few moments to let it burn into the image before it started spinning. It usually takes a few 'test' shots to execute properly, but one of my favorite things to do is burn a moving object into an image before and/or after it moves. It was also taken at f/22 and ISO 50 because it was a very well lit area with a lot of foot traffic.
Hopefully you enjoyed the photos and the commentary proves helpful in your adventures. I am certainly no professional, but learned from others and trial and error. As far as San Francisco, it is truly an amazing place that everyone should have the chance to visit someday.