Tracking Eye AF is proving to be one of the few true game changing advancements in camera technology over the past 50 years. We're talking about times when technology breaks out of its steady evolutionary progression and leaps forward with a revolutionary change that redefines how photographers can make pictures. For photographers who earn their living from their pictures, Sony's tracking Eye AF in the Alpha camera line—which acquires focus on the eye and holds it as the subject moves within the frame and as you shoot at full continuous speed—is that kind of game changer.
Eye AF that catches the eyes and holds it as you shoot, changes the finger-tip hustle to a simple two-step.
Veteran National Geographic photojournalist Ira Block switched to Sony a few years ago. Block is known for his ability to create intimate portraits that captivate the viewer. He often works in dimly-lit rooms where camera technology is pushed to the limit. "Eye autofocus has become a really important tool to me," Block explains. "It makes it possible to compose a picture with a person in it the way that I want to and still get the right points of focus on the eye. Not to mention it's accurate – amazingly accurate."
"Back in February 2018, I was working on a story about how this monastery was helping to educate and house a lot of the orphans in Myanmar," Block says. "I had my α7R III with the 85mm f/1.8 lens and I wanted to capture these two young monks. They were lit by a fire they had going early one morning and the light was pretty low. I pressed the Eye AF button and it popped right at the eyes – even in such low light. I was able to move around a little bit as I worked the composition and still keep that focus point on the eye. Then right at that perfect moment when one of the monks looked at the other in a certain way, I was able to snap and get the image."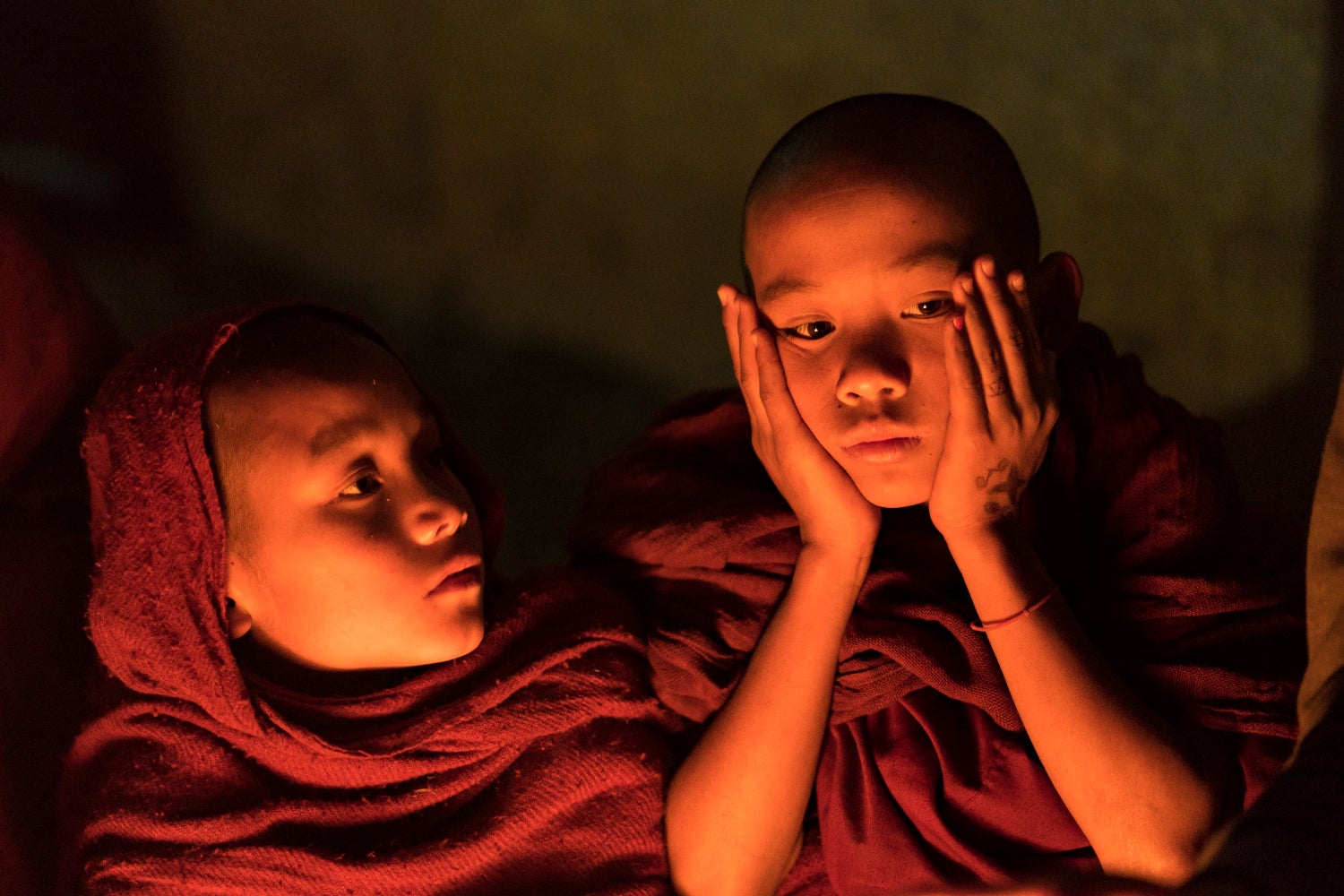 Photo by Ira Block (@irablockphoto). Sony α7R III. Sony FE 85mm 1.8 lens. 1/30-sec, f/2, ISO 5000. "I come from an old film background and I'm not into as much automation as maybe I should be, but somebody showed me Eye Autofocus and I thought, 'This is pretty cool and it works.' I've been using it since and I think this photo really captures why. I compose the frame the way I want, and the camera focuses on the eye as opposed to having to focus on the eye, locking focus and then recomposing the frame."
A lot of pros used to do a little finger dance on the camera while working in challenging lighting situations. First, press a button to acquire focus on the subject, press a different button to lock focus and exposure, recompose, hope that nothing shifted out of focus, shoot, repeat. Eye AF that catches the eyes and holds it as you shoot changes that finger-tip hustle to a simple two-step: 1, press Eye AF button. 2, shoot as much as you want.