Regardless of where I'm going, if it's for landscape photography, my travel bag stays pretty much the same. The 2018 Winter Workshop season is about to begin for me. That means packing for Landscape Workshops both domestically and internationally. I'll be departing for Moab, Utah at the end of the month, then it will be on to Yosemite and after that, Patagonia. This will be just the start of over 10 trips this year including Iceland, New Zealand and Namibia. For all of those trips, the gear shown here is what will be in my bag. With this collection of cameras, lenses and accessories, I can fly anywhere around the world with just two carry-ons. I have every camera for every need and lenses that range from 12mm - 560mm.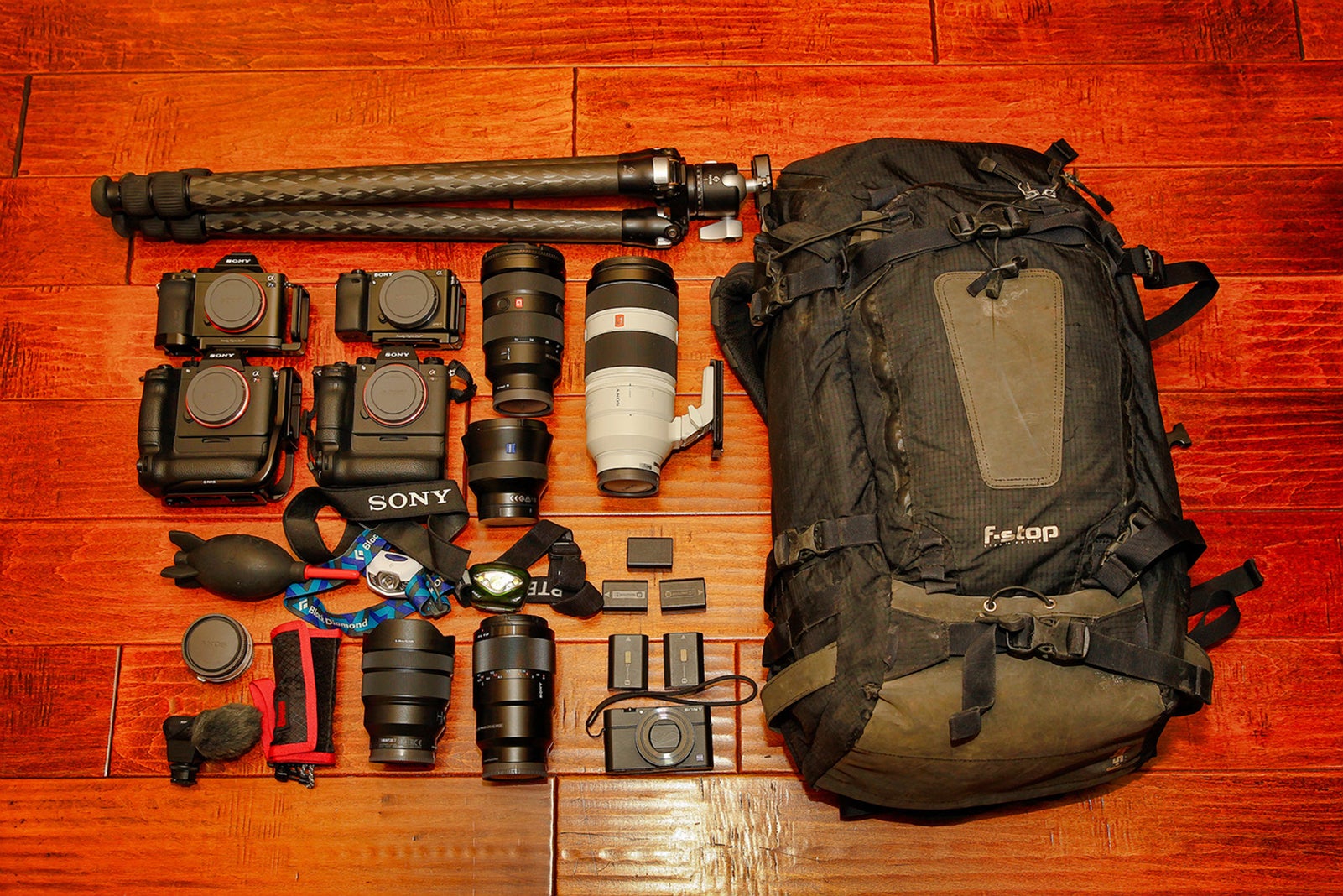 Cameras
Sony α7R III: I'm always packing the new Sony α7R III as my primary landscape camera. Without a doubt, this is the best landscape camera I've ever used. The sensor is a beefy 42MP and I take advantage of that by shooting RAW Uncompressed. It also captures a 16-bit file that reveals a tonal and color range unlike any camera I've ever used.
Sony α9: My second camera is always the Sony α9. This is my go-to body for action-stopping ability if I'm photographing especially dynamic scenes such as large waves on the coast and wildlife. The autofocus system is amazingly fast and accurate and, in my opinion, outperforms the competition's comparable pro sports cameras.
Sony α7S: The Sony α7S is my see-in-the-dark camera. It's in my bag mainly for night photography.
Sony α6000: About a year ago, I had my Sony α6000 converted to infrared by a company called LifePixel. This is a specialty camera that I find myself using more during the middle of the day for fun IR photography. It's always in my bag, and when I have downtime during a workshop or other time in the field when the mood strikes, I'm out making infrared images with it.
Sony RX100 IV: My Sony RX100IV is my go-everywhere camera. It pretty much stays with me in a pocket, ready to use, at all times of the day.
Lenses
Sony just keeps turning out incredible glass. My current favorite five lenses are as follows:
Sony 24-70mm f/2.8 G Master: Let me first say that a Sony lens with the G Master designation, will be one of the sharpest pieces of glass you will ever come across. The 24-70mm G Master is without a doubt, my most used landscape lens. The focal length fits so many scenes that I photograph. I'm not sure how they can make a lens perform any better than this one.
Sony 12-24mm f/4 G: This is a rather new addition to my bag, but it's a lens I have been using a lot for my landscapes. I love the extra 4mm compared to my 16-35mm, and I find myself shooting a lot of compositions at 12mm. The images are incredibly sharp from edge-to-edge.
Sony 90mm f/2.8 Macro G OSS: I think the name says it all. When I need a macro image, this is the lens I go to. This lens is crazy sharp!
Zeiss Batis 18mm f/2.8: This is my night lens. With the sensitivity of my α7S, I feel very comfortable using an f/2.8 lens at night.
Sony 100-400mm f/4.5-5.6 G Master OSS: This is another recently new lens to my lineup but one that I use exclusively if my composition calls for any type of telephoto reach. The G Master tag identifies this lens as being extremely sharp with great contrast. It has never let me down and I look forward to using it a lot in 2018.
Sony 1.4x Tele Converter: The days of going to a camera store and trying out multiple Tele Converters hoping to find a good match are over. I don't know how Sony has done it, but this 1.4X tele-extender works beautifully with my 100-400mm giving me an extended range of 140 - 560mm without any loss of AF speed or sharpness.
Tripod
Really Right Stuff is my choice when it comes to anything Tripod related. My travel tripod if I am flying is my TVC-23 with a BH-40 ballhead. If I am driving, it is my larger TCC-24L with a BH-55 Ballhead.
Besides making amazing gear, Really Right Stuff still has that small company feel as an actual person answers the phone and guides you through what you need to order. Simply put, they are a fantastic company.
Other Accessories
Batteries: I always carry 6 Sony NP-FW50 Batteries for my α6000 and α7S cameras. I'm enjoying the new Sony NP-FZ100 Batteries and carry 6 of these also for my Sony α9 and α7R III cameras. I recently spent a week in Oregon and didn't even take a charger - that's how long these batteries last!
Memory Cards: I use the latest fast Sony memory cards. You can't have too much memory.
Laptop: My 13" Apple MacBook Pro Laptop comes with me everywhere.
Backpack: I am currently using a F-Stop Tilopa Backpack (pictured) along with Mindshift TrailScape Bag.
I always make sure that I have a minimum of two headlamps, a couple of lens cloths, a Giottos Rocket Blower and sensor cleaning gear from Micro-Tools.
Don Smith is a Sony Artisan Of Imagery. See more about him here and like him on Facebook.