Justin Jung is living the dream. The photographer/filmmaker travels the world taking pictures, shooting 4K video and creating timelapse. Jung's known as a surfing photographer, but he does much more than just that and his tightly-packed kit reveals how he's ready for any situation when the potential for great imagery is up.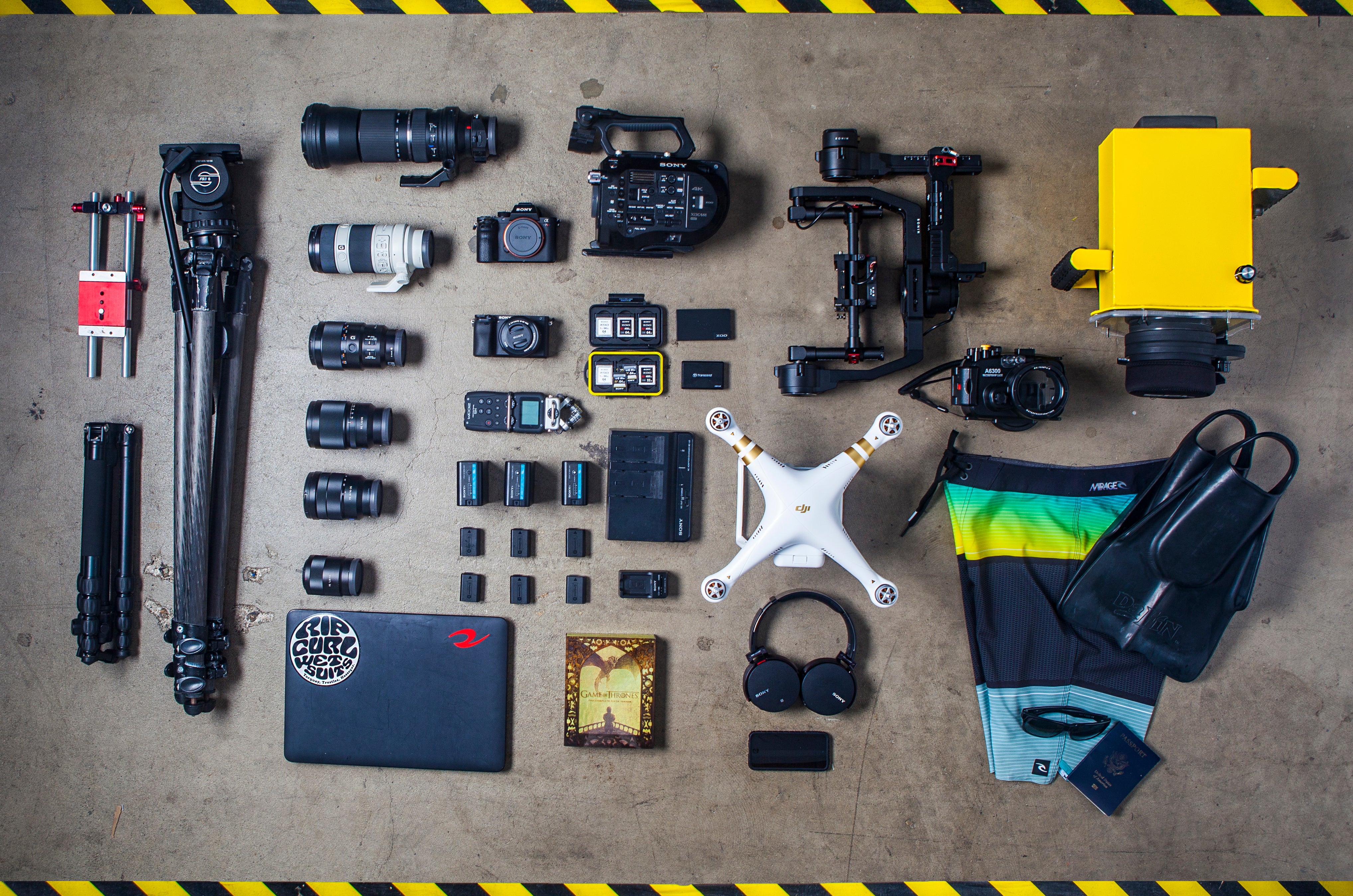 Click the top left corner of the image to enlarge
Sony α7R II: The α7R II is an amazing camera for both stills and video. I love using it for my time-lapse sequences, and for landscape and lifestyle photos. It's high-resolution sensor just offers so much in post. I use this camera often for filming B-roll, and with the internal stabilizer it really helps keep any shot steady and smooth hand held.
Sony α6300: Since it came out, the α6300 has been a great b-camera in my bag for shooting action sports and surfing. The fast 11fps frame rate allows me to capture the perfect moment when everything is happening quickly. I also have recently been using it to film 4k surfing, and the quality is incredible!
Sony FS7: I've had the FS7 in my kit since it was first released. It's my go to A camera on any shoot since it allows you to shoot at 4k 60fps, and even 1080 180fps slow-motion.
Sony Vario-Tessar T* FE 16-35mm f/4 ZA OSS: I'll always have this lens in my kit, it's perfect for when I need to capture a great landscape, or need to zoom in a little when filming my subject. It works great when I'm filming documentary projects.
Distagon T* FE 35mm f/1.4 ZA: I'll always use this lens when possible, the bokeh it produces is really beautiful, and it's super sharp corner to corner. I use it on my α7R II to shoot just about everything. It's fast which is great in low light, often my go to lens for darker situations. I also use it a fair amount for 4K video shooting.
Sony Sonnar T* FE 55mm f/1.8 ZA: The 55 f/1.8 is a great lens for portraits, and produces it a nice bokeh. I don't use this lens too often with my style of work, but it's still small enough to keep in the bag for those special occasions.
Sony FE 24-70mm f/2.8 GM: This is my new favorite lens to mount on any of my cameras, but it typically lives on the α7R II. This lens just produces such sharp images and rich color and I have the option to zoom in for portraits or go wide for scenic shots. It's a workhorse of a lens that I couldn't do without in my bag!
Sony FE 70-200mm f/4 G OSS: I don't use this lens very often, but it's great to have in the kit in case I need the extra focal range for the shot. I often pair this with my α6300 for shooting action that's nearby, or for time-lapses of a cityscape or far away landscape subjects.
Tamron 150-600: This lens pairs great with a Metabones adapter on any of my camera bodies. I use it for capturing surf when I need the focal length to get close to the subject.
Spare Batteries and Chargers: In each camera I always have one battery charged and ready and I keep two fully-charged spares on standby in my bag and I keep extra batteries charging.
Memory Cards: For my FS7, I always have at a minimum (4) 64GB XQD cards. Most of the type of filming I do consists of very quick scenes without a lot of retakes so the card usually lasts me a day. To be safe, though, I have (6-8) 64GB XQD cards on hand. For the α7 cameras, I use Sony SDXC cards with a 95MBPS write speed so I can shoot in 4K.
DJI Ronin: Great tool to have on my shoots, but it's also pretty heavy and bulky so I don't get to take this internationally very often. When I do use it, the Ronin helps create amazing smooth and steady cinematic shots.
DJI Phantom: Getting a camera into the air has changed the way a lot of adventure sports are seen. Even just having a few seconds of aerial footage in a sequence adds a new dimension. When I have the space, I bring the DJI Phantom for that.
Samson Zoom Audio Recorder: Getting good audio is super important, expecially for documentary work. The Zoom does a great job and it's small.
Zacuto Plate: I use this in combination with the Tamron 150-600 or the Sony 24-70 f/2.8 GM when they are mounted on the FS7. It helps keep the unit tight as one, and prevents too much tension on the lens mount.
FS7 & α6300 underwater housings: Both the SPL housing for my FS7, and the Meikon housing for the α6300 are great tools I always have in the kit when shooting surfing. They give me more creative options depending on how the surf is.
Tripod: I've combined the Manfrotto Carbon fiber legs (super light for travel!) with the Satchler FSB-8. This fluid head is built to last and is a beast! Perfect for very soft pans and tilts, and is necessary for having no camera shake when filming surf.
Passport, Trunks fins & sunglasses: Even if none of my luggage shows up, I'm still ready to go and shoot as long as I have this in my carryon bag.
Headphones: Great for monitoring sound and for listening to Game Of Thrones (see below) on a flight.
Game of Thrones: Can't travel without this series! When the layovers are long this really comes helps, digital download of course ;)