Miry Fidalgo (@miryf) is a professional nature and travel photographer and a contributor to National Geographic Spain (@natgeoesp). She's a photography gear minimalist who recently switched her kit from Canon to Sony Alpha cameras and Sony lenses. Fidalgo's work has taken her to Yellowstone in the freezing winter, to the jungles of Borneo, to the cliffs of Ireland, the plains of Kenya, and throughout her home country of Spain. She says, "I am a newcomer to the Sony Alpha family but I'm very satisfied. I like to be quite minimalist in the choice of equipment and to have gear that is of the highest quality. Less in more, just like in photography, where I prefer simple photos that have a lot of quality and power. Traveling fills my soul and all the more so if I am able to photograph wild animals in my photographs and contribute to their visibility. I need equipment that does not fail and does not put limitations on me."
My husband Antonio Liebana (@liebanafot) who is also photographer, made the switch to Sony a year ago, I was still shooting Canon. We traveled together to many destinations around the world and on a trip to Yellowstone he let me test the Sony Alpha 1 and the Sony 400mm f/2.8 G Master. My sensations were very good, exceptional. When I had the camera and the lens in my hands I didn't have the sensation of strangeness, it seemed that I had been with that equipment all my life, it was like a natural extension.
As for more technical data, both the Sony Alpha 1 and the Sony Alpha 7R V are super intuitive cameras, the buttons can be fully configured to my choice, which makes everything flow. I have been greatly surprised by the focus and file quality, the dynamic range and the colorometry. And as for eye tracking, it is totally differentiating from everything I had worked on before. I'm also very surprised with the battery life, with the grip I can go through a whole session without constantly changing batteries. It has also caught my attention that Sony offers a lot of attention and diffusion to the work of female photographers, and that is something to be grateful for for us.
Since the change I feel very comfortable and I feel that my photography has risen to another level.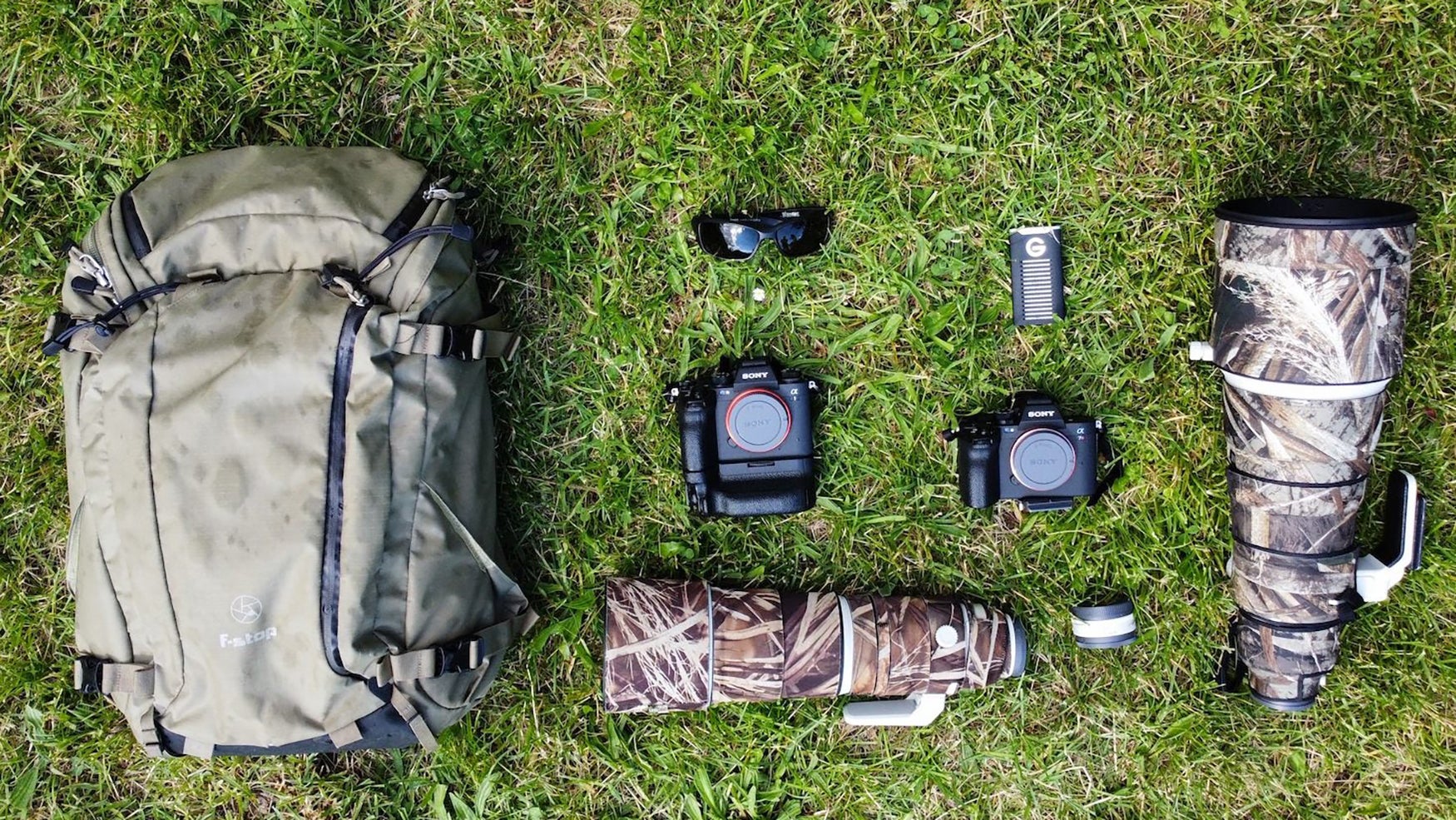 Cameras
Sony Alpha 1: It's the fast, reliable, high-res camera I need when things happen in a few seconds and I need to catch every breath. Eye tracking is a must and it's really good, you have to think that the animals move as they please and don't pose. When you have a wild animal in front of your camera, these are moments that cannot be repeated and the Sony Alpha 1 never fails. It was the first Sony camera I tried and I knew it was a before and after moment in my photography. I have noticed an improvement in the flow of my work and an unbeatable quality.
To capture this puffin picking flowers to make its nest, you have to be quick and discreet, you only have one chance. This wouldn't have been possible if I were shooting on something other than my Alpha 1.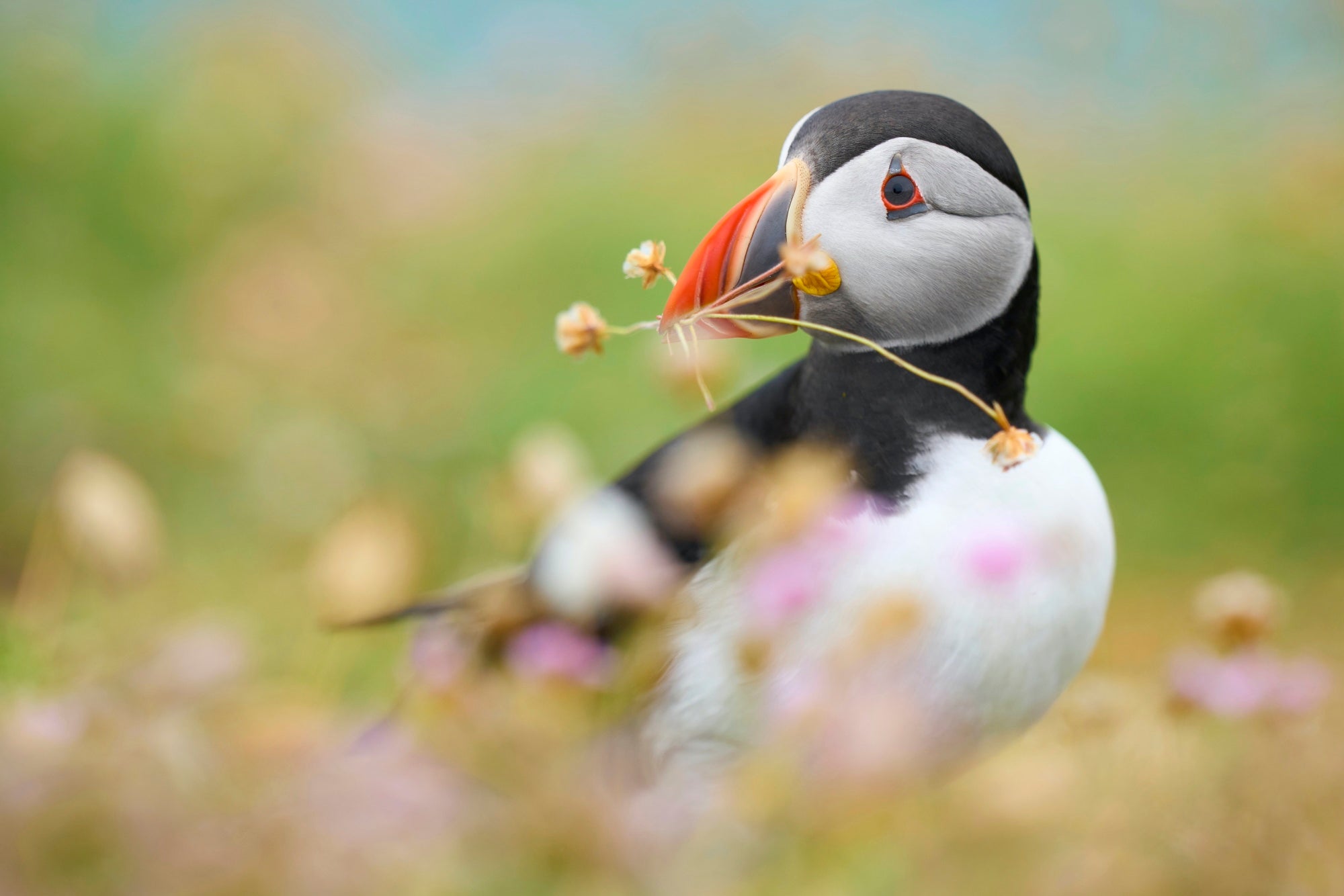 Photo by Miry Fidalgo. Sony Alpha 1. Sony 400mm f/2.8 G Master. 1/3200-sec., f/2.8, ISO 640
Sony Alpha 7R V: I'm fascinated with its AI tracking system, its photometry, and 61 megapixels. When I publish in top tier outlets, these three features are critical to delivering high quality work. Those 61 megapixels allow me to crop with a simple button and the photographs still have quality to publish. The Sony 7R V is not my second body, I mix it up with the Sony Alpha 1 depending on what's in front of me.
This photograph of a jaguar in Pantanal, Brazil, taken from river to shore in a moving boat. With the Sony Alpha 7R V I knew that I was going to have the highest file quality. With very little light, shooting handheld with only 1/320 sec of speed and only with an ISO 3200, I was able to capture the spectacular look of the feline totally at focus.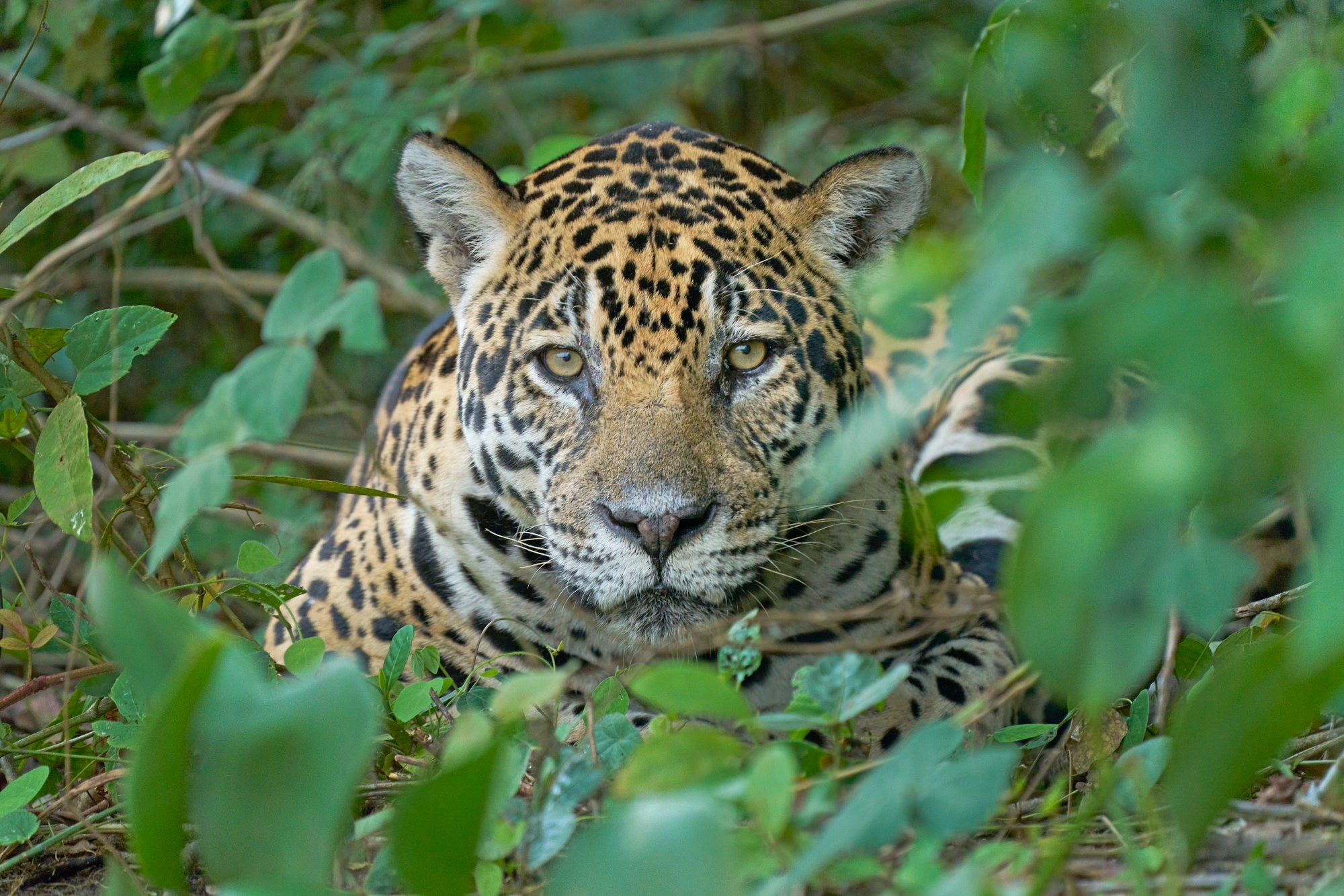 Photo by Miry Fidalgo. Sony Alpha 7R V. Sony 200-600mm f/5.6–6.3 G. 1/320-sec., f/6.3, ISO 3200
Lenses
Sony 400mm f/2.8 G Master: Undoubtedly my favorite lens, I love working with the 400mm GM at f/2.8 with either of the two cameras in my backpack. It responds with a level of focus and quality like I had never had before. I love playing with its blurs and the light from this lens. It's like playing in another league. With its fast maximum aperture and its balance point and weightweight, it allows me to work handheld and move it easily, even in low-light situations like at twilight when I'm in search of fauna.
To keep a safe distance from the puffin, in this photograph I added the Sony 1.4X Teleconverter, which added to the Sony 400mm f/2.8 G Master lens, I obtain soft and delicate bokeh.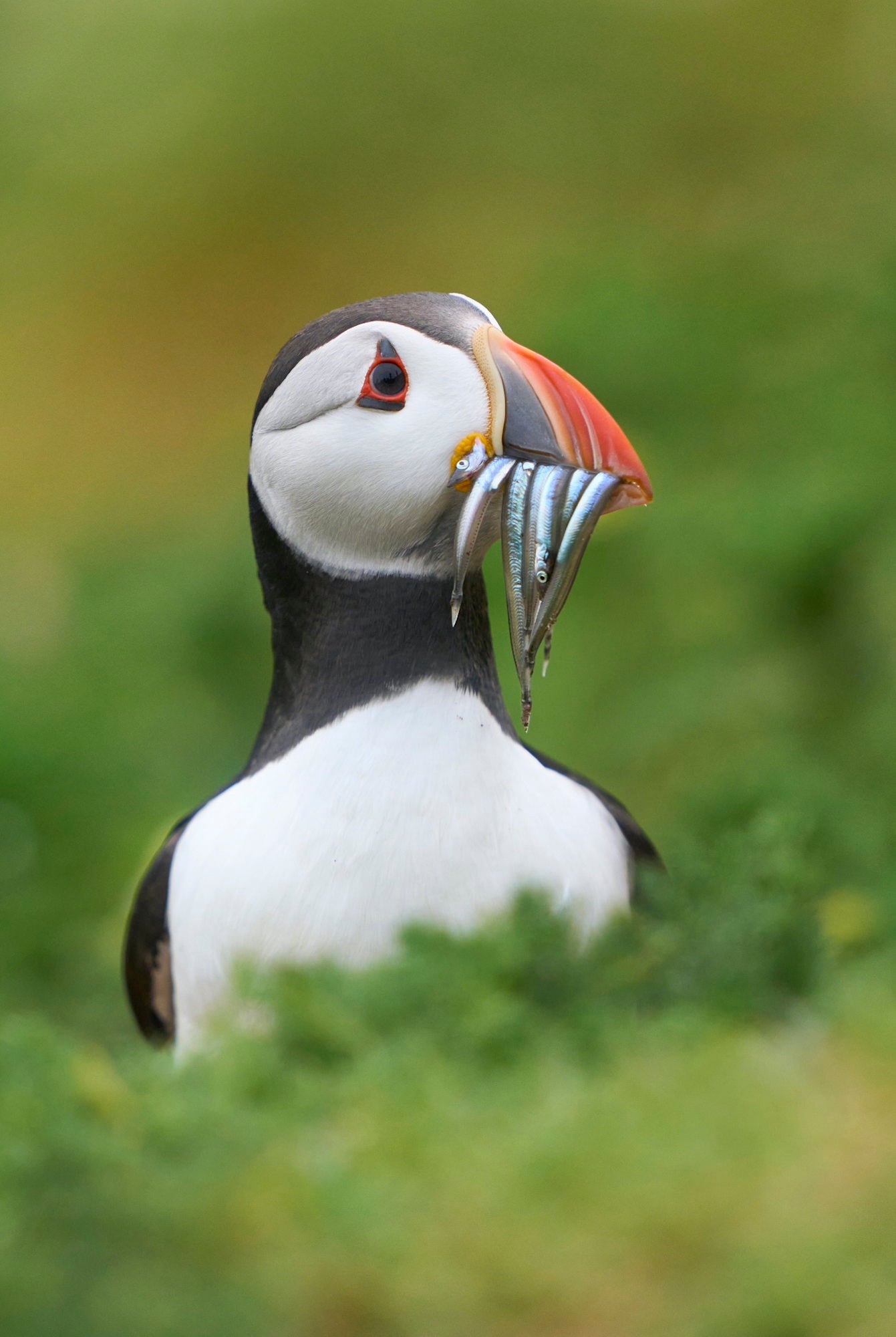 Photo by Miry Fidalgo. Sony Alpha 1. Sony 400mm f/2.8 G Master + 1.4x TC. 1/2000-sec., f/4.5, ISO 1600
The bobcat was on the other side of the river, I added the Sony 1.4X Teleconverter to the Sony 400mm f/2.8 G Master to get closer to the subject. A unique moment.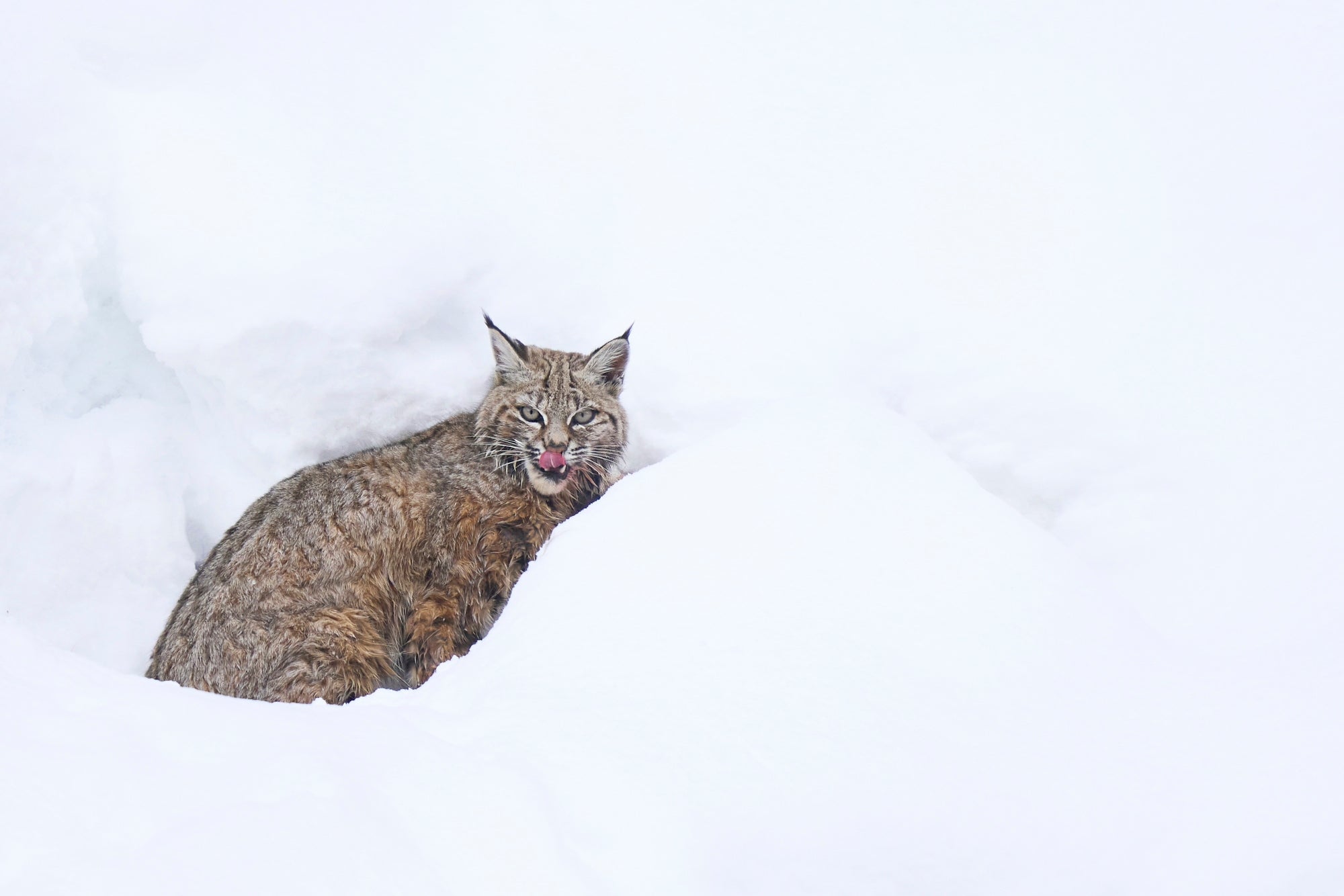 Photo by Miry Fidalgo. Sony Alpha 1. Sony 400mm f/2.8 G Master + 1.4x TC. 1/2500-sec., f/4, ISO 800
Sony 200-600mm f/5.6–6.3 G: My most versatile lens for nature. I use it as a complement to the Sony 400mm f/2.8 G Master. The internal zoom allows me to work in the harshest conditions of dust, cold, humidity. The 200-600mm's quality is surprising at its price. It's not difficult for me to carry the Sony 200-600mm G in my backpack, whether it's for a light walk or a long international trip. This is the lens that I choose knowing that I will have focal length and quality in my photographs.
Pushing the Sony 200-600mm f/5.6–6.3 G, I was able to keep distance and photograph this really spectacular Jacamar displaying its colors. The photo taken hand held with spectacular focus and quality despite the movement of the boat on the Cuiaba river, Brazil.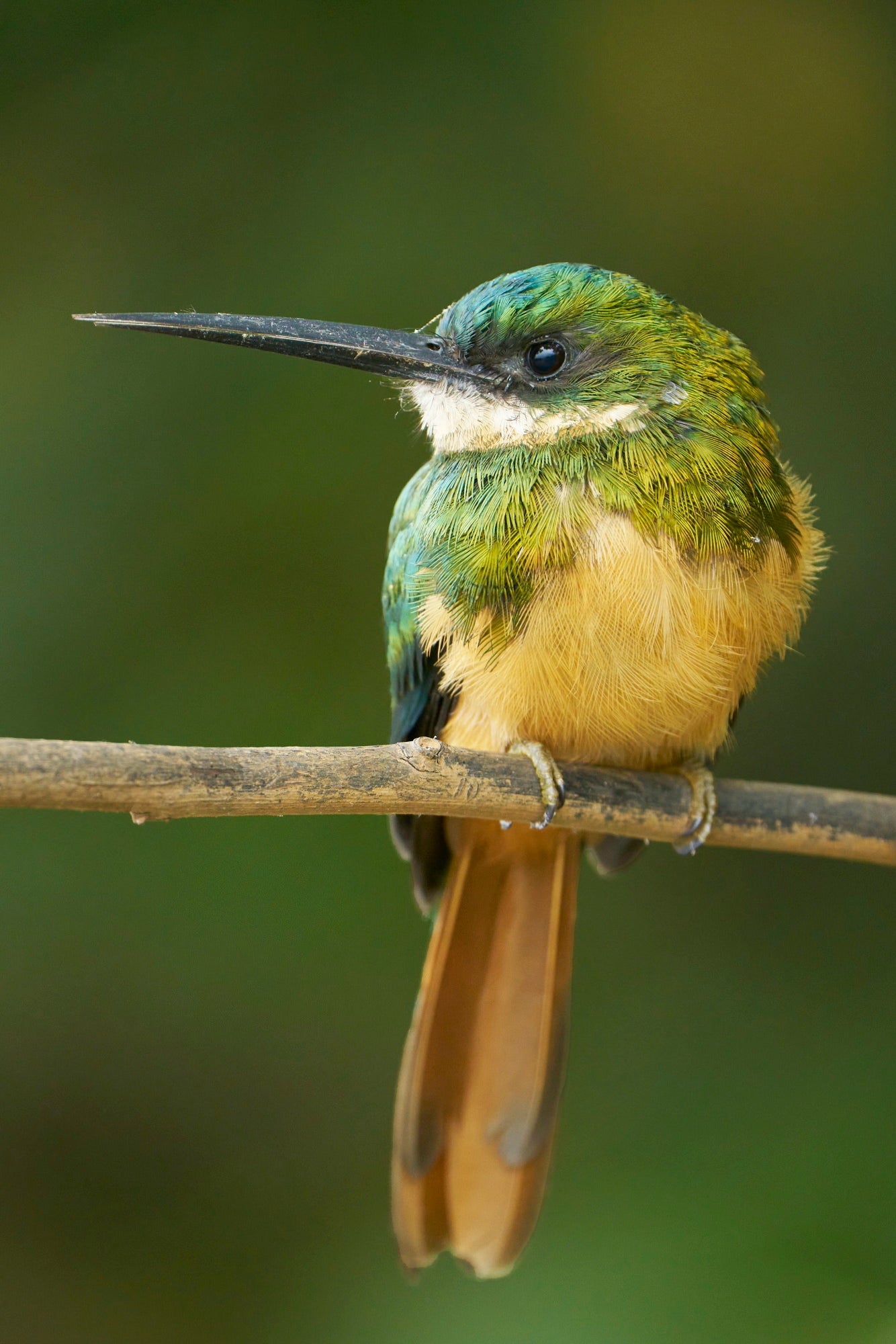 Photo by Miry Fidalgo. Sony Alpha 7R V. Sony 200-600mm f/5.6–6.3 G. 1/640-sec., f/6.3, ISO 2500
The versatility of the Sony 200-600mm f/5.6–6.3 G means that it can zoom in and out depending on whether one or two bee-eaters perch.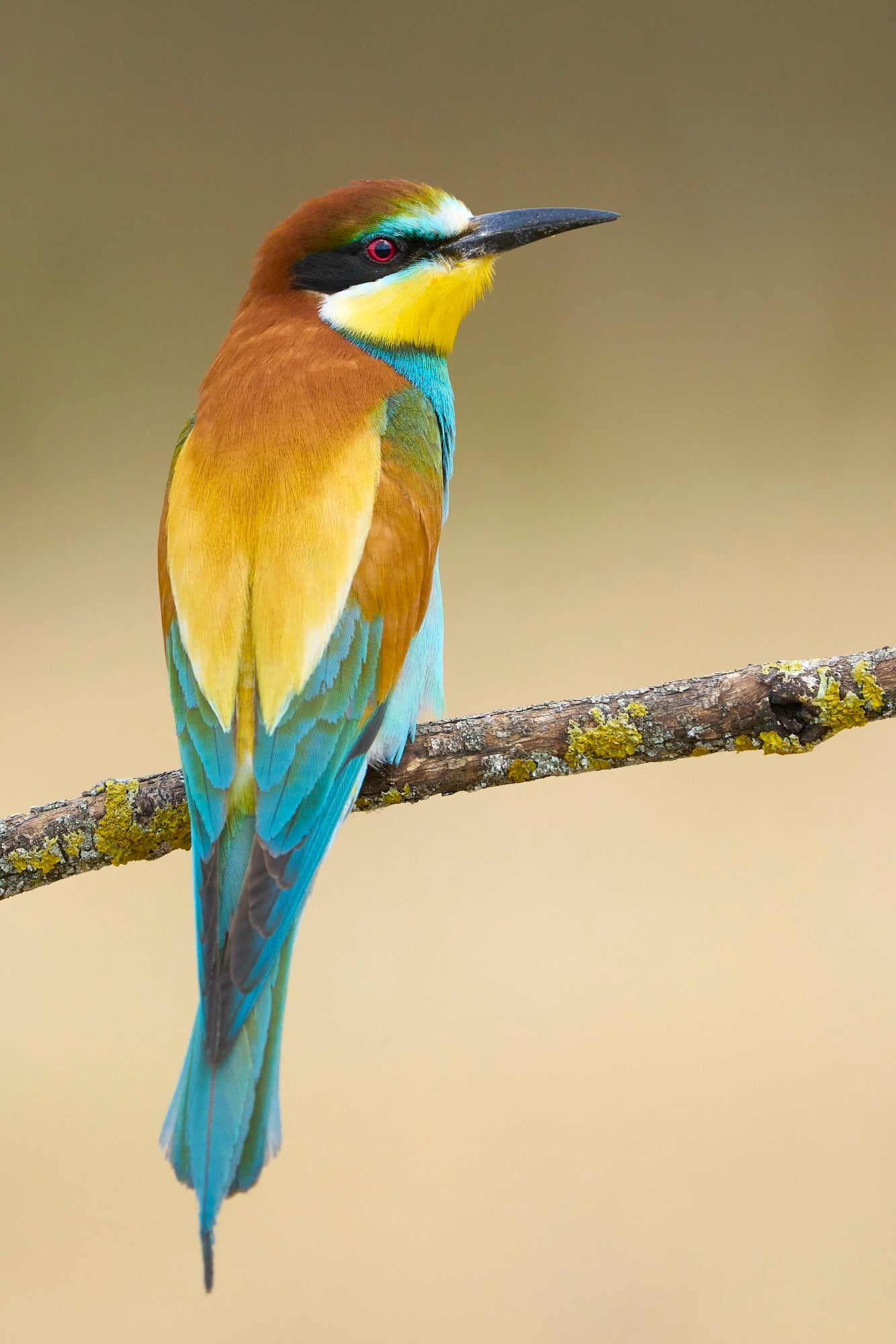 Photo by Miry Fidalgo. Sony Alpha 1. Sony 200-600mm f/5.6-6.3 G. 1/2000-sec., f/6.3, ISO 1000
Accessories
Sony 1.4X Teleconverter: Incredible performance with my Sony 400mm f/2.8 G Master, since it gives me more focus at certain times when the subject is further away or it is necessary to maintain a distance from it, without losing quality. The f/2.8 becomes f/4, which at that distance, is the perfect f stop.
Mochila F-stop Lotus: Flexible and durable, it never breaks and the gear is protected on any adventure. Very resistant and comfortable. The closest thing to a mountain backpack but for photography.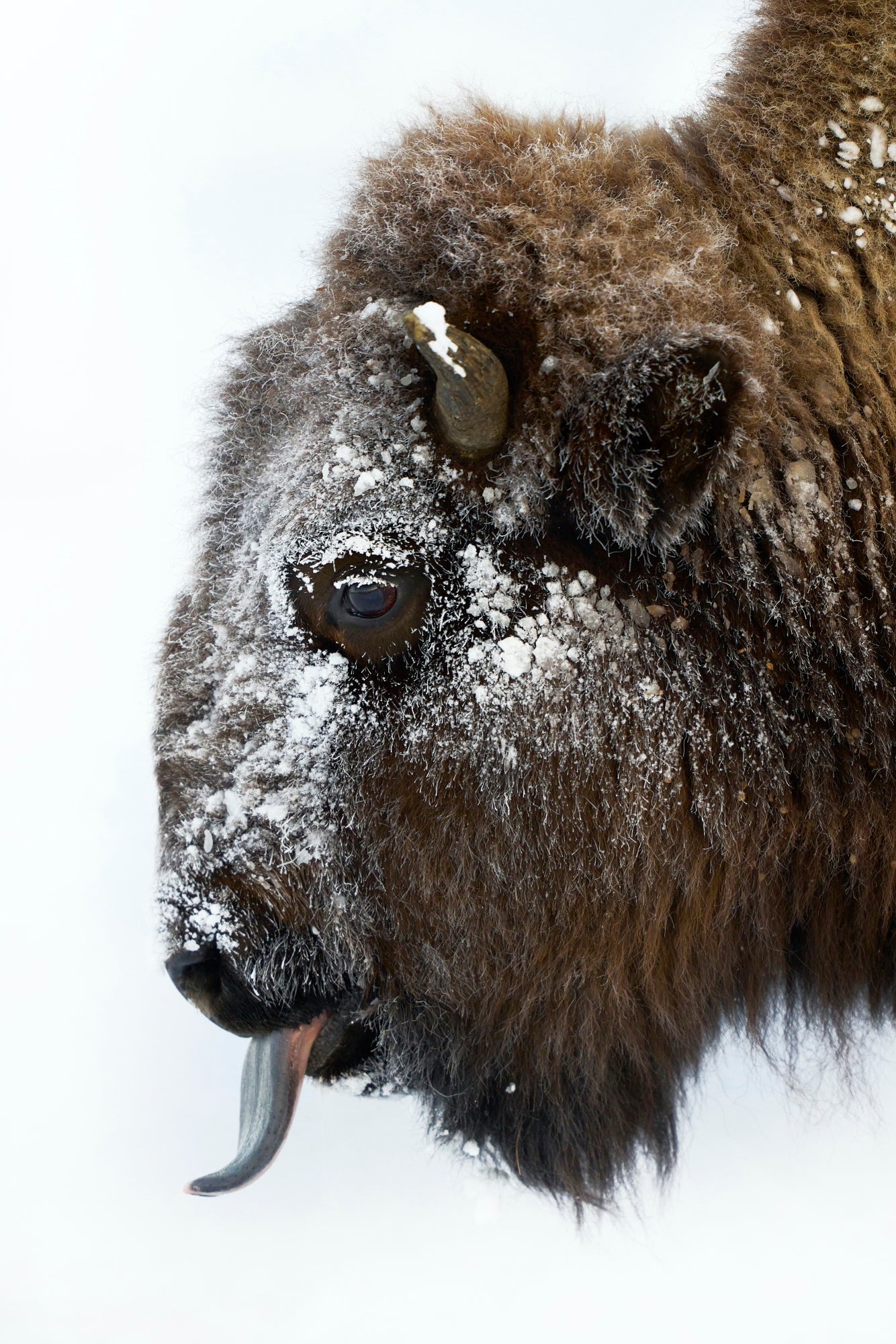 Photo by Miry Fidalgo. Sony Alpha 1. Sony 400mm f/2.8 G Master. 1/1600-sec., f/2.8, ISO 1600
Disco Duro G-Drive SSD 2T: It's vital to always carry portable storage to save photos on a hard drive with capacity, high transfer speed and security.
Julbo Sunglasses: I take them anywhere in the world. A photographer's eyes need to be protected from the elements, whether in extreme heat or cold environments.
See more of Miry Fidalgo's work on Instagram @miryf.