Summer is officially here and Fourth of July celebrations are upon us. Nothing marks America's Independence Day quite like a beautiful fireworks display, and who doesn't love trying to capture snapshots of these spectacular light shows? The combination of colorful, vibrant flash patterns against the dark night sky can produce stunning photographs, but they can also be tricky ones to get just right. Check out these five tips on shooting fireworks that will have your photos from this year's Fourth looking anything but amateur.
1) Set your camera to manual
First, make sure that your camera is set to manual. The automatic setting in your camera probably won't give you the correct exposure, and your settings will need to vary based on the brightness of the fireworks. Travel photographer and educator James Brandon says, "I shoot in Manual about 95% of the time but if you're just not comfortable with that, Shutter Priority is your next best bet. A shutter speed of 1-2 seconds is a good starting point. ISO and aperture will depend on the conditions, but as you can see (in Disneyland Paris photo above), I was at ISO 400 and f/11." Read more of James Brandon's tips on photographing fireworks.
2) Turn off Long Exposure Noise Reduction
Avoid delays in capturing your next frame by turning off Long Exposure Noise Reduction in your camera. Long Exposure Noise Reduction is useful in a lot of long-exposure situations, but for fireworks when you want to be ready to shoot at a moment's notice, the processing time that Long Exposure Noise Reduction takes can slow you down. The last thing you want is to miss the perfect explosion of light patterns because your camera is processing the previous shot.
Photo by Ira Block. Sony α9, Sony 70-200mm f/2.8 G Master at 158mm. 7-seconds, f/8, ISO 160. July 4, 2017 fireworks display in Manhattan.
3) Try the black card technique
To get the best capture of the bright and vivid colors of the fireworks, there's a simple technique Sony Artisan Ira Block has shared with us that will add more light to your images. He says to, "Set your shutter to a few seconds or to bulb to keep it open, and hold a black card in front of your lens. When you see a good burst of color, remove the black card for a couple of seconds, then reposition it in front of your lens. Remove the card when you see another burst. Repeat this process of removing and replacing the card in front of the lens until you feel you have a good set of bursts on that one frame. Usually, three to five of these 'bursts' per frame is enough." Read more of Ira Block's tips on photographing fireworks.
4) Use a tripod
There's really no way around it, when photographing fireworks your camera should be set on a tripod. Keeping your camera steady will allow you to really slow down the shutter speed so you can fully capture the depths and vibrancies of the colors as they rocket through the air. If your camera moves during the long exposure, those sharp lines could turn into a blurry mess.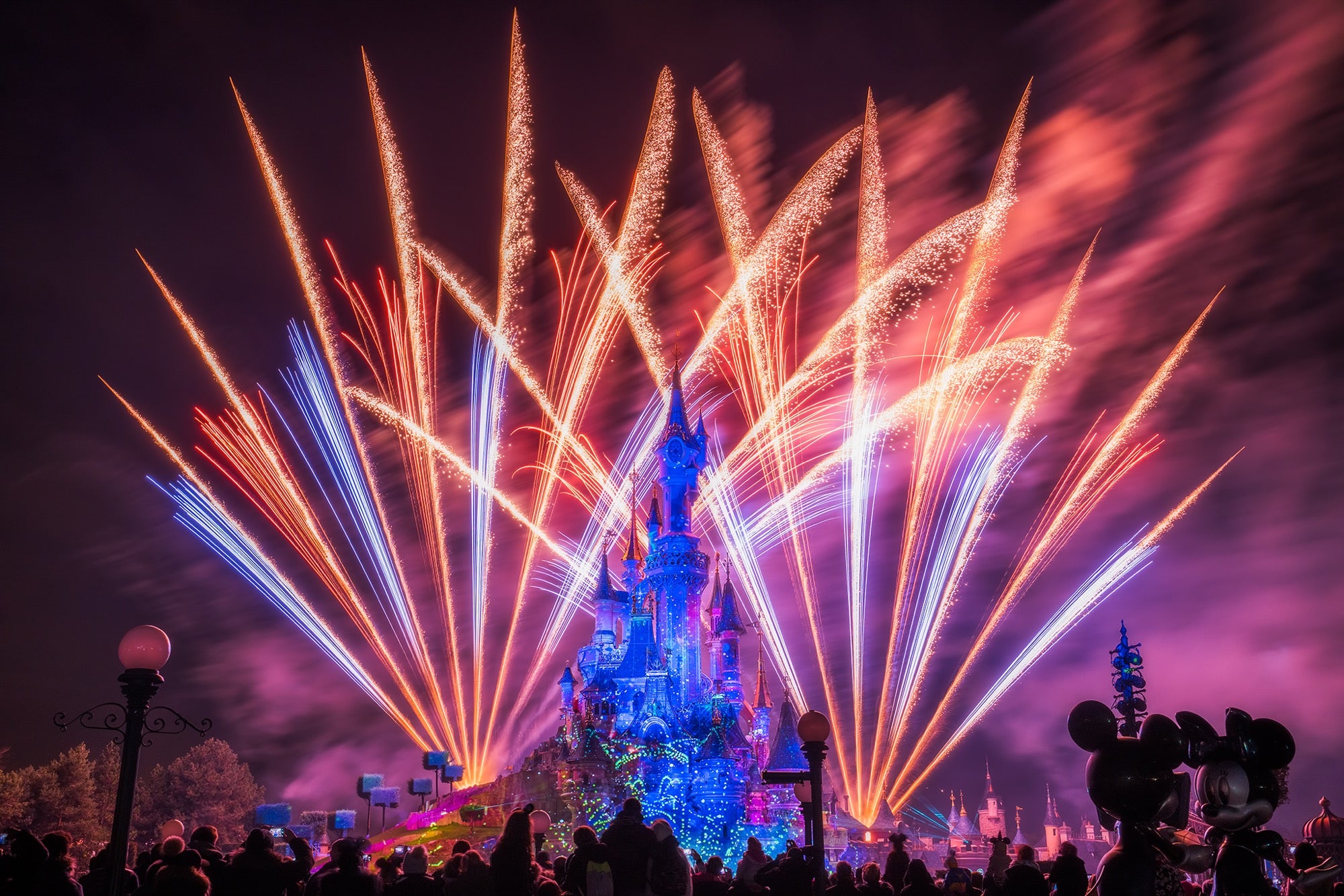 Photo by James Brandon. Sony α7R II. Sony FE 16-35mm f/4 ZA OSS lens. 2-sec., f/11, ISO 400. Taken on a family trip to Disneyland Paris, I used the five techniques outlined in this article to make this dramatic photo of the fireworks show at the Cinderella's Castle.
5) Use a remote shutter release
If you have one, a remote shutter release is a great tool for capturing fireworks. If you have the Playmemories Camera Remote app on your phone and connected to your camera, by all means use that. After framing your shot and setting the proper focus you can step away and use the remote to trigger the shutter. This will completely rid of any camera shake worries that would blur your images. You can get sharp images with just a tripod, but removing the need to actually push the button on the camera is obviously going to cut down on any movement even more. If you don't have any kind of remote, you can also try using the self timer. That can eliminate shake, but you have to anticipate where the fireworks will be some seconds after you press the button. It's not ideal, but with practice, you can can get some good results.
In addition to these camera-related tips, don't forget to arrive early to where you plan on shooting the display. Fireworks shows means crowds, and if you aren't in the right position then the crowd could end up terminating any chances at a great shot. Get there before it's dark and get everything set so you don't have to attempt to fight through a sea of people. Fire away your camera at those fireworks and have a great Fourth of July!