Fireworks displays are the highlight of many celebrations in the United States. Cities feature these amazing light shows on New Year's Eve, Centennial events and most notably, the 4th of July. Their various patterns and colors against the night background can produce stunning photographs. With the 4th of July approaching, I was able to test out the Sony α9 and 70-200mm f/2.8 G Master lens on the Heritage Of Pride fireworks display over the Hudson River. (UPDATED July 5, 2017: Ira Block's photo above is from the the 2017 July 4th display in Manhattan. Sony α9, Sony 70-200mm f/2.8 G Master at 158mm. 7-seconds, f/8, ISO 160)
To get truly memorable photos of fireworks I use an in-camera multiple exposure technique. It lets me get multiple dramatic and colorful bursts in a single frame. I take advantage of the camera's sensor and the lens's optics while disabling many auto features when shooting fireworks this way.
Here's how I do it (all photos taken with Sony α9, 70-200mm f/2.8 G Master lens):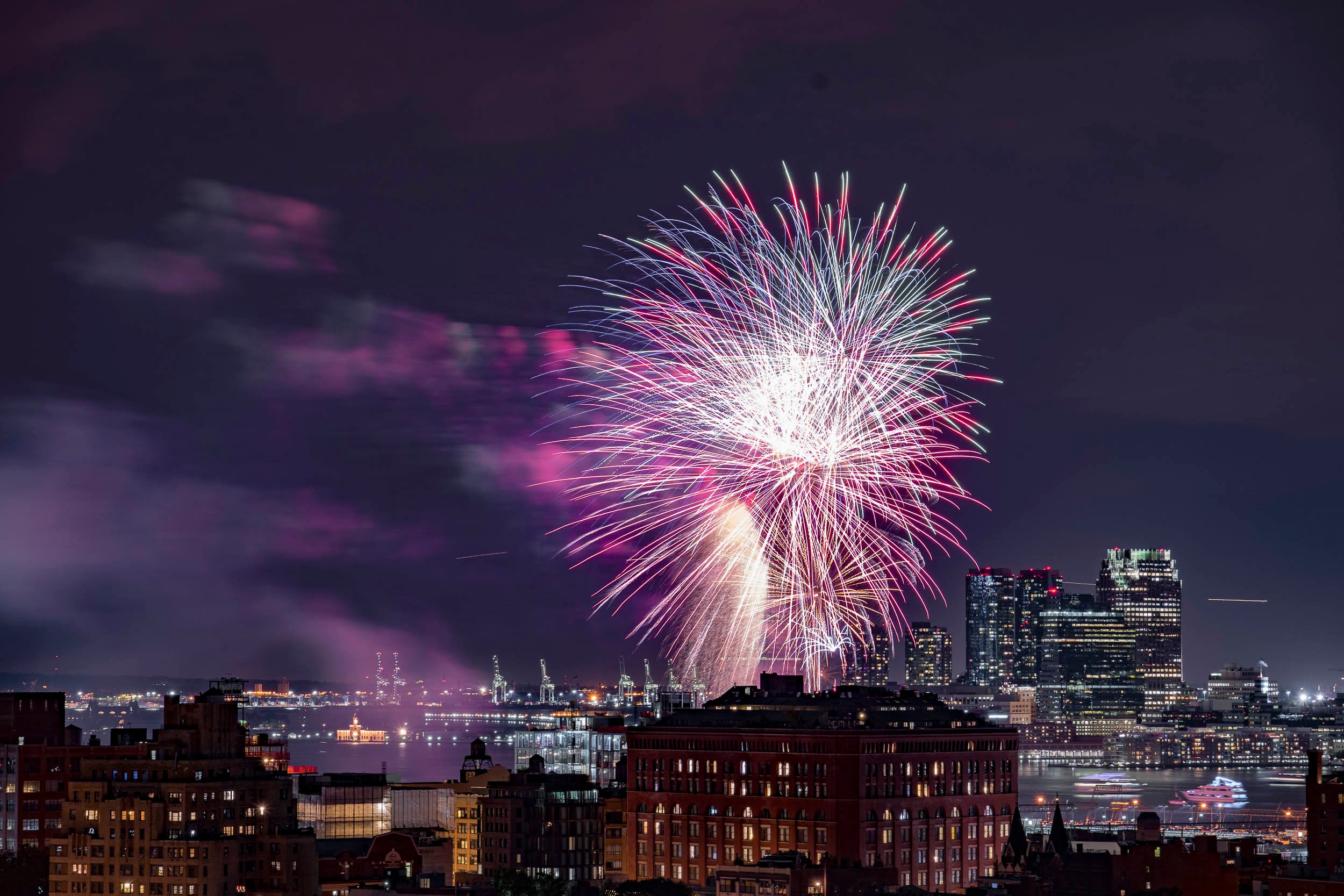 Photo by Ira Block.
Sony α9 | Sony 70-200mm f/2.8 G Master lens at 124mm | 9-seconds | f/7.1 | ISO 200
Pay attention to composition. Find something in the foreground and background of your frame to give your picture a sense of place. Shooting the fireworks against a dark sky can produce some nice graphics and colors but won't relate to where you are.

Use a tripod and shutter release to keep the camera steady.

Turn off Image Stabilization--it's great for handheld photography, but you don't need it here.

Set your camera to Manual exposure. The automatic exposure setting may not give you the correct exposure.

Turn off auto ISO and set the ISO to either 100 or 200 and your lens to f/8 or f/11, depending on how bright the fireworks are. Check the electronic viewfinder to preview your image. Of course, the bright white fireworks will need less exposure than the colorful reds and greens.

Set your shutter to a few seconds or to bulb to keep it open, and hold a black card in front of your lens (but don't let it touch the lens or it can create camera shake and a blurry photo).

When you see a good burst of color, remove the black card for a couple of seconds, then reposition it in front of your lens. Remove the card when you see another burst. Repeat this process of removing and replacing the card in front of the lens until you feel you have a good set of bursts on that one frame. Usually, three to five of these 'bursts' per frame is enough.

If the buildings in your scene are overexposed, do fewer bursts. Each time you remove the card from the lens you expose the foreground and background. Since fireworks are set off in very quick bursts, your shutter only needs to be open from 1-10 seconds to capture them.

When shooting fireworks, I avoid delays in shooting the next frame by turning off the camera's long exposure noise reduction.

Your lens choice will depend on your distance from the display. For safety concerns, the bursts from large fireworks displays will not be close to spectators. The 70-200mm G Master was my choice for these image set to 124mm and 135mm.

Focus the lens on a point near where the fireworks will launch and then turn off your autofocus to prevent the lens from searching for a focus point in the black sky. I suggest you not use a very wide lens or the bursts will appear very small in your image.

Watch your framing - fireworks usually explode higher than you think!

And remember, as the show goes on smoke builds up from the explosions, which gives the sky a hazy look, so shoot as much as possible at the start of the event.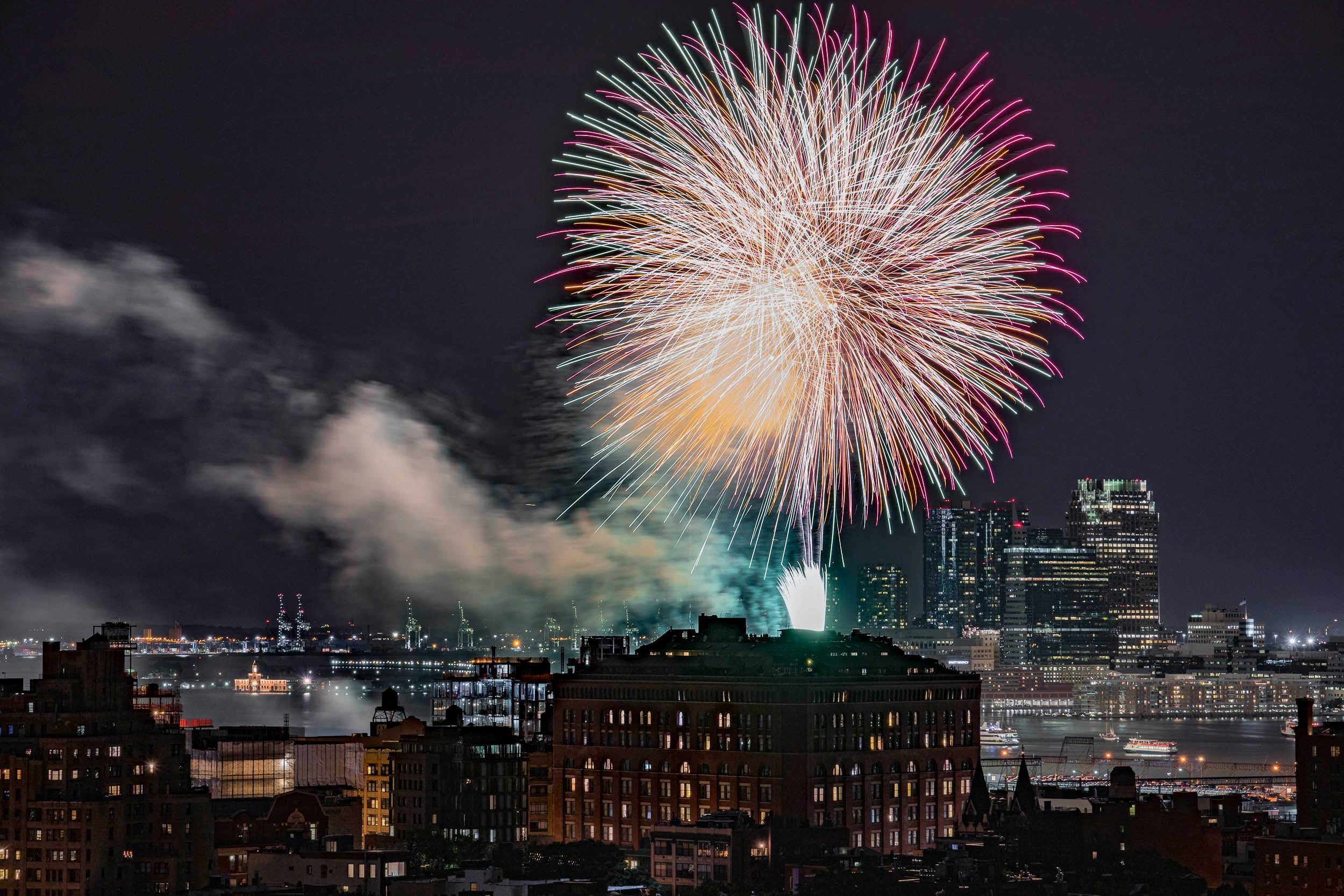 Photo by Ira Block.
Sony α9 | Sony 70-200mm f/2.8 G Master lens at 135mm | 2-seconds | f/7.1 | ISO 200
Follow Ira Block on Instagram @irablockphoto