Unlike many people his age, Jaleel King started taking pictures with film. In high school King ran countless rolls of the stuff through old-fashioned point-and-shoot cameras, just photographing "things within my reach." His habit was reinforced when his mother, herself an artist who inspired King to draw and paint at an early age, introduced him to a photographer friend who endowed her son with "a bag of cameras," the film kind. King stuck with film, in fact, even after digital cameras began to overtake film models.
That changed when the Sony DSC-F505V, a futuristically-styled, lens-centric digital point-and-shoot that was already a few years old, came into the young photographer's possession. Given the sheer volume of his picture-taking, King saw the wisdom of it. Fast forward half a dozen years and he was shooting on the streets of his native Philadelphia with the Sony RX100—a point-and-shoot that packed eight times as many pixels as the F505V, and was a smash with serious photographers who wanted both portability and DSLR-level quality. The RX100's versatility simply changed the way King shoots.
"The RX100 made such a difference with my street photography," says King. "It's compact and less obtrusive, so it doesn't attract attention or cause wariness in my subjects the way a DSLR does. Just as crucial, it's quick, capable, and great in low light. The RX100's image quality is so good that I just don't feel the need to carry a big camera with me." Of course, King's talent is more than his gear; it's about his acute observational skills. "You can always find beauty in things that people walk by a hundred times," he says.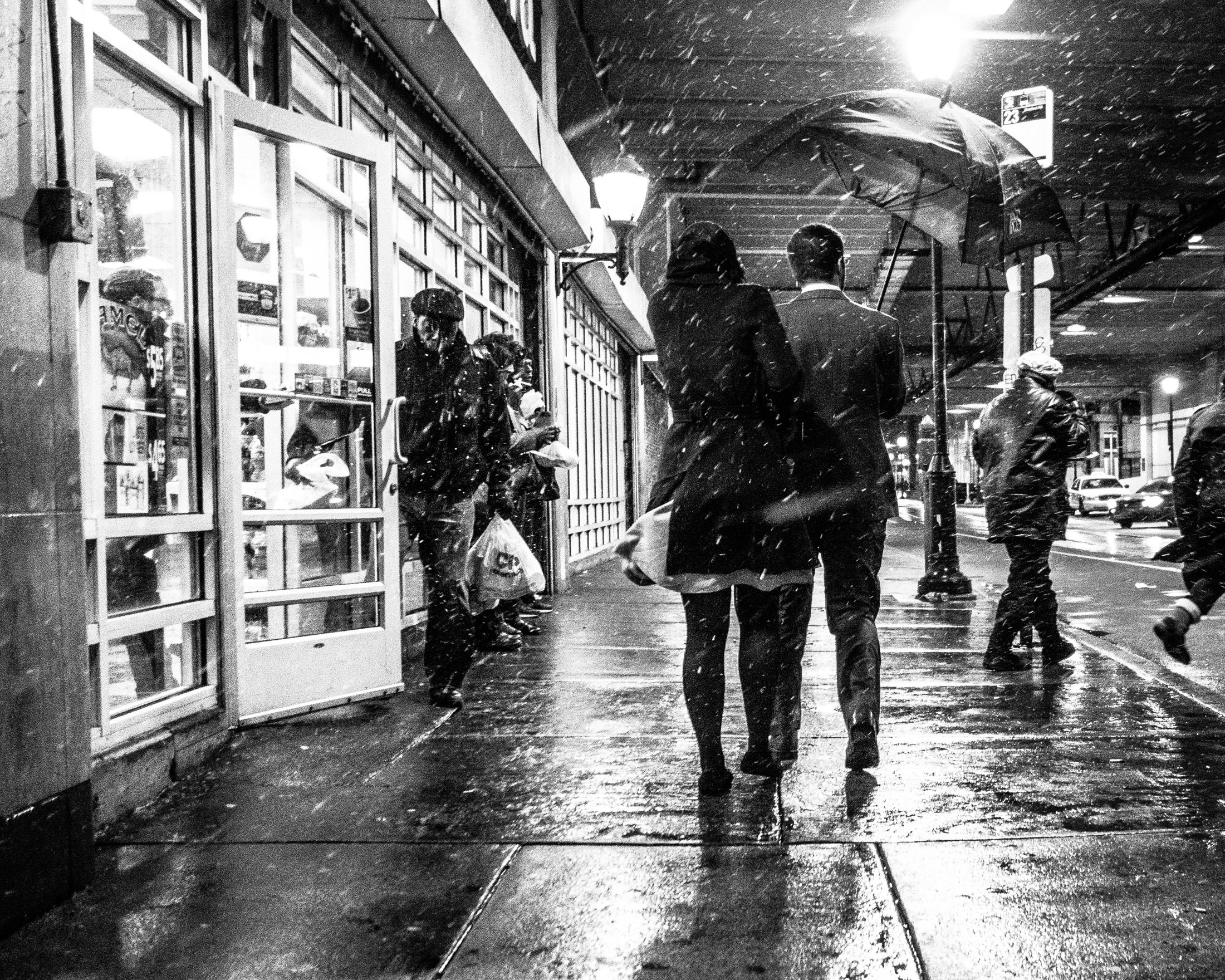 Photo by Jaleel King. Sony RX100. 1/20-sec., f/1.8, ISO 3200
A couple of years after King began shooting with the RX100, photos he had made with the camera garnered a top prize and prominent placement at the WPPI conference, an annual gathering of Wedding and Portrait Photographers International. And then, at the 2017 WPPI conference, yet more great RX100 pictures—along with the inspirational story of King's photographic success—won him the annual Sony Impact Award. King's friend and Sony Artisan of Imagery Brian Smith presented the young photographer with the award, the occasion's emotion apparent in his remarks.
Indeed, Jaleel King's story is an uplifting one, at a time when we desperately need positive narratives. At the age of eight, an accident left him confined to a wheelchair. That disability would have deterred a less determined person, given how dependent most photography is on physical mobility. Yet King's path from point-and-shooter to award-winning photographer was traveled entirely in his wheelchair.
Along that path, King built an impressive photography business. "I'd be lying if I said there weren't people who didn't hire me because of my disability," he says. "But when they just look at my pictures, they aren't even aware of it, and they'll see that it doesn't matter." King now shoots a seemingly nonstop flow of weddings and portraits, both outdoors and in the studio, all while maintaining the personal work that first gained him acclaim. (He also sells his fine-art prints.) His website is worth a visit for its altogether natural mix of lifestyle and event photography, studio portraiture, and street shots. "There's not much separation between it all, in my mind," says King. And though he did video coursework at the Art Institute of Philadelphia, King says his photographic skills are essentially self-taught. He carefully studies other photographers at work and thinks, "If they can do it, I can do it"—then proceeds to deconstruct their technique. "Both in art and disability," says King, "you figure your way around things."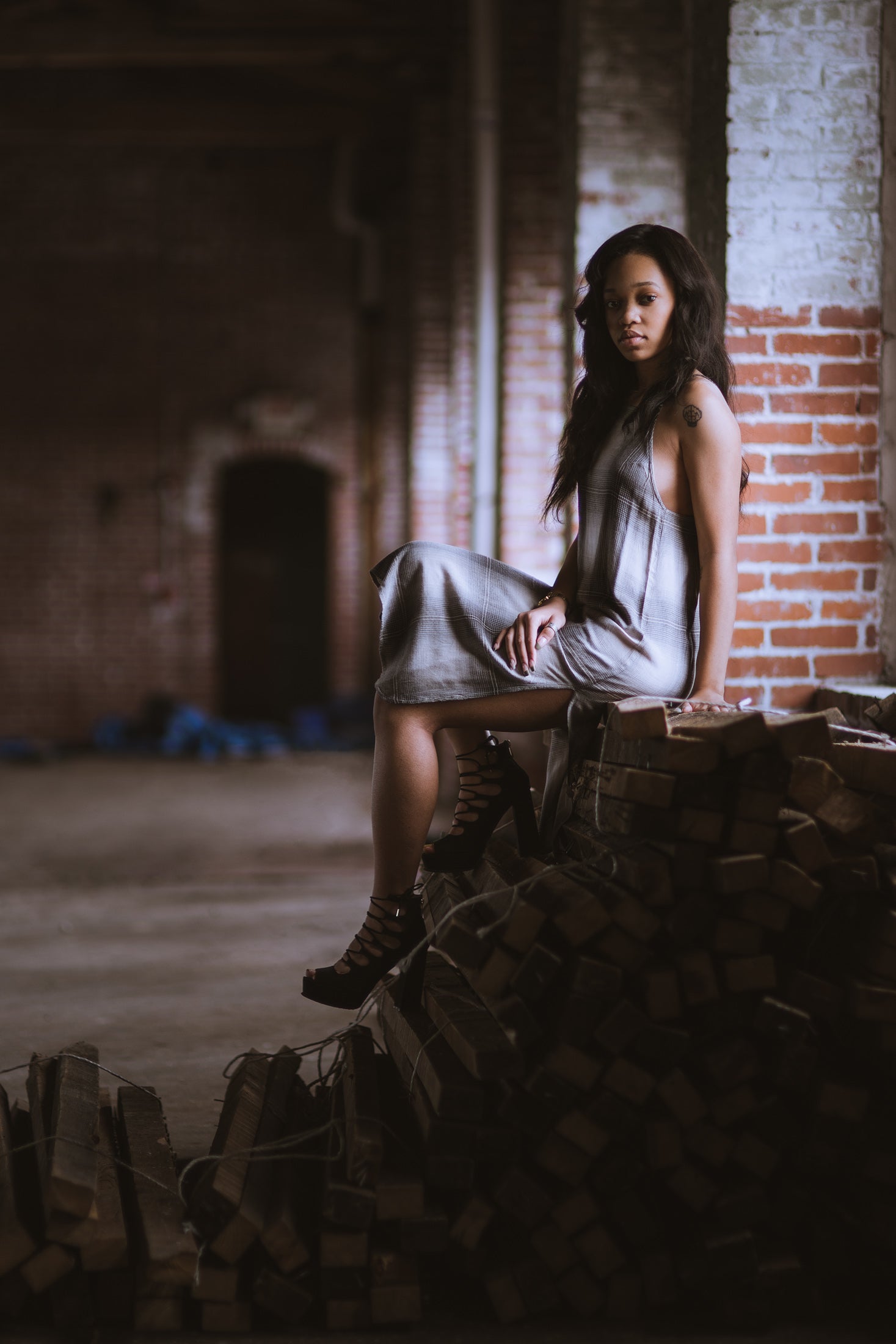 Photo by Jaleel King. Sony α7R II. 85mm f/1.4 lens. 1/125-sec., f/1.4, ISO 100
King doesn't seem the slightest bit cowed by the mobility issues he faces as a working photographer. Most of his pictures contain no clue that they were taken from a seated position, though King says the lower point of view can be advantageous. "It's true that there are sometimes angles I wish I could get but can't because I'm in a wheelchair," he says. "And I might need to use a longer focal length than some photographers because I can't get close enough fast enough. But shooting from the wheelchair can give photographs an almost childlike perspective." Being in a wheelchair also affects how King interacts with the many people he photographs while street shooting. "In some respects it's a blessing," he explains. "People do get out of my way when I'm wheeling through. Beyond that, though, when I ask people if I can take their picture, I think my being in a wheelchair tends to disarm them. It makes them less apprehensive and more at ease." Even the blowback from unwilling subjects is different. "Most people are really accommodating, but even with the ones who get upset, they look at me and think, what are they gonna do?"
King's street photography has actually shaped his approach to paying work. "When I'm out shooting for myself, I often find great locations for environmental portraits—settings for pictures of brides and grooms," he says. "But on a more personal level, interacting with people on the street has made it easier to relax, and bring out the character of, the people who hire me. It has given me an ability to keep people from getting posey, and to build the trust and confidence that good portraiture requires.
"I once saw a woman smoking as she stood in front of a poster with a picture of the Brooklyn Bridge on it, and it looked kind of like she was on the bridge. I asked if I could take her picture, and after expressing surprise that I'd find her the least bit interesting, she started to put out her cigarette and strike a pose. And I said, No, no, don't stop what you were doing!" To avoid "posiness," for example, King sometimes asks brides and grooms to pretend that they haven't seen each other for three months—on the count of three, of course. "I like to give my subjects scenarios to think about, rather than posing them," he says.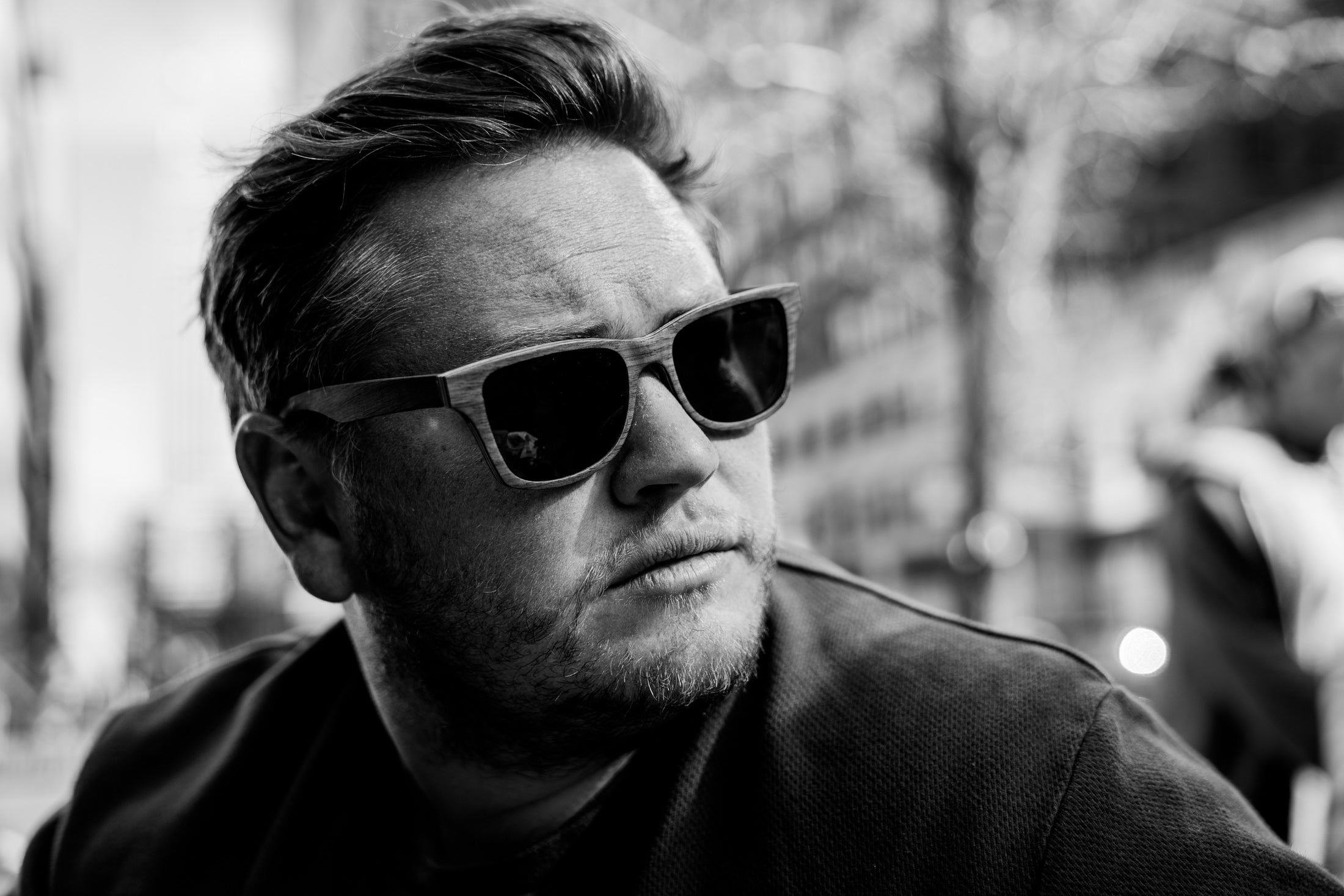 Photo by Jaleel King. Sony α7R II. Sony 24-70mm f/2.8 G Master lens. 1/320-sec., f/2.8, ISO 125
King is now using the 42-megapixel Sony α7R II for much of his professional work. His favorite lens is the Sony 24-70mm f/2.8 G Master zoom. "It's a beautiful combination, and it's absolutely tack-sharp," he says. He confesses that he sometimes also falls back on his Sony RX100 for wedding candids, and it's still what drives the street photography that gave him the recognition he so richly deserves. His ongoing project, called Me and Maybe You, is basically a series of RX100 shots of himself with people he meets on the street. "I know it's a selfie project," he says, "but after hundreds of pictures I still think it's mad fun." (Check the series out on King's Facebook page.)
King is also using the RX100 for a new street-photography project, called What Happens Behind Me. Working from a wheelchair tends to give you a somewhat blinkered, forward-facing view of the world, he says; it's not quite as easy to spin around to have a backwards look. So for this project, King holds the camera above his head, pointing it behind him, and shoots a few frames without looking at the viewfinder. The relatively random composition and unpredictable action of those pictures may change soon, though. King is still using a first-generation RX100 and he plans to upgrade to one of the models that has a tilting LCD screen. This will allow him to frame the shot he wants precisely from above his head, still without appearing to aim the camera at a subject.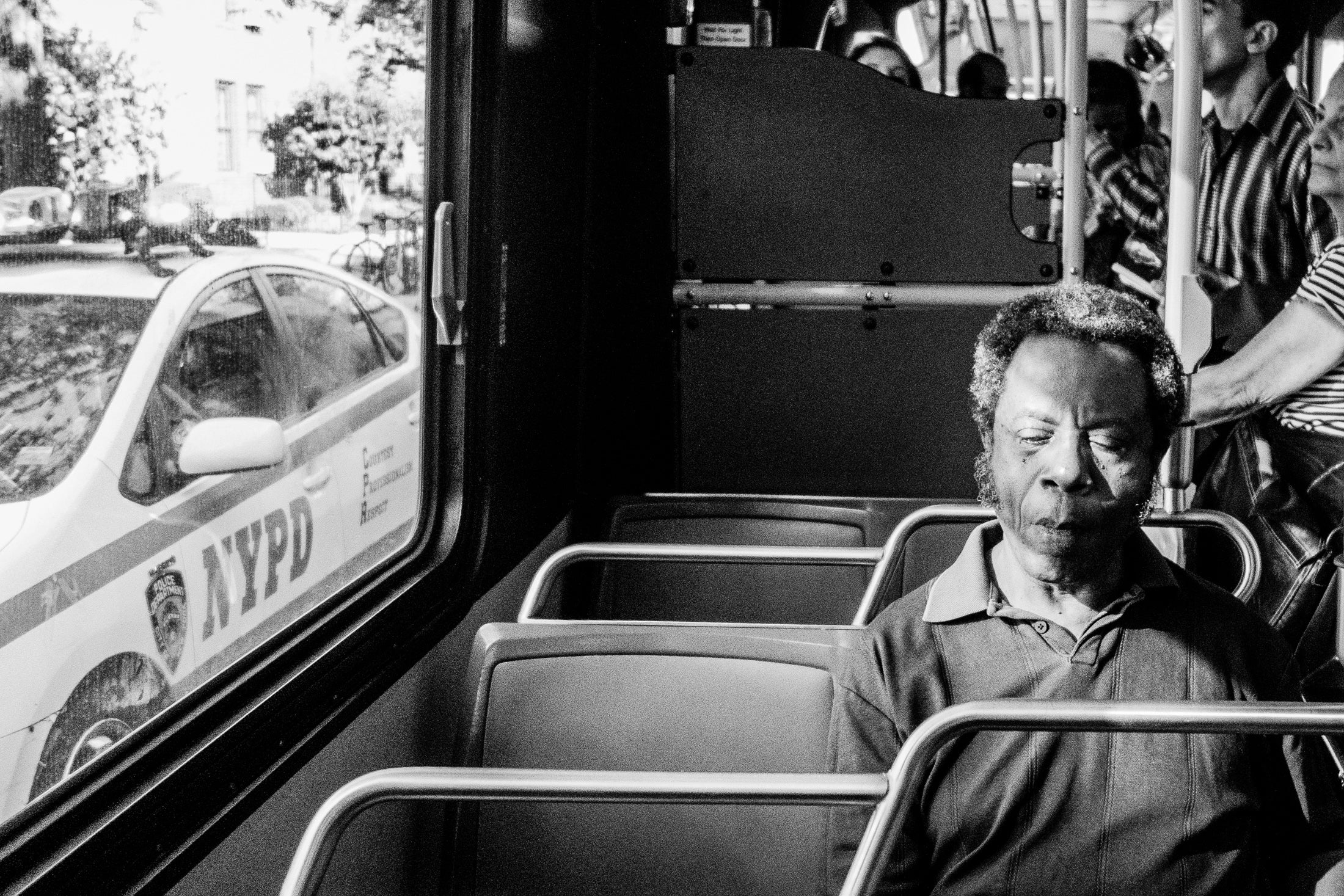 Photo by Jaleel King. Sony RX100
Like many of King's photographs, those series tell a story about his life. "A friend once said to me that when you make a photograph, it brings people into your world and shows them your perspective," he says. "But one of the things I love about photography is that you can make a picture of just about anything, and people will come up with their own stories about it. It would be easy to think that the story, my story, makes the photograph, but it's often the photograph that makes the story."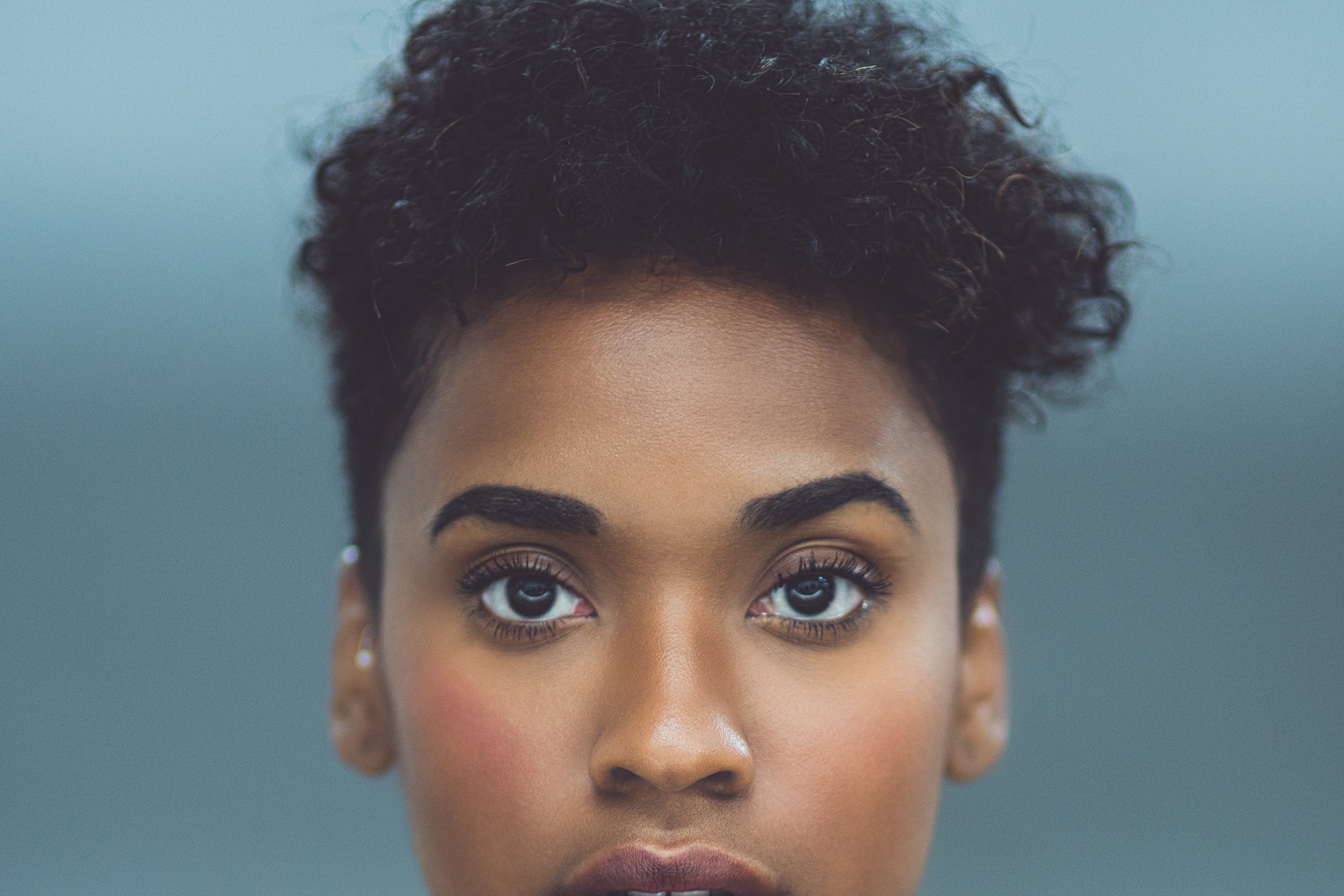 Photo by Jaleel King. Sony α7R II. 85mm f/1.4 lens. 1/100-sec., f/1.4, ISO 400
See more about Jaleel King at jaleelking.com