In a stroke of luck, Sony Artisan Chris Burkhard found himself in Iceland photographing the Meradalir Volcano erupting, the second volcanic eruption in Iceland in the past two years. He had already covered the first eruption for National Geographic and quickly called his editor to be assigned to cover this second one.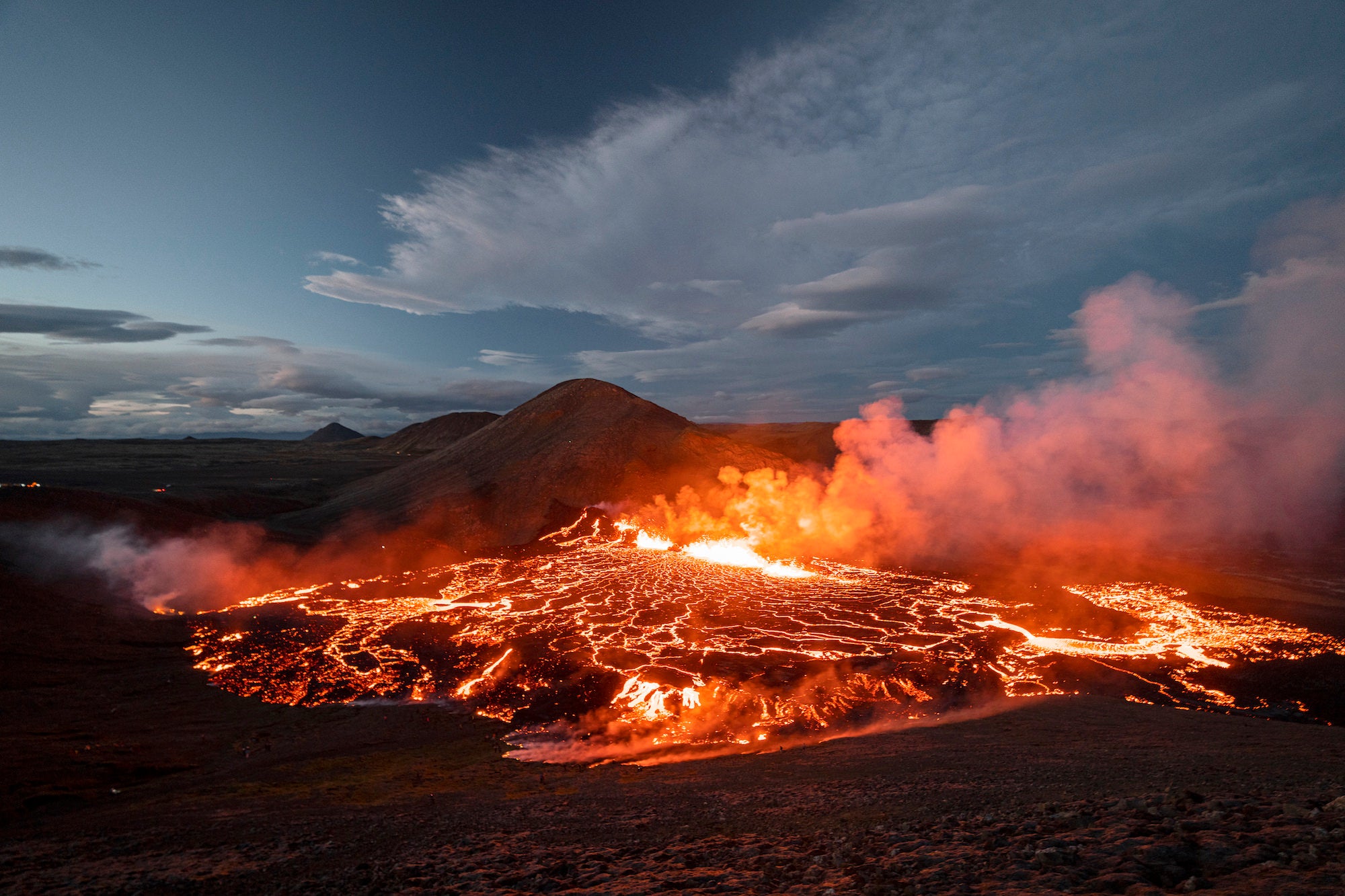 Photo by Chris Burkard. Sony Alpha 1. Sony 16-35mm f/2.8 G Master. 1/15-sec., f/2.8, ISO 640
When he received the news of the second eruption, Burkhard said it was a bit of "utter chaos" on his end. He described the stress he felt because he had a long drive and a long hike out to the location. "​​And the thing is, every time there's a new eruption, you don't really know which way to go. There's multiple hikes. There's multiple ways to get there. It's a little daunting." He was able to get a helicopter ride into the location, and after waiting a few hours for the smoke to clear, was able to shoot for a number of hours before sunset.
He understood the assignment. When Sony Artisan Chris Burkard found himself in Iceland for a surprise volcanic eruption, he wasted no time in making his way there to capture it.
Burkard's Lean & Mean Kit For The Occasion
Given that Burkhard wasn't intending to be on assignment, he didn't have his full kit of cameras and lenses. He did however have the Sony Alpha 1 with the Sony 16-35mm f/2.8 G Master. "Ultimately the Alpha 1 is a beautiful piece of equipment," he says. "It's always been my 'do it all' camera. There were a multitude of images that were shot that I felt like, 'Wow, if I didn't have this camera, I don't know if I would have been able to get to do this assignment.' And ultimately, the weatherproofing is just so superior. So I felt really well taken care of with this camera."
This was also the first time Burhard had used his new, ultralight Sony 24-70mm f/2.8 G Master II lens. "That was my first test with the second generation G Master lens, and it was so impressive to use and feel. What a big difference not having the extra weight made."
Selective Shooting With Limited Resources
In addition to a limited kit of bodies and lenses, Burkhard only had a single battery and a single memory card. "Every photo I was taking, I was trying to be very calculated. I only had so many hours of battery and so many shots and everything was evolving rapidly. I was just trying to make the best choices. It forced me to think back to shooting film and or being very selective with what I shot."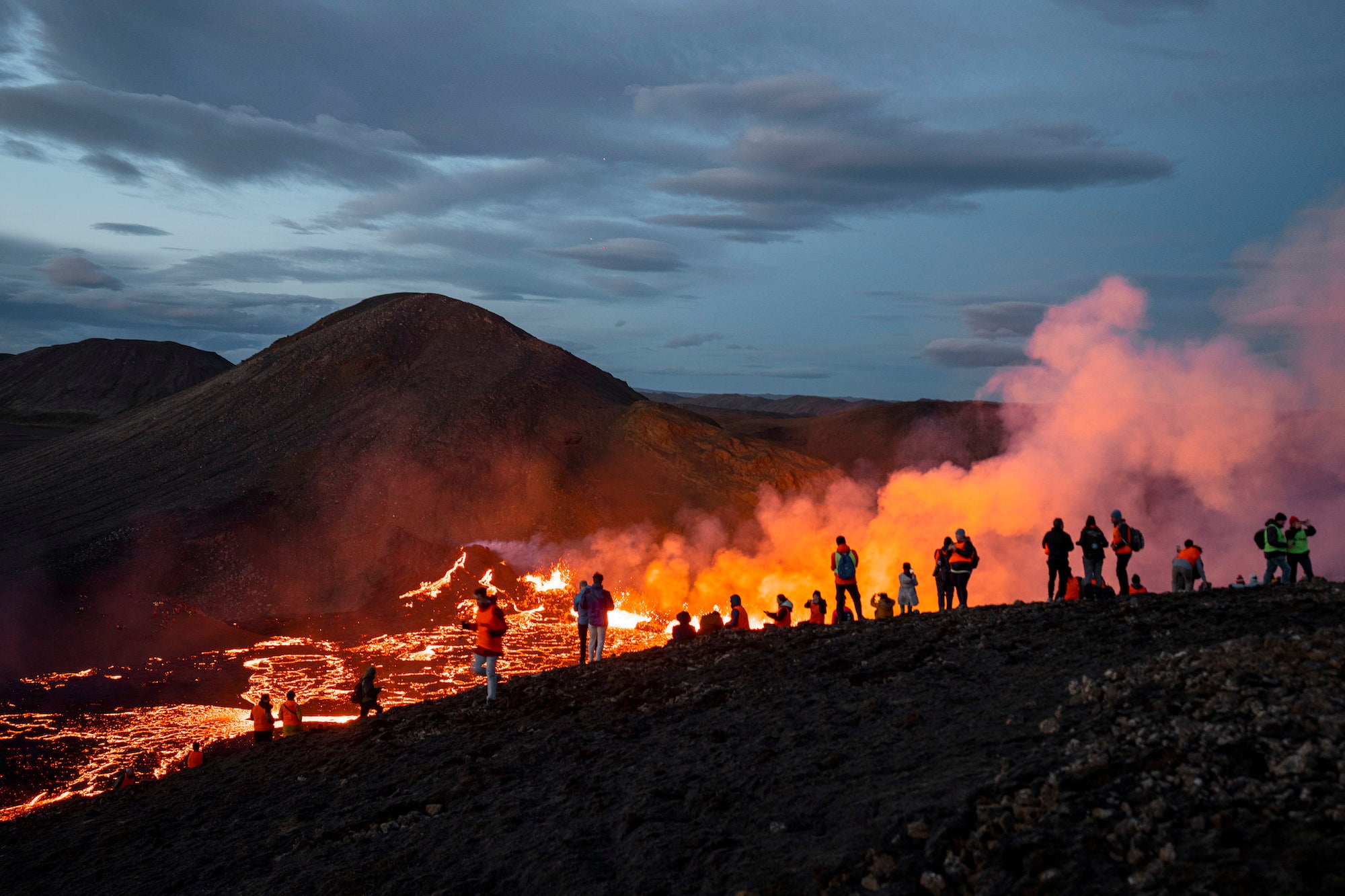 Photo by Chris Burkard. Sony Alpha 1. Sony 16-35mm f/2.8 G Master. 1/20-sec., f/3.2, ISO 500
Since this was truly a breaking news story, Burkhard had to process the images and send them off to his editor at National Geographic as quickly as possible. He ended up staying up all night to edit. He also had found himself without a card reader. Again, he was grateful that his Sony Alpha 1 allowed him to upload the images directly from the camera.
A National Geographic Photo Of The Year
These photographs have been shared widely. In fact, one of the images from the story was honored as one of National Geographic's "Photos of the Year." Burkhard describes how special it felt to photograph a piece of history, the importance of which is described in this article from National Geographic. Burkhard also spoke about what a personal experience this was.
"It's a very visceral experience in that you aren't just seeing it," Burkard explains. "You're smelling it. You're hearing it, because you're hearing the cracking of earth. All of your senses are ignited. So from a photography perspective, it is so truly engaging in every sense. It's just really, really stunning."
He continues, "And this was not a dangerous eruption. It was what they call 'low silica.' So it doesn't blow up and explode, it just kind of flows out. It allows you to get fairly close to it safely. Human beings have used lava for heat and for survival for so long. And I just thought, that is super cool. There was something that felt ingrained in me from a very long time ago and it felt calm, you could say. I was taken by that aspect of being near it and not being afraid. I found that really interesting."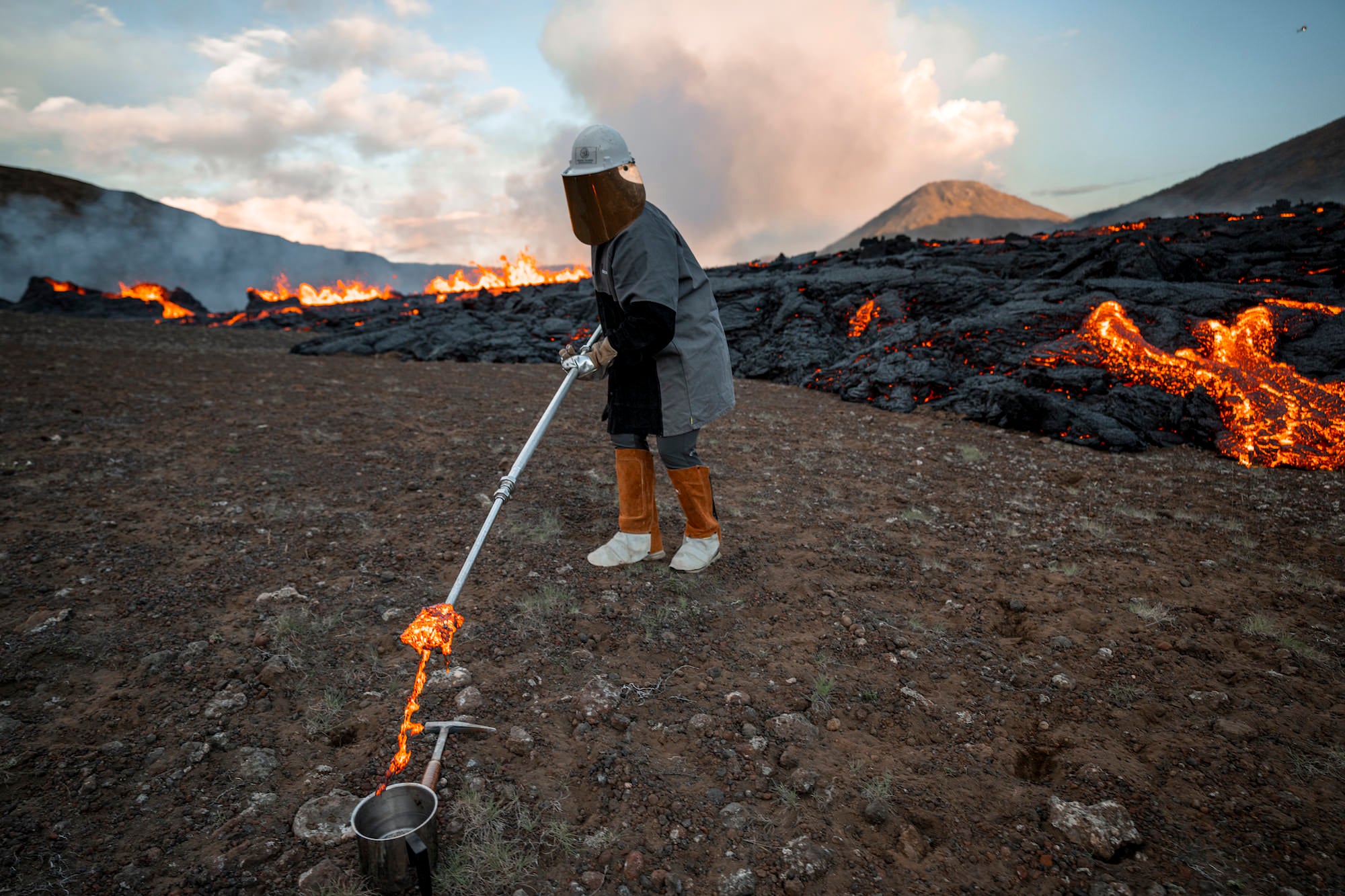 Photo by Chris Burkard. Sony Alpha 1. Sony 16-35mm f/2.8 G Master. 1/250-sec., f/2.8, ISO 100
See more of Chris Burkard's work on his Alpha Universe Profile and on Instagram @chrisburkard.