Rebecca Marcela Oviatt (@becca.vision) is a photographer, videographer, dancer and dance educator based in New York City. She's a member of the Alpha Female community and we found this stunning photo of hers via #SonyAlphaFemale that we wanted to learn more about. We connected with her to get the story behind this beautiful black and white shot, and you can stay connected with other creatives in the Sony Alpha Female Facebook Group.
See how this #SonyAlphaFemale photographer captured a stunning black and white dancing photo on the Brooklyn Bridge using her Sony α7 III with the new Sony 20mm f/1.8 G.
I am a photographer and videographer based in Brooklyn, NY. I currently freelance on a project basis, but I also work with a dance company called theDynamiteExperience as their resident photographer and videographer. I have also been a NYC Public School Dance teacher for the last 10 years. I currently teach middle school dance to 6th-8th graders, and it is one of the most exhausting and rewarding jobs ever! I'm also a professional dancer, mostly in the style of contemporary dance. I perform on a project basis with companies throughout the city.

For the last year or so, I have been seeing how my love for art, dance, and dance education can also weave into my work as a photographer and videographer. I have captured many of my artist friends in action in rehearsals and shows, as well as helped them build modeling portfolios or images for them to use on social media platforms. I also just set up a home portrait studio and am loving learning flash photography and more intimate work. Overall, I am in the midst of finding who I am as photographer and videographer, and am trying out new things each week and learning as much as I can from platforms such as Youtube, Instagram, and online forums and websites.
My dance colleague, friend and model in the photo Femke (@femkeaaldering) was visiting from the Netherlands and wanted to get some outdoor shots. We were trying to squeeze in one last photoshoot outside in NYC on Saturday, March 14 before things started to become drastically different in New York due to the coronavirus. I wanted to find a way to do a dance photo on the Brooklyn Bridge that steered away from the typical Brooklyn Bridge dance shot.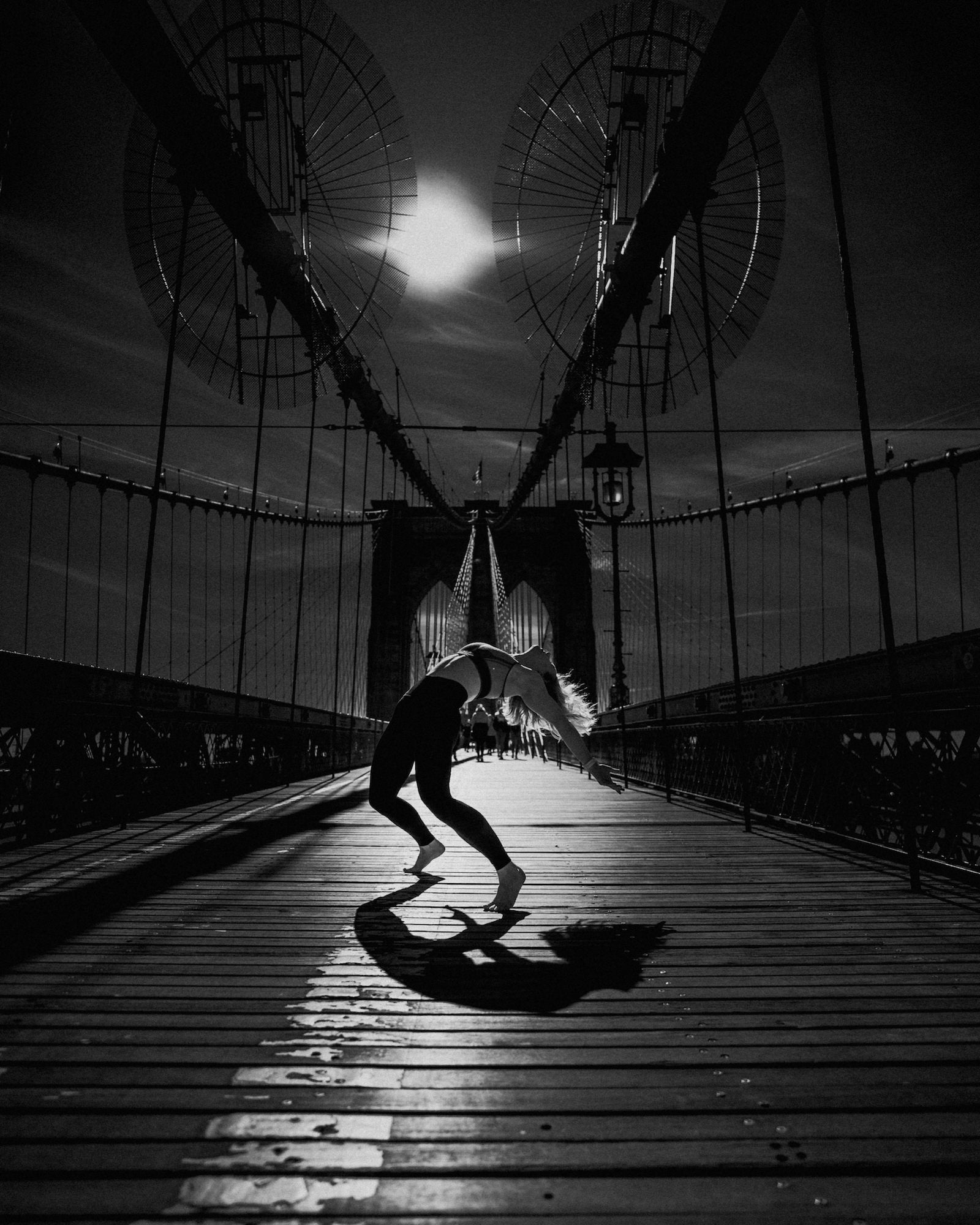 Sony α7 III. Sony 20mm f/1.8 G. 1/4000-sec, f/1.8, ISO 50
Shooting on the Brooklyn bridge was HARD. We were there in the middle of the day, and it seemed like everyone had the same idea to go for a walk despite many people in the city staying indoors. There were many bikers passing by, and we had to wait for the perfect moment to run out and get the shot. For this photo, Femke was improvising in the style of contemporary dance. I am a dancer as well, so I have a good feel for when to hit the shutter button and catch movement at its climax. To be honest, it was risky taking a photo directly into the sun, and while I was taking the photos I did not have a great sense of how it would turn out.
The Gear
I used the Sony α7 III with the new Sony 20mm f/1.8 G lens for this shot. I use the α7 III as its form factor and capabilities really suit my needs. I started off on the α6400 last April 2019 and really got to know the Sony world from there. I moved to the α7 III in November 2019 when I started to book more gigs and wanted the dual card slot and access to full frame lenses. Also, I love the battery life of the α7 III because I do a lot of videography as well in long dance rehearsal settings. For me, while I love outdoor photography and natural light, I also do a fair amount of indoor photography in dance studios and stages, so the low light capability of Sony α7 III is key for me.
Since we caught the shot a bit short notice, most of my settings were still pretty standard. I shot it at 1/4000-sec and f/1.8 with the ISO at 50. The Sony 20mm f/1.8 G lens is amazing! I knew I wanted to be able to catch as much of the scene as possible, and this lens definitely helped with this without giving any kind of fish-eye or "wide angle" look. Keeping Femke in the center ensured she is not too distorted. In addition it is lightweight and compact, so I could easily take it around with me without being too distracting.
I chose to put this photo in black and white because while we were out on a nice sunny day, things were (and still are) changing rapidly in NYC, and a lot of "twilight zone" vibes were being felt around NYC that evening. I wanted to emphasize the contrast between light and dark, to acknowledge that things are not bright and sunny and shiny right now (the original image has a bright blue sky), but rather some dark times may lie ahead – but there is still light everywhere.