My name is Kevin Ainslie (@klrkphotography), I'm 46, born and raised in Scotland, and now live just outside Edinburgh. Photography has been my main passion since around 2012 (though truth be told, my love of it was probably ignited about 30 years ago in a film photography module while at school). Through photography, I've gotten the chance to meet some amazing people…through various wedding, portrait, model, and property shoots… but also fellow photographers, who I now count among my closest friends. Photography has also allowed me to travel and see so many breathtaking landscapes, both here in the UK, and throughout Europe. It has definitely been a lifesaver for me, and absolutely my go-to as an outlet for creativity and relaxation.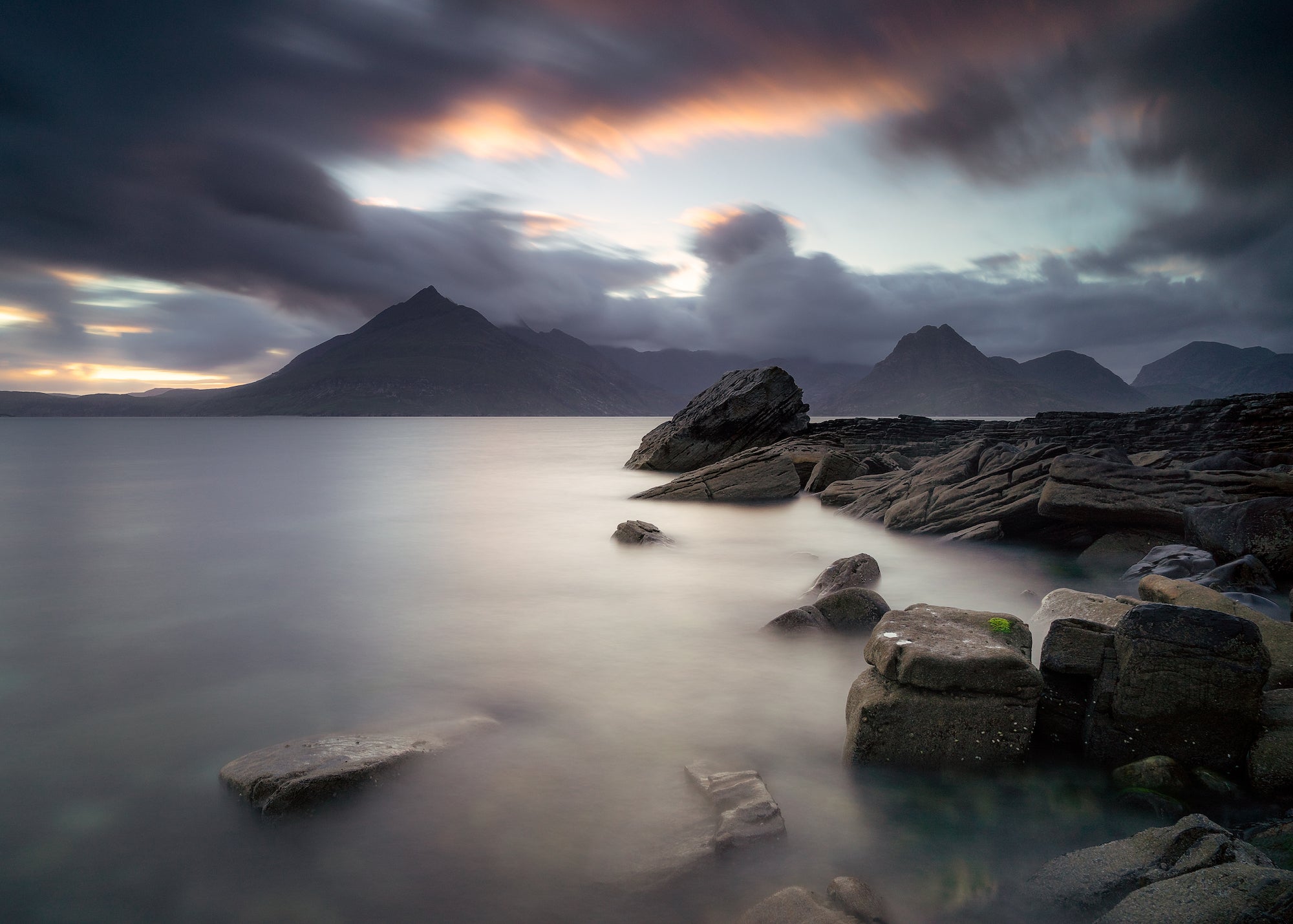 Photo by Kevin Ainslie. Sony α7R. Sony 24-70mm f/4. 66-secs., f/13, ISO 100
Location & Inspiration
This particular shot is one that holds a lot of meaning and is a great memory for me. It was taken at Elgol beach on the Isle of Skye, on a late summer's evening in July 2015. It was taken on my first trip up North with my then new girlfriend (now wife of over 3 years). My wife is American and this was her first trip anywhere in Northern Scotland, so I was keen to take her to one of the most spectacular places I have come to know in my country.
The Gear
While this trip wasn't really a photography trip, as any photographer will tell you, you always have a camera close by for chances like this! I decided to take my Sony α7R camera and Sony 24-70mm f/4 lens, which is a great combo for travel and capturing great detail. The Sony α7R was my first full-frame Sony camera, and the amazing sensor allows you to really capture high dynamic range scenes like this, the subtle colors in the highlights, and allows you to tease out the details in dark shadows. The 24-70mm f/4 lens is light, compact, and very sharp for landscapes from f/8 onwards. It also has a handy zoom range for everyday landscape work.
How He Got The Shot
As we were enjoying the sunset and the receding tide, I noticed a few rocks being uncovered near the shore and the light breaking through the clouds. The photographer in me took over, and I rushed to set up my gear, in hopes to capture that perfect moment – the light glistening on the rocks, the drama of the clouds racing over the Cuillin mountains in the distance. In that moment, I felt so happy and calm, and I hoped I could create an image matching my mood. I set up at the widest focal length of 24mm, I chose a small aperture of f/13 and an ISO of 100 to give me a long exposure, helping to create calmness in the foreground water and retain detail in the shadows of the rocks. A tripod was the key to getting the stability I required. As the sky was much brighter, it required a 3 stop ND grad filter to balance the exposure. Finally, the exposure length of 66 seconds gave me exactly what I was aiming for…the image I wanted, and a memory that will last forever.
Post-Production
In post processing, the image didn't really require much at all. I lifted the shadows a little in the foreground to see the details in the rocks. I increased both contrast and vibrance slightly too, to help the image have some drama. Then I finished it off with a subtle vignette to draw the eye to the light shining across the water from the foreground rocks to the mountains in the rear. I selectively sharpened the foreground rocks in Photoshop, and that was my editing completed.

I hope you enjoy looking at the image as much as I enjoyed capturing it.