Sony Artisan Gary Hart has extensive experience photographing landscapes all over the world. He leads popular workshops in places like Yosemite, Hawaii, New Zealand and more. We connected with him to learn more about the Sony Alpha cameras and lenses he always has in his bag for landscape photography, as well as the specialty gear he swaps in and out for special shoots. Warning...prepare yourself for possible gear-envy.
Landscape photography pro Gary Hart shows us the Sony Alpha gear you'll always find in his bag, and the specialty gear he swaps in & out for special shoots.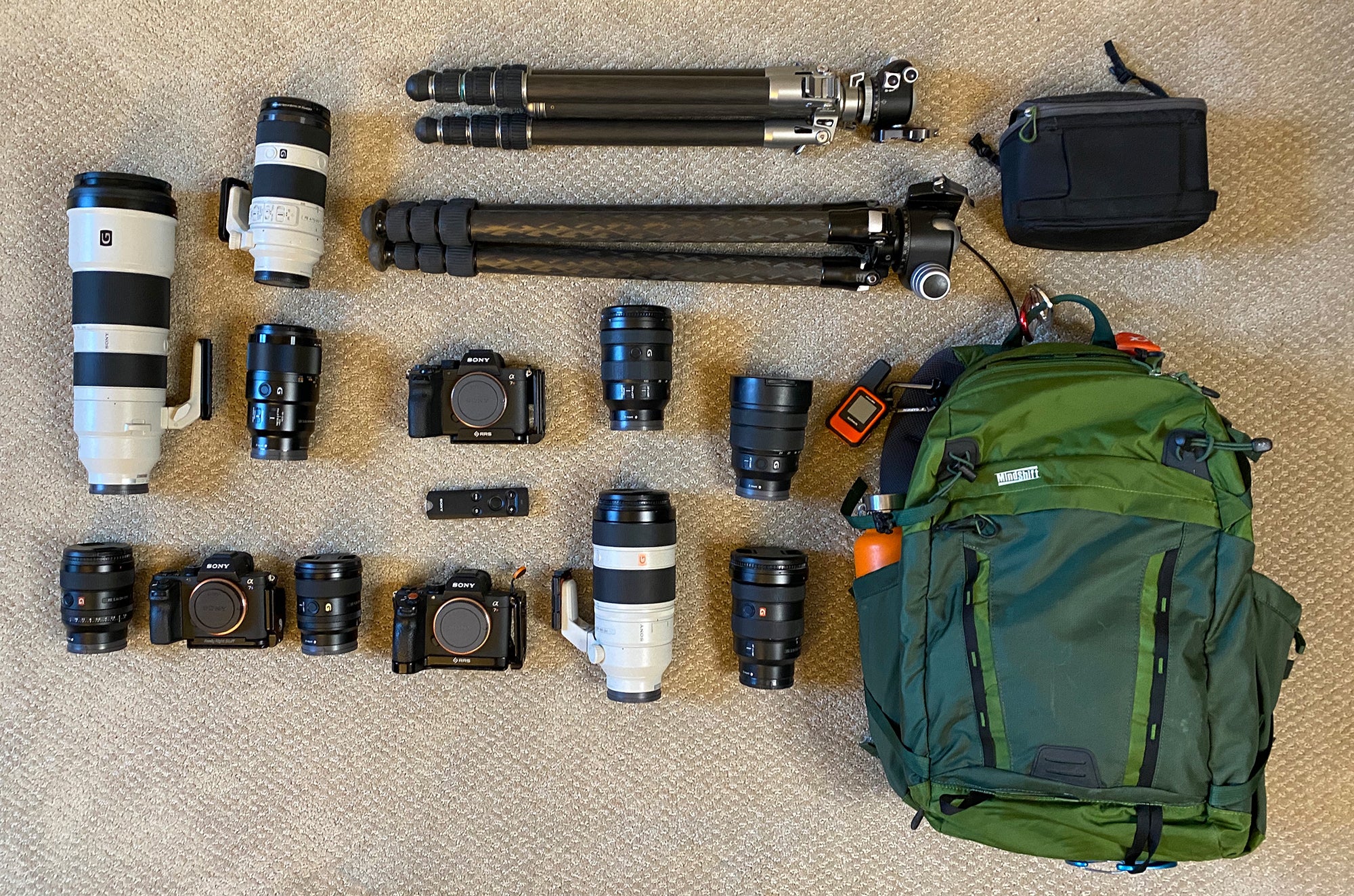 I advise my workshop students that a landscape photographer should always have the focal range from 20-200mm covered, plus a backup body, and a solid tripod. For years that meant my bag carried 16-35, 24-70 or 24-105, and 70-200 lenses, plus an APS-C backup body (that complemented my full frame primary body), and a carbon fiber tripod. Pretty basic.
When I switched to Sony Alpha nearly six years ago, I thought one benefit of switching to mirrorless would be a smaller, lighter bag. It turns out that I didn't replace my bag, I just filled all the extra space with more gear, so now I have even more flexibility in the field than ever (with the option to go lighter if necessary). I especially love that all of my Sony Alpha bodies, and most of my Sony lenses, fit in my bag end-wise, creating a smaller footprint for even more room.
Today I still use a medium-size bag (new bag, about the same size as I carried in my DSLR days), but instead of covering the 16-200mm focal range I was limited to with my DSLR system, I now cover 12-400mm—and when you factor in my 2x teleconverter and my α7R IV's APS-C crop mode, I can go up to at least 1200mm (or to a ridiculous 1800mm if I swap in my Sony 200-600 lens).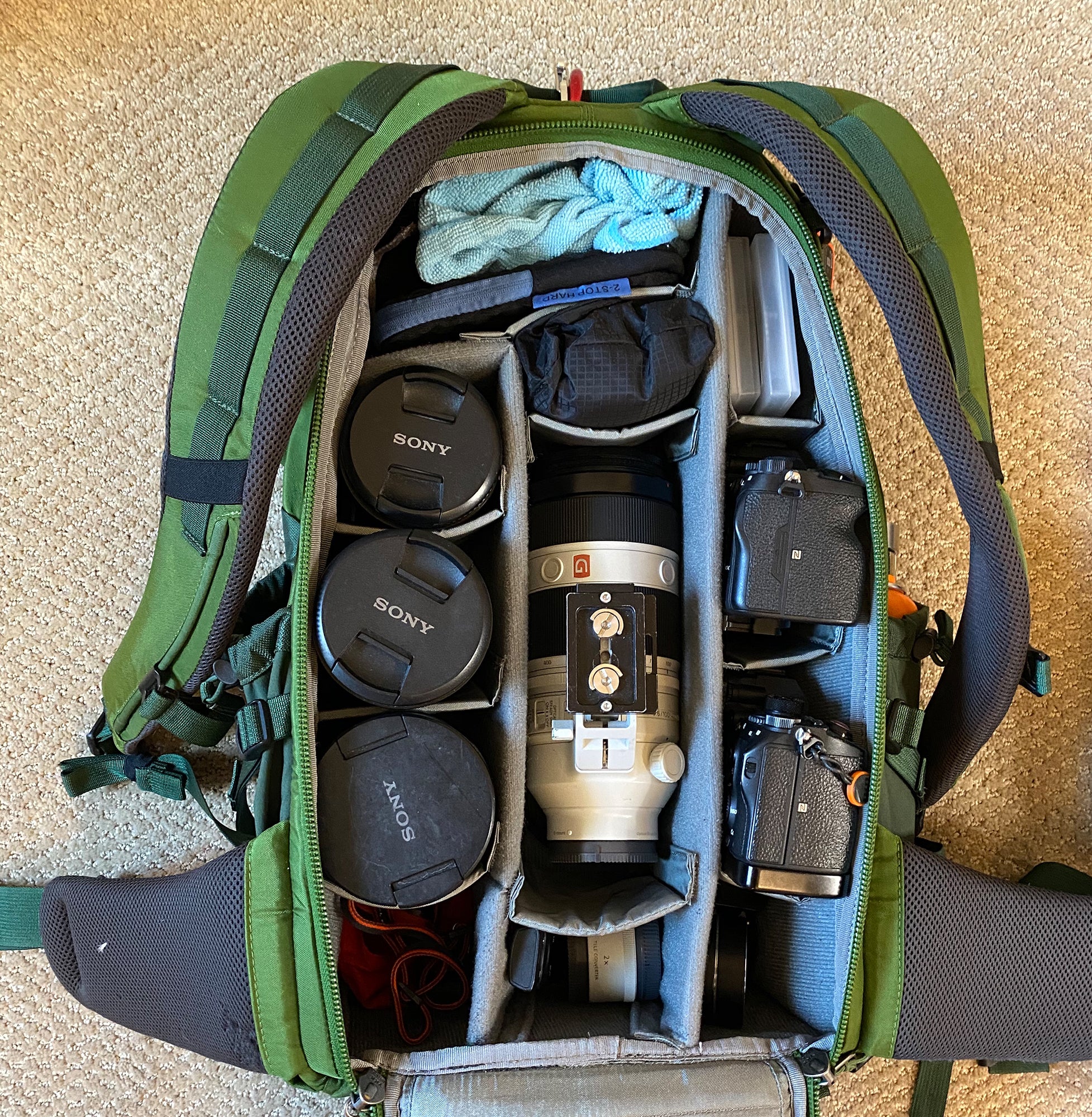 In addition to the fulltime gear that always lives in my bag, I also have a stable of specialty gear that I can swap in and out when my goal is something I don't photograph every day, for example the Milky Way, a moonrise/set, or macro subjects.
Fulltime Gear (Always In My Bag)
Cameras
Sony α7R IV (primary body): Dynamic range is king for landscape shooters, and this camera has more dynamic range than any camera I've ever used. I've also started using it for night photography, especially on trips when I don't want to or can't carry my α7S II. Because I do so much night photography, and I like to make quick adjustments without removing my eye from the viewfinder, the ability to control my camera without actually looking at it is essential. The α7R III was the first Sony body I felt completely comfortable handling 100% by feel, and with a bigger grip and improved buttons, the α7R IV is even better. Oh, and the α7Rx bodies' weather sealing keeps getting better—so far in its young life my α7R IV has already survived some pretty extreme conditions in Hawaii and Iceland (in January), to name just a couple.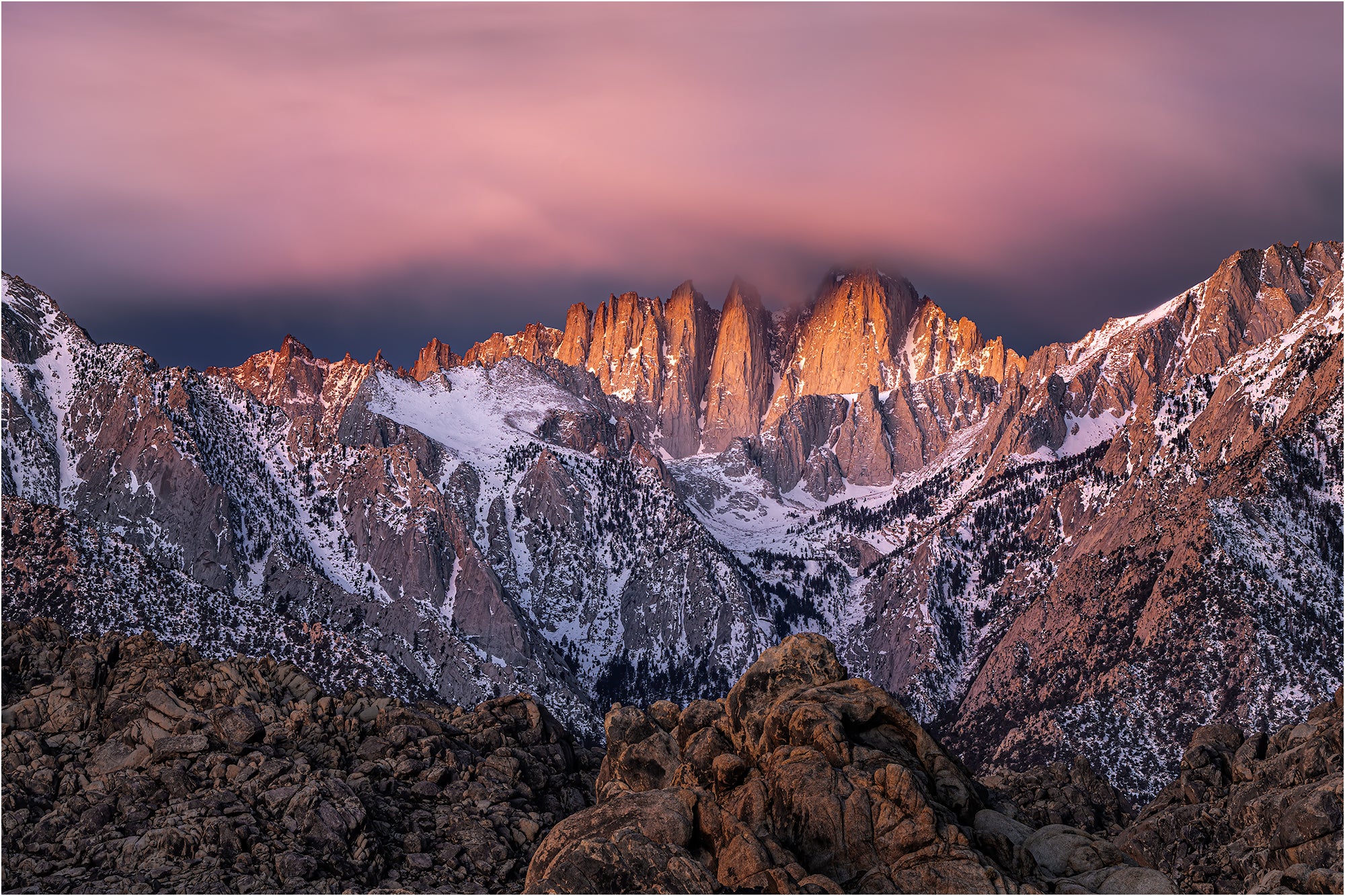 Photo by Gary Hart. Sony α7R IV. Sony 100-400mm f/4.5-5.6 G Master. 30-sec., f/8, ISO 100. Mt. Whitney, Alabama Hills, California Sometimes the simple shots are the best, and when I saw this sweet sunrise light on Mt. Whitney, I had to have a tight shot of it. I started even tighter than this, pulled back to about 135mm to include some of the Alabama Hills as well.
To get this body and all that dynamic range with 61 megapixels feels almost unfair. For maximum flexibility in the field, I shoot primarily with zoom lenses and prefer cropping at capture with my focal-length choice (rather than shooting loose and cropping in post), but I've grown to appreciate the α7R IV's extra megapixels for a couple of reasons beyond huge prints:
For as long as I've been a full-frame shooter, when I wanted 50% more reach on my telephoto shots (for example, to make a rising/setting moon as large as possible), I'd switch to the APS-C body that doubled as my backup. But an α7R IV set to APS-C mode still has 26 megapixels, 2 megapixels more than the Sony α6xxx bodies. This allowed me to replace my α6300 backup body with my beloved, full frame α7R III.
Another beneficiary of the α7R IV's extra resolution is my lightning photography, which is the one time I generally compose loosely to maximize my chances of capturing lightning, then crop later depending on where the lightning struck.
Sony α7R III (backup/second body): I was so happy with the dynamic range, ergonomics, and image quality of this camera, I'd have been happy using it for the rest of my photography life. The only reason I replaced it as my primary body is that the α7R IV gave me slightly better dynamic range and ergonomics, plus more resolution. Knowing that my α7R IV is backed up by a camera that's nearly as good is great peace of mind, and I don't hesitate using my α7R III as a simultaneous second body when the situation calls for it—for example, a Yosemite moonrise that I want to shoot both wide and tight.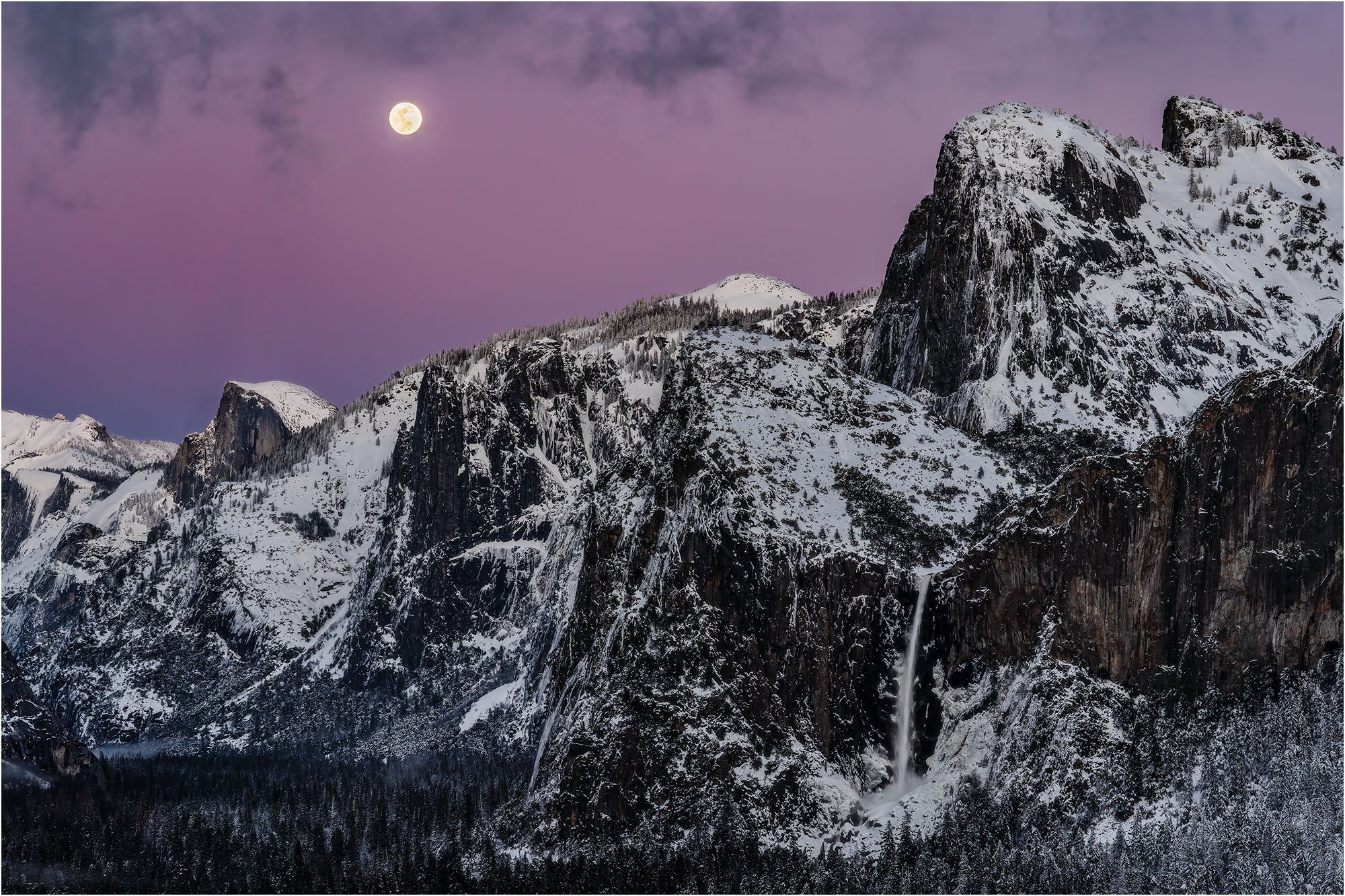 Photo by Gary Hart. Sony α7R III. Sony 24-105mm f/4 G. 1/6-sec., f/10, ISO 100. Moonrise, Tunnel View, Yosemite. Without world class dynamic range, capturing detail in the daylight-bright moon and twilight-dark landscape is impossible, but my α7R III came through with flying colors. (Spoiler alert: the α7R IV is even better.)
Lenses
Sony 12-24 f/4 G: The first time I picked up this lens, I couldn't believe how compact it was, which made it easy to assign it to a permanent slot in my bag. My 12-24 is not my most heavily used lens, but it has become a game-changer in some of my favorite places. For example, in Yosemite and on the Colorado River in the Grand Canyon, I'm often so close to the towering landscape that I can't get everything in my frame at 16mm. And when the sky decides to do something special, I love getting my 12-24 within a couple of feet of a strong foreground and filling the background with lots of sky.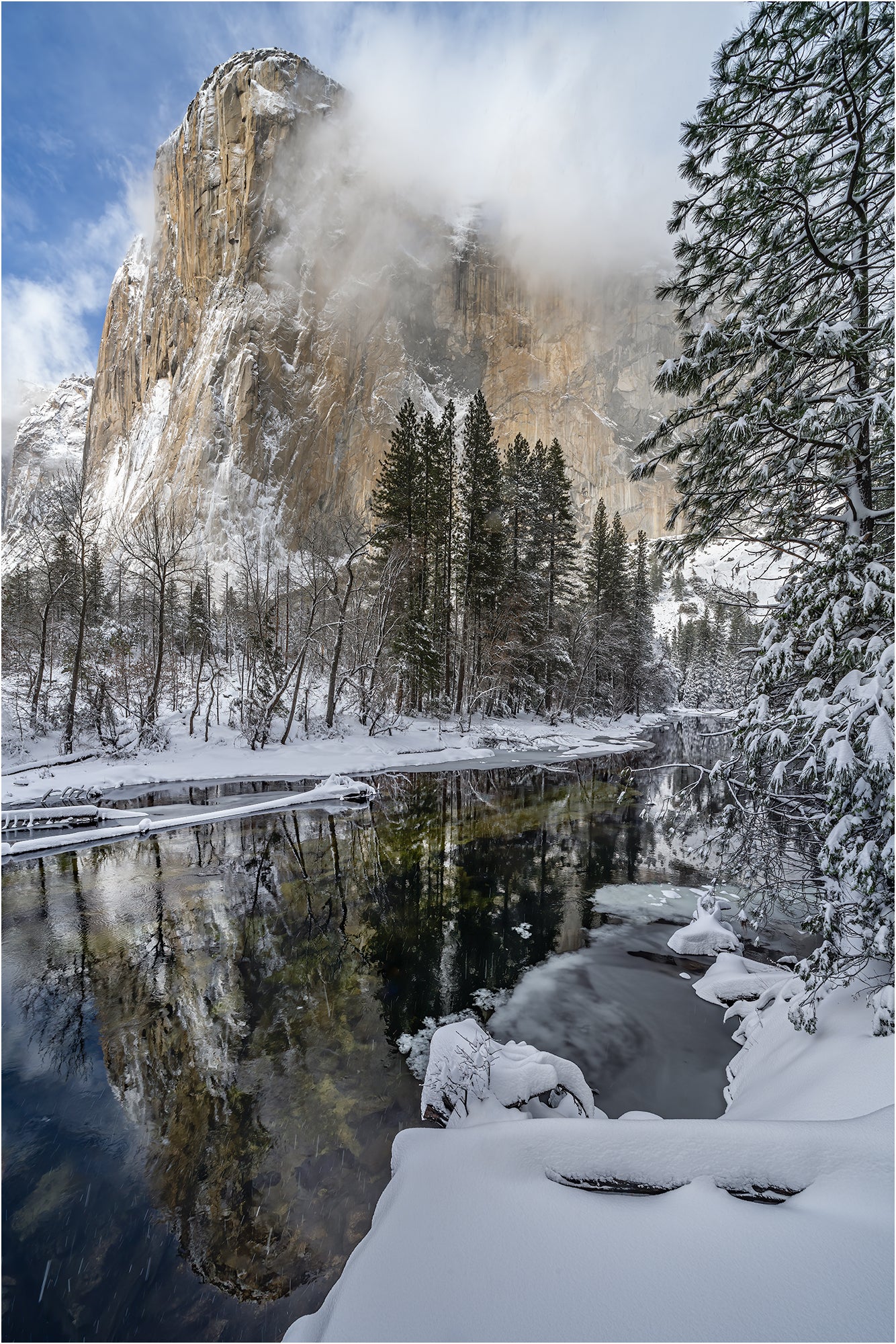 Photo by Gary Hart. Sony α7R III. Sony 12-24mm f/4 G. 1/20-sec., f/16, ISO 50. El Capitan Reflection, Yosemite. Until I got my 12-24, capturing all of El Capitan and its reflection in a single frame from this spot was impossible.
Sony 16-35mm f/2.8 G Master: This focal range is covered by other lenses in my bag, but I love the 16-35 GM too much to leave it behind—crazy sharp, and f/2.8 means it's fast enough for night photography in a pinch. Plus, it's a whole lot easier to use with polarizing and neutral density filters than the 12-24 (which requires attaching an external filter system to add filters). The 16-35 is also my go-to lens for sunstars, which it renders better than any lens I've ever owned.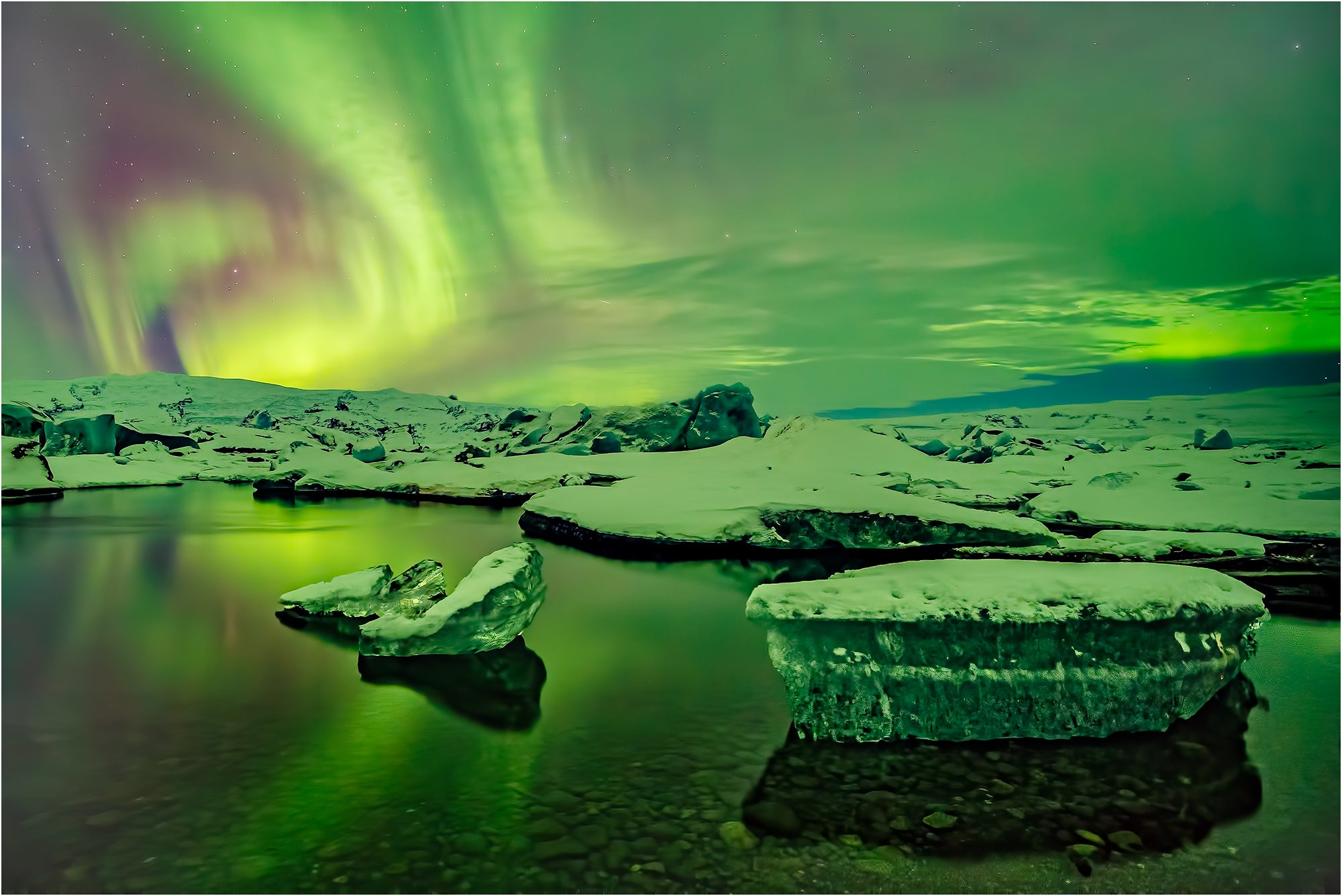 Photo by Gary Hart. Sony α7S II. Sony 16-35mm f/2.8 G Master. 8-sec., f/2.8, ISO 6400. Northern Lights, Glacier Lagoon, Iceland. This was my first Northern Lights experience. I started with my 24mm f/1.4 GM lens but soon realized I wanted more sky more than I wanted more light.
Sony 24-105mm f/4 G: My workhorse lens, the 24-105 G is compact, really sharp, and wide enough for about 3/4 of my wide angle needs, and long enough for about 3/4 of my telephoto needs. When I start working a scene, I often go with this lens until I'm familiar enough with the scene to know whether I want to shoot wider or longer.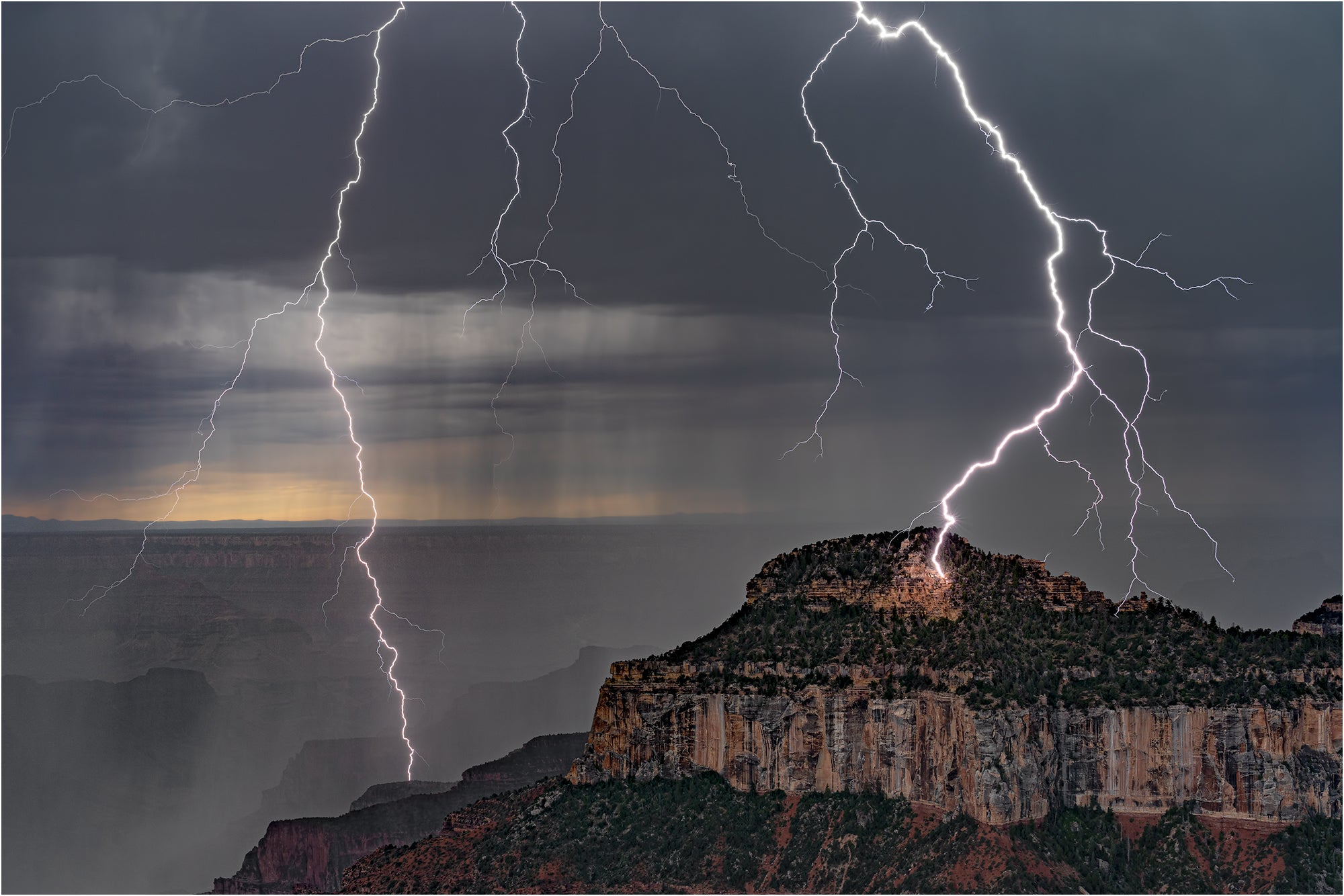 Photo by Gary Hart. Sony α7R III. Sony 24-105mm f/2.8 G Master. 1-sec., f/11, ISO 100. Lightning Strike, Grand Canyon North Rim. The 24-105 is the perfect focal range for lightning because 105mm is usually more than long enough, and if you need to go wider than 24mm, you're too close. This Grand Canyon lightning strike was just a mile away and I retreated for cover right after capturing it.
Sony 100-400 f/4.5-5.6 G Master: Replacing my 70-200 lens in my bag with this lens full time doubled my everyday focal range, without adding a lot of weight and bulk. I reach for my 100-400 when I want to isolate elements in a larger landscape, and when I'm photographing the moon on or near the horizon (often with the Sony 2x teleconverter). And one of my favorite things to do in spring and fall is to add an extension tube (or two) to my 100-400 for creative selective focus images featuring wildflowers and leaves.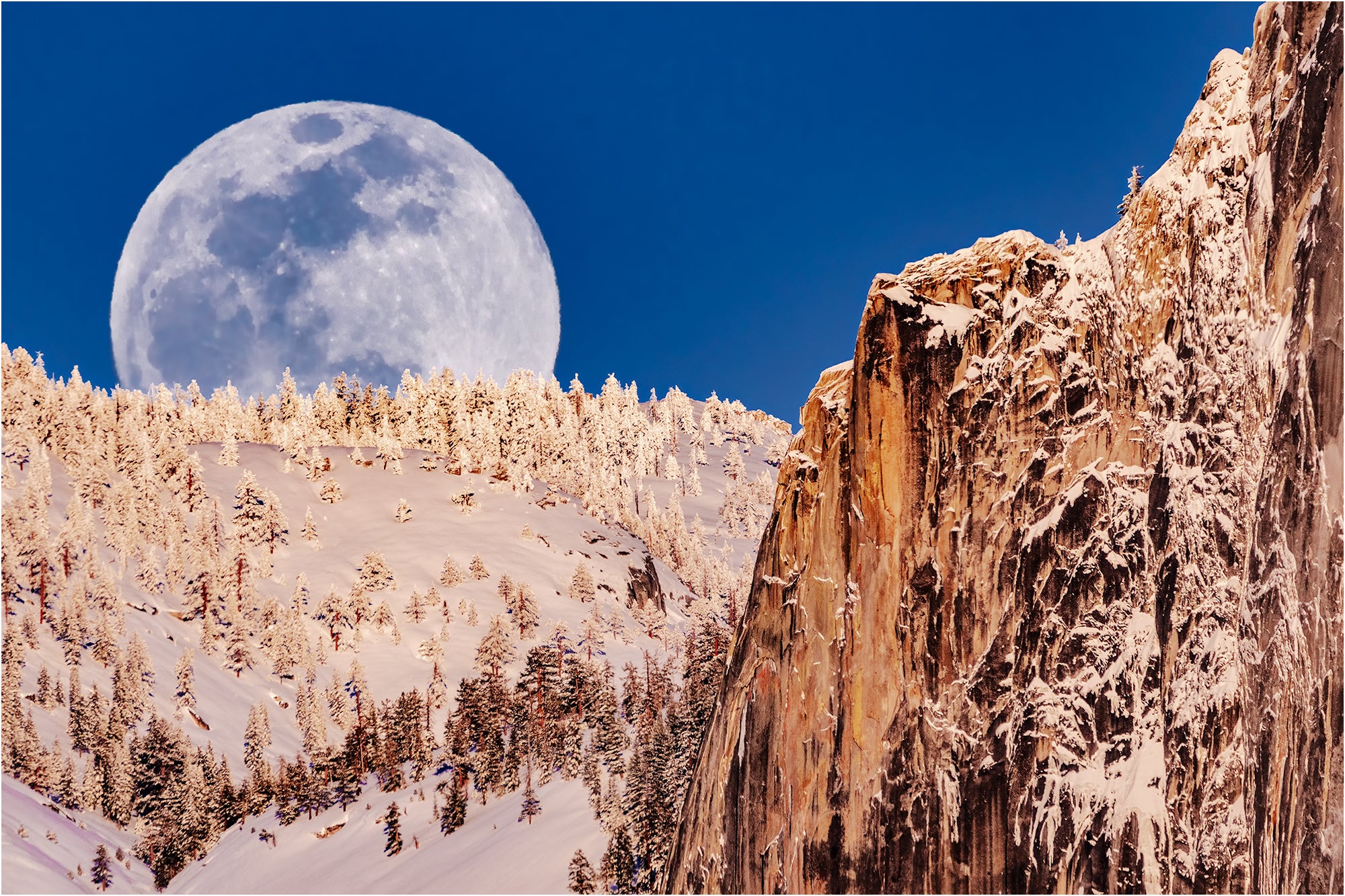 Photo by Gary Hart. Sony α6300. Sony 100-400mm f/4.5-5.6 G Master & 2x Teleconverter. 1/400-sec., f/11, ISO 200. Big Moon, Half Dome, Yosemite. I love photographing the moon big, the bigger the better, and love how sharp the 100-400/2X-teleconverter pair is.
Accessories
Sony 2x teleconverter: Not only does my 2x teleconverter double my telephoto range, I don't notice any of the image quality hit that usually comes with a teleconverter. Since all of my photography is on a tripod, losing 2 f-stops is rarely a problem.
Filters: All of my lenses except the 12-24 have a Breakthrough neutral polarizer that only comes off at night, or when I have an extremely wide composition with lots of sky. I also attach a filter pouch to my tripod that holds a couple of Breakthrough 6-stop polarizing ND filters, a Breakthrough 2-stop hard graduated neutral density filter, and a couple of small lens cloths.
Other stuff always in my bag: Garmin inReach Mini satellite communicator, because I spend so much time off the grid; Sony Wireless Remote Commander (RMT-P1BT); Newer 10mm and 16mm extension tubes; large (-ish) microfiber cloth (about 1 sf) in case something gets wet; Black Diamond rechargeable runner's headlamp; Hydro Flask insulated water bottle; Giotto Rocket Blower; spare Sony NP-FZ100 battery; filter wrench; and a couple of RX Bars (because photography always trumps meals).
My Camera & Lenses For Milky Way, Supermoons & Other Specialty Shoots
Sony α7S II: This camera only comes out for Milky Way and other moonless night photography. The α7S II is "only" 12 megapixels (remember when 12 megapixels was huge?), but it pretty much sees in the dark. The benefit of the α7S II for night photography is more than just clean night images, it's also by far the best of the Alpha bodies at simply seeing a night scene to compose and focus.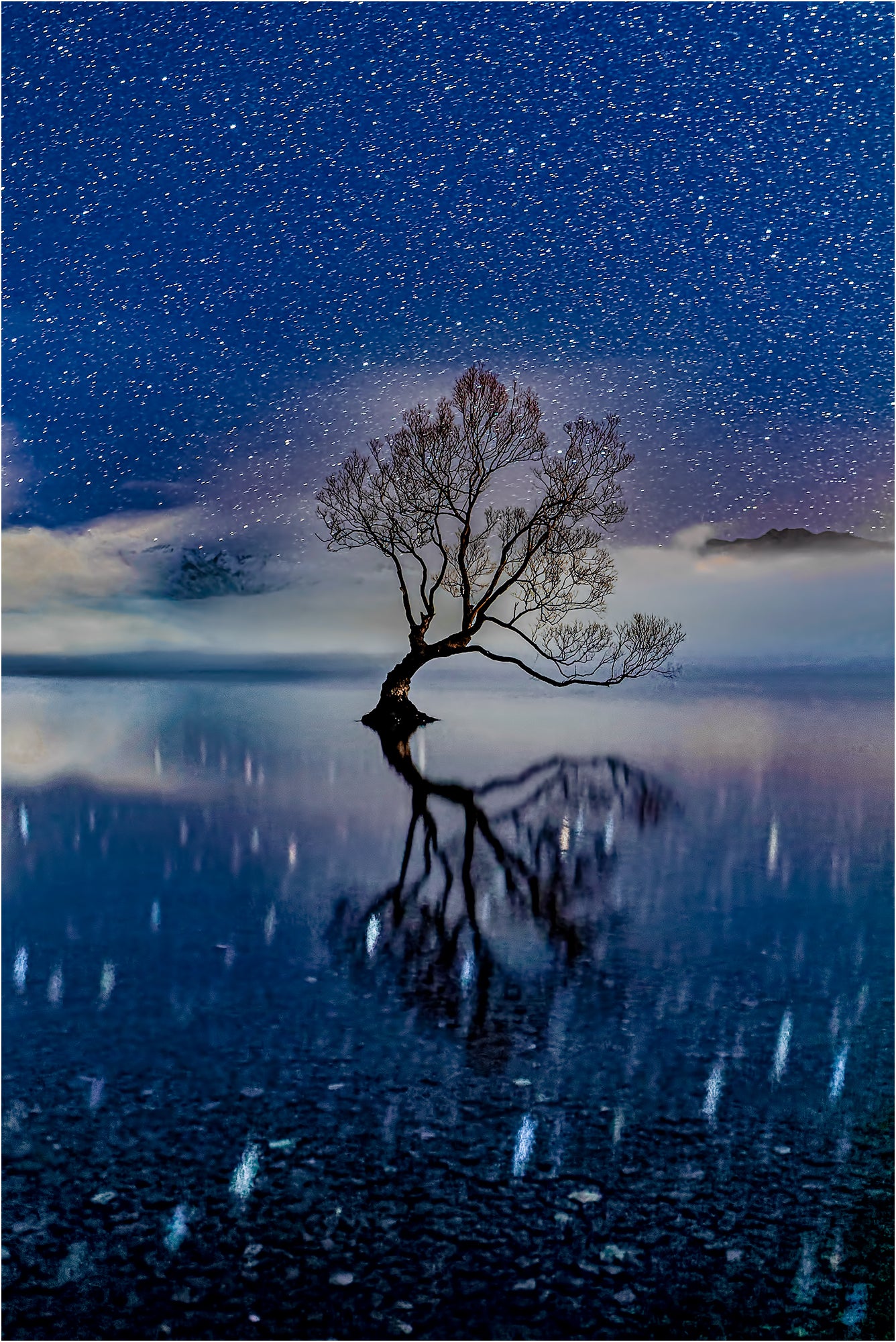 Photo by Gary Hart. Sony α7S II. Sony 16-35mm f/2.8 G Master. 30-sec., f/2.8, ISO 6400. Willow Tree, Lake Wanaka, New Zealand. I was alone when I photographed this much photographed tree beneath the stars at nearly midnight on a winter day that had started at this very spot at 3 AM that morning.
Sony 20mm f/1.8 G: I got this lens just about the time the COVID shutdowns started, so I haven't used it yet, but it will be used almost exclusively for night photography. I'm especially looking forward to taking it to New Zealand, where the Milky Way center is so high (compared to most of my North America Milky Way locations), because I sometimes find myself wanting to go wider than 24mm. This lens is also so compact that in a pinch, I can squeeze it into the front pocket of my Levi's (rather than set it on the ground in the dark).
Sony 24mm f/1.4 G Master: This lens is also nearly exclusively for Milky Way and other moonless night photography. It's nearly as compact as the 20 f/1.8, so it really won't be any problem carrying both for my night shoots, even when I want to go super light.
Sony 90mm f/2.8 G Macro: I don't use this lens a lot, but when I do it's often with extension tubes to get extra close to my creative selective focus subjects (wildflowers, fall color). All my Sony lenses are sharp (overall, the sharpest glass I've ever used), but this one could be the sharpest.
Sony 70-200mm f/4 G: This formerly fulltime camera bag resident was replaced by my 100-400 lens, but when I need to go as light and compact as possible (for example, when I raft the Grand Canyon), I'll sometimes bring this lens instead of the 100-400.
Sony 200-600mm f/5.6-6.3 G: Just a little too big to carry full time (I actually can make the room to carry it instead of the 100-400 if I need to), the 200-600 comes with me when I want to supersize a moonrise/moonset. I often pair my 200-600 with the 2X teleconverter and really go crazy. I also use this lens with extension tubes for selective-focus wildflowers and fall color.
Photo by Gary Hart. Sony α7R IV. Sony 24-105mm f/4 G. 1/13-sec., f/11, ISO 100. Moonrise Reflection, Half Dome and Merced River, Yosemite It doesn't get much better than a mirror reflection of a full moon rising above Half Dome—at 61 megapixels.
Bag: After many years with an f-Stop Tilopa, last summer I switched to a Mindshift Backlight 26L. I chose green, thinking it would stand out among the sea of black bags in the back of my SUV during workshops, but it seems like everyone else had the same idea because there now seems to be two or three identical green 26Ls in each workshop. I do love this bag—for the amount of gear it handles, its ease of access, and because my tripod attaches so easily to the outside. I also like the large outside pockets, which are wide and deep enough for both an umbrella and water bottle with no worry about either falling out. And I haven't found an overhead bin that couldn't handle it.
Support: I'm kind of a tripod evangelist and have lost track of how many I own, but only use two regularly. My primary tripod is the Really Right Stuff 24L. The 24L is carbon fiber, more than sturdy enough for my heaviest body/lens combination, and extends above my head without a center post (I'm 5' 9"). My travel and hiking tripod, for when I want to go super light, is the carbon fiber Centennial from Colorado Tripod Company (part of Breakthrough Filters). The tradeoff with a smaller tripod is that I need to add a few inches with the center post to get my camera up to eye level, but this one's a few inches taller than the RRS TQC-14 it replaced.
I own every RRS ball head (BH-25, BH-30, BH-40, and BH-55). My primary head used to be the RRS BH-55, but an unexpected advantage of switching from a DSLR system to Alpha mirrorless is that lighter gear doesn't require heavy support, so now the head I use most is the RRS BH-40. If I'm going to be using my 200-600 lens, I usually switch back to my BH-55.
Each of my camera bodies has a Really Right Stuff L-Plate that never comes off.
Storage: This is easy. All of my cameras use 128GB or 64GB Sony Tough cards. I'm a pretty deliberate shooter, and as a landscape photographer my subjects are refreshingly stationary, so I don't have to get the crazy-fast Tough cards—even the slowest Sony Tough cards are fast enough for my needs.
Computer: I used to travel with a MacBook Pro, and use an iMac in my home office (upgrading them every three years or so), but a few months ago I replaced both computers with a 16" 2019 MacBook Pro (64 GB RAM, 4 GB solid state hard disk) and a 38" Dell Ultrawide monitor (for the office). This setup has simplified my life tremendously and I can't believe I didn't do it sooner. And I'm using the COVID lockdown to convert by image storage paradigm to a 72TB Synology NAS system (possibly overkill, but this is what happens when your son-in-law is in IT).