Sony Artisan of Imagery Jean Fruth is a baseball photographer who has a year-round calendar filled with capturing the sport in a variety of ways. She's been to Cuba several times, and was there earlier this year for the last two games of the Serie Nacional Finals. While she was there, in addition to shooting professional ball, she also wanted to photograph the young kids playing baseball in that region. With her Sony α9 and Sony 70-200mm f/2.8 G Master, she wandered the streets of Cuba chasing baseball and light – the two things she says she likes to do best. We had the chance to talk to her about her latest trip and the story behind one of her favorite shots:
If you want to capture kids playing baseball in the streets, your best chance is in Cuba. In many ways, it's a throwback in time. In the 1950's in the U.S., it was common place to see pick-up games on urban streets and in rural fields. Today, with most sports organized by coaches and parents, kids playing pickup games outdoors are hard to find. Instead, and unfortunately more often than not, video games and social media dominate kids free time.
"For this kind of street/sports shooting, the α9 with the Sony 70-200mm f/2.8 G Master is a natural combination." -Jean Fruth
During my last trip to Cuba to photograph The Serie Nacional Finals at Estadio Augusto César Sandino in Santa Clara, I knew I wanted to get out there to find kids playing ball. I photographed a youth baseball practice and then wandered into a neighborhood called Reparto America Latina next to a big square called Plaza Che Guevera. The lighting in the square was beautiful, but there weren't any kids playing ball so I had to keep walking around the neighborhood. As I continued walking, the sun was setting and creeping below the houses so the streets were now in the shade.
After walking around for a bit, I happened upon several streets with kids who were playing baseball. I turned a corner and found myself in the middle of a pickup game, which is where I took this action shot. I always try to stay out of the kids' way and document this beautiful sport in its purest form. It was just a few kids, playing in the last hour of light.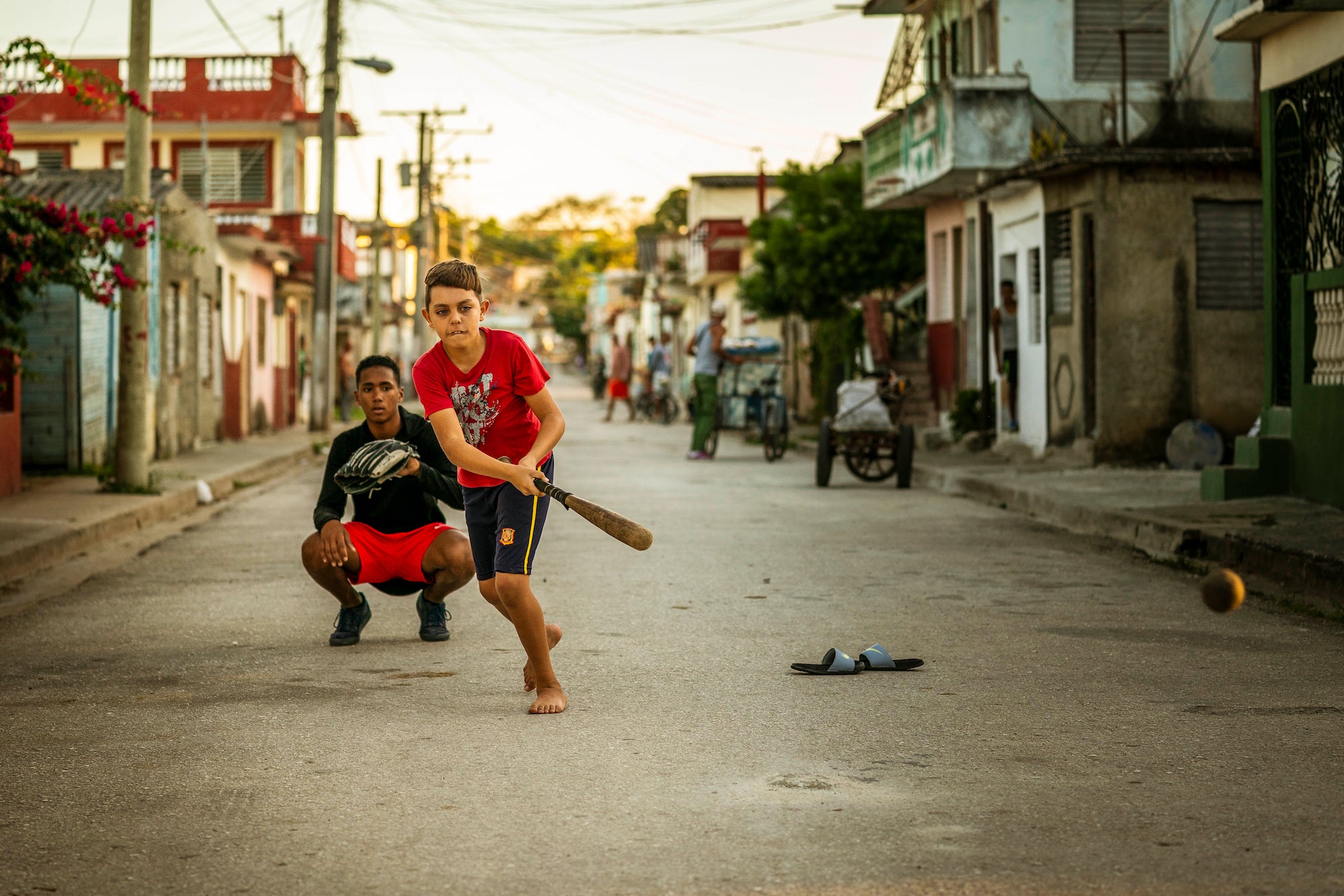 Sony α9. Sony 70-200mm f/2.8 G Master. 1/1000-sec., f/2.8, ISO 400
The Sony α9 With The Sony 70-200mm f/2.8 G Master
I always try to get the ball in the shot, so I had my α9 set to shoot at 20 frames-per-second. I specifically like this shot because it shows the follow through of his swing and his head is up looking at the ball. The ball is still in the frame and you still see a lot of his face. I also love the way the light is hitting the ball in this photo. With the in-body image stabilization (IBIS) I had the freedom to move quickly, handholding as I shot at different shutter speeds. Also the vibrancy of the colors I get with the α9 makes it a perfect fit for a colorful place like Cuba.
For this kind of street/sports shooting, the α9 with the Sony 70-200mm f/2.8 G Master is a natural combination. The lens produces beautiful contrast and color and focus was super sharp on my subjects. Having the f/2.8 maximum aperture throughout the zoom range gives me control over the focus position so I can create a shallow depth of field image where the subjects really pop. I use the lens' OSS along with the camera's IBIS system to get a rock-steady image when I'm handholding.
I've been to Cuba a half dozen times to photograph baseball. I love shooting on the island, from the grassroots games to the professional leagues. Every level provides telling views of how different life is there compared to most other places baseball is played. Whenever I want to capture the innocence and purity of children playing baseball for the fun of it, Cuba offers plenty of opportunities. There are always kids practicing and playing pickup games with joy across the island, and it is a joy for me to capture.
For more about Jean Fruth and how she shoots baseball, listen to this episode of the Alpha Universe Podcast.