Sony Artisan Jean Fruth is a sports photographer who specializes in baseball. While she finds her work photographing Major League Baseball on a regular basis exhilarating, that's not the only part of the game she likes to document. Her true passion is providing a glimpse into the national pastime by telling the stories of the people and places that are a part of the game's landscape through her photography.
"I've learned that the game is more than just a sport," Fruth continues, "it is dreams and aspirations for so many youngsters everywhere I go. The culture of baseball is so much bigger than just what happens on the field. From the youngest kids playing sandlot baseball, to the legends who are enshrined in Cooperstown, I want to tell their stories through my images."
"The new Real-time Tracking mode is off the charts! It's incredible to think that I can lock in on a batter's face and it doesn't let go, staying on my subject all the way through his swing and as he starts to run toward first base. It's spot on." -Jean Fruth
She has captured her fair share of moments in baseball culture throughout different parts of the world. She photographed Vladimir Guerrero's return to the Dominican Republic last year after he earned election to the Baseball Hall of Fame, documenting the hero's welcome he received. She's been to Cuba multiple times to photograph baseball, not just pro, but street baseball, showing how prevalent it is there what little means exist for the kids to play. She's even experienced the pageantry and seriousness of the opening of Little League season in Japan.
"Having the opportunity to experience so many cultures, to photograph and get to know great subjects in their natural environment: home – is my favorite part. My camera is an entrée into this world. Wherever I go, I am warmly accepted. The love I am given is genuine and I've had so many wonderful experiences."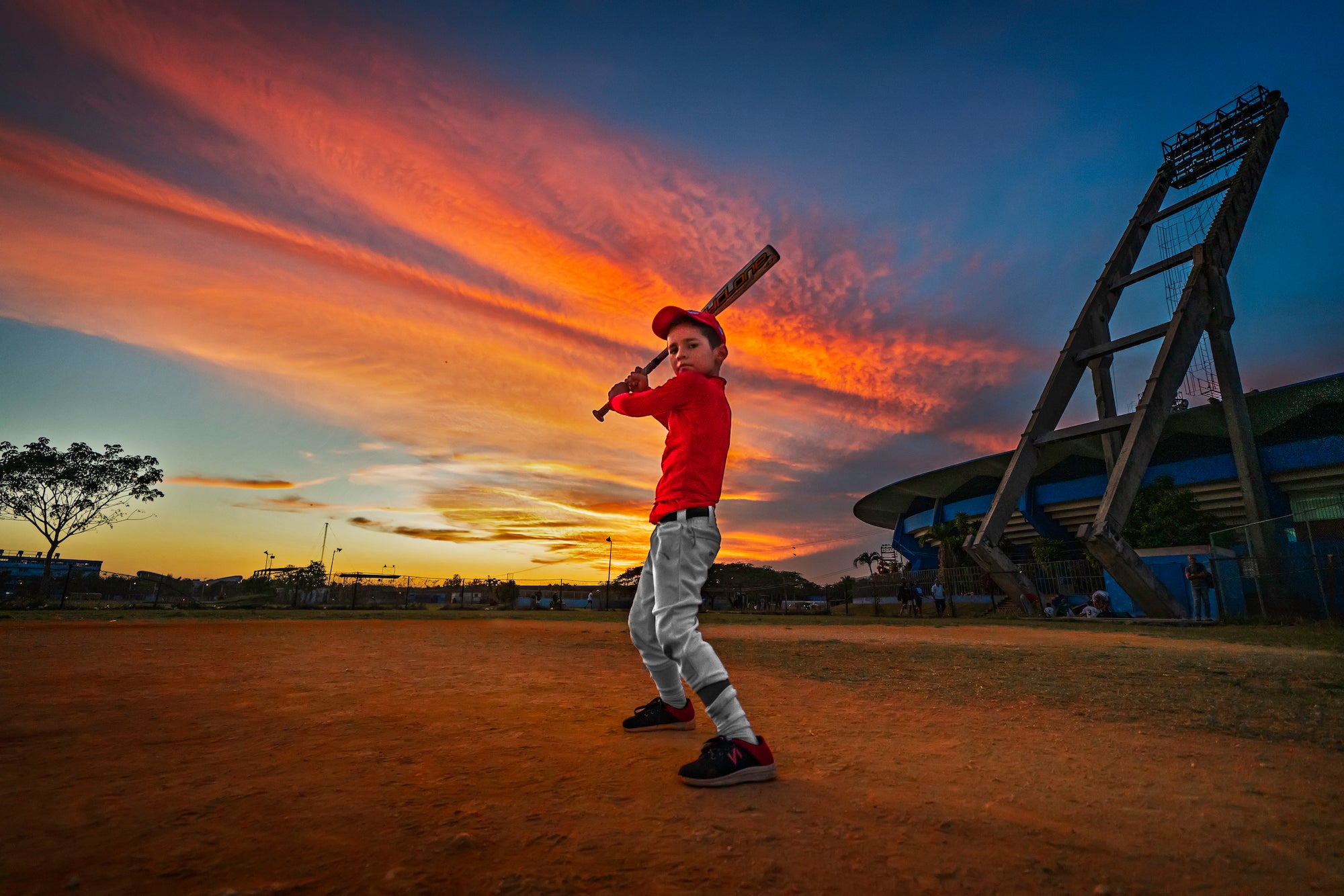 "I don't know if I could say this is a favorite, but I took this shot that I love because it tells the grassroots story. Here is this young player who can't get enough. He's getting in his last cuts in the shadows of Ciudad Deportiva in Havana Cuba, a baseball stadium where professional baseball is played. As the sun begins to set, you wonder if this young man's dream of playing inside the stadium will come true."
She has many favorite aspects when it comes to her Sony gear, but the incredible technology and its ability to help her better accomplish her job is at the top of her list. "The new Real-time Tracking mode is off the charts! It's incredible to think that I can lock in on a batter's face and it doesn't let go, staying on my subject all the way through his swing and as he starts to run toward first base. It's spot on. Even though the batter is wearing a helmet, the Real-time Tracking stays on his face. This feature helps me get the shot, which is what I care about. It's the same thing with the pitchers – I lock on the pitcher's face and the Real Tracking stays on his face all the way through his delivery until he releases the pitch, which is often traveling well above 90 mph."
Fruth is currently working on her second book, Grassroots Baseball: Route 66. "It's going to be a lot of fun because of the great Americana that encompasses Route 66 along the eight states on the path from Chicago to Santa Monica," says Fruth. "And since baseball is such a major part of Americana, it makes for an interesting story. Much like my first book that comes out next month on grassroots baseball around the world, Hall of Famers and other major leaguers will be involved and share what their experiences were like growing up and playing baseball along that historic route."