Leslie Rapp (@ecotwin2) is an amateur photographer and when she isn't working full time as an IT manager at a popular gaming company, she travels to near and far destinations with opportunities to photograph amazing wildlife and landscape scenery. In between adventures, her subjects are the local birds and marine mammals seen off the coast of southern California. We came across this stunning image on Instagram and wanted to learn more about the story behind the shot. Keep reading as Rapp explains how she captured this bear portrait using her Sony Alpha 7R II, Sony 100-400mm f/4.5-5.6 G Master and a 1.4X Teleconverter.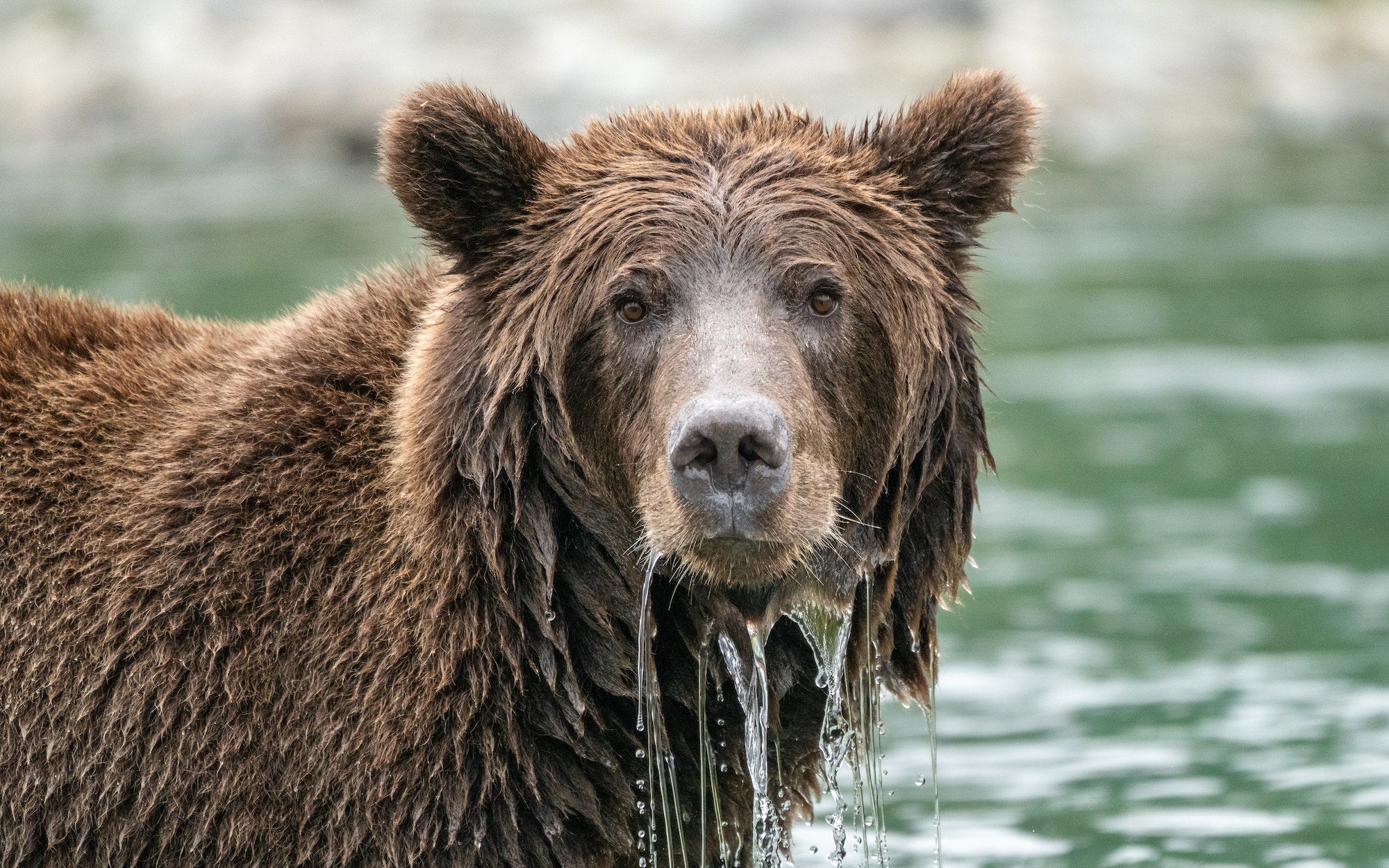 Photo by Leslie Rapp. Sony Alpha 7R II. Sony 100-400mm f/4.5-5.6 G Master. 1/1600-sec., f/8, ISO 6400
Sometimes the shot that you think you're going to get doesn't happen, stay sharp to get the photo you didn't know you wanted.
Expectation Vs. Reality
I was in Katmai National Park & Preserve, Alaska on a photography expedition to photograph the bears of Katmai. I was positioned to capture images of the bears fishing for salmon alongside the river. Some of the 'shots' I had hoped to get from this trip was a bear lifting its head out of the water with a salmon hanging out of his or her mouth or a bear shaking his or her head. This image didn't quite meet that goal, but the look of the bear all but made up for the fact that the salmon got away.
Using High-Continuous Shooting To Get The Shot
For this shot I used my Sony Alpha 7R II and the Sony 100-400mm f/4.5-5.6 G Master lens with the Sony 1.4X Teleconverter. With the distance between myself and the bears, using the teleconverter with the lens was necessary to get the shot I had in mind.
For this particular shot, my plan was to shoot low and use natural lighting. I used Shutter Priority and zoomed in with a 560mm focal length. I shot with a horizontal composition; since the bear was in motion and could have surfaced anywhere. I was positioned on the rocky shoreline across from the bear, sitting alongside other photographers. Because I didn't have a tripod, I used my stance and body to stabilize the camera. Needless to say, I used high continuous shooting in order to get some 'good' quality photos. Luckily the lighting on this particular day was ideal; not too bright, but clear skies. This was the first day in Katmai, and one of the first bears I got to photograph.
I do all my editing in Adobe Lightroom. The first thing I did was crop the image to showcase the composition that I had in mind. Because the exposure wasn't as crisp as I had wanted it, I used Auto correction and then adjusted the Blacks, Highlights, Dehaze, Clarity and Texture. Overall, I just wanted to make the image look like the scene had when I was there. I tend to learn towards minimal editing, and just try to make my subject pop.
See more of Leslie Rapp's work on Instagram @ecotwin2.