Magnus Winbjörk (@winbjorkphoto) is a professional photographer in the north of Sweden, the heart of Swedish Lapland. His biggest passion in life is to capture the majestic landscapes and wildlife that nature has to offer. "There is so much beauty out there," Magnus says, "you just need to open your eyes and be ready to take advantage of everything. What happens in every specific moment in nature is unique, it's right here, right now and it will never be exactly the same again because everything is constantly changing, and that's why landscape and wildlife photography is so interesting to me. Everything is about capturing the moment." To be ready to capture that moment, Magnus uses an impressive and thoughtfully curated collection of Sony Alpha full-frame cameras, zoom and prime lenses and an array of filters, tripods and tripod heads. We connected with Magnus to learn more about how he selected his gear and how he uses it in the field.
Professional photographer Magnus Winbjörk walks us through the thoughtfully curated collection of Sony Alpha cameras & lenses he uses to be ready to capture unique moments in nature.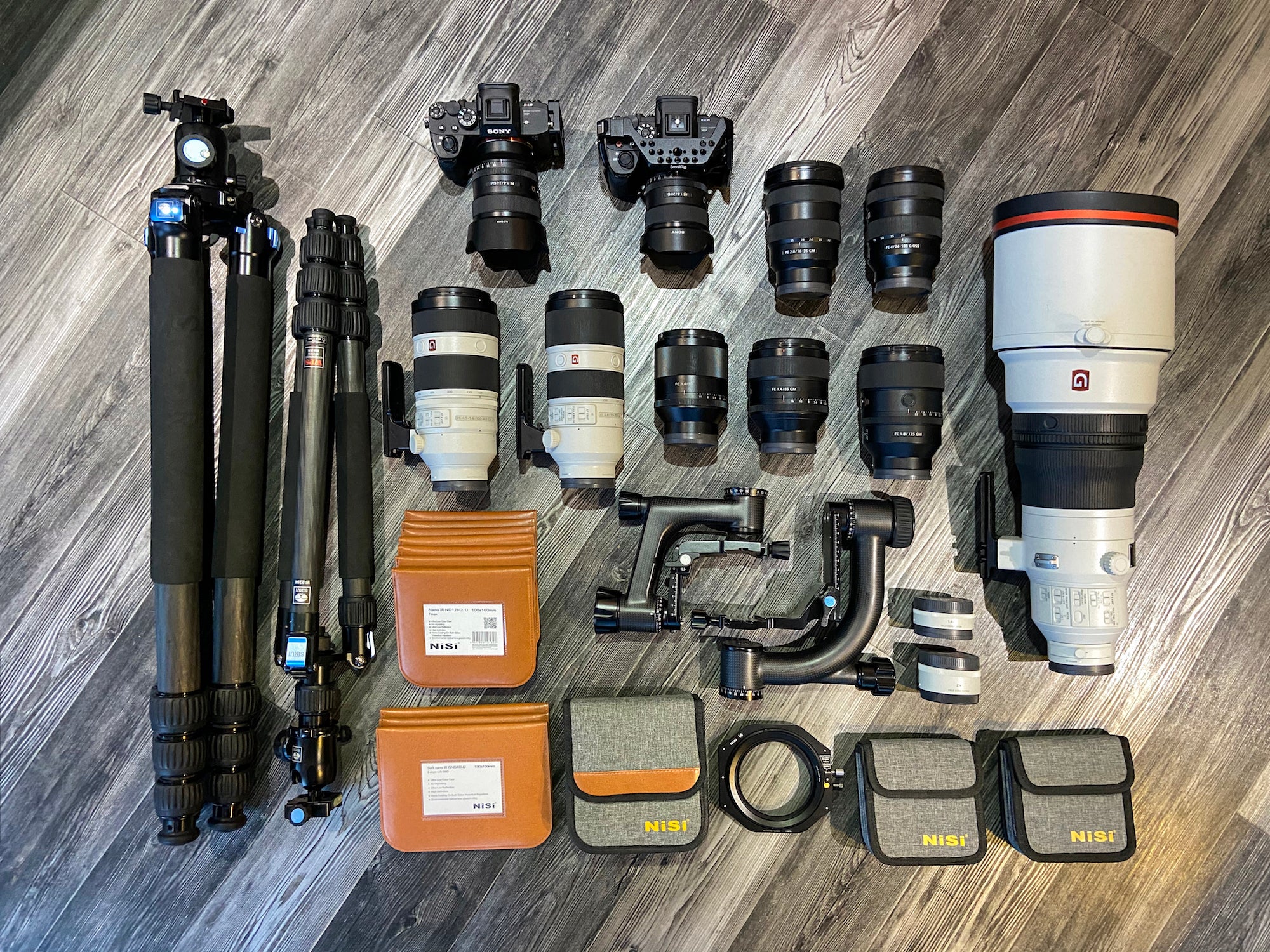 Cameras
Sony α7R IV: My absolute all-time favorite. The combination of high resolution, high dynamic range and the image quality this camera has to offer is unique and it's so important for me when it comes to landscape photography. In tough situations like shooting straight into the sun with a lot of very dark areas in the foreground, shooting night landscapes or anything that needs high dynamic range, I always feel totally safe with the α7R IV. When you have learned the limits of the camera and you are skilled enough to be as close to the limits as possible, you are going to be able to create magic. The RAW file I get from this camera allows me to brighten up the shadows and still have all the details there. It's also impressive how much I can push the limits and still be able to save the highlights. These things make landscape photography possible in a way I like, I can shoot single exposures in challenging conditions and still get good results. There's very seldom any need for stacking different exposures. And when it comes to shooting night photos like the Aurora with a lot of details in the shadow parts, the α7R IV always allows me to get photos with extremely high quality.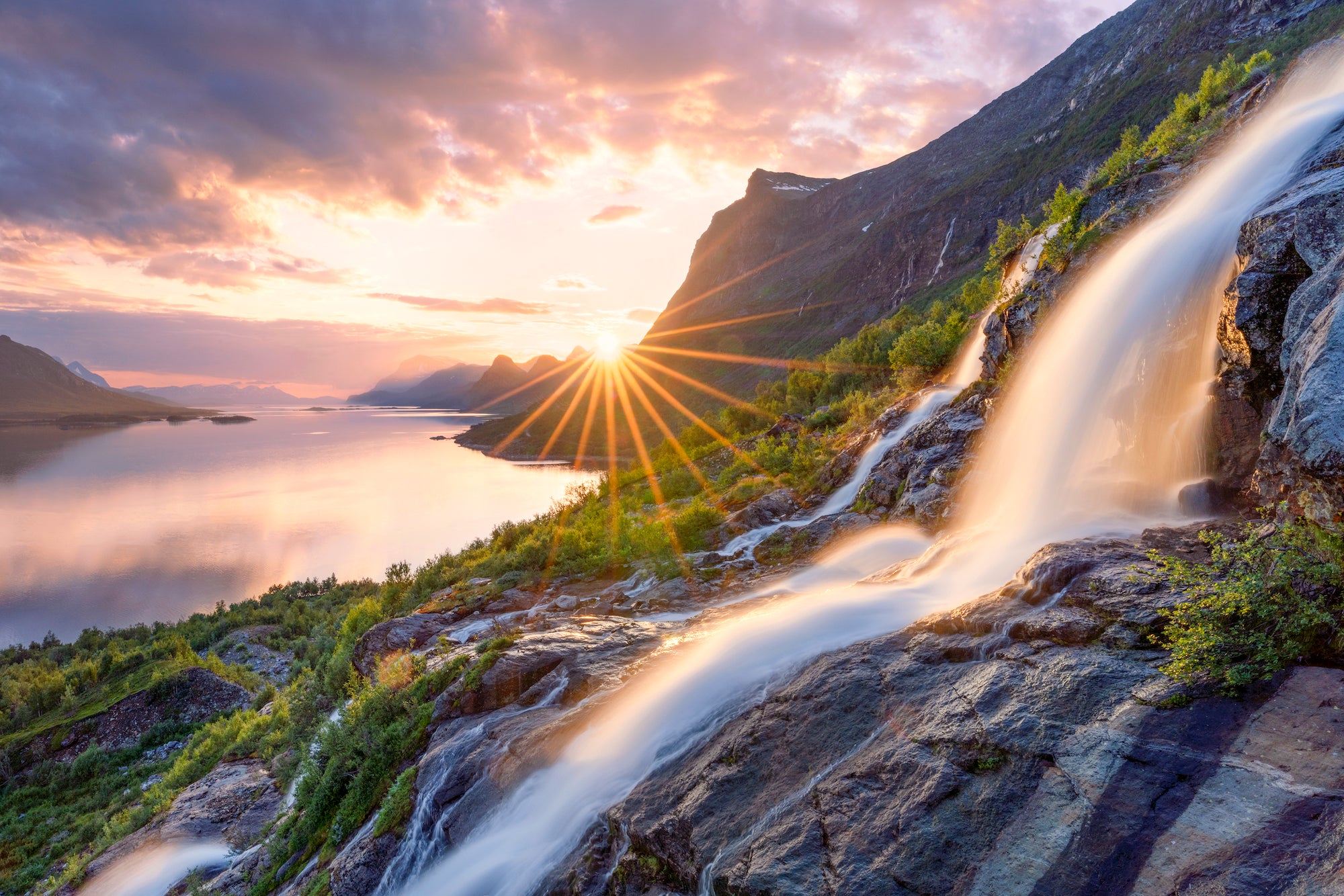 Photo by Magnus Winbjörk. Sony α7R IV. Sony 16-35mm f/2.8 G Master. 1/2-sec., f/22, ISO 100
The α7R IV is also the camera I mostly use for wildlife photography. The AF on this camera is phenomenal. In my opinion, Sony really took it a step forward when they went from the α7R III to the α7R IV. What makes it my number one choice for wildlife is that it gives me a good opportunity for cropping. Most of the wild animals here in the north of Scandinavia are active only just before sunrise and after sunset. That means I'm almost always photographing wildlife in poor lighting conditions. The α7R IV opened up a new world for me. Before the α7R IV my main focus was on the focal length, because you really need the focal length to capture stunning animal photos. If you were running too short you didn't have the possibility for cropping because you needed every single megapixel to be able to make big photo prints. So the dilemma was that if I needed 600mm or an 800mm of focal length, I really needed that in the lens. And a 600mm tele-zoom or a 800mm prime is not a good combination with bad lighting conditions. The combination of the AF of the α7R IV and the high resolution really opened a new world for wildlife photography for me.
Photo by Magnus Winbjörk. Sony α7R IV. Sony 400mm f/2.8 G Master. 1/500-sec., f/4, ISO 640
Sony α7S III: I do a lot of night photography and my biggest passion at night is the Aurora Borealis. I use the Sony α7S IIII to shoot stills and as well as a lot of real time videos of the Aurora. For Aurora video, the α7S III is simply the best choice possible. To be able to record with 10-bit, 4:2:2, and the way the camera delivers a high-resolution movie with impressive dynamic range while also on extremely high ISO, is totally stunning. In many of my Aurora movies I have pushed the ISO to 51,200 and sometimes even 64,000 and the video quality is still really good. When it comes to still photography I use the α7S III in combination with the α7R IV. If high resolution is absolutely necessary, I go with the α7R IV. But when the situations are tough and I really need that extra low light possibility, the α7S III is my choice.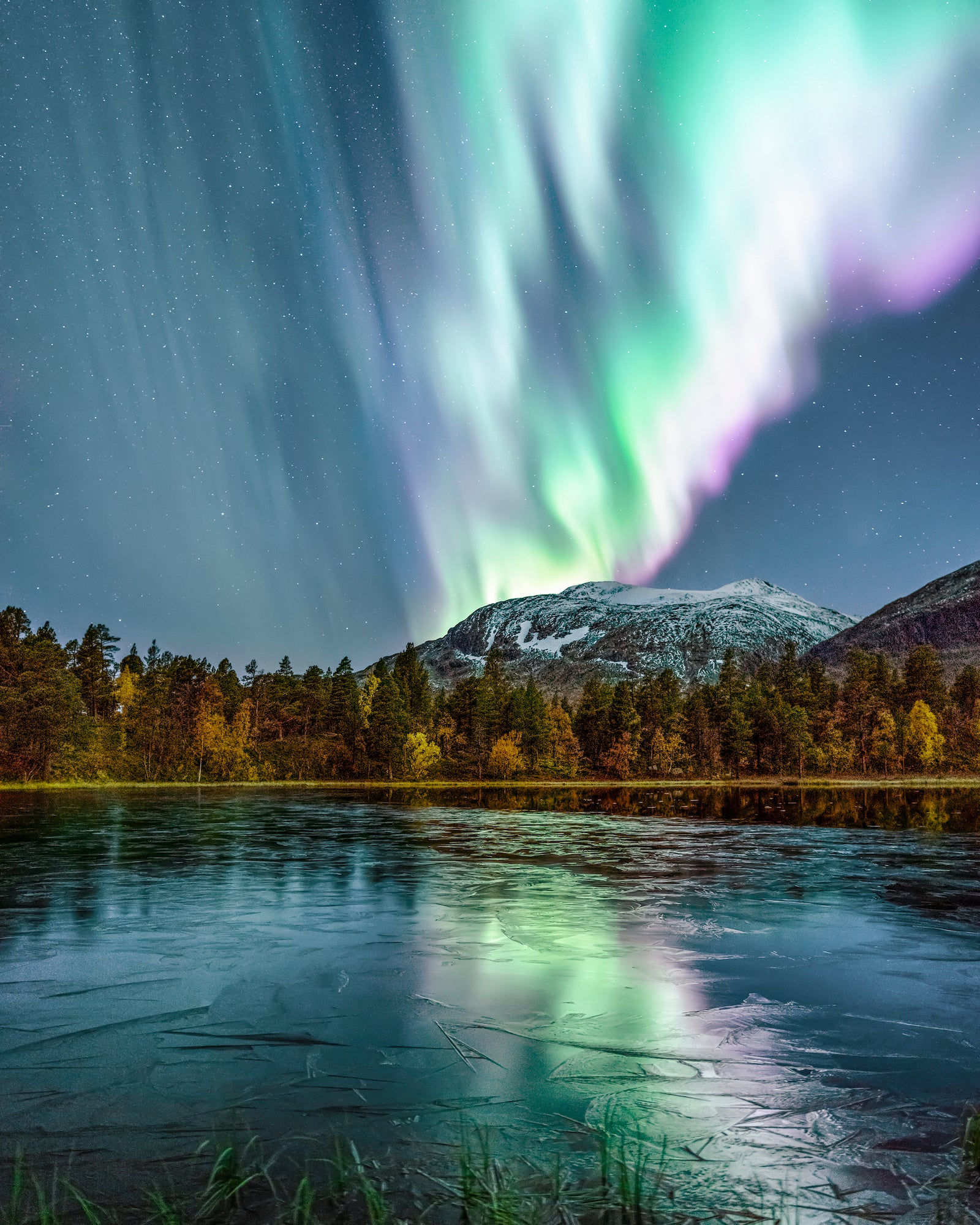 Photo by Magnus Winbjörk. Sony α7R IV. Sony 24mm f/1.4 G Master. 5-secs., f/1.4, ISO 1000
Sony α9 II: When it comes to extremely fast moving objects, and when everything is about speed, the α9 II is my choice. Everything from fast, small birds to capturing the exact right moment in a wedding ceremony – the α9 II will do the job. I mostly use this camera in combo with the α7R IV for wildlife. When the light conditions are OK and I'm able to put a longer lens without having too small of an aperture, the α9 II gives me everything I can ask for. The AF with the tracking function is so unbelievably good. When you have learned to handle the camera the hit ratio of photos in focus after shooting is very close to 100% of around 100 photos.
Lenses
Sony 20mm f/1.8 G: My most frequently-used lens for making Aurora movies with the α7S III is this fast 20mm f/1.8 G. I also use it for shooting night landscapes. 20mm and a corner sharpness that's so good that I can use it confidently at f/1.8. This 20mm G lens a perfect choice for capturing the snowy tight forest during the nights.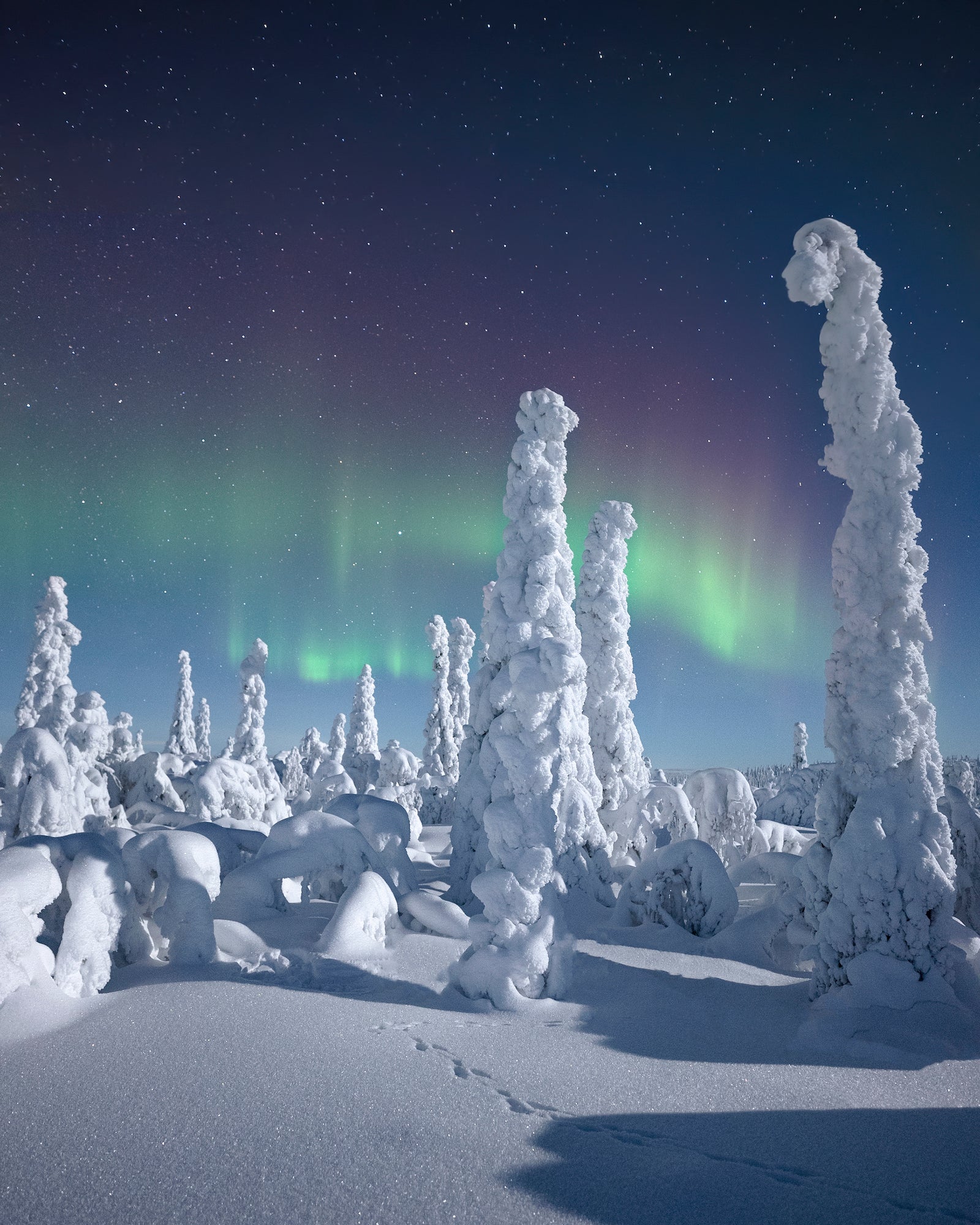 Photo by Magnus Winbjörk. Sony α7R IV. Sony 20mm f/1.8 G. 3.2-secs., f/1.8, ISO 1600
Sony 24mm f/1.4 G Master: I never go out without this lens. It's is one of my absolutely favorite lenses for low light, and the image quality is really incredible. It's small and also lightweight, so this lens really has everything I could wish for in a 24mm.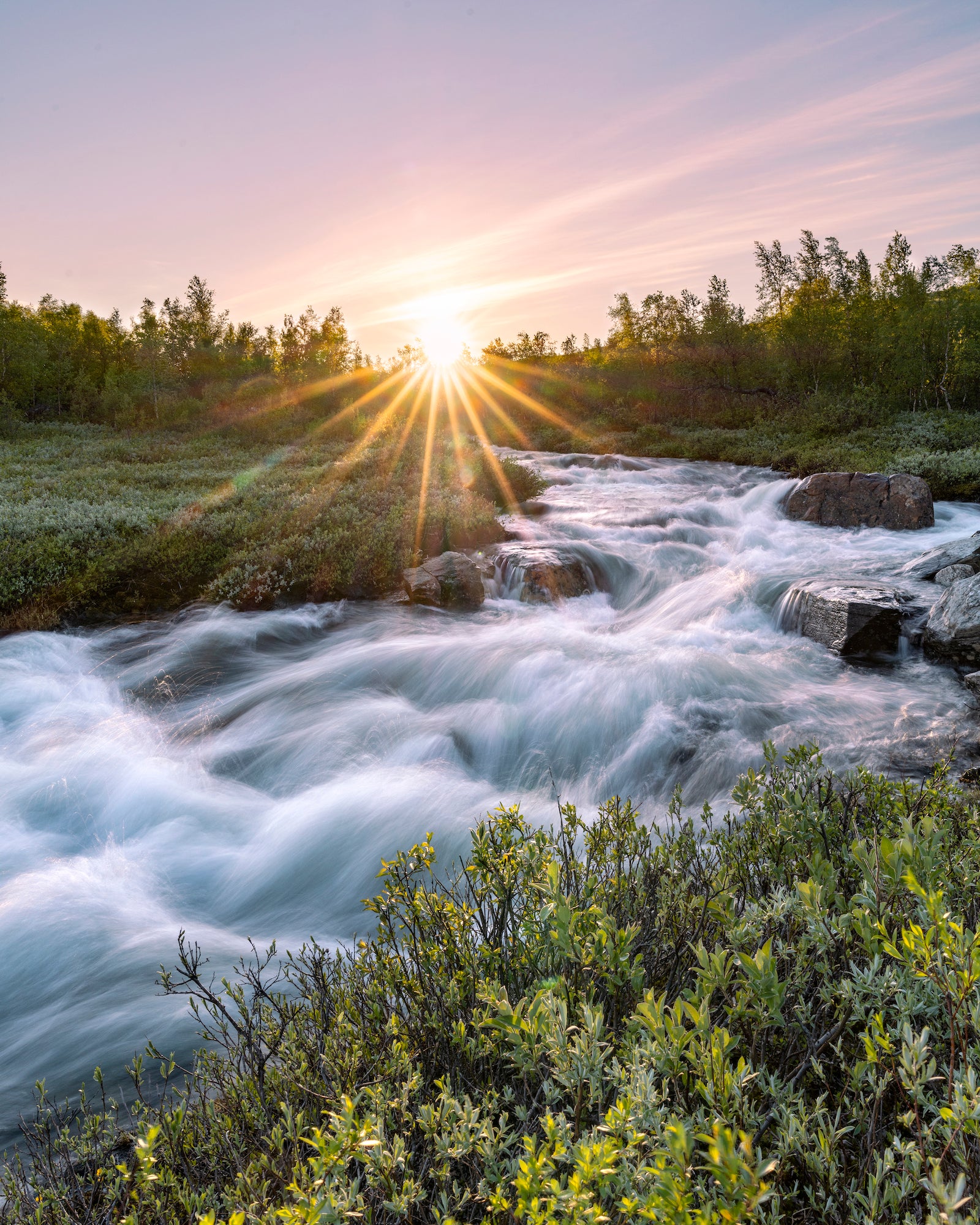 Photo by Magnus Winbjörk. Sony α7R IV. Sony 24mm f/1.4 G Master. 1/3-sec., f/16, ISO 100
Sony 35mm f/1.4 G Master: Right at this moment I'm without a 35mm lens because I sold mine to make place for the new Sony 35mm G Master. I managed to test one just before I wrote this article and so far it seems to deliver at the same high level as my 24mm G Master. I have only been able to use it a few days and not in really low light situations, but 35mm is one of my favorite focal lengths for shooting photos down in the forest area, so once I hathe new 35mm G Master, we are going to spend a lot of time together.
Sony 50mm f/1.4: One of the sharpest 50mm lenses I have ever tried. In my opinion, the 50mm f/1.4 is simply a perfect all-around lens and very good for portraits.
Sony 85mm f/1.4 G Master: When it comes to Aurora and astro photos, most of the people would choose a wide angle lens, maybe something around 14-24mm. I like to do something very different. I love shooting mountain peaks in the night that are lit by the moon and aurora, and for that the 85mm is a perfect choice. Besides my passion for nature, I also do a lot of weddings and portraits, and the 85mm is also very useful then.
Sony 135mm f/1.8 G Master: This is a truly masterpiece. The sharpness, the bokeh, everything about this lens is totally one level up from what can be seen normally in high quality lenses. Fitted on the α7R IV you can shoot amazing portraits of both animals and humans. A perfect lens for half and full body portraits when you want to have a crystal clear object with an extremely smooth and blurry unsharp background.
Sony 400mm f/2.8 G Master: My love and my companion through life. I can't be without this lens. Put it on the α9 II and you have a crazy fast high speed monster that can capture every animal possible. And put it on the α7R IV and you are going to be able to capture animals with high resolution and image quality. It's mind-blowing when you open the RAW file and zoom in and see all the details you have. My absolutely number one choice for wildlife!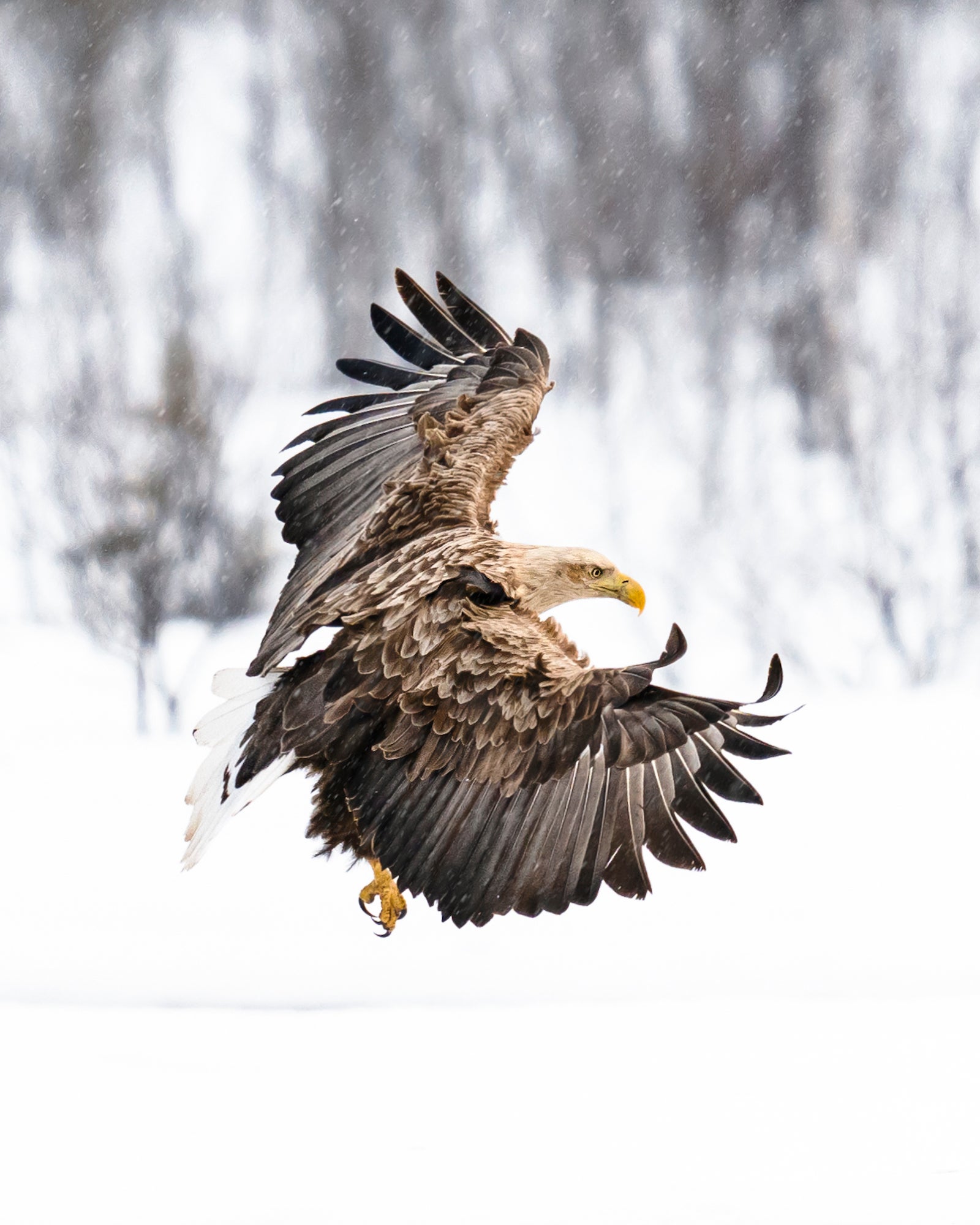 Photo by Magnus Winbjörk. Sony α7R IV. Sony 400mm f/2.8 G Master. 1/5000-sec., f/2.8, ISO 500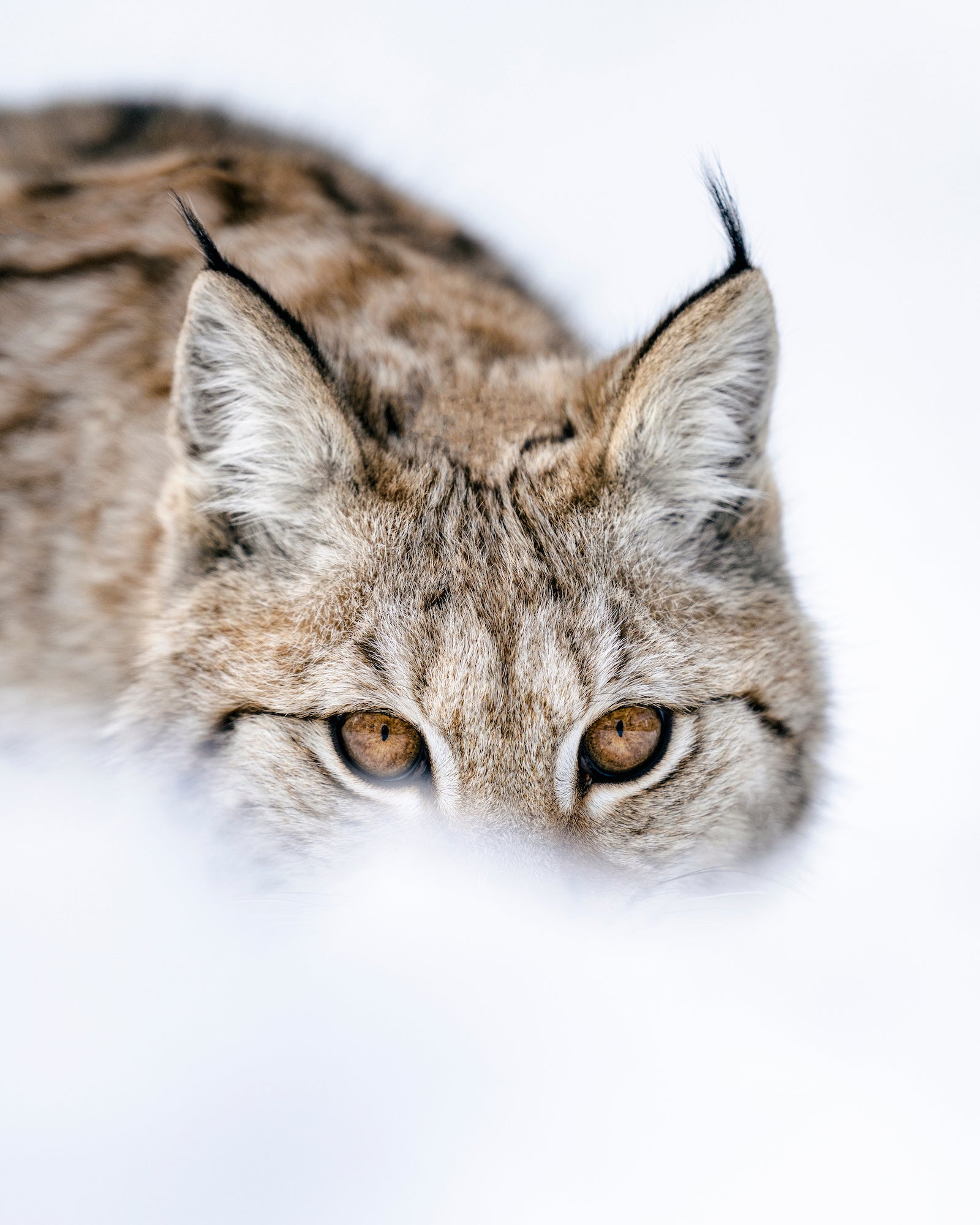 Photo by Magnus Winbjörk. Sony α7R IV. Sony 400mm f/2.8 G Master. 1/2000-sec., f/2.8, ISO 250
This lens also works exceptionally well together with the Sony 1.4X teleconverter that will give me 560mm f/4. Here is the part that makes this 400mm lens so versatile: With the α7R IV I can get 400mm at f/2.8, and in APS-C mode I will have close to 600mm at f/2.8 and still have 27mp. Together with the 1.4X teleconverter, I can reach 840mm at f/4! In my opinion the 400mm f/2.8 G Master is the perfect lens for wildlife. When f/2.8 is needed you still have the possibility to use APS-C mode if you want. And when light is good you can get more reach and opportunities by using the teleconverter.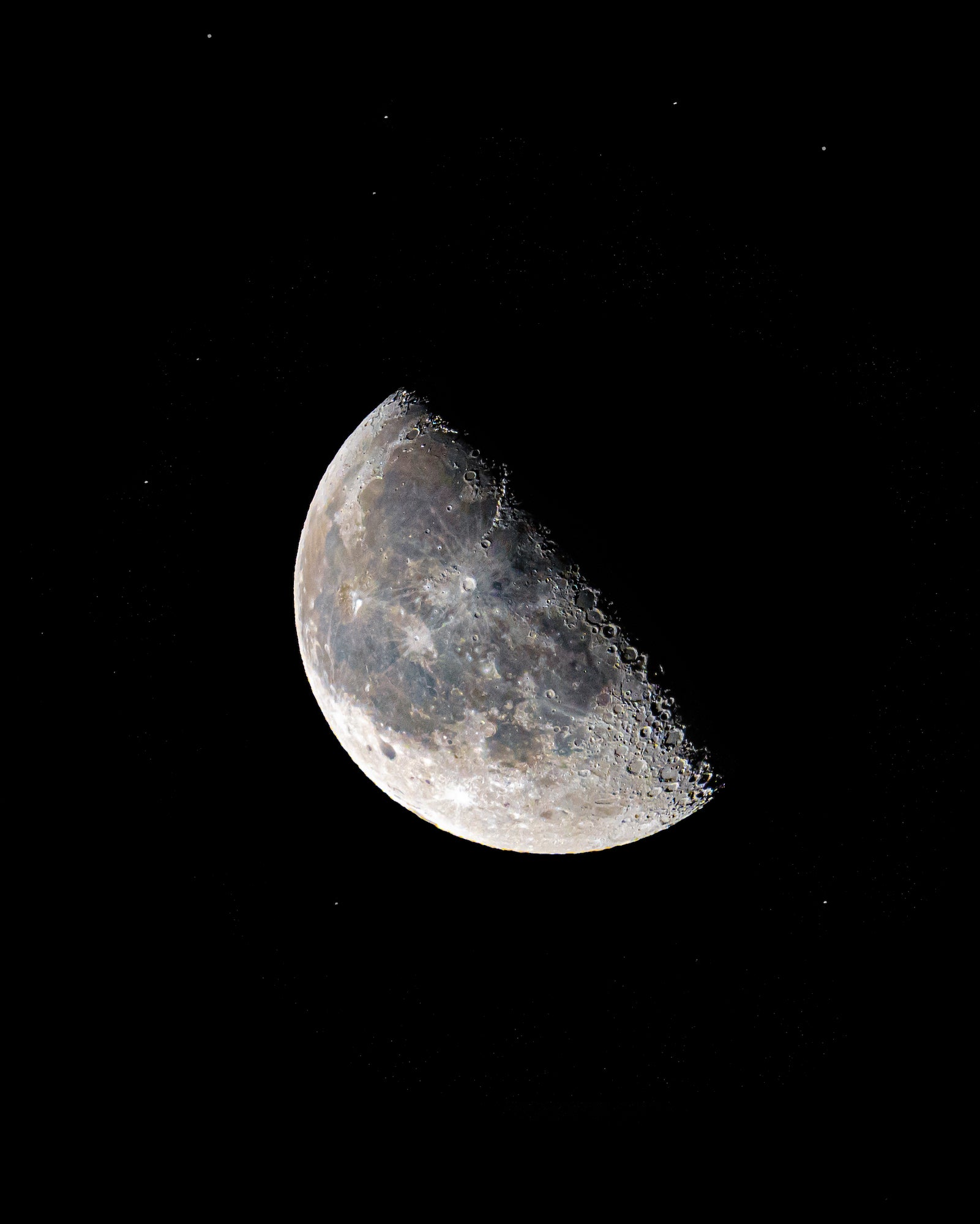 Photo by Magnus Winbjörk. Sony α7R IV. Sony 400mm f/2.8 G Master + 1.4X TC. 1/200-sec., f/9, ISO 640
Sony 16-35mm f/2.8 G Master: When it comes to night photos and landscape photos in low light I always use prime lenses, but during daylight and sunrise/sunset I usually go with zoom lenses. Sony G Master zoom lenses offer such high image quality. Together with the versatility of a zoom lens, it's a perfect choice when I am hiking around in nature. The 16-35mm f/2.8 G Master is always with me when I'm out in the field. I love to use this lens for composing with the sun in the frame – the sun, stars and the backlight properties from this lens is truly good.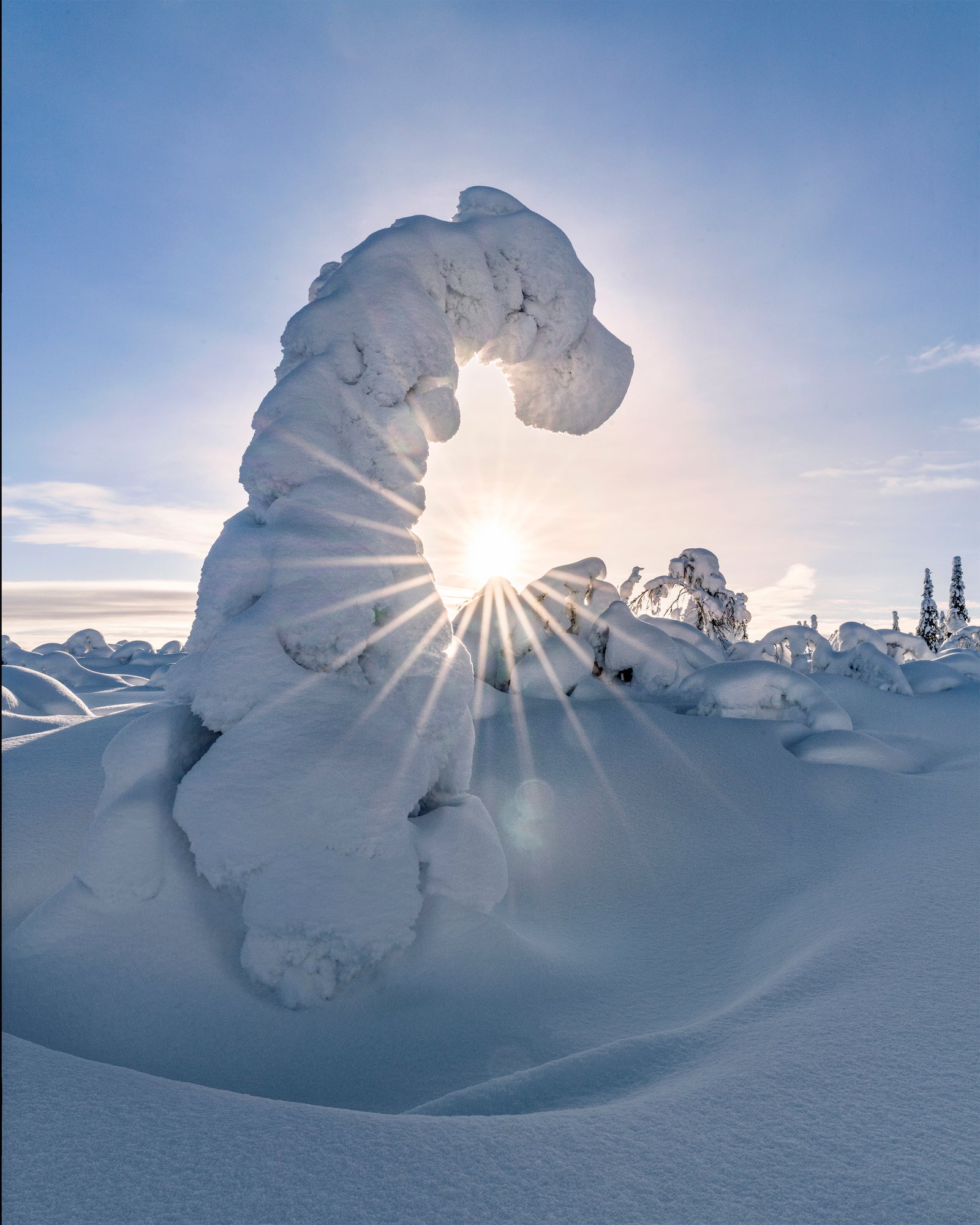 Photo by Magnus Winbjörk. Sony α7R IV. Sony 16-35mm f/2.8 G Master. 1/250-sec., f/22, ISO 100
Sony 24-105mm f/4 G: In this range I have chosen to not go with a G Master zoom. For shooting landscapes I have no need for a lens faster than f/4. The extra range this lens has to offer compared to a 24-70mm really makes it to my number one choice on those days I decide to go out with only one lens. This lens really deserves more attention because it delivers perfect image quality and it's one of the most versatile lenses if you have just started in photography and are looking to buy your first lens.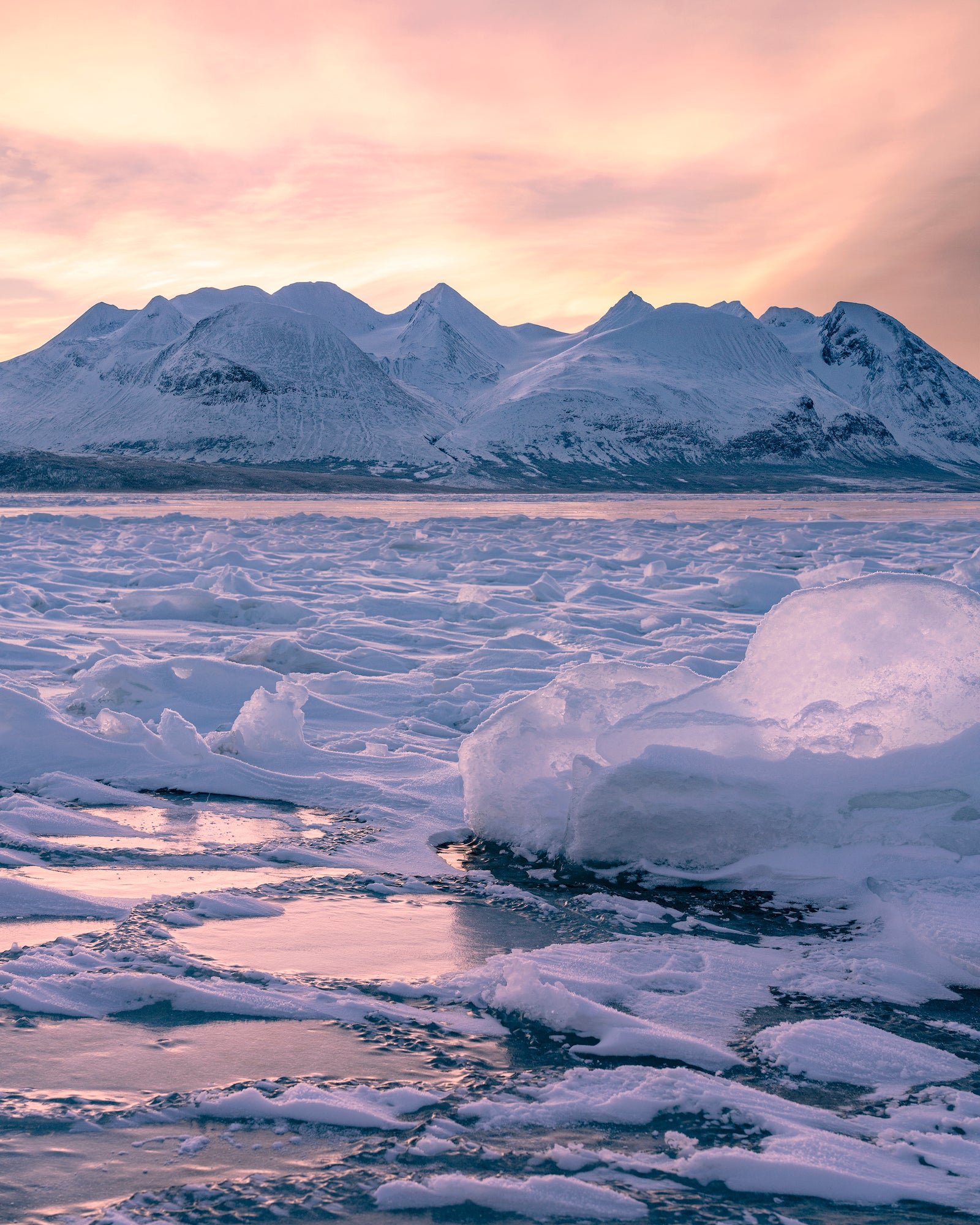 Photo by Magnus Winbjörk. Sony α7R IV. Sony 24-105mm f/4 G. 1/80-sec., f/7.1, ISO 100
Sony 70-200mm f/2.8 G Master: This lens is used for everything, so I don't even know where to start. It's a perfect lens for everything from weddings and portraits to landscapes in bigger areas. For me as a photographer and for my taste I prefer to use focal lengths from 100mm and up for landscapes. I'm really a tele-photo guy, I always find so many interesting things to frame when I am going with a tele zoom out in nature.
Sony 100-400mm f/4.5-5.6 G Master: This is for sure my most-used tele-zoom for landscape photos. I love to capture mountain peaks with compressed foregrounds, and if it's possible also to compose with, for example, the moon in the photo. In my opinion the 100-400mm range really gives the opportunity to get something special out from your landscape photos. If I have to go with only two lenses for a whole day for landscape shooting, I go with the 16-35mm in combination with the 100-400mm. That combo gives you all you need for capturing stunning landscape sceneries in an interesting way for the eye.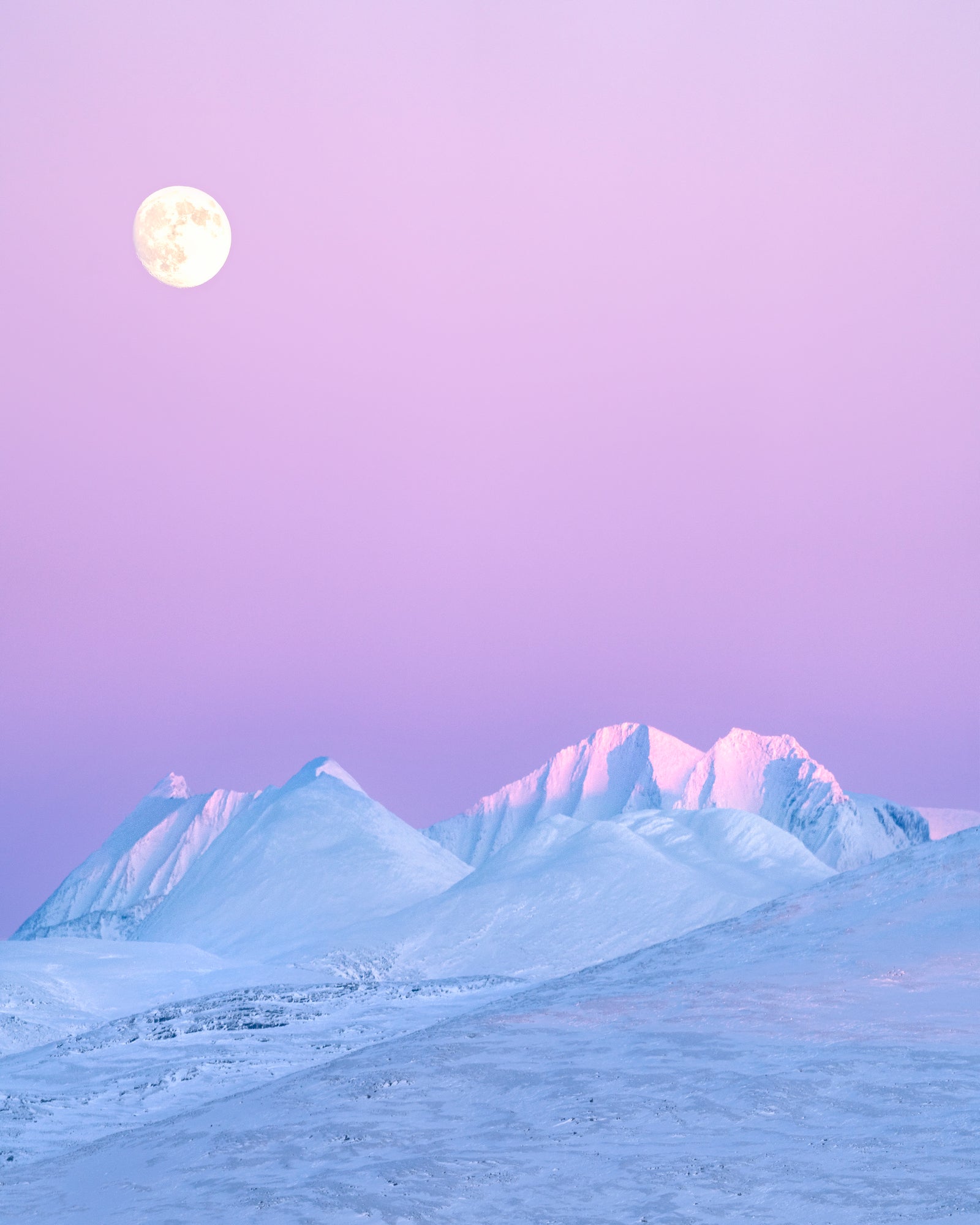 Photo by Magnus Winbjörk. Sony α7R IV. Sony 100-400mm f/4.5-5.6 G Master. 1/100-sec., f/5.6, ISO 200
Accessories
I try to keep my camera bag as clean and simple as possible. So besides the cameras and lenses I carry, I take as few accessories as possible.
Sirui Tripod/Ball Heads/Gimbals: Something that is a must, of course, is a good tripod. Depending on the situation, I have different kinds of Sirui tripods that I will use. Also my tripod ball heads and gimbals are from Sirui. I have tried many different brands, most of them feel good when they are new and all the joints and locking mechanisms are unused. But how a tripod really works you will figure out first after you have used it for a while. This is why I choose Sirui, after using their tripods and heads daily for such a long time they are still working like they did when they were new. When I am moving by snowmobile and need a tall tripod because of 1m of deep snow or whenever I need a crazy stable tripod I use the carbon fiber R-5214XL model, and when I want to go with less weight I use the w-2204 or the 5C model that weighs 1kg including the head. For birds and wildlife when I prefer to use a gimbal, I go with the new PH-10 head – it's a perfect choice. It can carry a maximum load up to 15kg and has a weight of only 980gr.
Filters: As a landscape photographer I also prefer to use different kinds of filters in some situations. I only use NiSi filters, and I go with their 100mm V6 filter system. Nisi has one of the best filters on the markets. Their ND filters are the ones that I have experienced to have less impact on color tones and contrast of all filters I have tried.
Except for the tripod and filters, the only other accessories I have are spare batteries and a cleaning kit for being able to clean both the lenses and the sensor. And if there is space left in the bag I always carry some protein bars with me!