Sony Artisan Thibault Roland (@thibaulrolandphoto) is a fine art photographer specializing in long exposure black and white photography. Based in Portland, Oregon, he often captures dreamy images of the coast's landscape. We came across this image of his that he captured with an infrared-converted Sony Alpha 7R IV and Sony 16-35mm f/2.8 G Master, and wanted to know more. Keep reading as he details the story behind the shot and learn more about how he sets up his camera in his article Camera Setup Tips For Long Exposure Black & White Photography.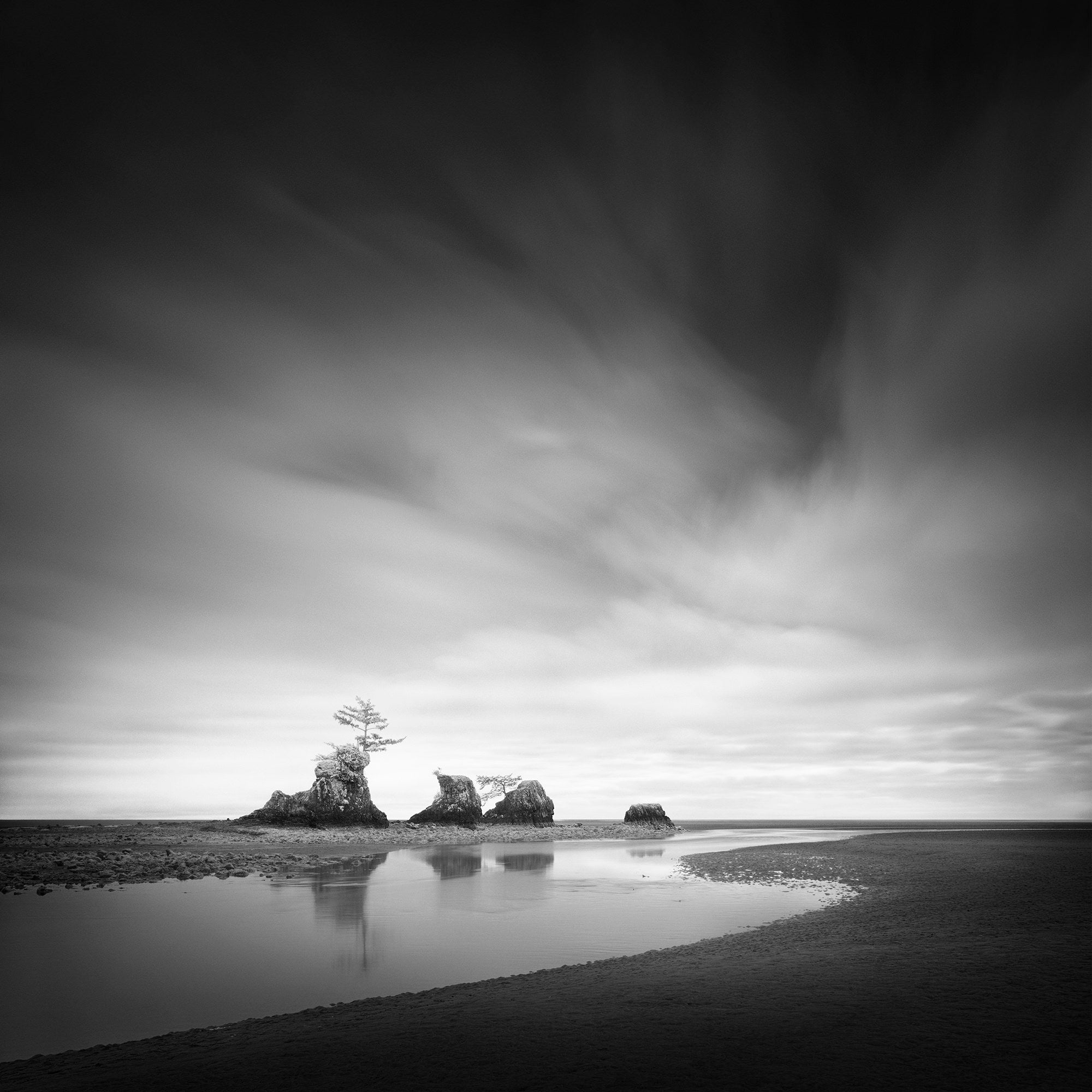 Photo by Thibault Roland. Sony Alpha 7R IV (IR-converted). Sony 16-35mm f/2.8 G Master. 237-sec., f/11, ISO 100
Learn more about infrared photography as Sony Artisan Thibault Roland shares the story behind this long exposure black and white image on the Oregon Coast.
The Scene
The Oregon Coast is rugged, extremely diverse and full of rock formations that the locals call "sea stacks". This picture is of one of my favorite sea stacks which I captured during a workshop I led there earlier this year.
It is a place that I visit often, and that I love to go back to and capture the essence of as the light and weather conditions change. I wanted to capture in this image the sheer force of nature and yet the quietness before the storm. I knew that meant creating an image that would show movement of the clouds in a way that regular photography would not be able to transcribe, and therefore I had to use the technique of long exposure.
The Gear
This shot was captured with a Sony 16-35mm f/2.8 G Master lens on an infrared (IR) converted Alpha 7R IV. What I love about the Alpha 7R IV is that it is a workhorse that packs a 61MP sensor which is particularly appropriate for landscape photography. Add to this the IR conversion, which consists in the camera being able to capture a different "flavor" of light that is not seen by the human eye, it makes for an amazing piece of equipment! It is possible to capture IR by using filters, but in this case the camera body itself was modified. IR differs from visible light in the way it turns tree leaves bright and increases contrasts especially in the sky, which is exactly what I was looking for with this image in order to emphasize the strength of nature.
As for capturing wide angle shots, I love to use the 16-35mm GM. Its image quality makes it the best lens out there, be it for architecture or like here for landscape photography.
The Shot
Because this is a four-minute long exposure this image was captured with a tripod to ensure sharpness in the image as well as neutral density filters to reduce the amount of light going through the lens (just like sunglasses would act in front of your eyes). I also used a remote shutter trigger to control when the shutter would close and open, while using the Bulb mode in order to achieve such a long exposure.
As for camera settings I made sure to shoot in uncompressed RAW and keep the ISO to 100 in order to capture an image that has the widest dynamic range possible. I also made sure to use the lens at aperture f/11 so as to obtain sharp details and infinity focus. As a side note I also used the noise reduction feature in this image to remove noise and hot pixels that are caused by shooting with such a slow shutter speed.
The Edit
I first imported the image into Camera RAW for first quick edits, then into Photoshop in order to go more in depth and among others adjust curves and contrasts in specific locations of the image independently from the others.
Once I was satisfied with the fake color image (remember, this is an IR image that is made of false colors), I imported it into Silver Efex Pro (part of the DxO Nik Collection) and converted it to black and white. Similarly as for the color picture, adjusted different parts of the image independently, for instance creating a pretty heavy vignette, while keeping other areas untouched. By repeating this process multiple times you end up having a unique way to control precisely the local adjustments done to your RAW image, and you can create the final shot that you had envisioned in your mind's eye even before grabbing your camera.
See more of Thibault Roland's work on his Alpha Universe Profile and on Instagram @thibaultrolandphoto.