Jay Goodrich (@jaygoodrich) is an internationally published adventure photojournalist living in Jackson, Wyoming. He was using a Sony Alpha combination for the first time while on assignment in Baja, Mexico, and the project helped him conclude that Sony could handle anything he threw its way. He took this action silhouette shot while on that same trip. Learn more about the story behind the shot and how the trip locked him in as a Sony shooter.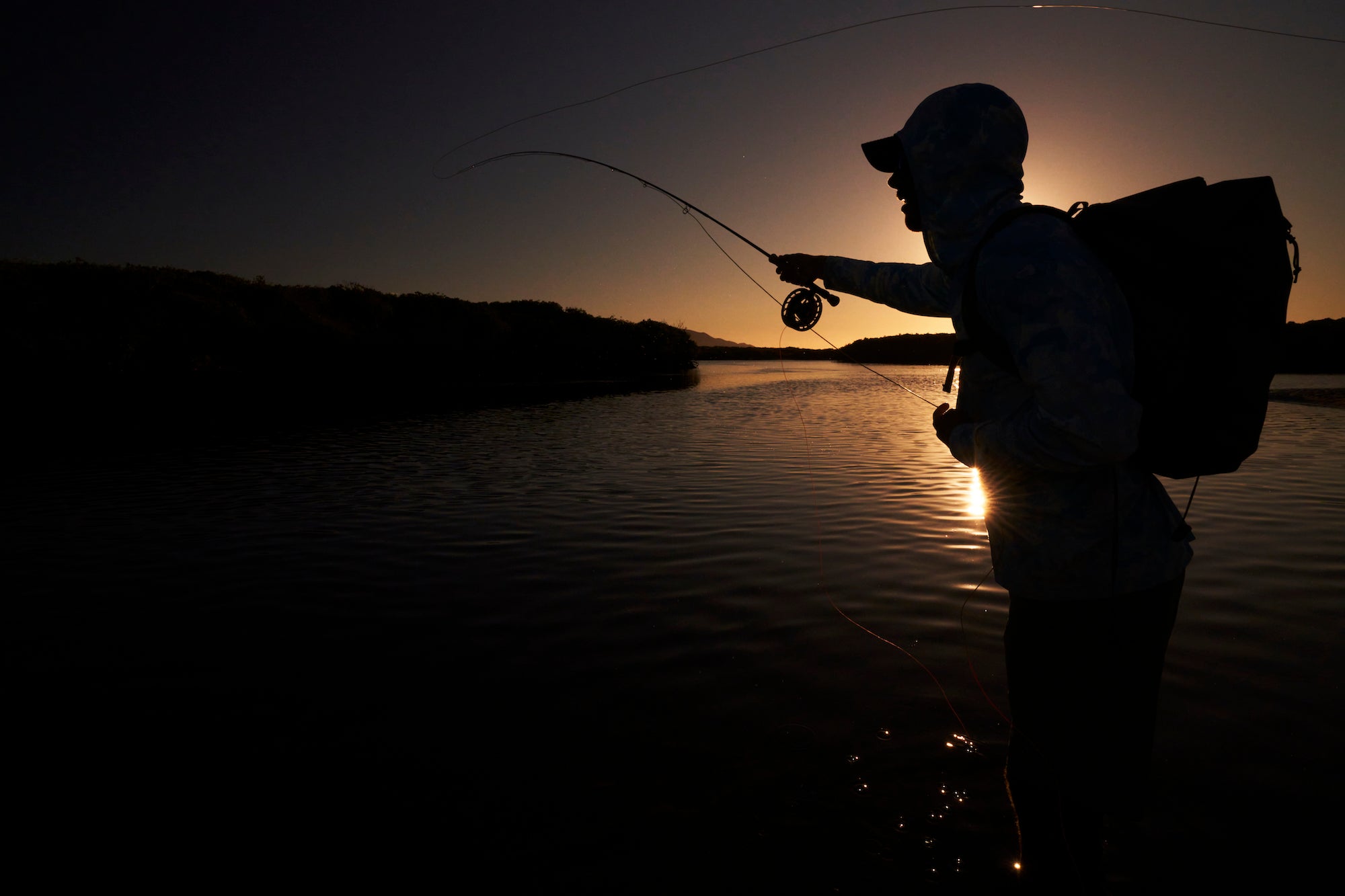 Photo by Jay Goodrich. Sony α7R IV. Sony 16-35mm f/2.8 G Master. 1/2000-sec., f/22, ISO 3200
A Commercial/Adventure Shoot
I took this photo while on assignment with a film crew in Baja, Mexico. I was in charge of taking all of the still photos on the three-week trip. We were working on a film titled, "Baja Lines." The film follows two childhood friends who have chosen different paths for their lives—one is a professional fly fishing guide and the other a professional mountain biker. The film brings both of their passions together in a remote part of Baja, Mexico. We were fly fishing for Marlin and free-ride mountain biking these massive rock escarpments that burst out of the Pacific Ocean.
While my main job was to shoot all of the stills, I was under contract with almost a dozen companies. Basically, all of the companies that sponsored the film, wanted photos of their gear in action and hired me to do so. This evening I was taking photos of the rods, reels and clothing provided to everyone in the film. While I would consider this a commercial photo project, my commercial style leans more toward editorial than true commercial photography. Which is probably why all the sponsors asked me to get shots for them. It's less about the gear and more about the gear in use.
As the sun was setting, I kept shooting and was rewarded with this backlit shot of one of our fly fishing guides, Jack Porter, casting into the mangroves adjacent to where we accessed the Pacific Ocean. This was a down day from riding and looking for marlin. It is those types of days that I capture concepts that I normally wouldn't be able to get otherwise.
Getting The Shot
This was my first project shooting with a Sony. During the entire trip, I was shooting with a borrowed Sony α7R IV as my body and lenses from 16mm to 600mm because I was thinking of switching to the Sony brand—using Sony on this project solidified them as the camera brand that would allow me to get any shot my simple brain could cook up.
For this particular photo, I used a Sony 16-35mm f/2.8 G Master lens at 16mm and set to f/22. I chose the f/22 aperture because I wanted everything from the guide to the background in focus. Using f/22 also gave me the starbursts of glitter from the sun. I also selected an ISO of 3200 which gave me a 1/2000-sec shutter speed. I wanted to stop the motion of the fishing line and determined a fast shutter speed was required to do so.
I shot the photo handheld and was actually standing in the water next to Jack. He casts with his right hand so I stood on his left and positioned myself to align just enough "glitter" from the setting sun behind him. By using a 16mm, I need to be really close to him as well. The plus of having a professional fishing guide as your subject is that they know how to control their line as to not hook the photographer.
When it came time to edit, I processed the photo in Capture One Pro 20 using global adjustments for white balance (warming), saturation (adding saturation), and curves (adding contrast). I also used Capture One's Healing Mask Tool to get rid of some sensor dust spots for a crisp and clean image.