Marshall Haigler, (@droptheframe) is a freelance photographer, based in Whitefish, Montana with a focus on landscape and adventure/travel photography. Born and raised in North Carolina, for Marshall the outdoors were within just a few hours drive to the mountains and beach as he was growing up. When he ditched his suit and tie office job in the city six years ago, Marshall decided to move to the Northern Rockies, where he truly found his niche. Living in Montana, puts Marshall within footsteps of some of the most dramatic landscapes and wilderness complexes the lower 48 states have to offer. Using a full-frame mirrorless Sony Alpha body and a trinity of fast zooms, Marshall's photography does more than draw the viewer into the image, he brings you into his experience of being there, in the moment. We reached out to Marshall learn more about how he does what he does and to get a look at the gear in his bag.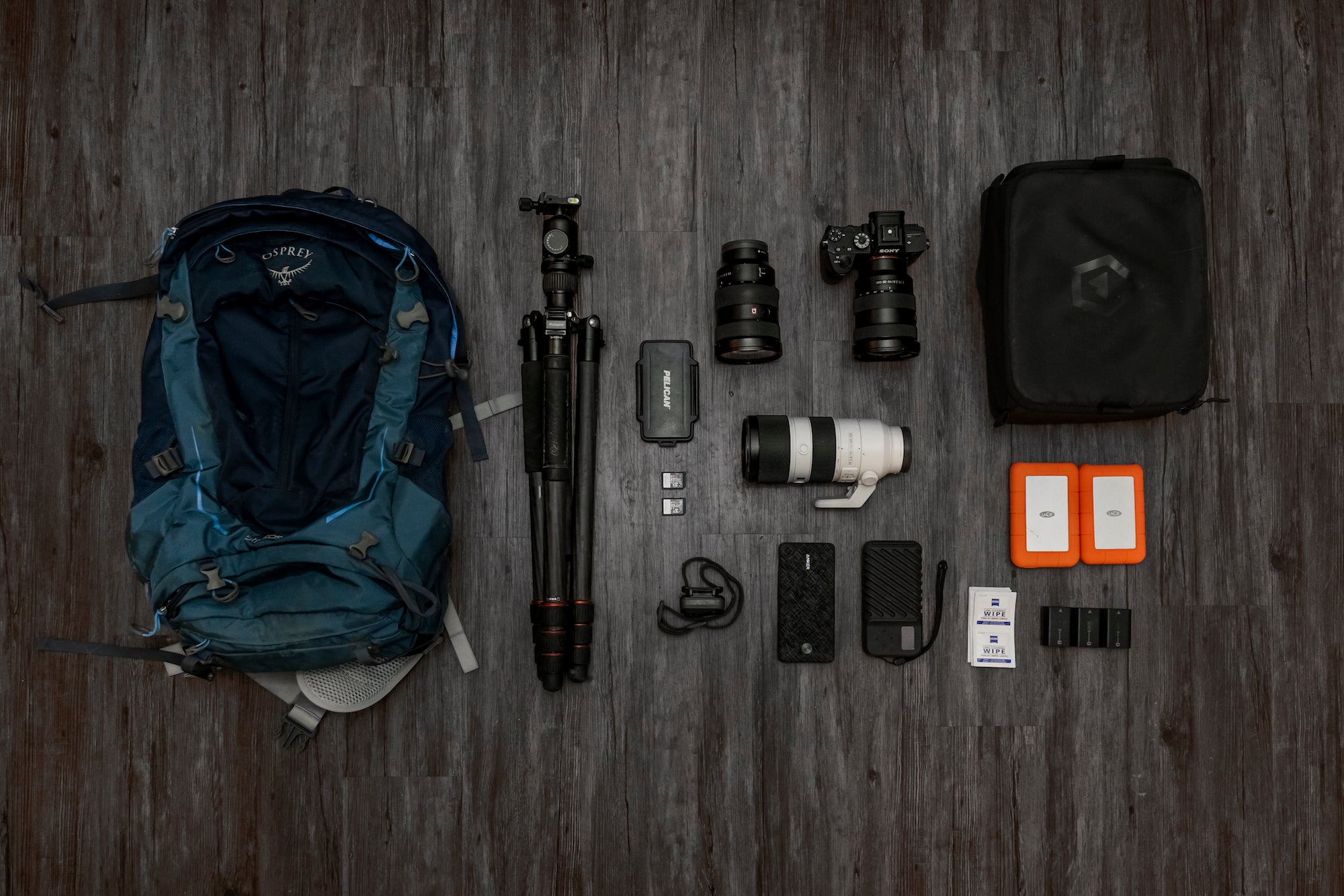 From early morning starts to late nights under the stars, I can always count on my minimal bag of gear to work through tough conditions to properly portray the story my images convey. After an approach of over 5,000 vertical feet, only guided by the glow of my headlamp, I want to reach into my bag and know that each piece of equipment I carry serves a key purpose in capturing a moment that only few get to experience. Photography, for me, has also sparked a huge passion for travel as well as conservation and the protection of the beautiful lands this country has to offer.
Cameras
Sony α7R III: With my focus on prints and creating superb imaging for clients, I rely on the α7R III's dynamic range and large megapixel sensor (42.4 megapixels) to capture the image quality I need. Even in this era of social media platforms that reduce quality tremendously, nothing compares to the excitement of unveiling a print just to be amazed at the sharpness and depth of color. I have customized my α7R III by setting major functions I consistently use like the bracketing modes and interval shooting to buttons so I don't have to go into the menus when I'm in the moment.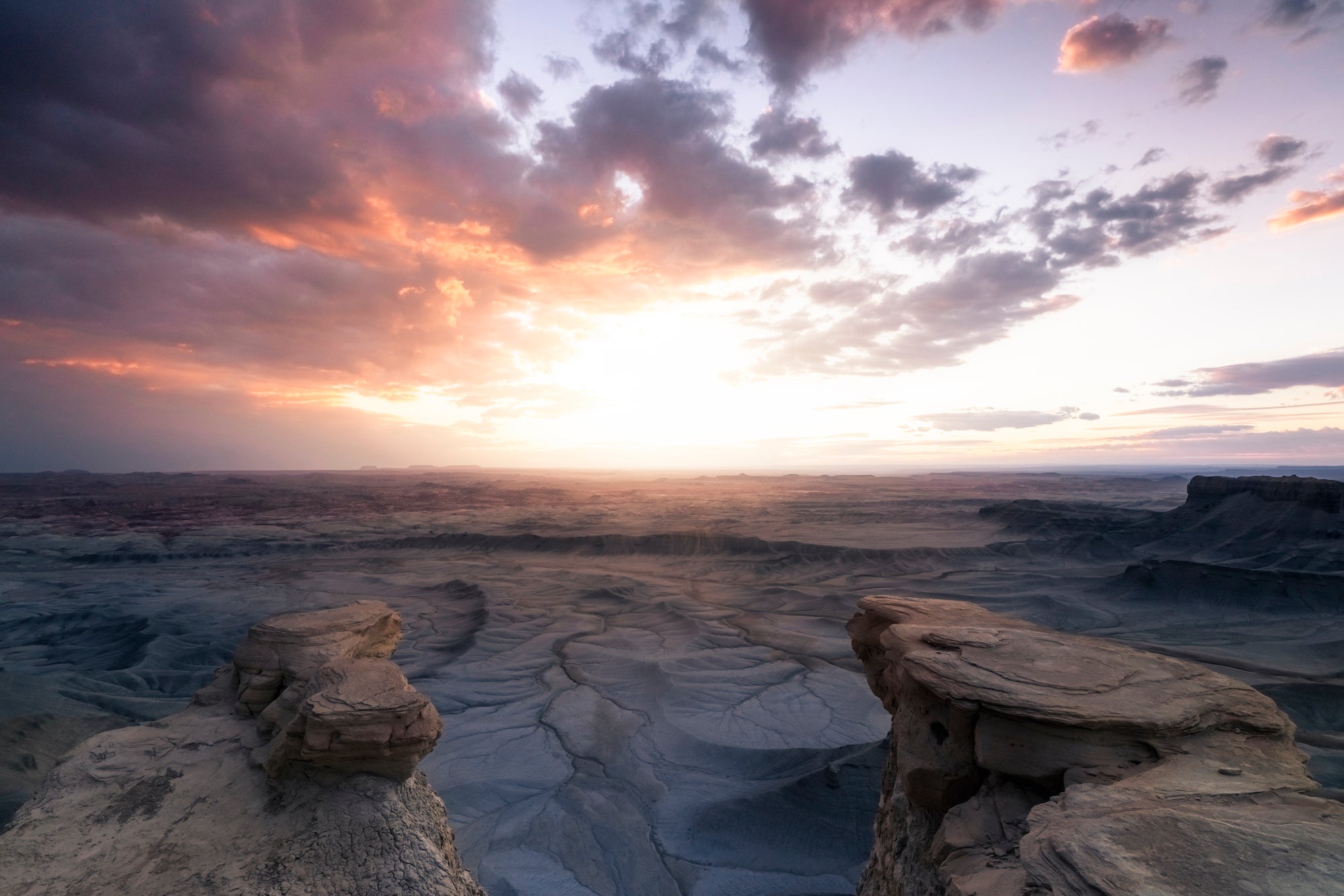 A stormfront rolls in during sunrise over some of Utah's most dramatic landscapes. Photo by Marshall Haigler. Sony α7R III. 1/250-sec., f/8, ISO 640
Lenses
Sony 16-35mm f/2.8 G Master: I have never been more in love with a lens than I have with this one! More times than not, I find myself attempting to portray just how vast or large a certain landscape is. With this lens, I can create the feeling of scale that I experience when I'm immersed in the landscape. Like all of the Sony GM zoom lenses I've used, the 16-35mm f/2.8 GM provides stellar sharpness, color rendition, and contrast throughout all focal lengths and apertures. Overall this lens has been my absolute favorite, and the one that remains on my camera body 85-90 percent of the time.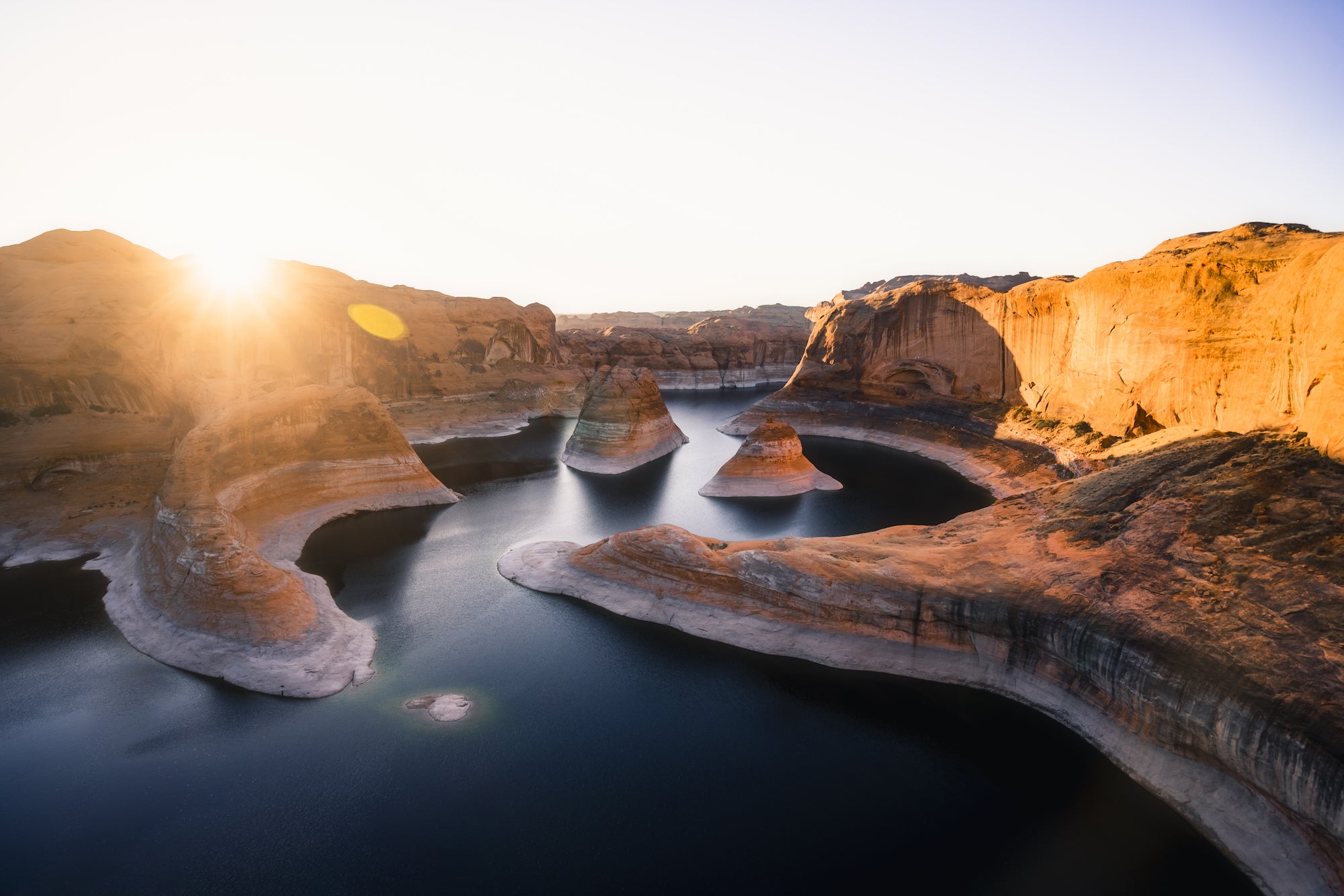 Caught this incredible light in the every-growing popular location of reflection Canyon. One of the tougher locations I've hiked to in the backcountry of the southwest United States. Photo by Marshall Haigler. Sony α7R III. Sony 16-35mm f/2.8 G Master. 1/250-sec., f/8, ISO 640
Sony 24-70mm f/2.8 G Master: As you can see the line of G Master zoom lenses will always have a place in my bag for variety, and functionality. The Sony 24-70 F2.8 GM is the first GM lens, I ever purchased and I will always save a space in the bag for this wonderful piece of glass. I love using this lens to capture a sense of depth in as well as giving me the ability to zoom in a little closer and capture the introicate detail on the side of a mountain. I find myself shooting with the 24-70mm f/2.8 GM at faster apertures, even in larger landscapes, to soften the light and create a dreamier image. Shooting as wide as f/2.8, I can successfully get an image in camera I am pleased with and doesn't need much post processing.
This magical moment was captured in the fading warmth of summer in one of my favorite locations of Glacier National Park. I especially loved the soft peaking light greeting the mountain ridges surrounding Bowman Lake. Photo by Marshall Haigler. Sony α7R III. Sony 24-70mm f/2.8 G Master. 1/2000-sec., f/4.5, ISO 160
Sony 70-200 f/2.8 G Master: More times than not, I find myself in friendly encounters with wildlife on my adventures. Having the 70-200mm f/2.8 GM in my bag to capture those animal portraits is a game changer. I can really get in close and capture the amazing detail of the fur on an inquisitive mountain goat or trailside critter. I have the focus hold button on the side of the lens set to activate Animal Eye AF. I also use the 70-200mm GM to compress the layers of a distant mountain range into a flatter composition against a fleeting gradient across the sky. Again, the sharpness and contrast of this lens is unmatched when paired with my α7R III.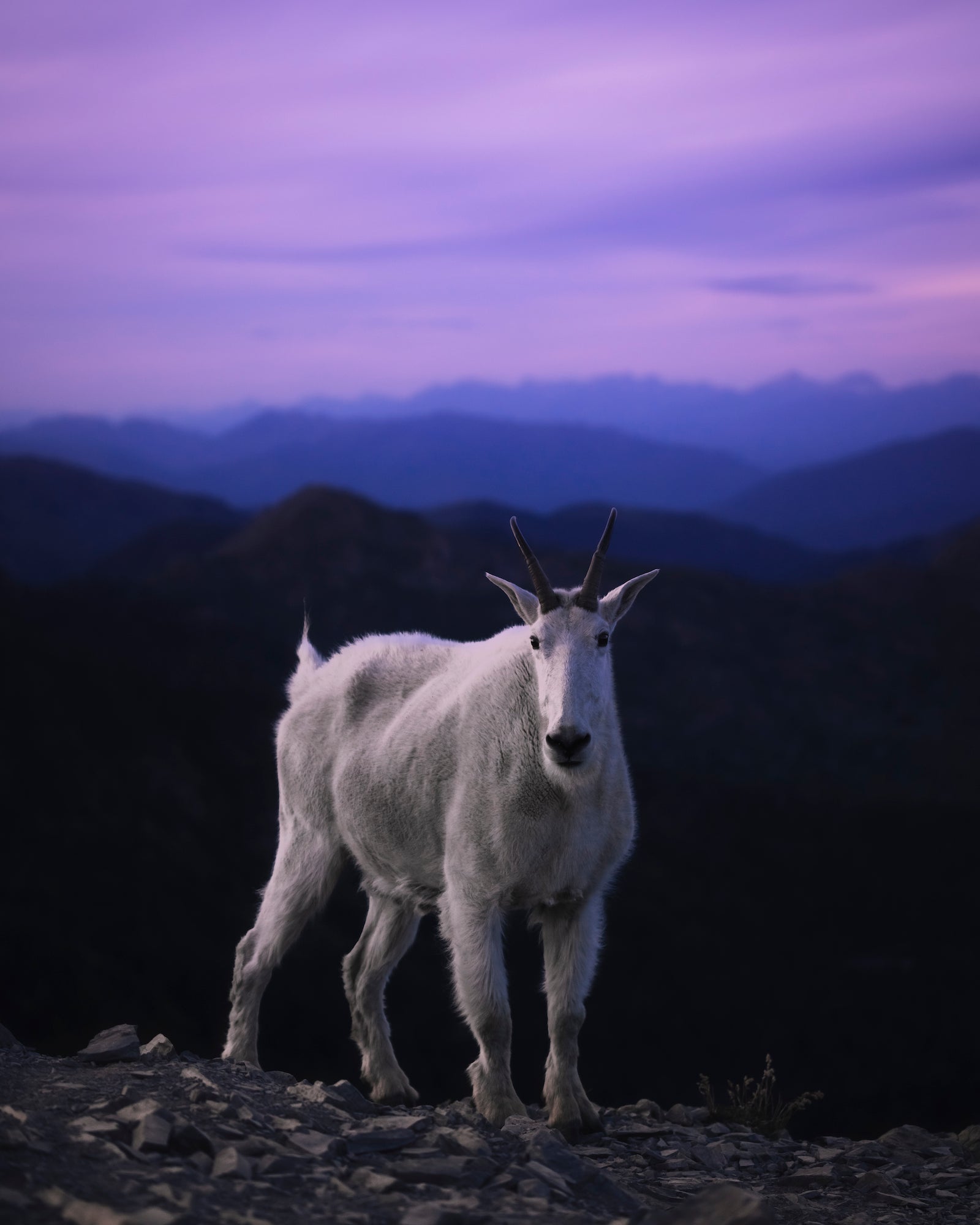 These friendly mountain goats frequent a special, and undisclosed location right in my backyard that, in my opinion, rival the landscapes of the North Cascades of Washington. Photo by Marshall Haigler. Sony α7R III. Sony 70-200 f/2.8 G Master. 1/800-sec., f/4, ISO 640
Accessories
Bag – Osprey Stratos 34 (Day Trips) or Osprey Atmos 65 AG (Overnight Trips) Paired with WANDRD Cubes: I still haven't found a bag that can successfully check all of the boxes I would like for dedicated camera gear storage, as well as trail functionality for me to legitimately back a particular brand. Of course, I can always stand by Osprey Packs for all of my needs, pairing it with a WANDRD small/large cube strategically placed in the bottom for easy access and protection of all of my camera gear. I hope some dedicated camera bag companies can start to adopt a more trail and overnight ready bags for other photographers that agree with my opinions.
Tripod – Fotopro X-Go Max: I have destroyed a plethora of tripods on my travels and in the field, but nothing has held up as well as this tripod. Its carbon fiber construction makes it light enough to carry into the backcountry, but rugged enough to handle high winds and dicey conditions. What I like most, with being rated for up to 26lbs (11.8kg), the price tag of $269 is almost half of other tripods that are comparable.
Memory Cards – Sony SF-G Series UHS-II Cards: When it comes to shooting hundreds of images in succession of an awe-inspiring sunrise or sunset, there's no other choice than using a card that can keep up with the demand of a card that can read and write up to 300mb per second. This is the only choice I recommend.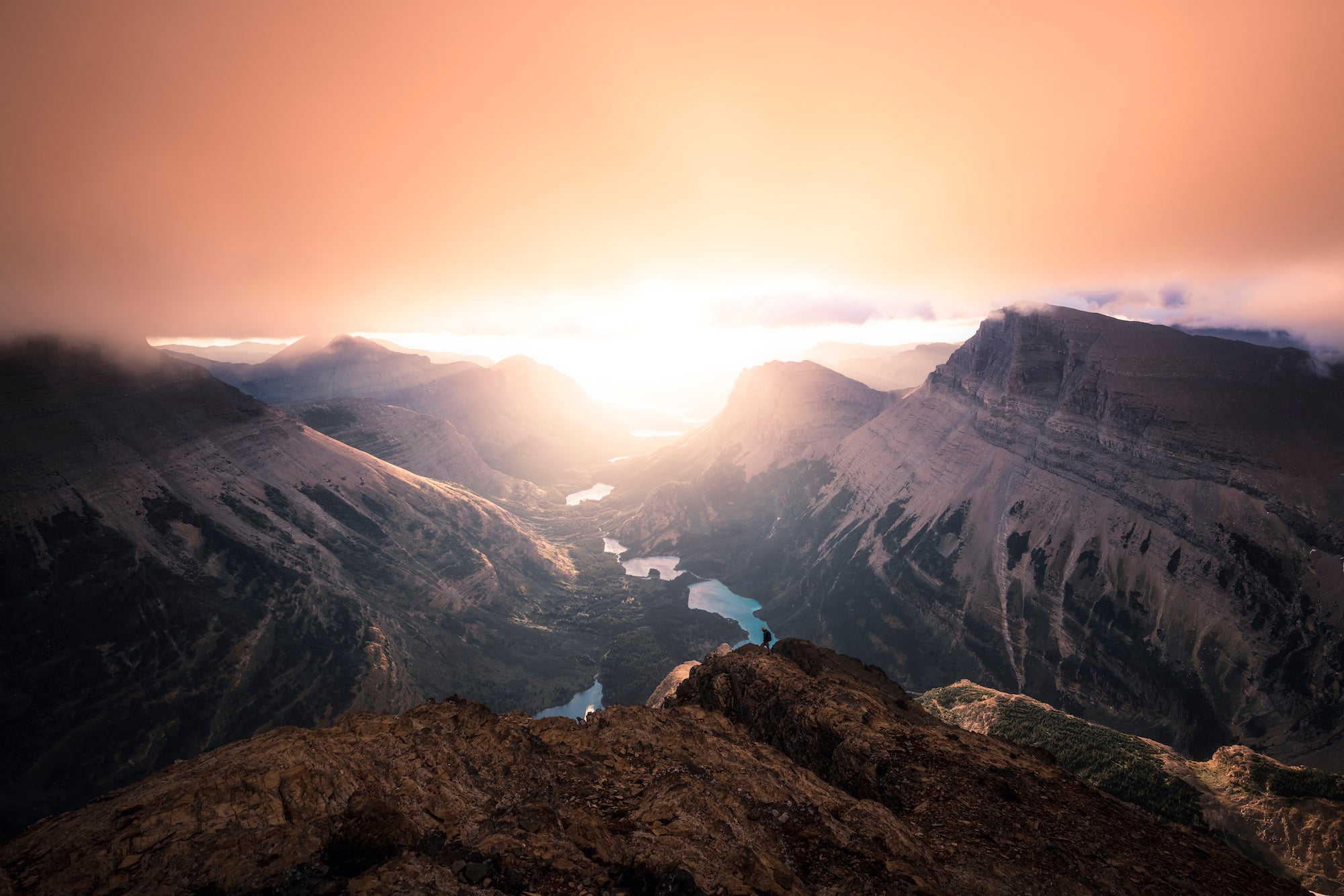 After dealing with bitter cold and gale force winds, the sun made an appearance and parted the skies for a brief moment. This made the 16 mile hike and almost 4,000ft of elevation gain in the dark worth the effort. Photo by Marshall Haigler. Sony α7R III. 1/250-sec., f/3.2, ISO 160
Portable Hard Drives – LaCie Rugged SSD Hard Drives: These hard drives are the gold standard for any adventure and travel photographer. With the combination of solid-state components and the rugged cushioning to take impacts, nothing else compares to Lacie.
Backcountry Backups – Gnarbox 2.0 512 GB: When I plan to spend several days in the backcountry and need something to dump GB of photos to without the weight and hassle of hard drives and computers, I rely on the Gnarbox 2.0 to seamlessly handle my media without any worry of loss of data.
Cleaning Wipes – Zeiss Cleaning Wipes: These bad boys are individually wrapped and ready to tackle getting those annoying fingerprints and dust particles off of lenses and sensors on the go. With a brand like Zeiss, you know it can be trusted to keep all of the most sensitive pieces of gear clean and ready.
Headlamp – Black Diamond Storm Headlamp: Having a good headlamp is imperative when you find yourself hiking back or to a location in the dark. It doesn't matter what you have, as long as you have one to light the way.
Other Items: Of course it goes without saying, I always carry extra layers, snacks, and plenty of extra batteries to stuff into my bag to make sure I'm ready for anything else mother nature wants to throw at me.
See more of Marshall's work at droptheframemedia.com and on Instagram @droptheframe.