Vance Solseth (@vancesolseth) is a wildlife and nature photographer as well as a photography educator. "I am drawn to the outdoors and the wild animals that live there. Recently, due to the COVID-19 pandemic, I have been focusing on the beautiful animals that can be found right outside my door. To my surprise, there are so many people who don't know about the incredible wildlife that lives in their backyard. I ethically create artistic and visually compelling images that highlight the diversity and the beauty of all animals, no matter how big or small." We caught up with him to learn more about this image he captured of a red-headed woodpecker with his Sony Alpha 7 III with the Sony 200-600mm f/5.6-6.3 G, which was in the top 100 for The 2021 Audubon Photography Awards.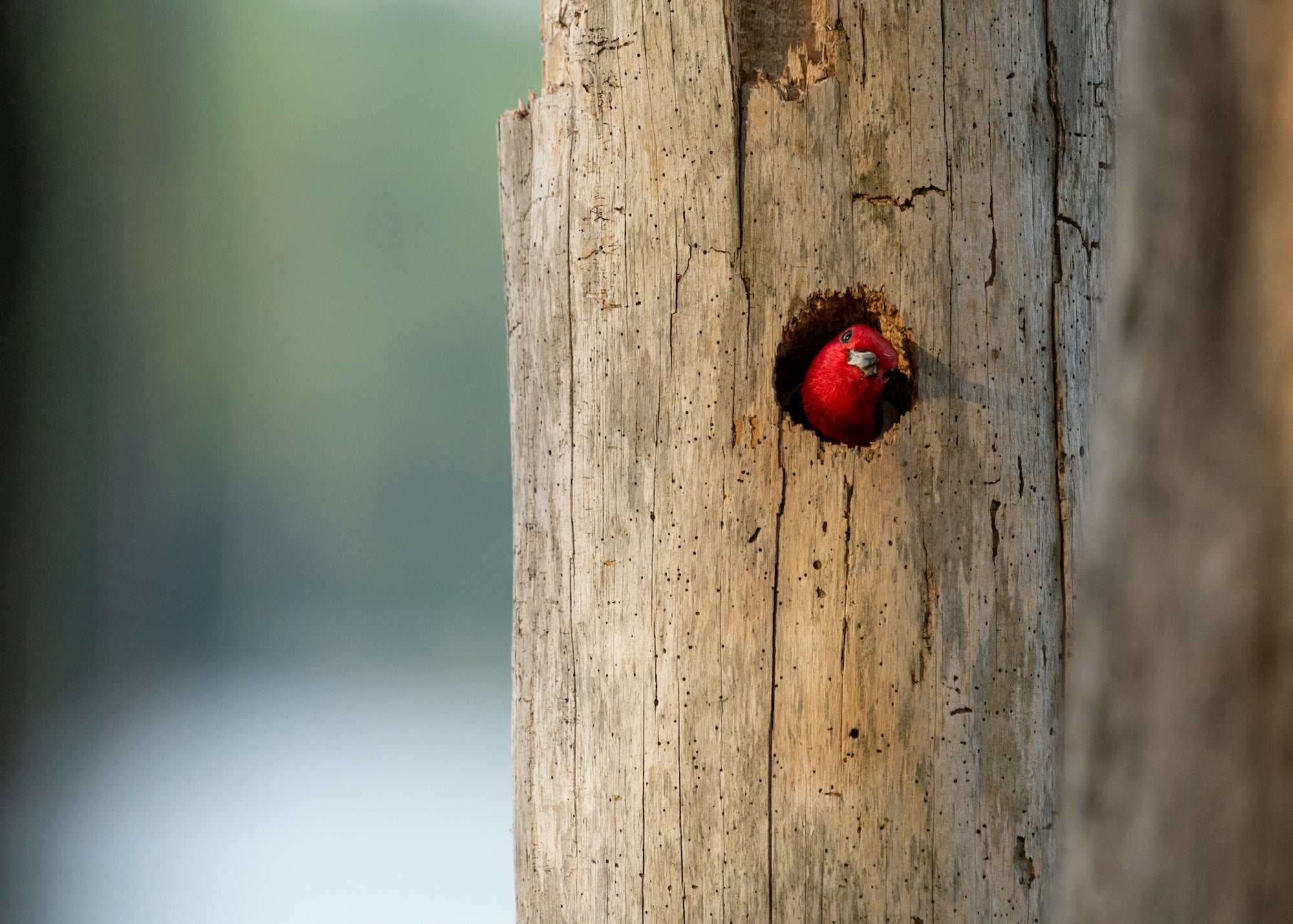 Photo by Vance Solseth. Sony Alpha 7 III. Sony 200-600mm f/5.6-6.3 G. 1/1000-sec., f/6.3, ISO 1600
Wildlife and nature photographer Vance Solseth shares the story behind how he captured this image with the Sony Alpha 7 III with the Sony 200-600mm f/5.6-6.3 G.
The Scene
Before I made this image, I had been scouting out a small island on a local lake in South Carolina near my home. The island had several dead trees that many species of birds make their home in. I kept my distance floating on a kayak while I watched a pair of Red-headed woodpeckers go in and out of a low cavity on one of the trees and I knew the shot that I wanted.
The next morning about two hours before sunrise I got and kayaked to the island. While it was dark and I knew the birds were still resting, I hid my kayak, set up my tripod and covered myself in camouflage netting so I wouldn't disturb the bird's natural behavior. I had to wait for the light to improve but watching the birds go in and out of their home was so much fun and I felt honored to be a silent observer.
The Gear
My choice of gear for this image was the Sony Alpha 7 III with the Sony 200-600mm f/5.6-6.3 G lens. I love this set up when I am shooting from a hide. Being able to turn on the silent electronic shutter is essential in my work that relies so much on the birds and animals being oblivious to my presence. This allows me to capture natural behavior while being close to my subjects. I love the flexibility that the 200-600mm gives me. 600mm is great if the animal is small or farther away but being able to pull back and capture more of the scene and environment without switching lenses elevates the usefulness of this lens, often allowing me to capture several different looking images at different focal lengths of the same subject.
How I Got The Shot
Even though there was a bright morning sun on my subject I was still using a tripod and a gimbal head so I could keep my lens on the cavity without moving and disturbing the birds. I went with a wide-open aperture at f/6.3 to get as much background separation as possible. I knew the birds were going to be flying in and out of the hole quickly and was anticipating an action shot so I had my shutter set at 1/1000-sec. In situations outdoors where the light can change, I leave my ISO on auto, with a max of 6400. This allows me to be extremely flexible in the field with my settings because the image quality of the Alpha 7 III is still fantastic even all the way up at 6400. For this image the ISO was at 1600.
The Edit
For the post-processing of this image, I just made a few basic slider adjustments in Lightroom. I opened up the shadows slightly and did minor adjustments on the white balance. I submit my photography to wildlife competitions and anything beyond minor adjustments can get images disqualified so I try to stay as true to the scene as possible.
See more of Vance Solseth's work on Instagram @vancesolseth and at vancesolseth.com.