Chris Stevens-Yu (@csy__photography) switched to shooting with Sony mirrorless in 2017. "I had previously shot with a Canon DSLR and my reasons for switching were many. The Sony Alpha 7R III's amazing resolution and EVF were too hard to resist." In 2018, Stevens-Yu went part-time at his job as a speech-language pathologist to become more focused on his photography. Living in Northern California provides him with ample opportunities to pursue his passion for both landscapes and seascapes. He strives to highlight lighting and mood in a landscape with a goal that his images will leave an emotional impact on the viewer. He made this blue hour seascape with his Sony Alpha 9 and Sony 100-400mm f/4.5-5.6 G Master lens and connected with him to learn more about the photo.
See how Sony photographer Chris Stevens-Yu captured this low-light seascape using his Alpha 9 and 100-400mm f/4.5-5.6 G Master.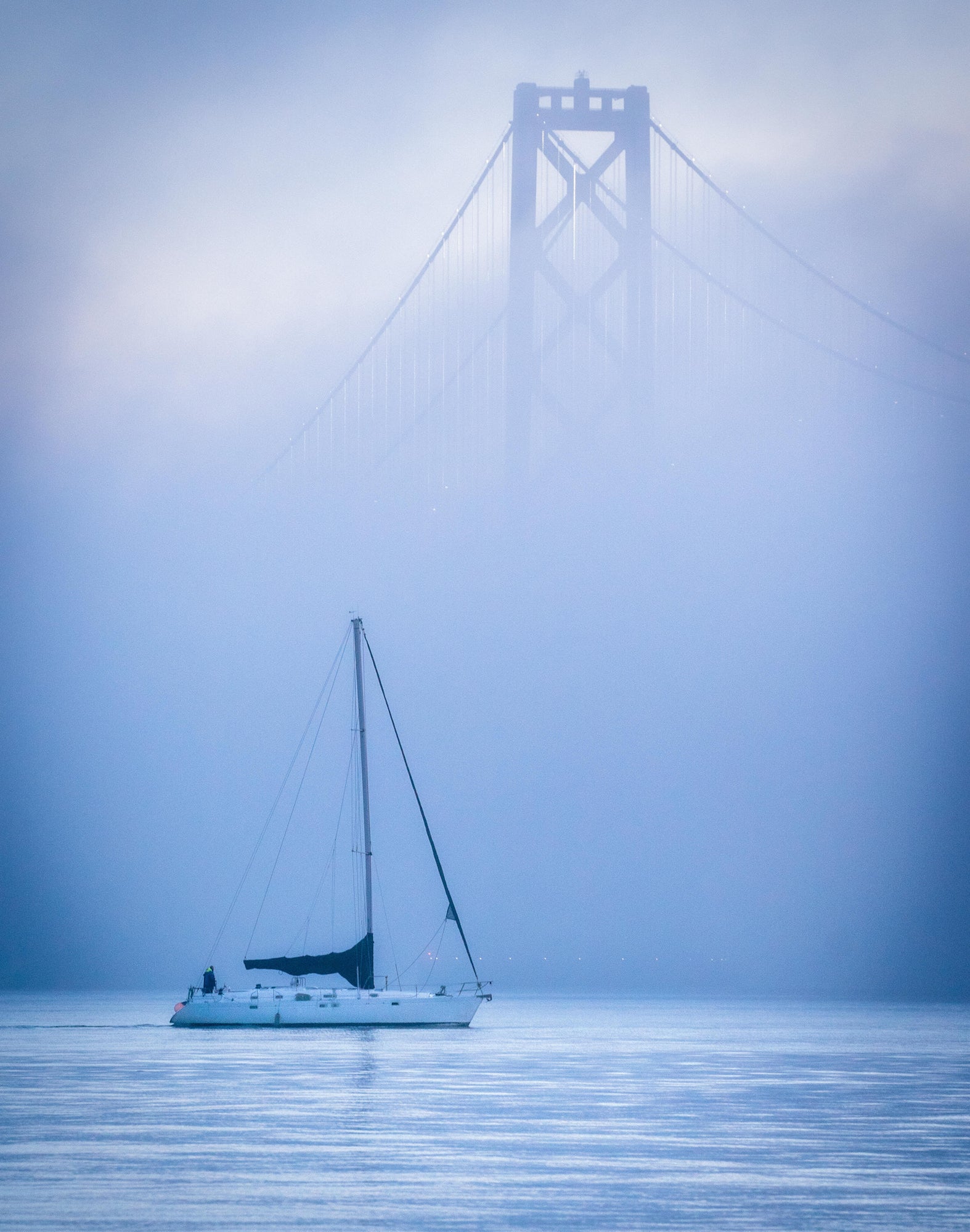 Photo by Christopher Stevens-Yu. Sony Alpha 9. Sony 100-400mm f/4.5-5.6 G Master. 1/125-sec., f/5.6, ISO 1000
Location & Inspiration
I made this image when I was on a staycation with my family in San Francisco. One of my 8 year old boys (yes, they are twins) asked to join me for a blue hour/sunrise shoot at the Embarcadero along San Francisco's harbor. When my alarm went off at 5:15am, Kevin was already dressed wearing a shirt with a camera on it! Proud parent moment! We made it down to the water and set up our spot about an hour before sunrise and shared the moment together (along with a few other brave early risers).
Camera & Lens
I typically bring my resolution monster Alpha 7R IV with my 16-35mm f/2.8 GM lens for big landscape images, and my speedmaster Alpha 9 with the 100-400mm f/4.5-5.6 GM for action and to capture detail shots. This image was made using the latter. I find the level of detail I get from the Alpha 9 combined with the 100-400mm f/4.5-5.6 GM surpasses anything I could have obtained with my Canon gear. The 20 FPS allowed me to freeze the boat in the perfect spot so the bridge in the fog could serve to almost echo the boat's mast.
How I Got The Shot
We had been shooting long exposures of the Bridge as the light slowly crept up. Shortly after sunrise, I noticed this boat moving toward the bridge and fog and saw the captain standing in isolation. What a powerful sight! Because this image was made just after sunrise, the light was fading fast. Therefore, I used f/5.6 and I set the shutter speed to 1/125-sec. to freeze the boat (fortunately the boat was moving at somewhat of a slow pace). I brought up the ISO to 1,000 knowing that noise would not be an issue. I was shooting handheld with the OSS (Optical SteadShot) set for panning. Even though I was zoomed in to 200mm, I find that with the IBIS (In Body Image Stabilization) combined with the lens' OSS stabilization, I can shoot at much slower speeds without sacrificing sharpness.
Post-Production
I was in love with this photo right out of the gate (or memory card), but there are always ways to improve upon an image. I always crop and straighten my images first. I then removed the birds in post as they were too small and looked like sensor dust. I brought in a bit more blues to add to the overall cool mood and then added vignetting to match how I visualized the moment. Finally, I increased the exposure of the boat and brought down the texture a bit to add a dreamy feeling to the final image.