Photographer Stan Moniz travels to various outdoor locations to capture the Milky Way shining high above scenic landscapes. We recently posted the Alpha Collective member's story behind a Milky Way and light trail composite he took at Capitol Reef National Park in Utah using the Sony 14mm f/1.8 G Master. That wasn't the only stellar photo he made with the new ultra-wide Sony 14mm f/1.8 GM. This time he gives us a look into a unique astro-landscape image he made in Joshua Tree National Park, capturing the Milky Way with airglow using the 14mm f/1.8 GM and his Sony Alpha 7S III.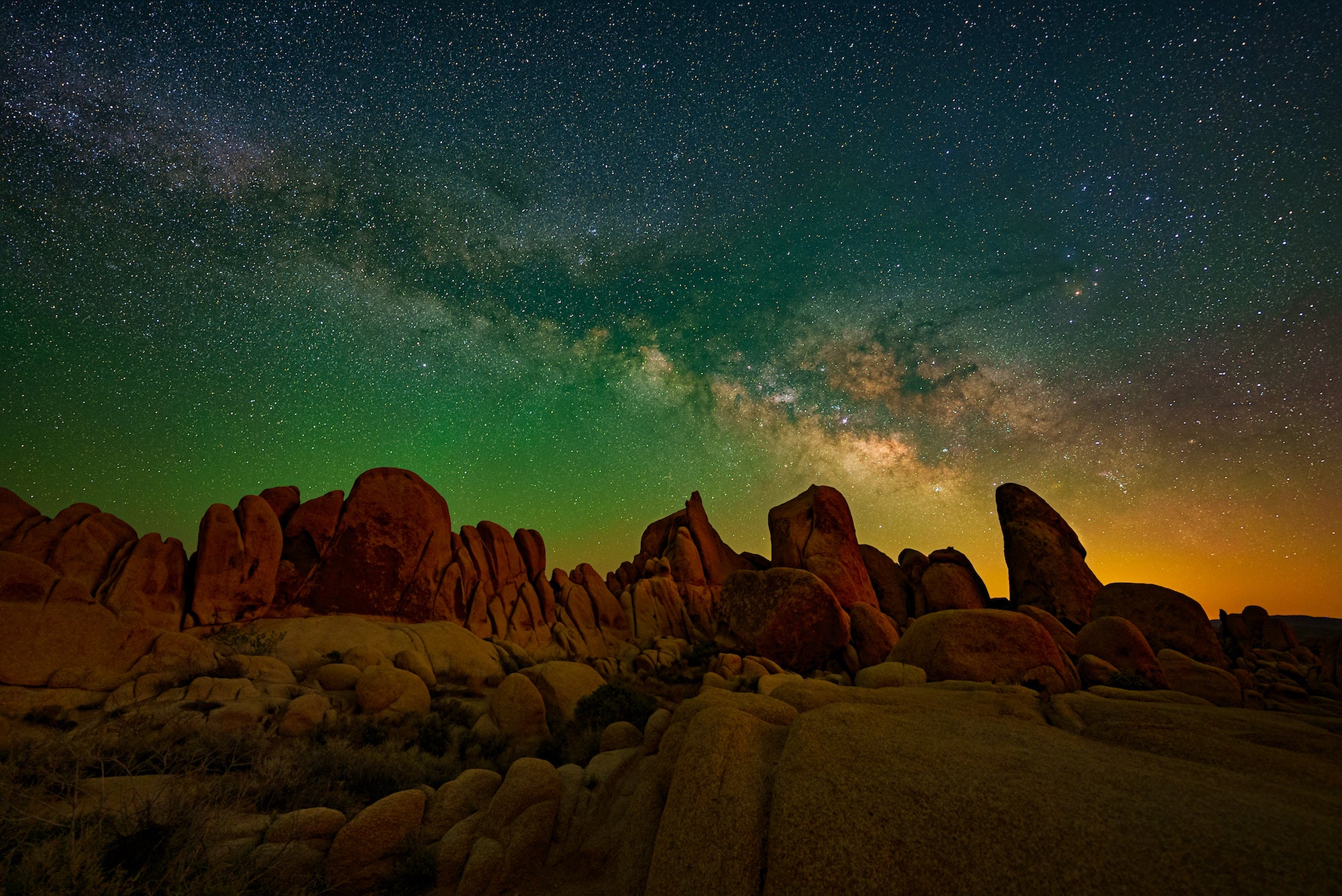 Photo by Stan Moniz. Sony α7S III. Sony 14mm f/1.8 G Master.
Finding A Secluded Location To Capture The Milky Way & Airglow
Moniz was recently holding a workshop in Joshua Tree National Park. As he wrapped it up, he invited attendees to join him to travel to the east side of the park to test the Sony 14mm f/1.8 G Master lens for astro. "The Milky Way was about to rise and so I told everyone I was going to White Tank, an area that faces a really dark area of the sky in Joshua Tree," explains Moniz. "There's these really cool rock formations and the Arch Rock, but I warned everyone that it's a pretty popular spot and we would probably run into a crowd."
He continues, "Sure enough, we get there and there are all of these headlamps and people arguing. I told the group there were way better things to shoot in Joshua Tree, and so we actually walked a quarter mile to this secret spot I shoot and set up our tripods. As the Milky Way was rising you could actually see the green tint in the sky with our cameras."
That green tint they saw radiating from the horizon isn't light pollution from a nearby city, it's actually 'airglow.' NASA describes airglow as a phenomenon that "occurs when atoms and molecules in the upper atmosphere, excited by sunlight, emit light to shed their excess energy. Or, it can happen when atoms and molecules that have been ionized by sunlight collide with and capture a free electron. In both cases, the molecules eject a photon to return to a stable state. Airglow is similar to an aurora, but where auroras are driven by high-energy particles originating from the solar wind, airglow is energized by ordinary, day-to-day solar radiation."
Airglow is common during this time of year as the atmosphere gets hotter and the conditions are right. "I love this time of the year in Joshua Tree," says Moniz. "It was awesome. I told the group how that's something you can't see with your eyes, but the cameras picked it up which was just insane. The sky was lit up."
Getting The Shot With The Sony Alpha 7S III & Sony 14mm f/1.8 G Master
Moniz captured the image using his Sony Alpha 7S III combined with the Sony 14mm f/1.8 G Master. "I shot this wide open at f/1.8 and it's just one single image," he says. "It's crazy because this is not even taken with a modified camera. People thought I was shooting with a hydrogen-modified camera. I have one of those, but I didn't use it for this photo. It's such a pretty photo and it was cool to see the mouths of the people with me drop, getting to see and photograph the Milky Way and airglow on their first time in the park."
"The optics in the Sony 14mm f/1.8 G Master paired with the Alpha 7S III is such a good combo. It's a no-brainer for these astro landscapes. The f/1.8 and the Alpha 7S III are so sensitive, you can get pinpoint sharpness with the stars. I'm going to be doing a lot more astro with this combination. It's not always about massive resolution, it's about what the camera and lens combination can do together."
Post-Processing
Moniz does his global edits in Lightroom and has his own preset called Nightfall that he applies and adjusts accordingly. "Then I'll take it into Photoshop, and I duplicate layer. I open that top layer in Luminar. Luminar has really cool effects that help with astrophotography and give an image that dreamy look or 'magical,' ethereal look. Once I have that as my second layer, I reopen Photoshop and make a third layer. Then I will add a touch of Topaz Labs noise reduction and some sharpening if I need it."