Chandresh "C.K." Kedhambadi (@photon.chaser) is an astro and landscape photographer based in Alberta, Canada. His work focuses on capturing the pristine beauty offered by the Canadian Rockies. Photographing the Northern Lights and the Milky Way galaxy has always been a core aspect of his photography. A hobby that started three years ago has since transitioned into a business and a citizen science contributor. C.K had a unique opportunity to help the scientific community in decoding S.T.E.V.E, a mysterious phenomenon in the night sky, via a citizen science program with NASA. These transformations have given C.K an enhanced sense of purpose and an added dimension to his photography. Kedhambadimade this photo with his Sony Alpha 7R III and Sony 24mm f/1.4 G Master and we and connected with him to learn more about how he did it. This is his story behind the shot.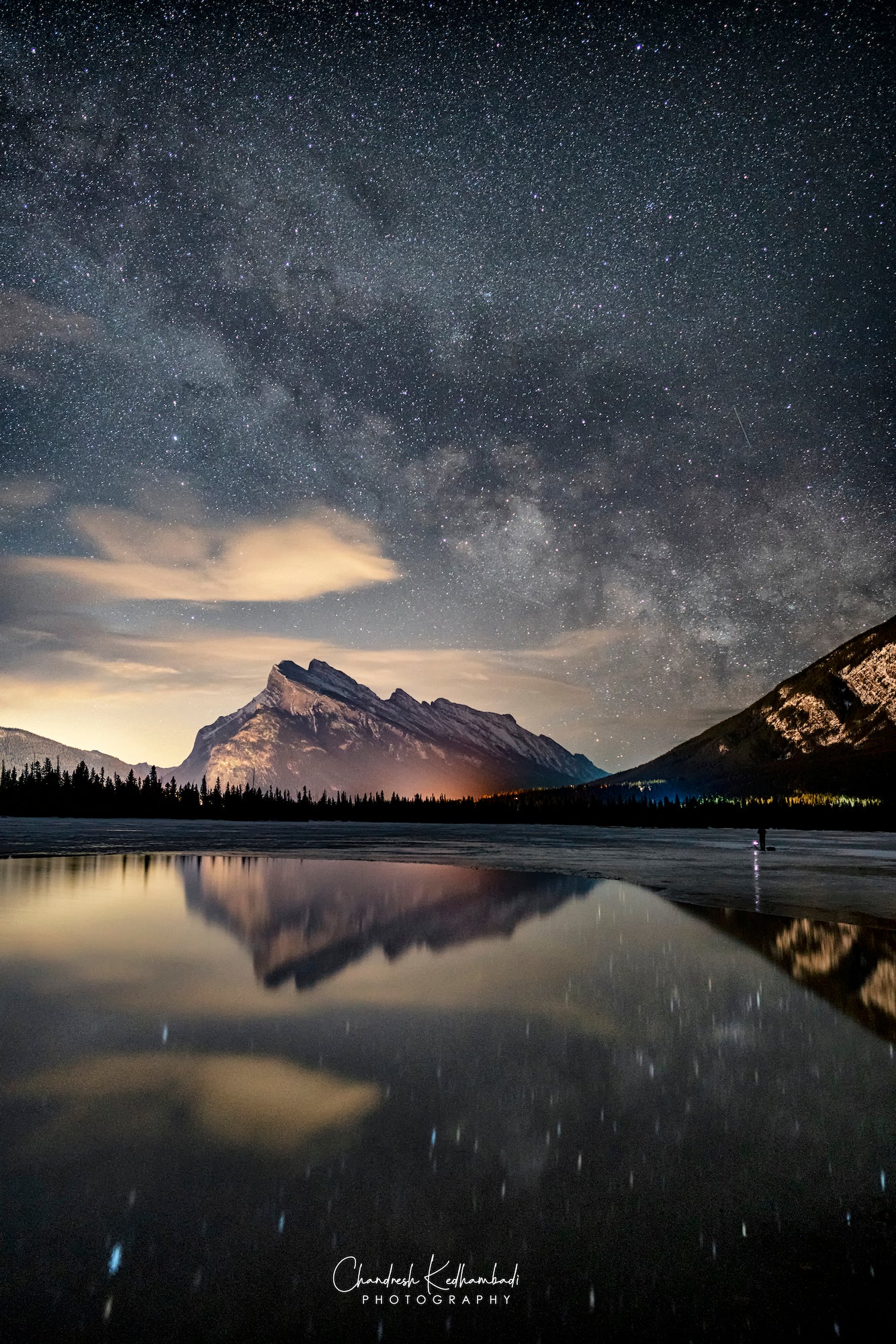 Photo by Chandresh Kedhambadi. Sony α7R III. Sony 24mm f/1.4 G Master. 15-secs., f/2, ISO 3200
The Scene
This iconic scenery of Mount Rundle being reflected in the calm waters of Lake Vermillion in Banff National Park will forever be etched in my memory. This location has a very special place in my heart as this is where I took my first photograph of our galaxy that ignited a love affair with astrophotography. Each year the core of the Milky Way Galaxy obscures from Earth's view for a few months and begins to make a brief appearance in the early morning hours when winter is at its peak in Canada. It's now become a tradition for me to wake up early and brave the wintery conditions to kick-start my Milky Way season at this iconic location each year. The biggest challenge every year, apart from braving some of the harshest winter conditions, is to create something unique at one of the most photographed locations in Banff.
Visualizing & Planning In Astrophotography
I find that visualizing your shot prior and tons of planning are synonymous for any astrophotography. After having researched a few apps, I had the knowledge that the Milky Way core would present itself over Mount Rundle for a period of 30 minutes starting at 4:30 a.m. The cloud cover over Mount Rundle was not looking promising and the predicted temperatures of -20 Celsius with fair winds was not inspiring to get out of bed, but I had decided to take the risk in hopes of finding a narrow window of ideal conditions to present itself. Having shot at this location on numerous occasions, I had a clear visual of my composition and now a fair idea of what to expect in terms of conditions. I chose my Sony Alpha 7R III due to its high ISO low noise performance and the Sony 24mm f/1.4 G Master as my lens of choice, as this is the perfect focal length that accentuates Mount Rundle and is wide enough to fill the rest of the composition with the night sky while still having room for some reflections if open waters should present itself.
Astrophotographer Chandresh "C.K." Kedhambadi (@photon.chaser) gives us a detailed look behind this astro image he took at Banff National Park with the Sony Alpha 7R III & Sony 24mm f/1.4 G Master.
After having left Calgary at 2 a.m., the drive was about keeping the vehicle on the road and the overhead cloud cover had me wondering if it was a good idea to continue the pursuit. Arriving a bit early on location and finding that I was the only one out there with a fair amount of cloud cover and winds made me think if I had it all wrong. The sight of open water gave me hope and I could see the shot I envisioned present itself in front of me. I decided to play the waiting game and hope that an opportunity would present itself over the next hour. I scouted out a few compositions and found this spot on the ice shelf that was close to the open water that offered the best angle for the reflecting mountain.
Setting Up For The Shot – A Few Moments of Sky Brilliance
I set up my tripod low just a few inches off the ground so as to highlight the reflections better. One of the great aspects of astrophotography is one manually needs to dial in lens focusing and camera settings, which gives an individual greater flexibility for creative expression. As mentioned before, I paired the Sony 24mm f/1.4 G Master lens to my Sony Alpha 7R III for this shot. The Alpha 7R III gives me a couple of important features for the two most critical aspects of astrophotography – composition and focusing. These two aspects cannot be changed in post-processing and having the Sony features of Bright Monitoring and Focus Peaking significantly helps in nailing these two aspects on location.
I used the 12x focus magnification and the focus peaking option to ensure my stars had tack sharp focus. Then I lessened the tension on the ball head and used Bright Monitoring to level the horizon and make subtle changes to my composition. I prefer doing the above two steps sans gloves as any misjudgments render the night a loss. My hands were pretty much numb at this point, but once I was completely satisfied in the focus and composition, my fingers could enjoy a bit of warmth offered by the gloves.
After having tried a few different exposure values, I found that 15-seconds was ideal for balancing the amount of light and not having star trails. I had a fair amount of light pollution to work with for my foreground here, I stopped down my lens to f/2.0 and ISO 3200 was ideal for a clean, noiseless image. Once I was dialed in with my settings, I moved my exposure dial to Bulb and plugged in an external remote to avoid any camera vibrations. The stage was now set, the clouds were moving fast with pockets of clear skies presenting in between, the anticipation was building and now it was a waiting game for those few moments of sky brilliance of clouds alignment and no wind. Another photographer showed up and set up on the ice entering my composition...I didn't mind this as I like to add a human element in my astrophotography. The sound of hearing the ice breaking that would frequently disturb the silence of the night had me concerned and had decided against placing myself in the composition.
After about a half hour of waiting, the stars aligned for this shot, the cloud cover had disappeared significantly and the outline of the Milky Way was clearly visible. The few lingering clouds added to my composition of dissipating the light pollution and illuminating Mount Rundle. Also, a human element had presented itself into my composition and I will admit, I was not brave enough to be out on the ice by myself that far out. The moment to take the shot had finally presented itself! The final image you see was edited in Lightroom to apply lens correction and finished in Photoshop to bring out a bit of contrast and details.
Nighttime Camera Setup With The Alpha 7R III
The holy grail of astrophotography is to produce clean noiseless images. Sony does offer some of the best options in terms of camera sensors or better performing lenses specific to astrophotography. I opted for the Sony Alpha 7R III as it offers clean noise free images as you push the ISO higher which is typical in astrophotography. The resolution and the 42 megapixels are great for large size prints and the battery performance in frigid Canadian winters is ideal.
The other aspect I love about the Sony mirrorless cameras is the light and compact design, making them ideal for those trips to mountain summits to observe the night sky. I have really come to appreciate the focus peaking and bright monitoring features on the Sony that helps easily nail my composition and focus. The Sony G Master lenses offer some of the best corner-to-corner sharpness and their ability to focus the stars to a circular pinpoint is great for astrophotography. I prefer prime lenses and the Sony 12-24mm f/2.8 GM is ideal in terms of weight and performance. I love having the flexibility of f/1.4 and the lens has no noticeable loss of performance shooting wide open at f/1.4. I can't wait to try out another G Master offering, the Sony 12-24mm f/2.8 G Master. The ultra-wide offering will be exciting for framing compositions and capturing the enormous night sky.
Creative Expressions & Driving Change
Was it worth the effort to wake up early in frigid winter conditions to experience the rise of the galaxy and witness a few moments of sky brilliance?
My answer is always "YES!" I will not lie, this shot had its moments of second guessing and self-doubting, but in the end, I did walk away with something I will cherish – even if this is a most photographed location in Banff. It's about being there when the ideal moment presents itself and capturing it. The mission I have as a photographer is to explore the natural world and strive to achieve perfection every time I capture the moments. I am constantly learning, evolving and pushing the frontiers to create and present the beauty of our planet in the best possible light. The vision behind that is to inspire a section of the population that would never have the opportunity to experience those few precious moments of sky brilliance. I hope that my efforts to strive for perfection in those captured moments invokes a sense of appreciation for the beauty of the natural world, and with that appreciation it instills a thought to conserve and protect that beauty for future generations.
See more of C.K.'s work on Instagram @photon.chaser.