James Tran (@jtran_photos) and Olivia Beall (@ohhhbee) are a photo and video team who, using their Sony Alpha gear, capture food, portraits, interiors and events. They each have prior experience in the food and beverage industry – something that helps guide them in their photography. When photographing dishes or cocktails for a bar or restaurant, they really take the time to think about how they can portray the atmosphere of the entire space in a single shot of just one menu item. We connected with James and Olivia to see how they captured this single cocktail shot using the Sony α7 III and Sony 90mm f/2.8 Macro G lens, and how they used the bar's interior to match its style.
See how photo team James Tran & Olivia Beall captured this single cocktail shot using the Sony α7 III and Sony 90mm f/2.8 Macro G lens.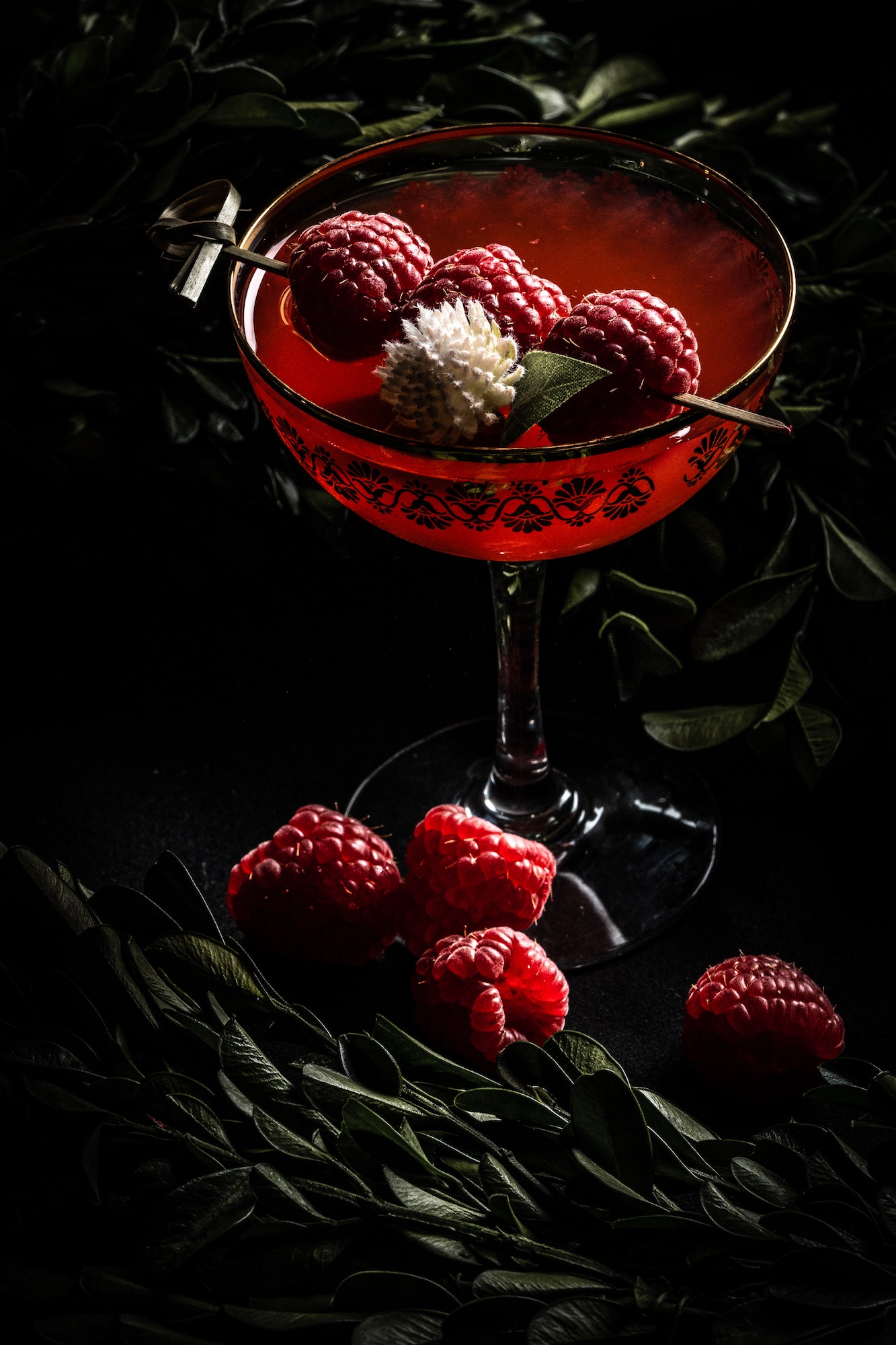 Photo by James Tran & Olivia Beall. Sony α7 III. Sony 90mm f/2.8 Macro G. 1/100-sec., f/16, ISO 800
There was a newly opened Tiki bar in Anaheim, California called Strongwater. Usually bars simply have tiki menu specials, but this place was devoting a whole build to it. We were hired by the owners Ying and Robert to shoot the interior space and the cocktails for the backbar. This place is really unique – the entire bar is themed as if a ship crashed onto a tropical island and its crew gutted the ship to use its parts as shelter. The majority of the bar is decorated in refurbed second-hand finds that gives it that look. The bar also features a private back bar called Juniper Merchant, which is a gin-only bar in what is themed as the "Captain's Quarters."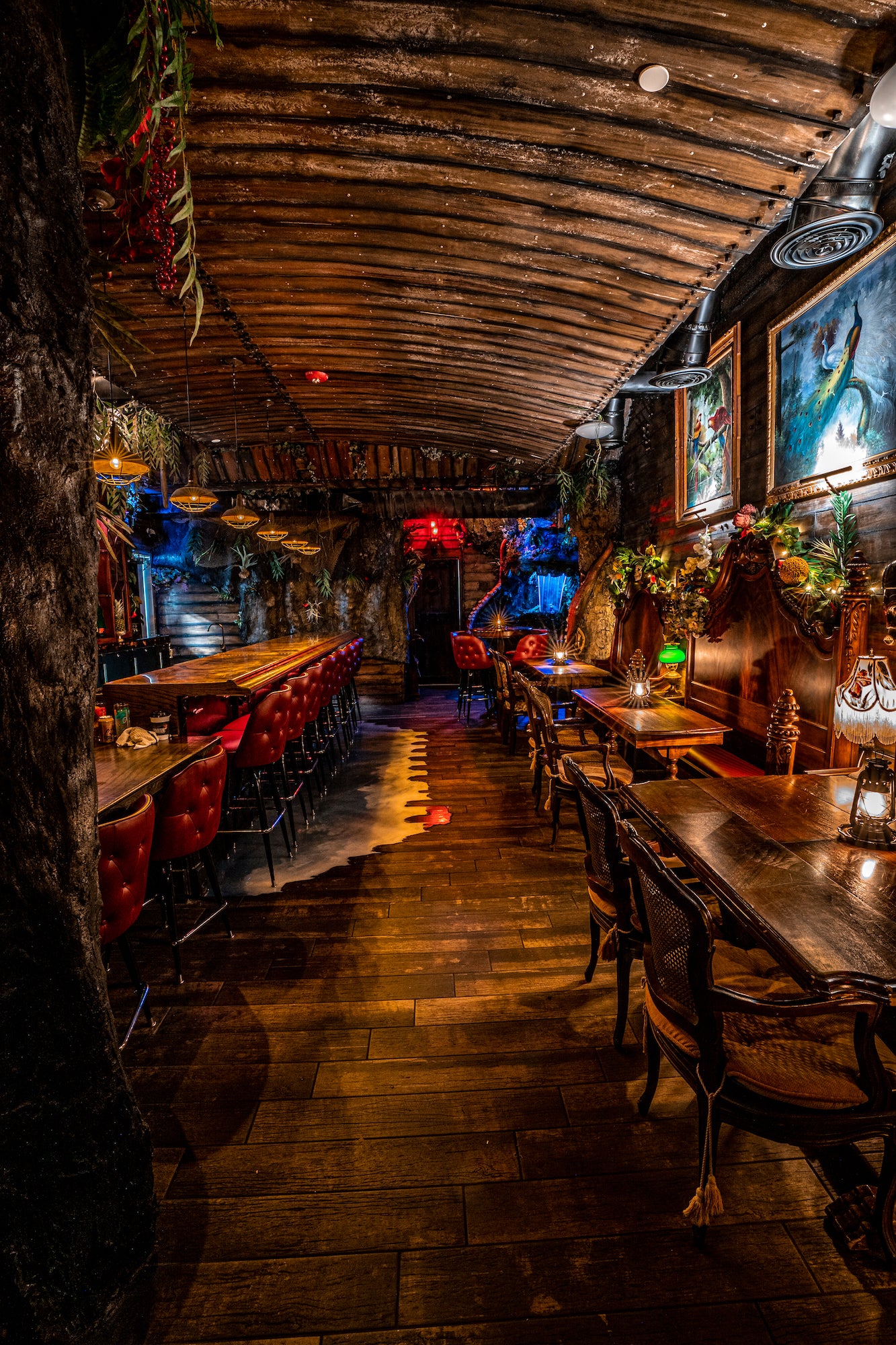 Strongwater. Photo by James Tran & Olivia Beall. Sony α7 III. Sony 16-35mm f/2.8 G Master. 13 secs., f/16, ISO 400
The Inspiration
This cocktail was from the private back bar and we wanted the cocktail photos to very much match its aesthetic. This particular cocktail is called "Queen of Hearts." It features Nolets gin, cointreau, lemon, sugar cane syrup and muddled raspberries. They provided a series of props that could be used for each shot and considering the red of the berries along with the gin as the base spirit, the greenery used in the foreground and background made the most sense for color contrast. It also provides a subtle reference to gin via greens that, while not accurate, may remind the viewer of a juniper bush.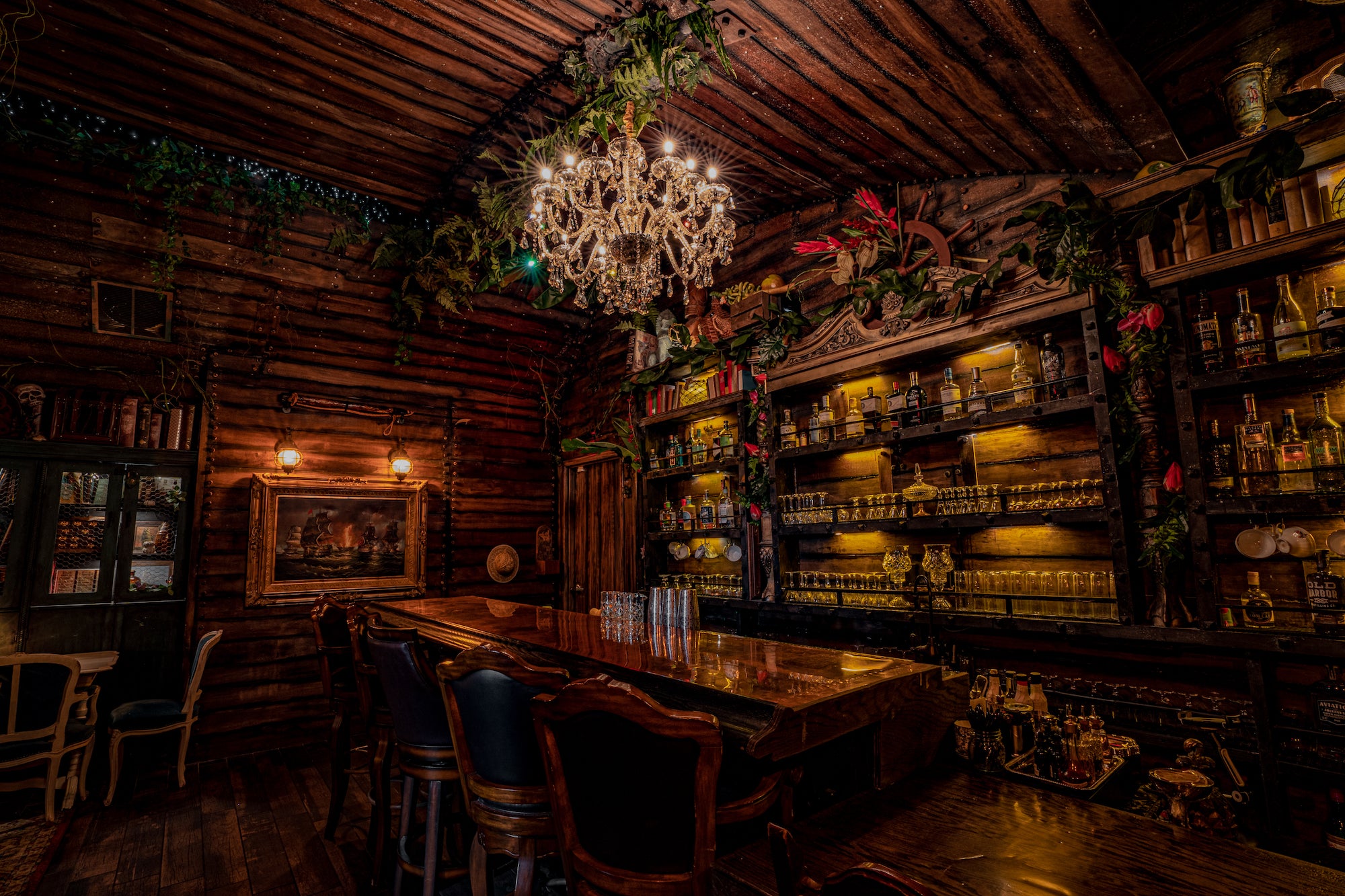 Juniper Merchant Private Back Bar. Photo by James Tran & Olivia Beall. Sony α7 III. Sony 16-35mm f/2.8 G Master. 25 secs., f/16, ISO 250
The Camera & Lens
We used the Sony α7 III and the Sony 90mm f/2.8 Macro G lens specifically for this shot because of all the detail on the one-of-a-kind, second-hand glassware the bar uses, along with the texture of the berry and flower garnish. We wanted to really bring out as much detail so that when the consumer sees it they really think about how intricate everything is – something to slow down and appreciate rather than just quickly consume.
How We Got The Shot
We usually don't know what the cocktail looks like until we are there in the moment, so we depend on Olivia's former background as a bartender, my background as a former chef, and our combined creative eye on how to approach the photo all within a few minutes. When we first saw this cocktail we immediately knew we wanted the intense reds to pop and didn't want to distract it with too many other props or barware. We placed some black fabric down and then placed some greenery around the cocktail. Not only did the greenery make sense in terms of color, but it also encircled the drink and naturally brought it to the center of attention in the photo. We made sure that even the garnish pick moved in the same direction to keep everything sort of flowing that way.
We had two Godox AD200 Strobes set up to light the cocktail, the rear with a 24x36 Glow Softbox with Grid, and the front was a 12x12 round Softbox. The rear light acted as both a rim and key, while the front light was there to add some shadow fill. We shot this at f/16 because we wanted as much in focus as possible, and the ambient light in the windowless room wasn't an issue at this aperture. From there we worked backwards on the shutter speed and landed on 1/100-sec. which made hand-holding easy when combined with the lens and camera's optical stabilization and IBIS. Because the ISO performance on the α7 III is so good, we were quite comfortable shooting this at ISO 800. Any noise on the Sony sensor is really moot at that point.
When it came to post-production, we really had to think about the space and how we wanted the cocktail photo to match it. There were these oil paintings around the bar that helped inspire what we had in mind tonally for the image to be processed. So the editing consisted largely of color tonal changes to fit out vision, along with basic curves and clarity bumps. We used Photoshop for a touch of dodging and burning and ultimately landed on this shot which we think fits in well with the style of the bar.
You can see more of James and Olivia's work at jtranphotos.com.