Alpha Collective member Sapna Reddy (@sapnareddy) is a landscape photographer based in Northern California. She is currently pursuing dual careers as a photographer and a physician. As a radiologist she analyzes images in an attempt to establish diagnosis to achieve a cure, and as a photographer she aspires to generate images that are both a creative expression for the artist as well as a therapeutic visual for the viewer. We sat down with Sapna to learn the story behind this stunning and fleeting image of a moonbow and the Northern Lights that she made with her Sony Alpha 7R IV and Sony 16-35mm f/2.8 G Master lens.
Alpha Collective member Sapna Reddy explains how she captured a fleeting moonbow beneath a dancing aurora in Iceland.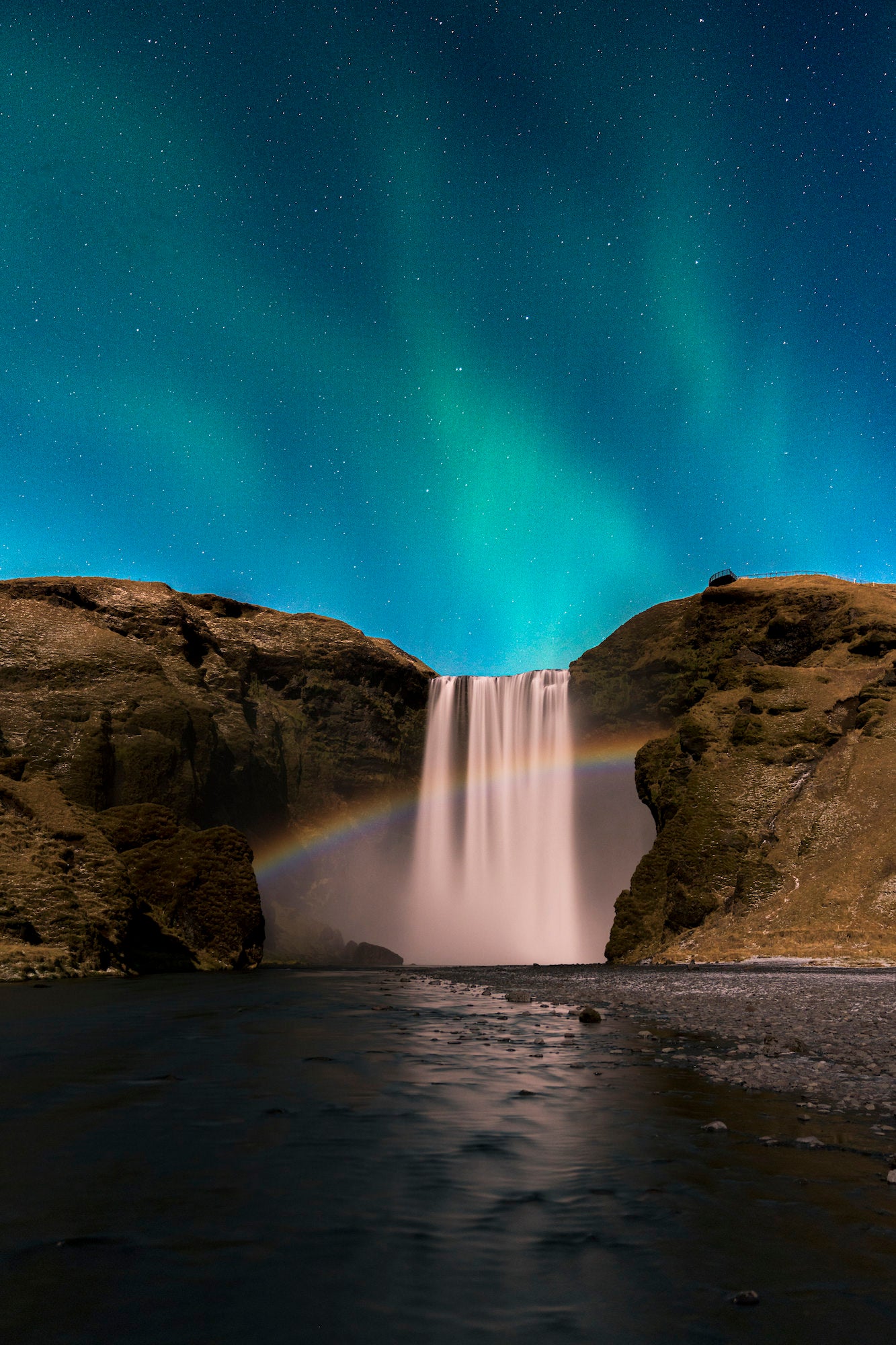 Photo by Sapna Reddy. Sony Alpha 7R IV. Sony 16-35mm f/2.8 G Master. 10-secs. f/2.8, ISO 1000
Finding The Perfect Scene
During a winter workshop I was conducting in Iceland we were exploring ice caves, aerial photography and also hoping to capture the elusive Northern Lights. Every night we would patiently wait for the lights display. On the evening this image was shot, the forecast for aurora on the KP index was decent. So we decided to head out and set up to shoot the Northern Lights. The area we were initially shooting at was quite spectacular as far as the display of Northern Lights but I was personally not happy with the foregrounds available. So my Icelandic workshop Co-lead Kaspars Dzenis and I made the decision to drive the extra hour to Skogafoss knowing that we stood a very good chance of capturing the lights above the waterfall. We had a very enthusiastic group who did not mind staying up all night, braving the cold, and standing in freezing water for this shot. When we arrived at Skogafoss the lights were very faint. However it was a beautiful full moon night and we decided to take our chances and wait. After a couple of hours our patience was rewarded by a beautiful moonbow appearing at the base of the falls just as a gorgeous display of Northern Lights danced above.
Selecting The Perfect Gear
To capture such a rare event, I need the best performing and most reliable gear. I shot this photo with the Sony Alpha 7R IV with Sony 16-35mm f/2.8 G Master lens.
I chose to use the Sony Alpha 7R IV for multiple reasons:
1. Its outstanding low light capability.
2. Bright monitoring to adjust compositions
3. High resolution (moments such as this are rare, and I wanted to make sure I could print large size of the image)
4. Ability to function even in the very cold temperatures without a glitch.
For the lens I chose the Sony 16-35mm f/2.8 G Master. Some factors that went into that decision were:
1. I wanted to get both a wide angle perspective as well as one at 27 mm.
2. Given the low light, I needed to shoot with a wide aperture.
3. To get this shot, I was standing in flowing water. I was using a long exposure, so it was critical to have a stable setup.
To achieve the stability I needed, I used the RRS tripod - Really Right Stuff TVC-24 Versa Series MK2 Carbon Fiber Tripod with the BH 55 RRS ballhead.
Dialing In The Camera Settings
Exposure information: 16-35mm lens at 27mm. 10-sec., f/2.8, ISO 1000
I wanted an exposure that would be optimal for both the rainbow and the Northern Lights. After a few tries, I knew a 10-second exposure was the best option when trying to minimize motion blur, and noise. Since the lights were moving and moderately bright the prolonged exposure made it possible to increase the luminance in the sky and also retain the texture of the Aurora. One of the most challenging things about night photography is being able to maintain sharp focus. Fortunately there were enough bright stars in the sky and a bright moon to aid in the focusing. Once focused all shooting was done in manual mode as this enabled me to make rapid changes to the settings as needed based on the varying luminance of the Northern Lights.
Bringing Out The Details In Editing
Because of the moonlight being cast on the waterfall, the water was reasonably bright and so was the moonbow. For the lights however I did need to make adjustments in Photoshop. I used Camera Raw to select out the sky and apply selective adjustments to bring out the luminance of the lights and contrast and texture. Since I was shooting at a very wide aperture I also need to sharpen the image overall to compensate for the shallow depth of field.
Sapna conducts workshops both within the U.S. as well as internationally. These workshops are focused on identifying and fine tuning individual creative styles and creating meaningful images. To learn from Sapna check out her workshops HERE and be sure to follow her on Instagram (@sapnareddy).