Transforming passion, instinct and creative vision to craft requires the right tools. This is why the gear we work with becomes significant and instrumental in the expression of the human spirit. My switch from DSLRs to all Sony gear is relatively recent, just over the past couple of years, and I'm really happy that I made this switch. There was a learning curve transitioning to mirrorless and also to a new company's gear, but I felt that it was vital to embrace the latest technology and to eliminate the possibility of my tools becoming the limiting factor for artistic expression. My Sony cameras and lenses now feel like extensions of my arm. I make adjustments almost at a subconscious level without interruption of the creative mindset. To have gear that is reliable, efficient, technologically advanced and easy to use has a profound impact on the quality of art generated.
See the Sony Alpha cameras, lenses and more this photographer packs in her bag to capture dreamy landscape photos.
Lenses
As a landscape photographer exclusively, depending on the terrain I need coverage from extreme wide angle at 12mm to tele at 400 mm. For this purpose I carry four lenses with me.
Sony 12-24mm f/4 G: This has been my latest acquisition of native Sony glass. I had initially tried using Nikon lenses with adaptors on the α7R III and was dissatisfied with the quality of the images. I was under the false assumption that this was due to a faulty camera. When my friend Rachel Ross let me borrow her 12-24mm, I realized what a tremendous difference shooting with native glass made. The image below is the first I made with my new 12-24mm and I look forward to using it when I need to really emphasize the foreground as well as in shots with extreme wide angle for grand landscapes.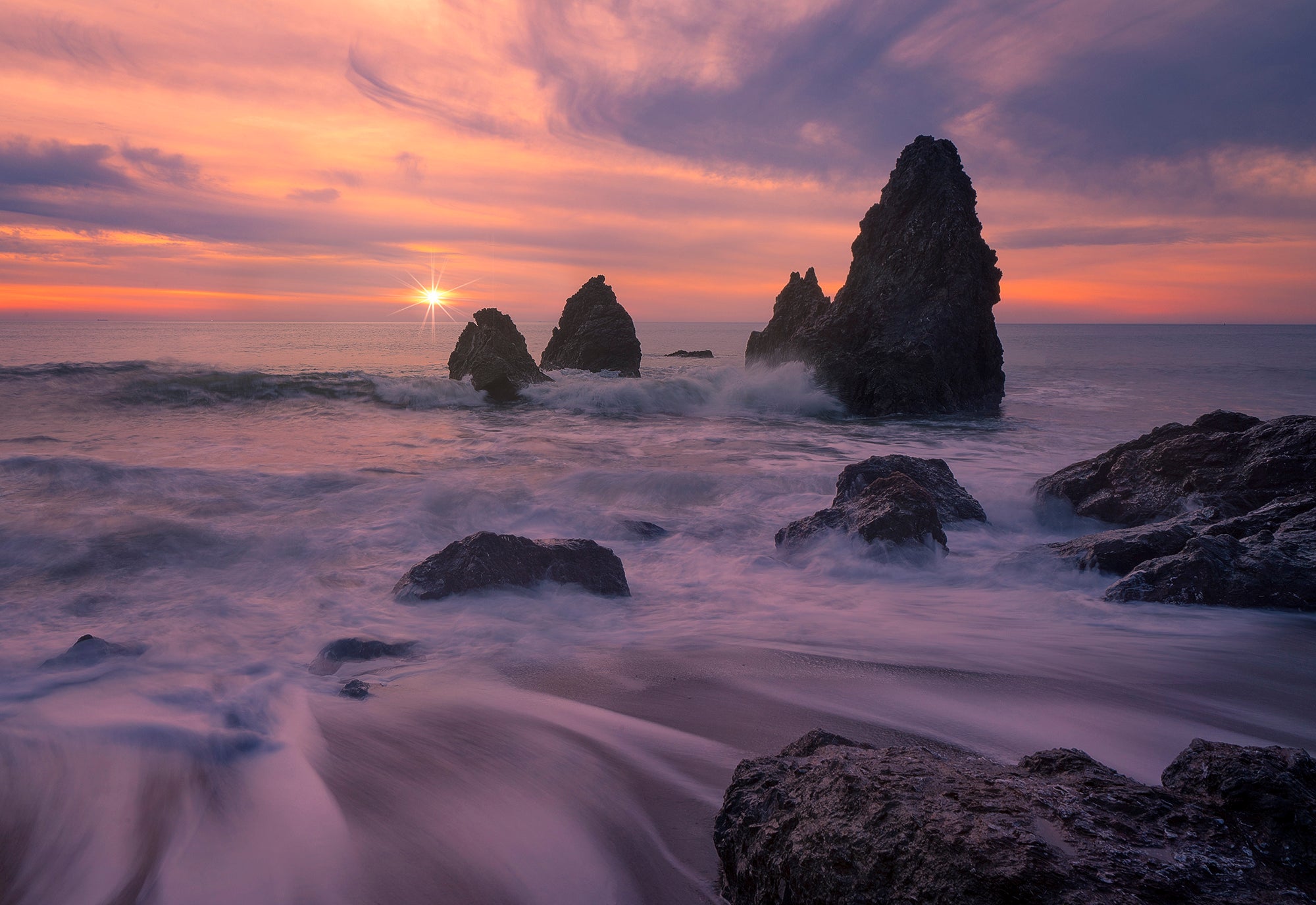 Sony α7R III. Sony 12-24mm f/4 G. 1/10-sec., f/11, ISO 50.
Sony 16-35mm f/2.8 G Master: I love getting close to foreground components and enhancing the fine details against a majestic backdrop and this lens is simply spectacular for doing that. While shooting in Bali, the lush foliage and exotic wildflowers were ideal for this type of composition against the backdrop of cascading water. When shooting the grand landscapes I was pleasantly surprised by how little distortion was created. Although there is an overlap in focal length with the 12-24mm and the 16-35mm, they each do different things for me and 16-35mm G Master being an f/2.8 lens, makes it ideal for night photography.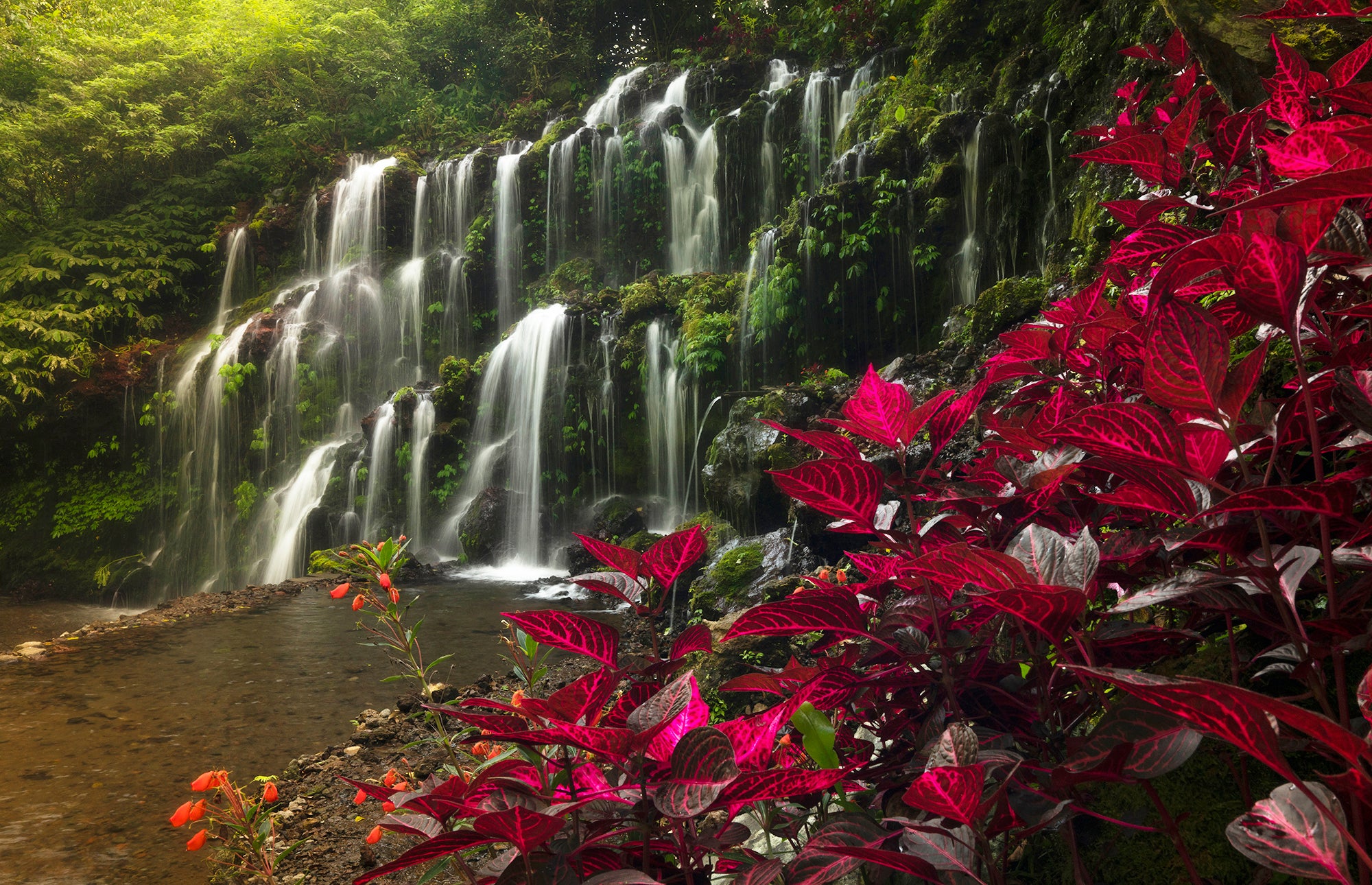 Sony α7R III. Sony 16-35mm f/2.8 G Master. 1/4-sec., f/19, ISO 320.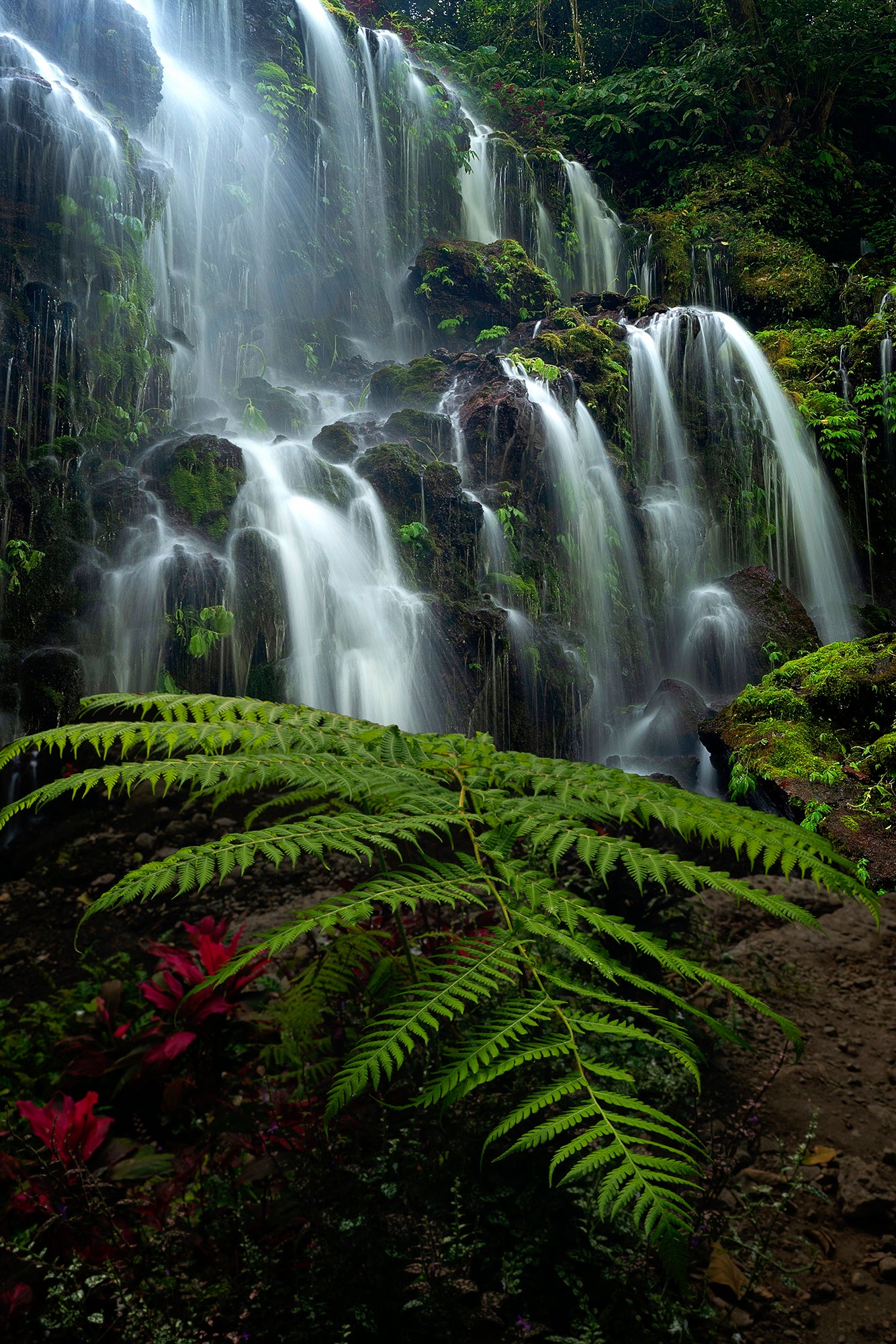 Sony α7R III. Sony 16-35mm f/2.8 G Master. 1/15-sec., f/16, ISO 320.
Sony 24-70mm f/2.8 G Master: Depending on the landscape before me I usually have one of two camera-lens combinations ready. The first camera has either my ultra wide 12-24mm or 16-35mm and my second camera usually has my 100-400mm telephoto zoom. Sometimes, however, I don't want to have that gap between ultra-wide and telephoto so I'll have my 24-70mm f/28 GM on one camera and the 100-400mm on the second body. I've been in multiple situations where the light was changing quickly or fog was flowing across the mountains and creating a rapidly changing, dynamic scene where time lost in changing lenses would have translated to loss of optimal shooting opportunities. For example, in the phoot below I was shooting with a telephoto lens, focusing on the mountains and the waterfall in the distance when the couple walked into the snow-covered meadow. Having my 24-70mm lens ready on my other camera made it possible to get this shot. Also, when I'm shooting for panoramas I prefer to use this 24-70mm.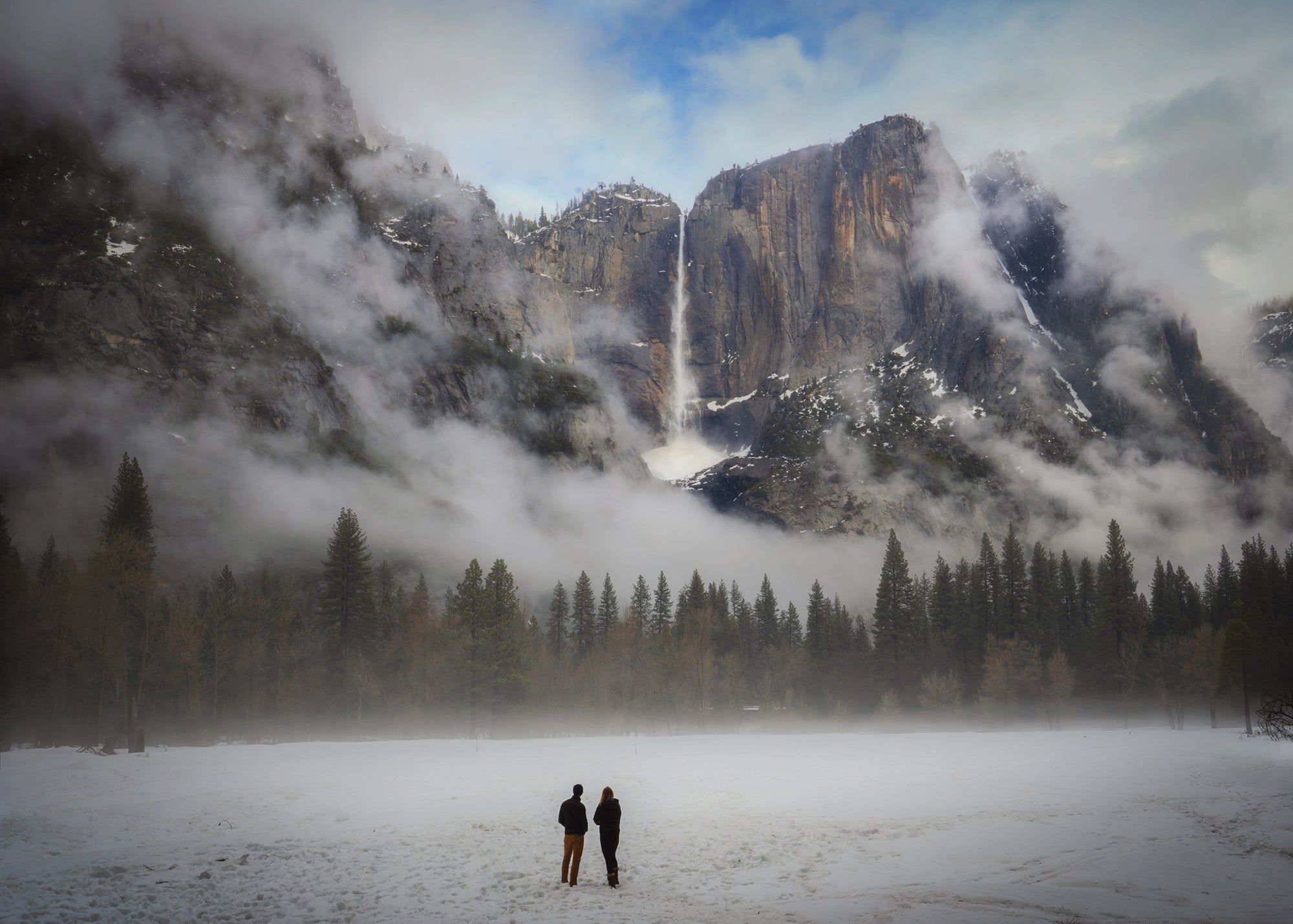 Sony α7R III. Sony 24-70mm f/2.8 G Master. 1/6-sec., f/22, ISO 50.
Sony 100-400mm f/4.5-5.6 G Master OSS: Having strong affinity for mountains, I find myself constantly using this lens. The telephoto zoom range is instrumental in being able to isolate interesting focal points and creating an image dedicated to their presentation. Mounted on my Sony α7R III while shooting handheld from a helicopter or a plane in the air, I've been amazed at the stability of the OSS system and the ease of handling. This lens gives me tack-sharp focus that invariably results in amazing details in the photo.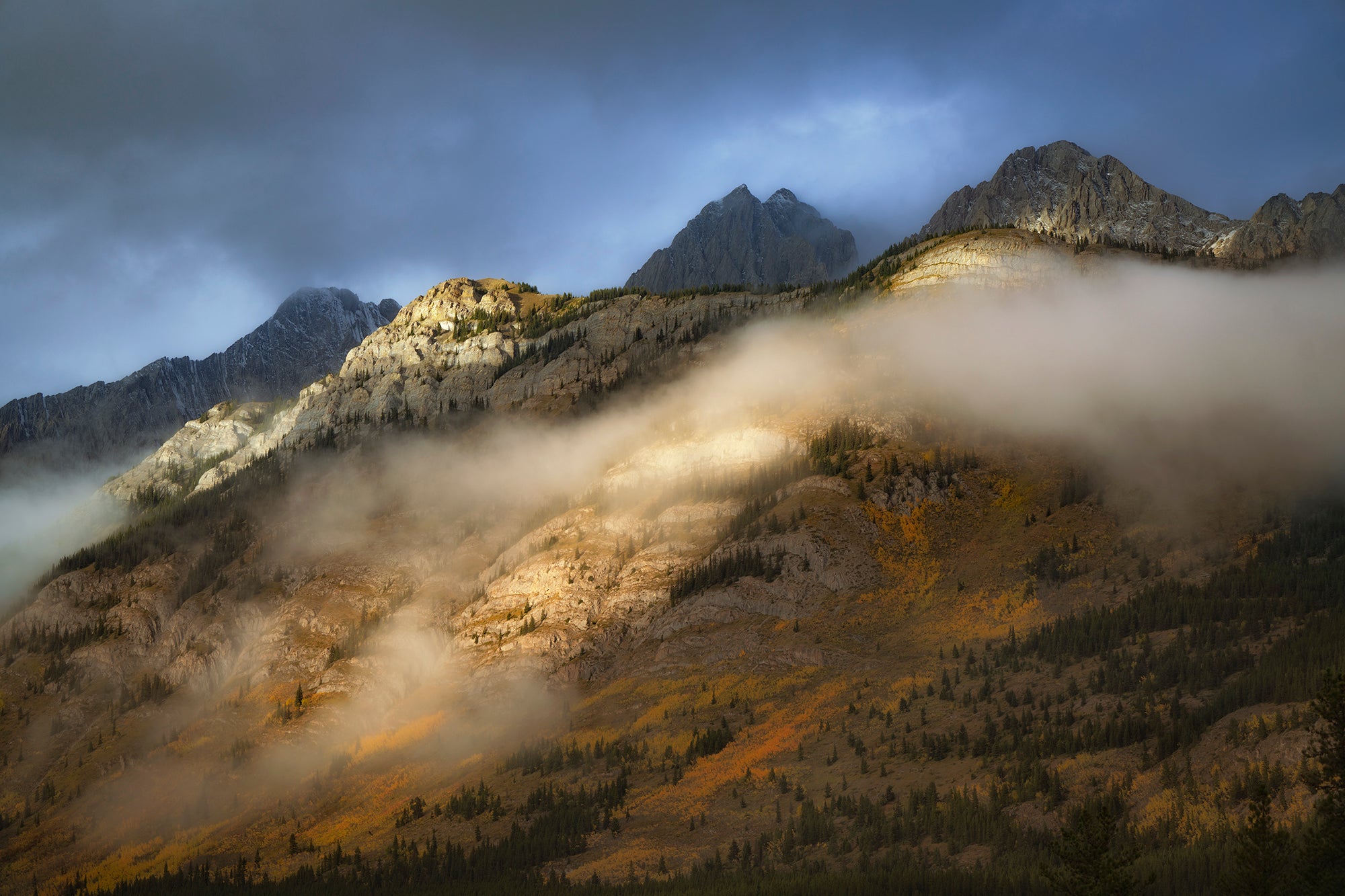 Sony α7R IV. Sony 100-400mm f/4.5-5.6 G Master. 1/250-sec., f/5.6, ISO 125.
Cameras
Sony α7R III & α7R IV: I started with a Sony α7R III. I was on an adventure photography trip to Alaska that involved getting dropped off at various remote locations via helicopter or by boat. I needed a camera with in-body image stabilization that would help me shoot from the helicopter as well as on the water while paddling around in a kayak. The α7R III worked beautifully in these circumstances with excellent stabilization yielding sharp high resolution images. The smaller camera size (compared to my previous DSLR), ability to retain my habit of looking through the viewfinder, the excellent low light capability, the enhanced autofocus technology and the bright monitor to view night scenes were all huge advancements over my previous camera gear.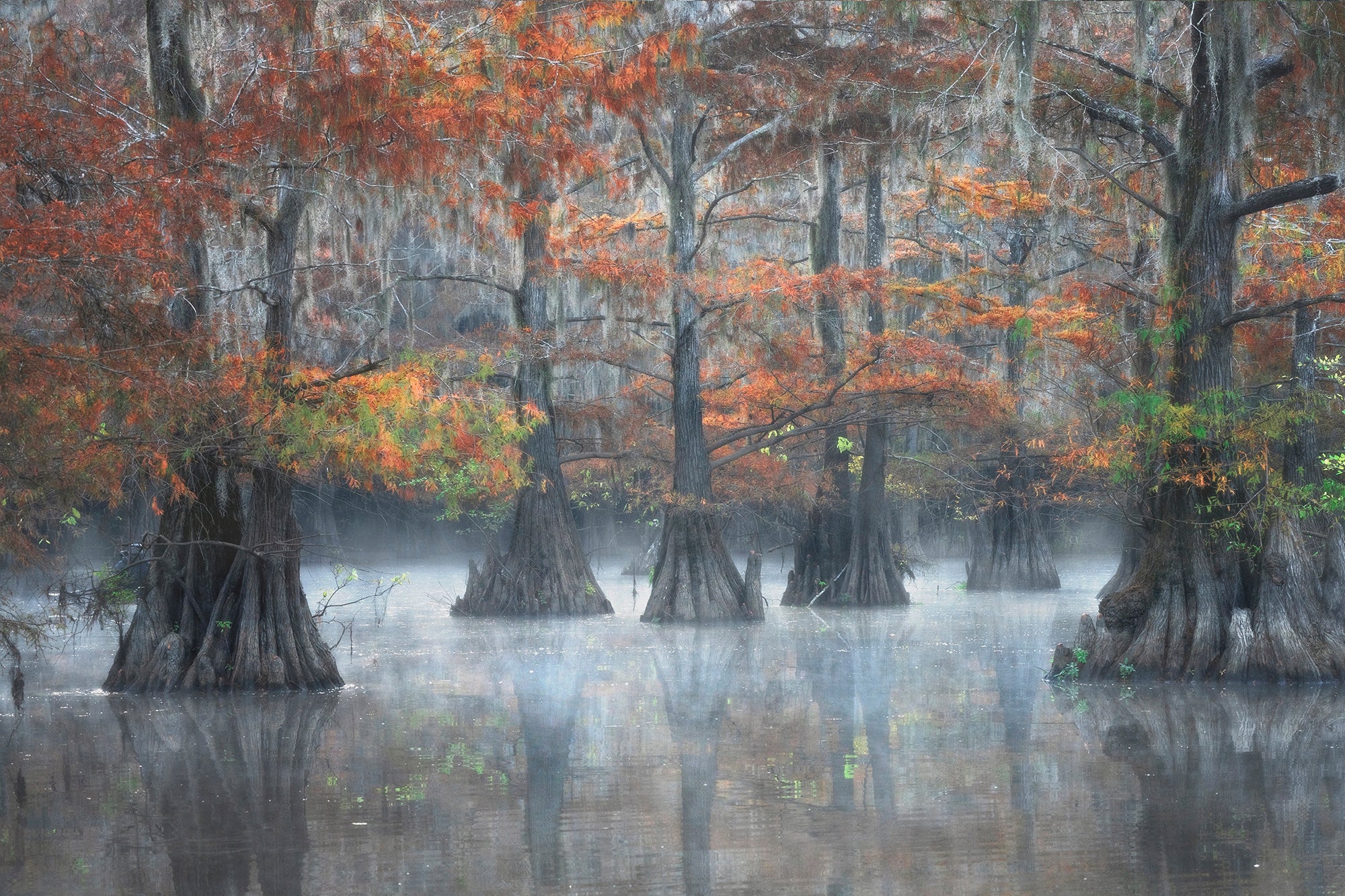 Sony α7R IV. Sony 100-400mm f/4.5-5.6 G Master. 1/100-sec., f/11, ISO 1000.
When I needed a second camera body both for backup purposes and to have two lenses ready to shoot at any given time I opted for the Sony α7R IV. The longer battery life and excellent weather sealing in addition to all the other features carried forward from the α7R III has made this my workhorse camera now. With custom menu buttons, I've been able to eliminate the need for navigation through the larger menu for majority of my shooting. Night photography and timelapse is accomplished with ease with built-in functionality and excellent low light capability. And for me, although it's not as major a factor, the reduction in weight versus my previous system is a definite plus on long hikes.
The extreme high resolution of the cameras makes it possible to extract a small part of the composition and render it in fine detail. While in East Java, Indonesia I visited the Tumpak Sewu waterfall. With over 30 waterfalls plummeting down a deep gorge it is easily the most impressive waterfall location I have ever seen. It is easy to get overwhelmed by a scene of this magnitude. In the field, I captured the larger scene and due to the high-resolution of the α7R III, it was easy to extract out a portion of that scene and create a separate image with fine details preserved.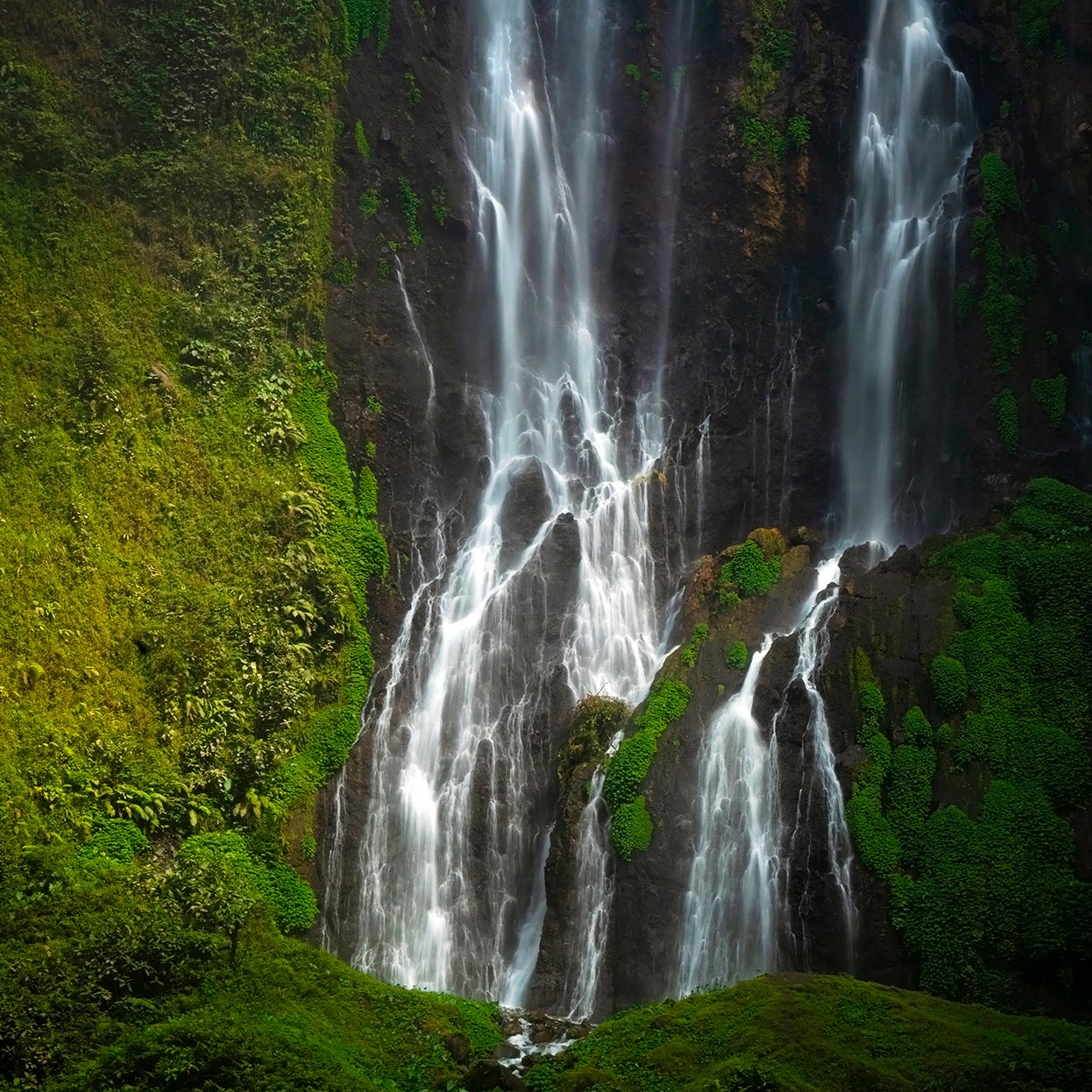 Sony α7R III. Sony 16-35mm f/2.8 G Master. 1/6-sec., f/22, ISO 100.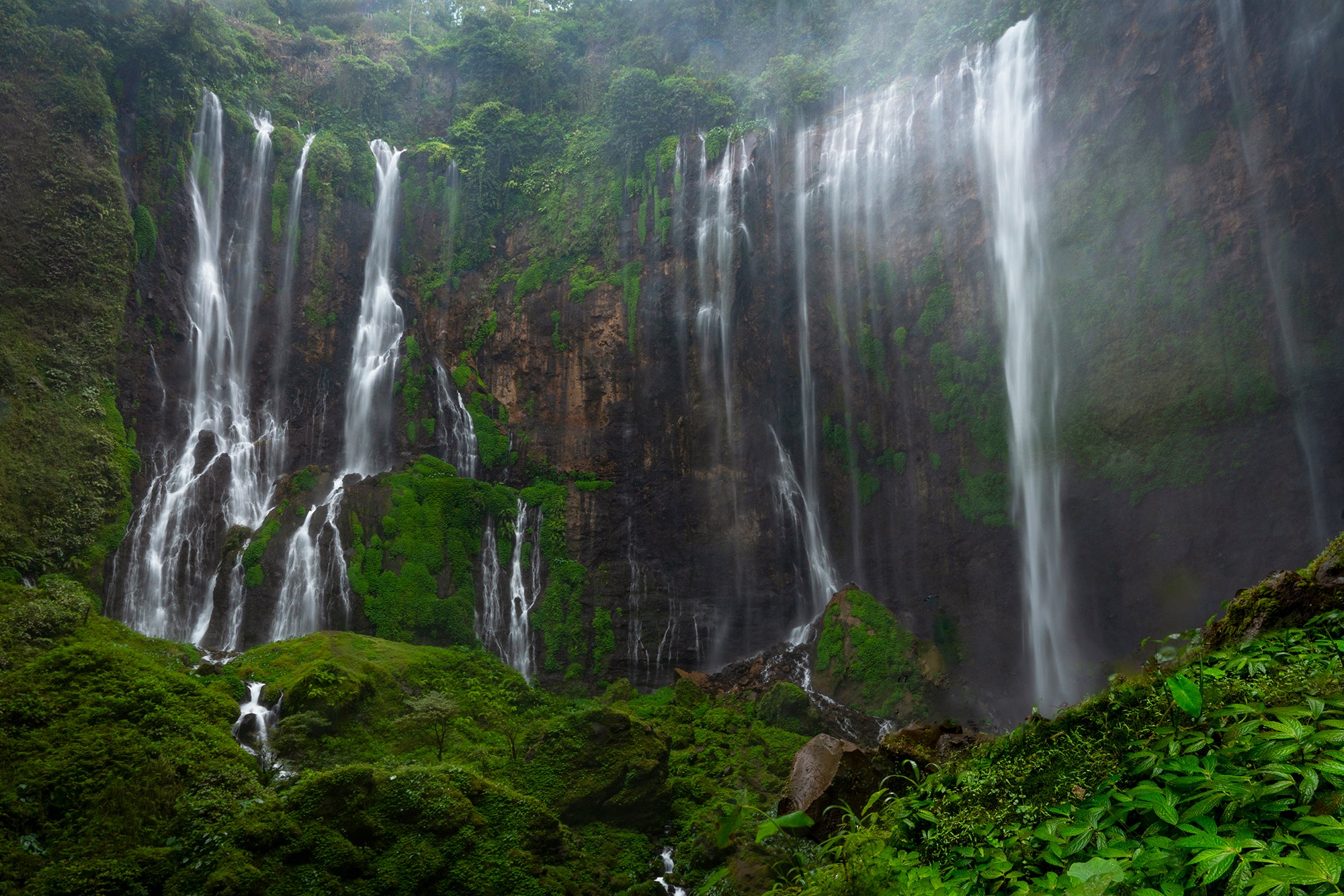 Sony α7R III. Sony 16-35mm f/2.8 G Master. 1/6-sec., f/22, ISO 100.
Having the Bright Monitoring feature (which transforms a low-light scene into a brightly lit image on my LCD display with the touch of a button) helps me immensely in composing in the dark. I don't need to waste time trying multiple exposures to find the composition. The photo below was taken in nearly pitch darkness. Using Bright Monitoring, I was able to compose with precision prior to the long exposure eliminating the need for trial and error exposures. (See how to set up Bright Monitoring here.)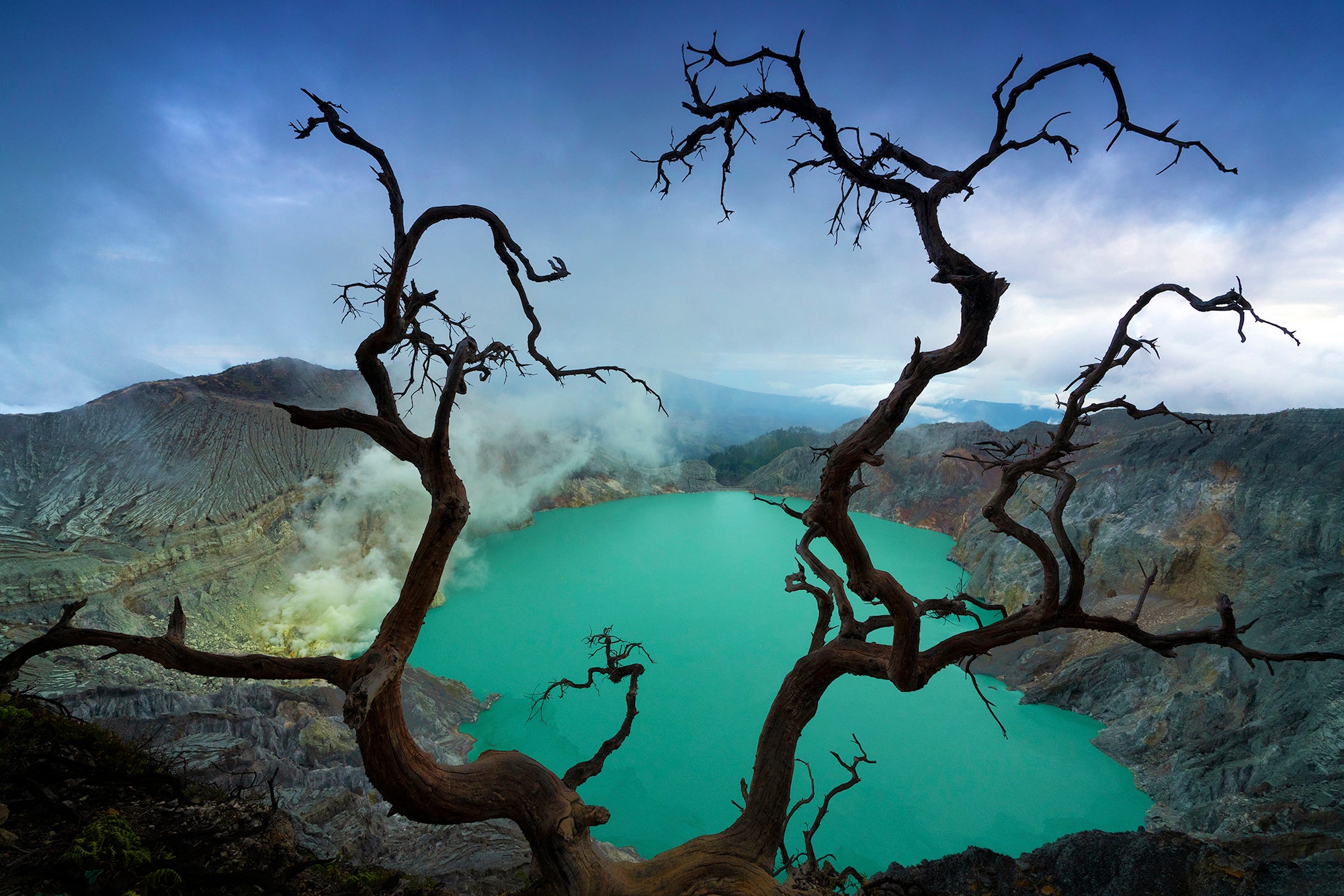 Sony α7R III. Sony 16-35mm f/2.8 G Master. 1/20-sec., f/11, ISO 1250.
Accessories
Batteries: I always have a couple of extra batteries in my bag. Even though the battery life for my Sony α7R IV is exceptional, having extra batteries is cheap insurance, especailly when I'm shooting in sub-zero temperatures as well on backpacking trips where recharging is not an option.
Memory cards: I usually have 128 or 256 GB cards in camera. Having two slots per camera gives me plenty of storage space.
Tripod: My last tripod had to be replaced after being claimed by the Oneonta river. I now have the Really Right Stuff TVC-34 Versa series Carbon fiber tripod. This tripod has proven to be extremely durable and stable and it can be taken completely apart to be cleaned which makes it easier to get sand granules out of it after shooting ocean wave images. My ballhead is also from Really Right Stuff.
Camera bag: Gura Gear Kiboko 22L with dual camera compartments. I love how this lets me have a camera with a lens mounted on it on each side while also accommodating additional lenses. I find the design of the bag to be ergonomic with soft padded rear panel. I store filters in the front pockets, and my laptop in the rear pocket. The sides accommodate my water bottle and tripod.
Headlamp: Chasing low-angled light involves periods of hiking in the dark and my trusty Black Diamond headlamp has worked well for several years now.
Shower caps: These are an unusual but essential part of my gear. With their weather sealing, I find that my cameras can handle quite a bit of moisture, but having shower caps helps to protect the bodies even further in extremely wet situations. I can still see and use all of the buttons and this makeshift waterguard takes up almost no space or weight in my bag.
Remote cable release: I use this remote for long exposures and night photography.
Filters: Polarizers and ND filters specific to the lenses I carry. Have a mix of Lee, and Singh Ray filters. Also like to use the Big Stopper for blurring motion in the clouds or mist flowing through a valley etc. I generally do not use graduated ND filters and instead prefer to do multiple exposures and blend them.
Miscellaneous items: Mosquito repellent, blister pads, small wrench, water bottle, waterproof cover for camera bag, lens cloths, small wrench for tripod tightening.
See more of Sapna Reddy's work at sapnareddy.com and on Instagram @sapnareddy.