Stated simply: Nathan Wirth (@nlwirth), a self-learned photographer, attempts to photograph silence. He has both his bachelor's and master's in English Literature from San Francisco State University and brings his studies of poetry to his explorations of the shorelines, forests, hills and mountains of the West Coast. For the past 10 years, Nathan has been studying and integrating into his work Japanese traditions of Zen, rock gardens, ma, and calligraphy– as well as the transience, impermanence, and imperfections of wabi-sabi. Nathan's studies of Ikebana (Sogetsu) and Zen writings have led him to the practice of trying to achieve, while working on his photography, a mind of no-mind (mu-shin no shin), a mind not preoccupied with emotions and thought, one that can, as freely as possible, simply create. He primarily creates black and white images through long exposure or by using an infrared converted camera. We recently came across this photo of his and wanted to learn more about how he created it. Keep reading for his story behind the shot.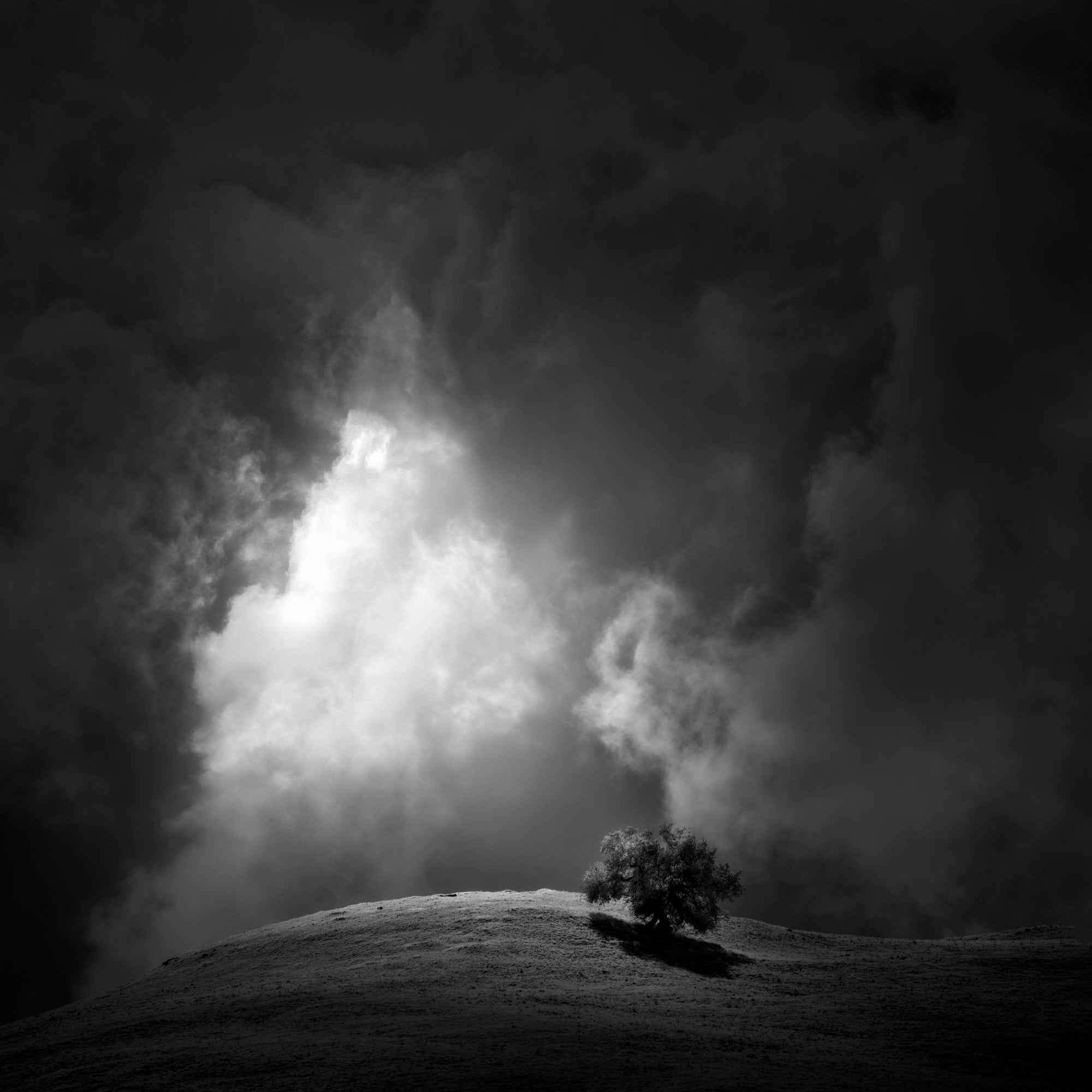 Photo by Nathan Wirth. Sony Alpha 7R converted to infrared. Sony 70-300mm f/4.5-5.6 G.
With his Alpha 7R converted to infrared, photographer Nathan Wirth integrates his studies of Zen and more into his photography.
The Scene
I often get into my car and drive the backroads of the dairy farms and open spaces of Marin County and Sonoma County in Northern California and, with no particular plan in mind, I just look around and see what I might be able to encounter. Typically, I only take the drive when it is cloudy, my favorite time being just after the rain has ended. This little tree sits up on a hill along Novato Boulevard as it nears the road that runs between Petaluma and the Point Reyes National Seashore. On this day, it had stopped raining an hour or so before I took this drive, and the sun was beginning to insist that it break through the clouds.

Many photographers talk about how carefully they plan and analyze their every move. I am not one of those photographers. Instead, I tend to encounter what I encounter when I encounter it. I do not previsualize. I simply do my best to see my surroundings and create what I create as I create it (both out in nature and back at home when I process the image). I saw the tree; I saw the sun; so I parked on the shoulder and stared at the tree and clouds for a few moments before stepping out of the car to set up my tripod and take a series of images as the occasional car whizzed by behind me.
The Tools
When I photograph trees, hills, and forests, I tend to use an infrared converted camera. For this image, I used a Sony Alpha 7R that I had converted to read infrared with a 590nm filter (in the past I have also used a Sony a100 with an 830 nm and an a700 with a 720 nm filter, using both cameras until they simply failed to function). I almost always use a tripod when I take images – and, for this one, I used my old Induro. I used my A-mount Sony 70-300 G lens (with a Sony LA-EA3 adaptor) because, well, the tree was far away from the road, and I tend to naturally compose my images with a lot of sky. Taking the image from this distance using a zoom lens provided me the opportunity to capture the drama of the clouds and give the impression the small tree was watching the sky. Also – when taking infrared images, many lenses end up with an unfortunate hot spot, but this lens has yet to do so.
I must confess that it has been many years since I last thought very deeply about camera settings. It is a rare occasion when I use an ISO higher than 100 (both long exposure and infrared photography work best with a low ISO). I almost exclusively rely on the natural light out in the landscape and prefer cloudy days. For this particular image, my settings were ISO 80, f/11, 1/320 sec, and a custom white balance set to 2700k. If anyone wants to know why I chose those settings, I could make up some reasons, but the truth is that I tend to work with what works in a given moment without thinking much about it.
The Processing
I am a dodger and a burner and almost exclusively interested in creating black and white images. I use all digital tools, but I am profoundly inspired by the classic black and white photographers of the past. I do not use any complicated layers when I process (however, Nik Silver Efex, which I often use for fine tuning elements of the image, does, of course, use layers).
I must confess that the scene you see in this image is dramatically more dramatic than the actual scene I photographed. While the RAW file does capture some of the "curtain effect" of the clouds seemingly opening to let the light pour through, it was fairly flat. So, as I often do, I created the full effect you see with some good old-fashioned burning and dodging.
I begin processing all my images in Camera Raw, converting them to black and white and adjusting the contrasts. I almost always gravitate to the square composition, so, next, I cropped the image into a square. I then used the dodge and burn tools in Photoshop to further those contrasts. For this image, I also did some fine tuning of the contrasts and textures using the brush feature in Nik Silver Efex. I also "sprinkled," as I often do, just a little bit of yellow into the image because it adds a bit of warmth to the overall tones. All in all, however, I did not spend very long processing the image. I am drawn to black and white photography because I love the drama of stark contrasts and the possibilities of warm, rich tones. The contrasts and tones for this image came easily.
I should add that I tend to put little thought into my processing as I do it. I simply do what I do as I do it, finding my way by thinking as little as possible. Everything I am explaining here comes from hindsight, from looking back at what I have already done. I enjoy photography as a practice, as an opportunity to create, and I tend to let my creative process go where it goes with little, if any, concern about where an image will end up or how I am doing it. That said – all of my finished images, whether infrared or long exposure, come from dodging and burning in Photoshop and fine tuning in the Nik Collection (most often Silver Efex). Perhaps the following analogy might better explain what I mean. Guitar players learn scales and riffs and how to bend strings. When many guitarists improvise a solo, they do not think: oh I will use that riff, and then that run and then that scale, and then I will jump to that scale over there and throw in that riff, etc. They have learned those things and when they play, they play.
Many people have asked me when I know an image is finished. The answer is simple: it is finished when I feel it is ready to be printed.
A Few Words About Infrared Photography
I feel that infrared photography can be very gimmicky. I, personally, have never been drawn to the overly whitish landscape images that tend to be popular. I am drawn to infrared because it provides a RAW file that has much potential for interesting contrasts and tones. While I have certainly played with images that are more on the whitish side, I primarily look for ways to dance in between the stark blacks and whites (and all those middling grays). In the end, I see infrared as little more than a sleight-of-hand parlor trick, an illusion, but I really enjoy using the trick as a launching point to further my interest in attempting to photograph silence.
See more of Nathan Wirth's work at sliceofsilence.com/photography and on Instagram @nlwirth.