RoGina Montgomery (@roginamontgomery) has been a professional photographer for the last five years. Starting out as a family portrait photographer, she has since studied and explored various types of photography and expanded to branding/influencer photography and cinematic portraits. She's also a member of the Alpha Female community and Alpha Female Facebook group. We love the cinematic look and feel of her portraits and wanted to learn more about how she does it. We connected with her to get the story behind this cinematic portrait she shot with the Sony α7 II and Sony 85mm f/1.8.
See how photographer RoGina Montgomery gives her portraits a cinematic look using her Sony α7 II and Sony 85mm f/1.8 lens.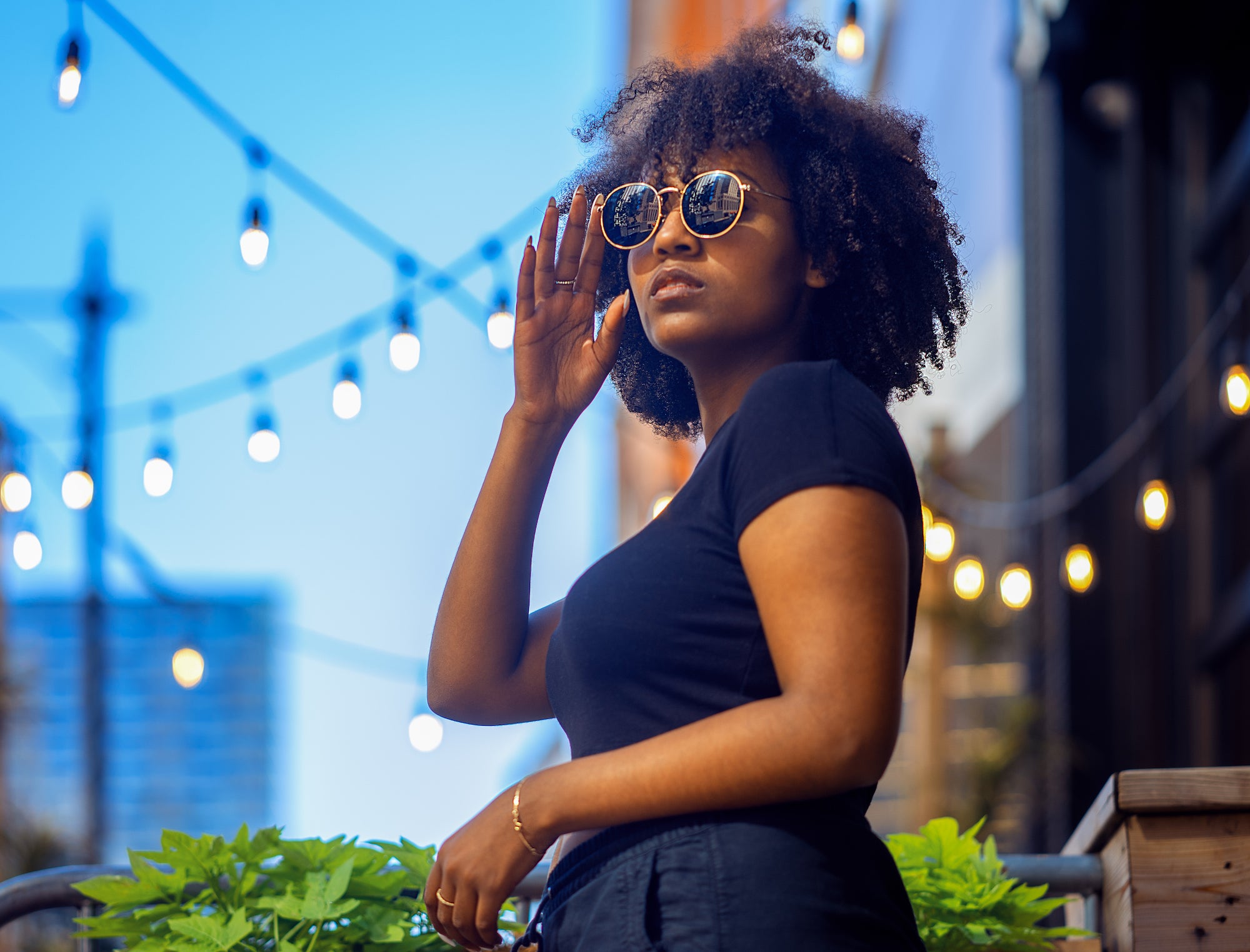 Photo by RoGina Montgomery. Sony α7 II. Sony 85mm f/1.8. 1/500-sec., f/2.5, ISO 50
Inspiration & Location
Chicago is a beautiful city with some of the most amazing backdrops for photography. This image was an outing where I wanted to focus on urban portraits using the city and available light to layer my images.
The Gear
I used the Sony α7 II and Sony 85mm f/1.8, my go-to combination for portraits. The dynamic range is indispensable. I love to play with light and shadows as textures and layer the scene around my subjects. The dynamic range in Sony cameras makes sure I get every detail. As a children and family photographer, I need something that is lightweight with quick focusing that will allow me to move and play with kids without missing the shot. Sony cameras, with their compact bodies and amazing focus is the perfect solution. I don't have to ask clients (especially kids) to hold a pose. Because of the quick autofocus, they can be themselves and I won't miss a moment of their story.
The 85mm f/1.8 is lightweight, fast, affordable and, coupled with the focus on the α7 II, takes amazingly sharp images.
How She Got The Shot
I shot this at the start of blue hour/dusk right before the sun was about to set. I noticed that the street lights were coming on and that a restaurant had just turned on the outdoor lighting. The sun was still a little bright, so I had the model face the sun, and put on her sunglasses to reduce eye squints. I sat on the ground to get the string lights above and behind the model and asked her to pose as if someone had just called her name from across the street.
I had my camera set to shoot at 1/500-sec, f/2.2. and ISO 50. Capturing urban portraits with the 85mm allows me to achieve a more cinematic look and feel to my portraits. Using a wider lens would add more of the environment to the background possibly taking away from the subject. The 85mm allows me to single out my subject while still getting a sense of what's going on around them. When I do want more of the environment, I turn to the 50mm f/1.8 and the 28-70mm f/3.5-5.6.
Visit Rogina's profile to see some of her work and more of what's included in her Sony system.
Join Alpha Universe and create your own public profile. It's free and you'll have a chance to be featured on Alpha Universe! Click here to learn more.