Jillian Cutone (@jillianjoan_photography) is an outpatient rehab occupational therapist at the JFK Johnson Rehabilitation Institute in New Jersey. When the coronavirus pandemic hit, the immediate influx of cases forced the majority of their hospital to transition to caring for patients with COVID-19. She and her team suddenly had to adapt to new roles and deal with a very different scene from the norm. Cutone also happens to be a Sony photographer, and she came up with the idea to document the raw emotions of her teammates during this time through black and white portraiture. We connected with her to learn more about the story behind these portraits and how she's capturing them, plus we hear from some of her teammates and how they felt in the moment she took their photograph.
See how this healthcare worker is using black and white portraiture to document herself and her colleagues on the front lines of the coronavirus pandemic.
"Those first few weeks were an incredible trial in our ability to adapt," explains Cutone. "To be flexible with constant change in a pandemic is something none of us could have ever imagined to be dealing with as outpatient occupational and physical therapists. As the weeks progressed I noticed how I had no choice but to compartmentalize my emotions, my fear, my anxiety – in a way it was a survival mechanism."
"Knowing what I was experiencing, and seeing the same through the exhaustion on my coworkers' faces every time we spoke, and after seeing my own face in the mirror after days of hiding it behind layers of PPE, I knew in my gut this was something I wanted to capture. I wanted to document it, for myself, for my coworkers, to see the toll this collective experience has taken on us, how it's changed us from who we were, because none of us will emerge from this the same."
She reached out to her team via the Slack app (their new mode of communication due to different schedules based on the hospital's ever-changing needs) to ask them if they'd be open to simple portraits of them donning and doffing their gear in a way to remember this collective moment in time that they were moving through together. She received an overwhelming yes, and began bringing her gear, the Sony α6400 with the Sony 35mm f/1.8 lens, into work to photograph her coworkers as they came off the units or during shift changes. This first photo is a self portrait Cutone took at the end of her own shift.
Self Portrait, Jillian Cutone. Current Role: Proning Team Member, ICU/CCU & Overflow Units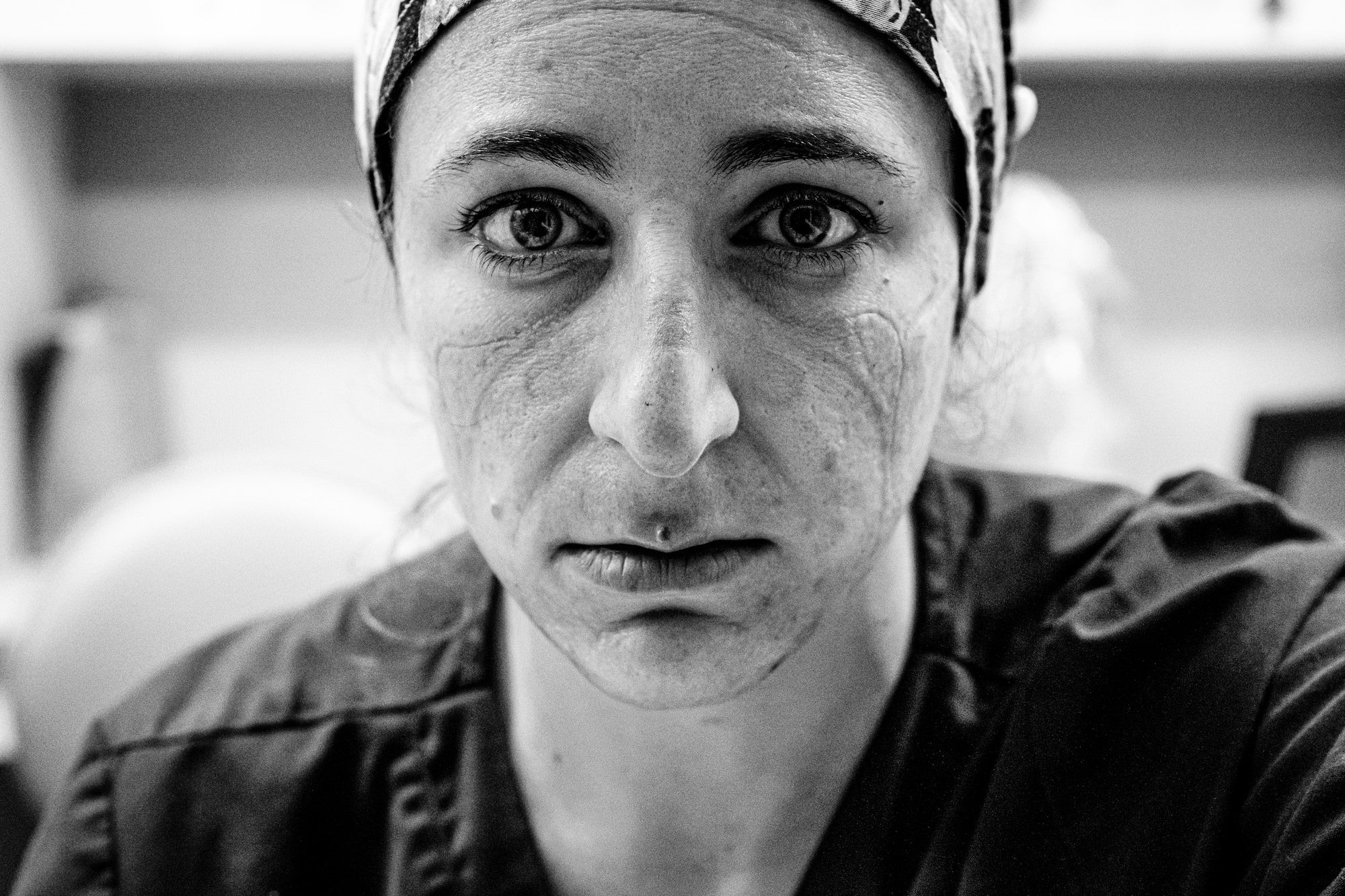 Photo by Jillian Cutone. Sony α6400. Sony 35mm f/1.8. 1/160-sec., f/4, ISO 5000
"I don't do self-portraits and I'm not often the face in front of the lens," explains Cutone. "It was 1:15 a.m. and I just finished my first night shift with my proning team. The rest had changed out of their scrubs and just said their goodbyes. I'm alone, so I sat down at my desk and set my camera up on a now empty file storage shelf on what was once a desk decorated with photos and uplifting quotes, now stripped clean to decrease potential for contamination. I look at myself through the screen, I don't even recognize the person I see. My skin is breaking out from the constant recycling of breath through the three masks I don each shift, imprints of the N95 seal outline my nose and cheeks, my jaw pops as I allow it to move freely for the first time in hours, I have bags under my eyes from the lack of sleep and exhaustion, my eyes are dull, they don't shine like they used to when this face wore a smile more than a mask."
"I set the self-timer, captured this new version of myself, and proceeded with my new de-sanitization routine to ensure I carry the least amount of this virus home and into the community with me until my next shift where I'll do it all over again."
When she began documenting her colleagues, she gave no instructions aside from simply asking them to stand in front of her, to take off and put on their gear, and to look at her once they had taken it off.
"The raw emotion that their faces expressed was tangible," says Cutone, "and it was then that I knew what I was doing was important. For many of these photos I was capturing the pain and relief that accompanies the removal of the N95 that we press as hard as possible into our faces to ensure a good seal. The release of our jaws that are stuck in a mouth breathing position as we close off our nasal airways. The sensation of that first full breath of air that isn't filtered through numerous masks."
Portrait, Nick Weiss. Current Role: Proning Team Member, ICU/CCU & Overflow Units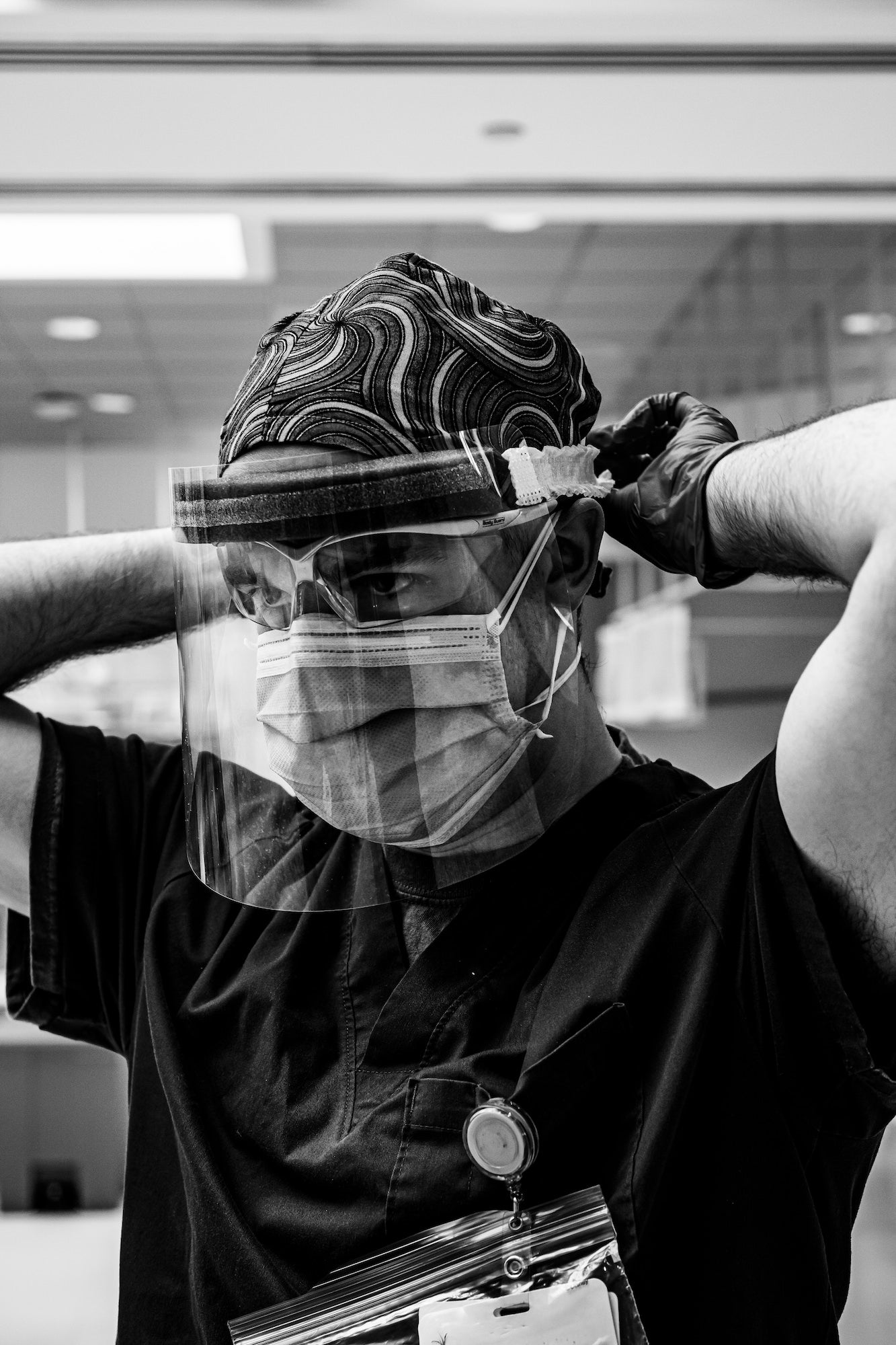 Photo by Jillian Cutone. Sony α6400. Sony 35mm f/1.8. 1/160-sec., f/4, ISO 640
Cutone took this photo of her colleague Nick Weiss as he was ending his shift. Using her α6400 in portrait mode, she snapped the photo as he was removing his face guard.
"Gearing up for work in this new role is terrifying yet rewarding," explains Weiss. "We put on layer after layer with it all hiding our faces and hiding our emotions of being anxious, afraid, but strong and willing to help at the core. Each day brings a new wave of those emotions and questions of, do I have the right protection, does it fit my face, am I wearing everything I need? Every thought fills your head. It is chaotic yet calming, empty yet whole. The shift brings the unknown but we work together. At least we have each other to rely on. We fight together. We cry together. And we will make it through this together. We are healthcare heroes."
Portrait, Nicole Haucke. Current Role: Critical Mobilization On Critical Care Covid Units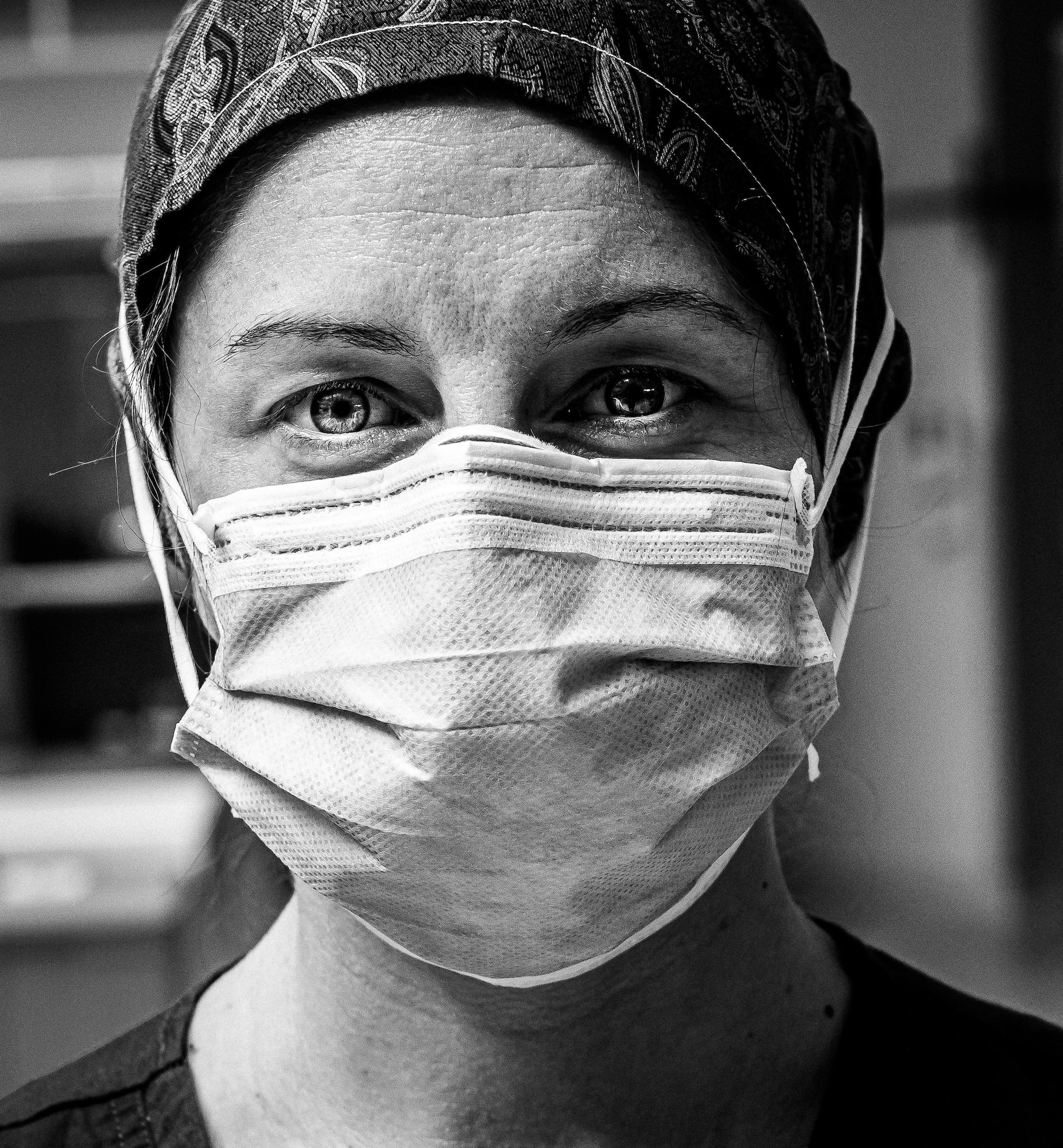 Photo by Jillian Cutone. Sony α6400. Sony 35mm f/1.8. 1/160-sec., f/4, ISO160
For this photo, Cutone was just arriving to begin her shift, and her colleague Nicole Haucke was just finishing up hers. With face guards and masks on most of the time, the team members have learned how to communicate through their eyes.
"You don't know where to put your emotions when it's time to go home," explains Haucke. "Your head is filled with white noise, beeping of monitors, constant orders. You don't always feel like your best was enough for that day. You're afraid of your thoughts on the quiet ride home and for your coworker that just took your place for the next shift. But I wouldn't send anyone else in there, all I see is courage, and so we move forward."
Cutone is capturing all of these portraits in color, but decided that the raw emotion present in their faces would be even more apparent through the contrast of black and white. "I take the photos into Lightroom and start by using the black and white, high contrast preset. Then based on the photo I adjust the exposure and shadows. I really like to bring out the reflection in their eyes, so I've started doing a little more with the details and sharpening and clarity there."
"As I started sending my coworkers their images, they echoed my sentiments that they don't even recognize themselves," explains Cutone. "They began sharing their vulnerabilities on their own social accounts, finally finding the ability and strength to express this experience in their own words through seeing themselves in this different form through my photos. It's been humbling to see and read their perspectives because we are all dealing with this differently when the day is done."
"This started as simply photographing one another for our own memories, but since has developed into an opportunity for self-reflection and expression, an opportunity for our friends, family, and community to get a small portrayal of what we have been experiencing daily over the last several weeks. I'm just grateful to be given the opportunity to highlight my team and this tragically monumental time in our lives."
You can see more of Cutone's black and white portraits and read more of her first-hand accounts on Instagram @jillianjoan_photography.