This week, as we're featuring content on black and white photography, Ashley Noel (@nyroamer) details how she was able to capture a dramatic panning shot on the busy streets of Tokyo, and why she chose to render the image in black and white to give the photo its distinct, noir style.
Ashley Noel (@nyroamer) of the Alpha Collective shares how she eliminated the cacophony of color in a panning black & white photo in the busy streets of Tokyo.
Tokyo had long been on my bucket list. The dream of photographing such a magical city came to fruition last year when I had the opportunity to travel there with the Sony Alpha Imaging Collective. It was an absolute photographer's paradise (you can read more about my entire experience in Toyko here), with a complete sensory overload from a combination of so many different sights, sounds and feelings. There's so much constant motion, that it can be difficult to convey in a photograph.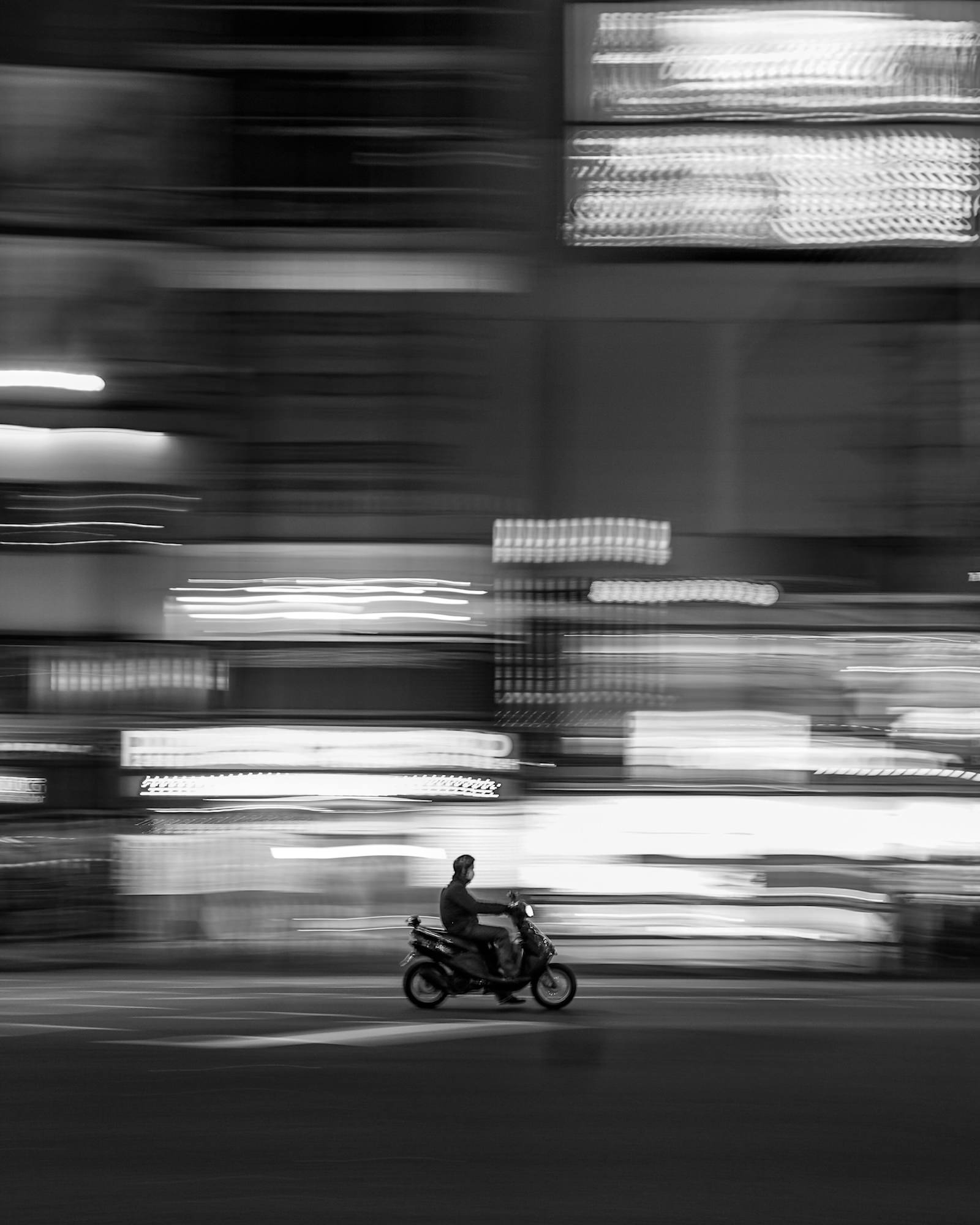 Sony α9. Sony 28-70mm f/3.5-5.6. 1/6-sec., f/3.5, ISO 125
I wanted to capture that feeling with a partial blur panning shot. I thought it would be a great way to show the hustle and bustle of the city. I took this photo in Tokyo (Shinjuku) on a busy street, replete with illuminated shops, restaurants, storefronts, pedestrians and cyclists. I was actually on my way back to the hotel, when I noticed the combination of light, movement and general chaos of Tokyo and thought it might be a great photo opportunity.
The Gear
I used the Sony α9, paired with my own Sony 28-70mm f/3.5-5.6 lens (as this is what I had on me at the moment) to capture this. ​The α9 allowed me to capture some of these scenes effortlessly. At 20 frames per second, in an environment like Tokyo, where movement is everything and you have a short window of time to capture a moment, it never disappointed.
Camera Settings
The basic idea behind panning is that you pan your camera with the moving subject and end up getting a sharp subject but a blurred background. In order to achieve this, I put the camera in shutter-priority mode and set the camera's autofocus mode to continuous mode to keep the moving subject in focus. My goal was to try to keep the focus placed over the subject as I ​panned​, as this shot demonstrates: the moving motorcyclist in focus, with the blurred street lights and motion.
I shot this one handheld at night, and was shooting at 29mm with a shutter speed of 1/6-sec., f-stop at 3.5 and ISO at 125. While the settings obviously do matter, so does technique and positioning. There needs to be distance between you and the moving subject. If you are too close to the subject, the frame can be filled with the subject itself and the blurred background motion may be missed.
Post-Production
I am a bit of a minimalist, so I edit my photos very little. In this photograph, I used Lightroom Mobile. I sharpened it, used the "clarity" function a tad, and tweaked the shadows/whites a little. Obviously, I edited it to black and white and although I did post the color image in my Instagram feed, I prefer the black and white version, because of my affinity for monochrome. I feel that the black and white version gives the photograph more "style." The visual cacophony of light and color in Tokyo can be overwhelming. By removing the color, the image immediately becomes decluttered and easier to digest, visually.