AlphaUniverse.com is kicking off a week of black and white content with this look inside the bag that black and white & fine art photographer Thibault Roland packs for his long exposure photography. Roland lives in Portland, Oregon and is a Sony Artisan Of Imagery. He explains why he uses his Sony Alpha mirrorless cameras and lenses, well as a special medium format film lens that he adapts to his Sony bodies.
See the Sony Alpha gear that's inside Sony Artisan Thibault Roland's bag for black and white long exposure photography.
My name is Thibault Roland. I am a fine art photographer specializing in black and white seascapes, landscapes and architectural photography. A few years ago I discovered long exposure photography and since then it has become my main technique, allowing me to capture images in a very different and original way. This technique is quite demanding and needs a significant amount of equipment as you can see in the picture below.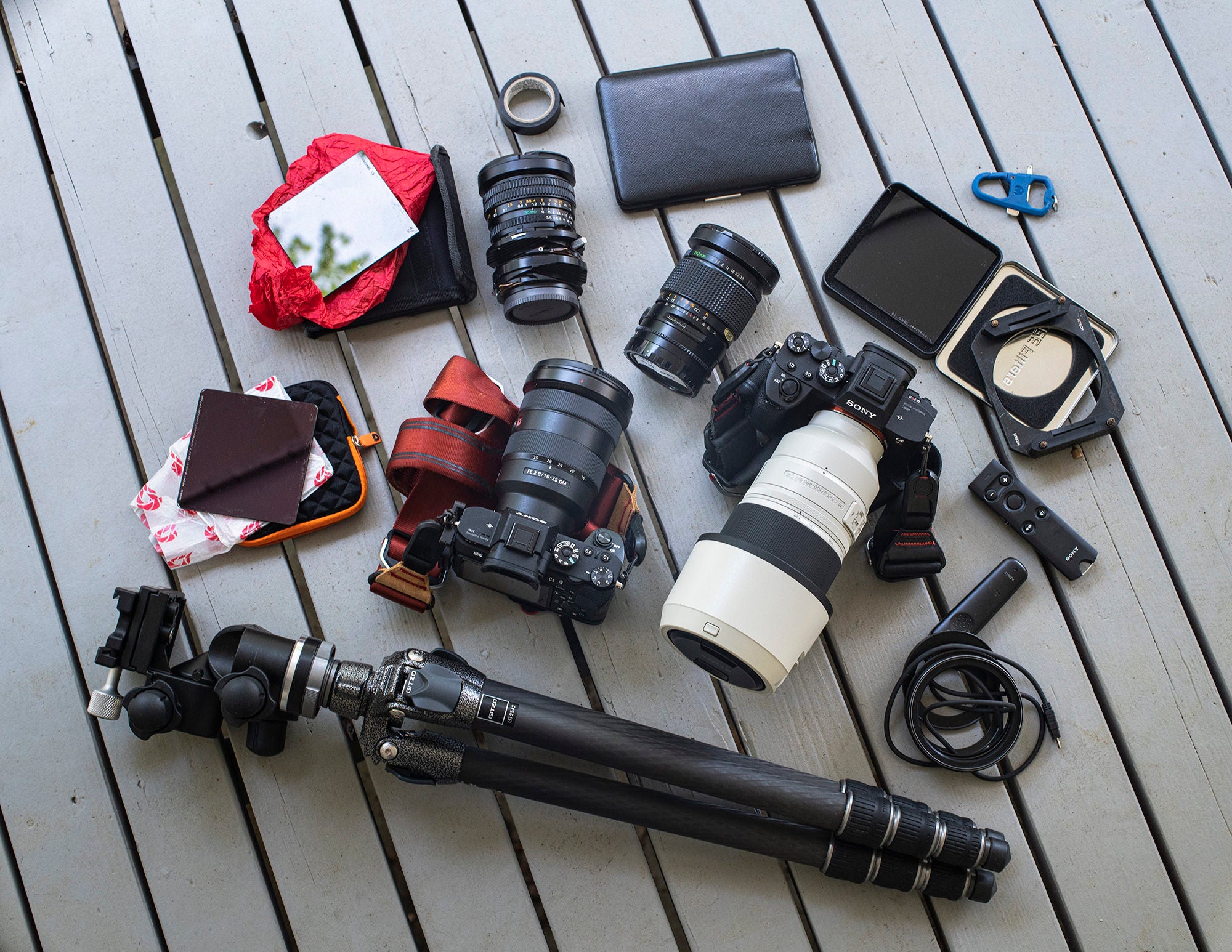 Cameras
Sony α7R IV: The α7R IV is my main camera. I love how it can be used for virtually any subject and in any weather condition. Be it for a shoot on the ocean, under a waterfall or in the desert, I know the camera will give me amazing images. I usually use it on a tripod to ensure it won't move or vibrate while shooting a long exposure and the 60MP resolution ensures I can offer my collectors the largest and highest quality prints possible.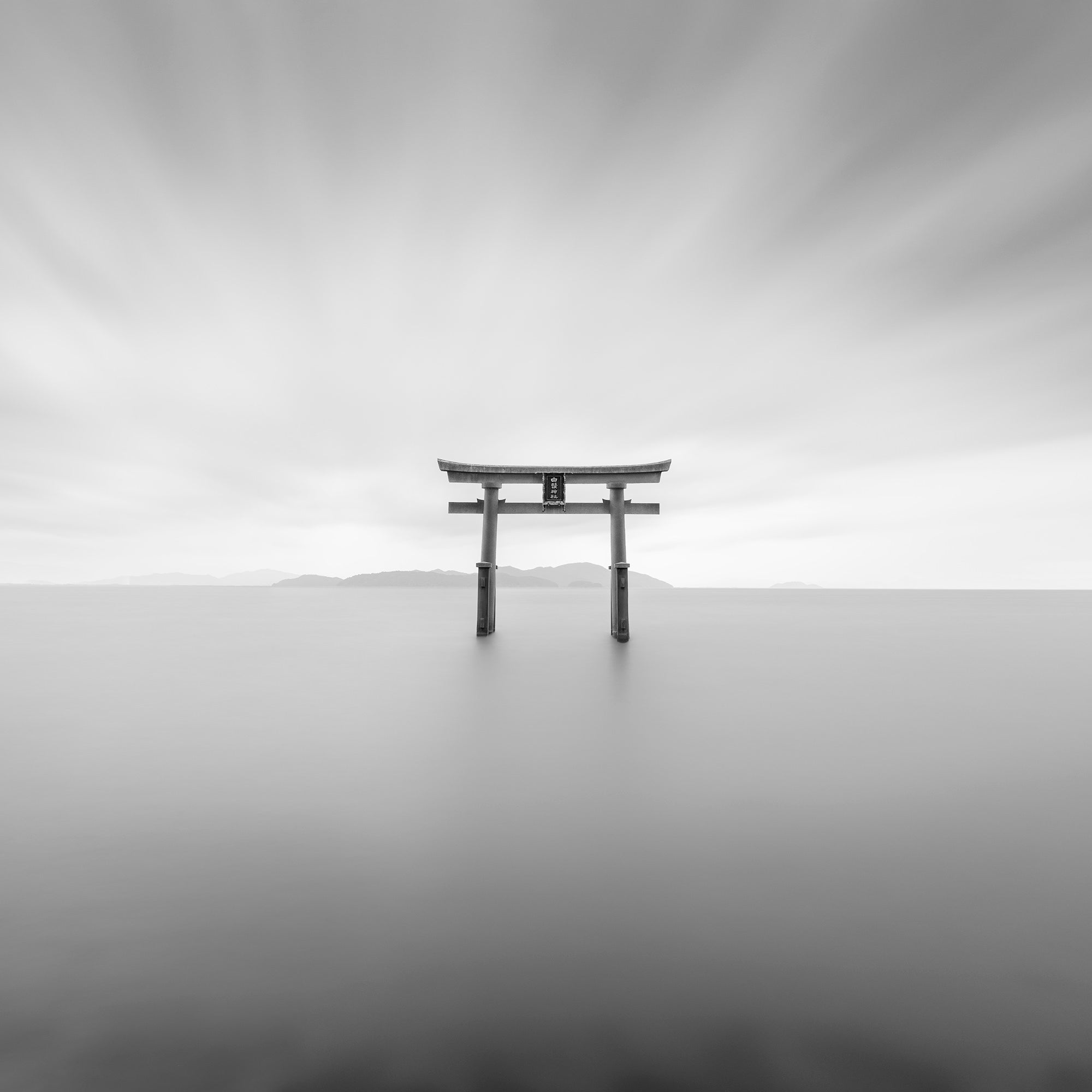 Sony α7R IV. 241 secs., f/11, ISO 100 Torii. Lake Biwa, Japan 2019. 241 seconds long exposure. I took advantage of the resolution in my α7R IV to make the temple gate extremely sharp and the dynamic range to obtain these very smooth gradients in the water and streaks in the clouds.
Sony α7R II: My second most-used camera is an infrared (IR) modified α7R II. I have owned it for years and decided one day to give it another life by having it professionally converted with a 590nm IR filter. Thanks to this change the camera is now able to capture light in a different spectrum than the human eye and sees things differently: foliage becomes bright white, clouds come out with more contrast, and people stand out better from a cooler background. This camera brings a completely new toolset to the table and opens the possibility to step away from reality and create very surreal images.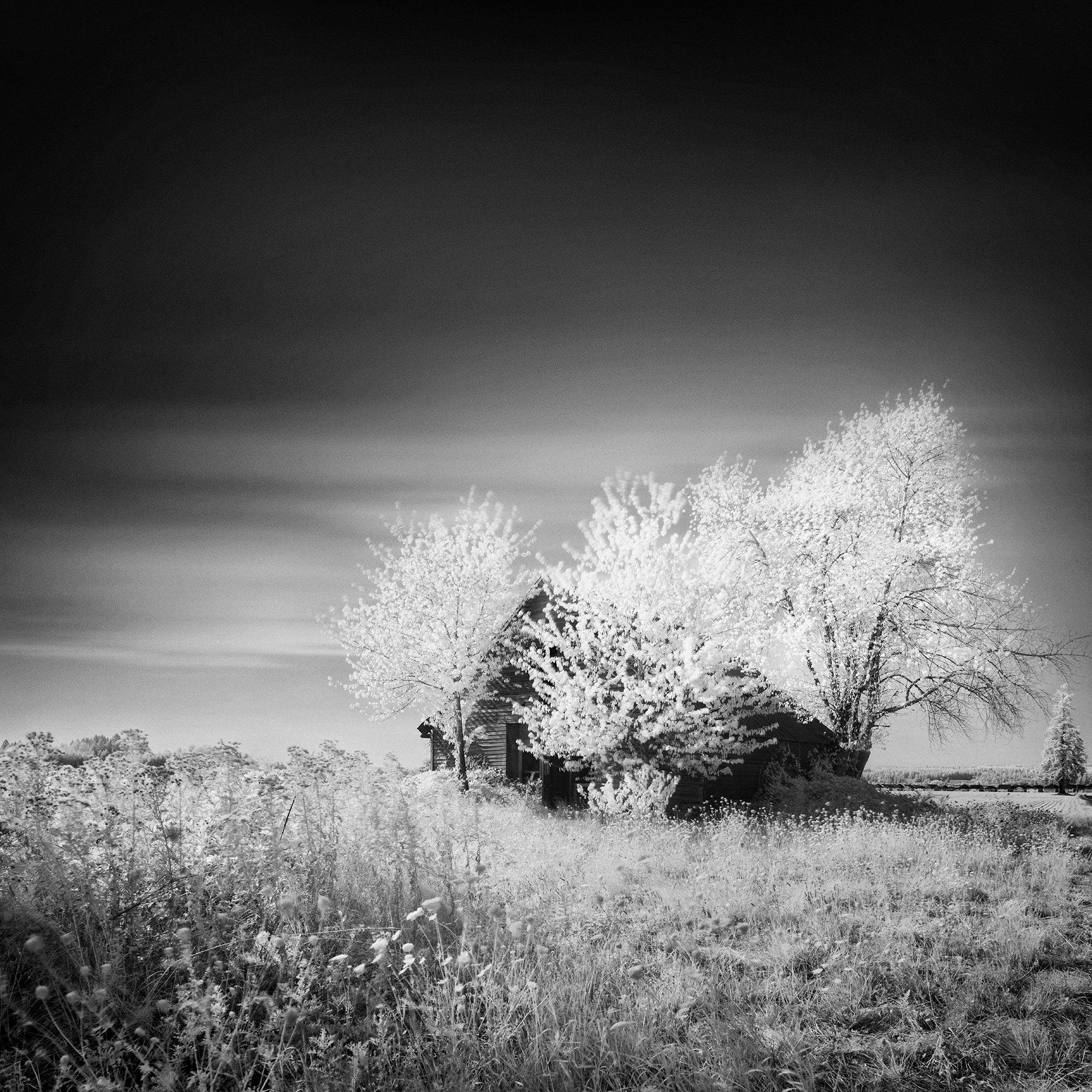 Sony α7R II. 267 secs. f/8, ISO 50. Shed. Oregonian countryside, 2017. 267 seconds long exposure. The infrared modification of the camera really helps make the shed and tree stand out from the background and give a very different and surreal feel to the entire image.
Main Lens
Sony 100-400mm f/4.5-5.6 G Master: For a landscape photographer this lens can come as a surprise as top picks because of its length, but it is actually because of how long of a lens is and how amazing the optics are that a landscape photographer should consider it a must have. It is a great tool to have when shooting from afar or up high and pick out details in the surrounding landscapes such as those in the image below.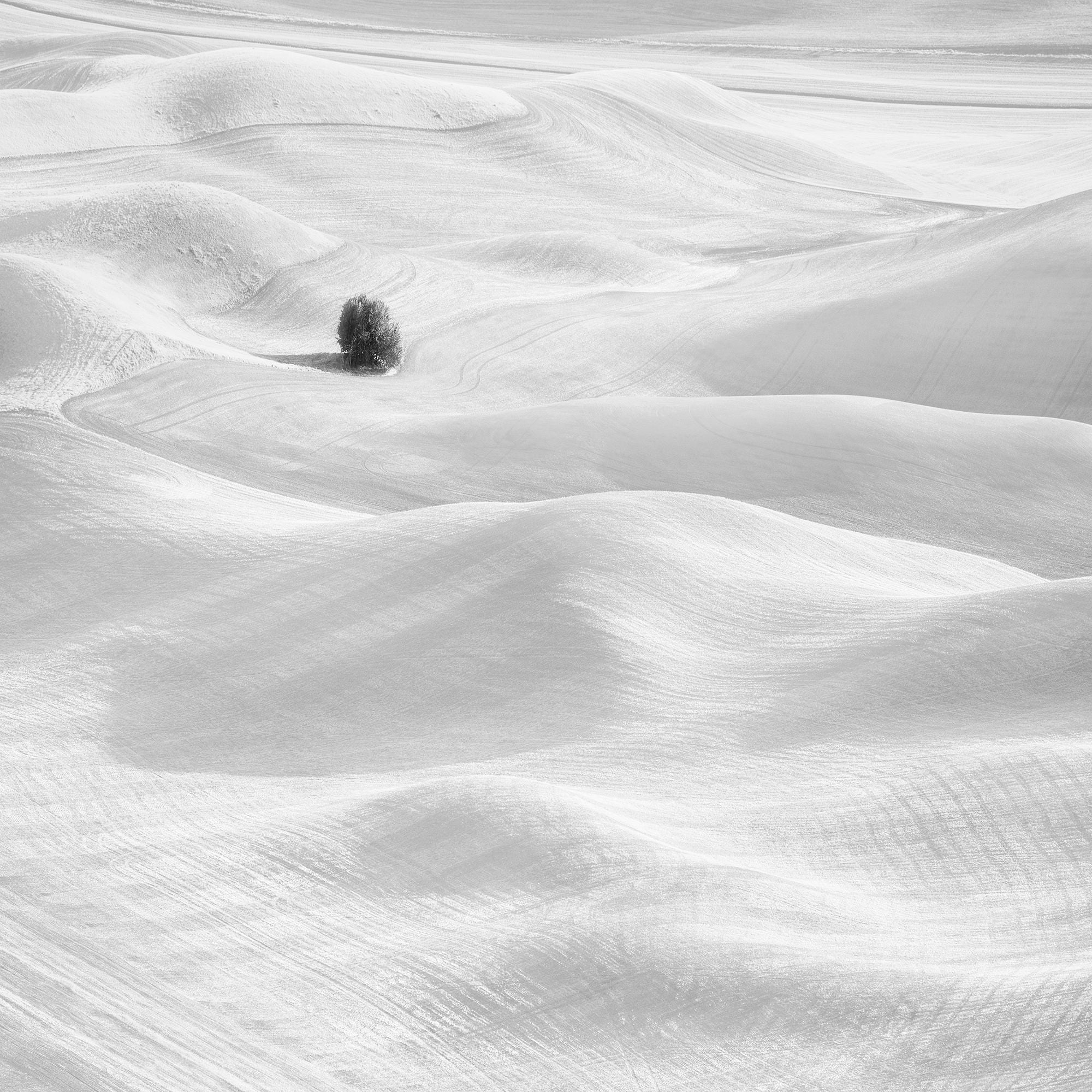 Sony α7R III. Sony 100-400mm f/4.5-5.6 G Master. 1/125-sec., f/8, ISO 100. Fractals #14. Steptoe State Park, Washington USA 2019. The 100-400mm GM lens lets you focus on lovely details in a wide panorama such as this lone tree in the middle of the rolling hills that Palouse is famous for.
Other Lenses
Sony FE 16-35mm f/2.8 G Master Lens & Medium Format Prime Lenses: For a black and white landscape photographer, wide angle zooms and prime lenses are must haves. And indeed I own and use several of them, ranging from the amazing Sony 16-35mm f/2.8 GM to the Mamiya 50mm f/4 Shift. I love the Sony 16-35mm GM for its compactness, convenience and ultra-high quality and the Mamiya for its large image circle that allows me to create huge panoramas. Depending on the situation and subject I would bring and use one or the other of those lenses.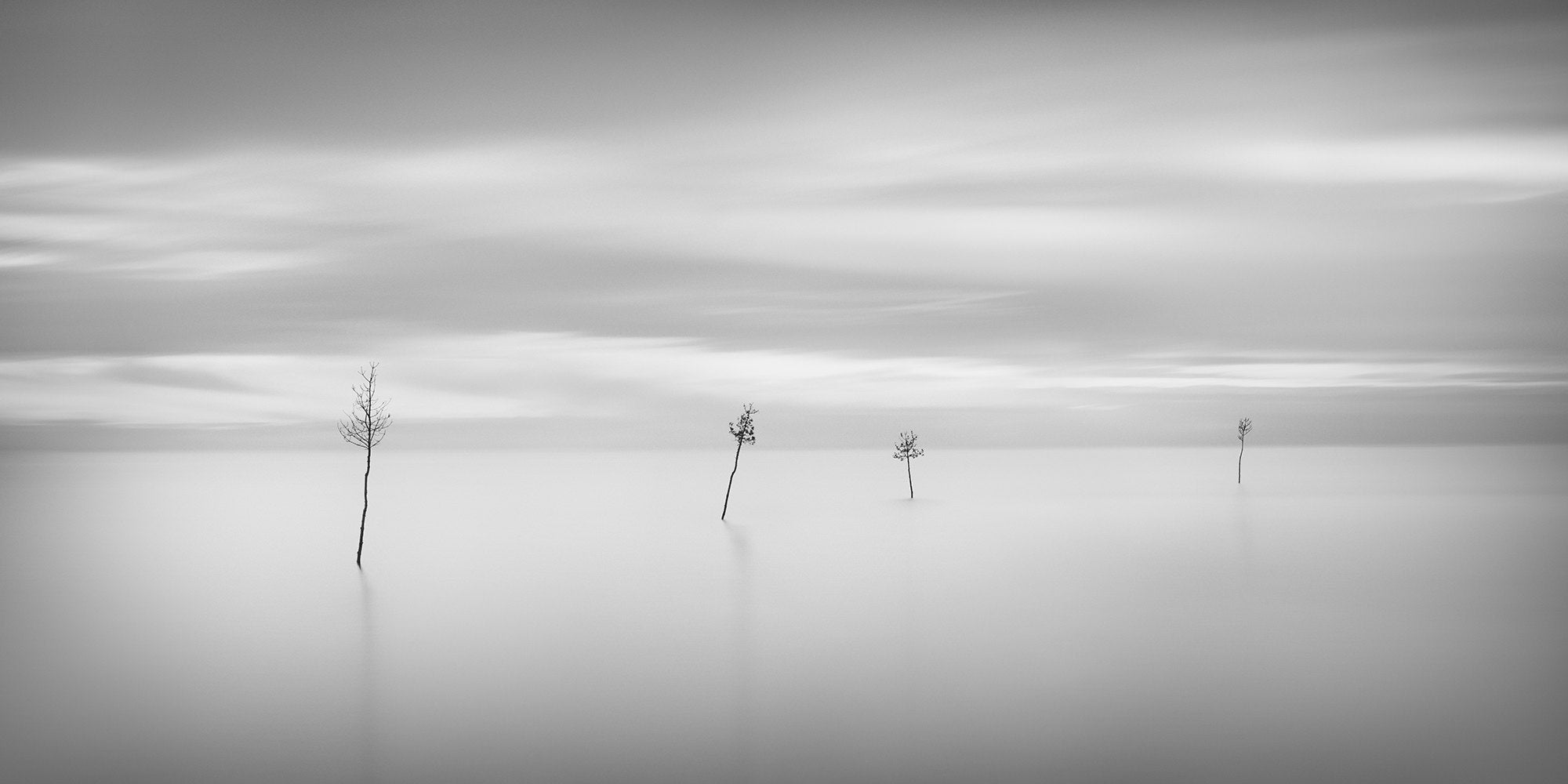 Sony α7R. Mamiya 50mm f/4 Shift. 362 secs., f/11, ISO 250. The Three Musketeers. Orleans, MA USA 2015. One of the really cool locations that I found over the years where the locals plant trees in the ocean to use as signs to get in and out of the harbor and avoid hitting the high ocean floor with their boats… definitely cooler than the regular poles and signs in the water!
Accessories
My trusted neutral density filters: I own a series of plain and graduated ones and always carry them around to choose from depending on the light conditions and the subjects I will shoot.
A bunch of step up rings, a square holder to drop the appropriate filter in and a roll of electrical tape to ensure there is no light leakage between the filter and holder that would cause diffraction and ruin my images.
I use the Sony RMT-P1BT Wireless Remote Commander and sometimes also a generic wire shutter to trigger and stop my shutter. The remote trigger is definitely superior to the wired one since there is no need to touch the camera and risk causing it to move or vibrate.
A good book or in this case my eBook reader. My exposures last several minutes, so that gives plenty of time to enjoy the view as well as a good book!
Last but not least, I also make a point to bring a very sturdy tripod and head that will ensure the camera stays perfectly stable and vibration-free during the 3-6 minutes slow shutter speeds that I typically use. As you can imagine, any slight camera movement would lead to image softness if not taken care of.