Pro photographer Jermaine Horton aims to create images that tell a story. When he heard about a young female who wasn't allowed to take her school photos because of her red hair extensions, he knew he wanted to step into that story and help give her a voice. He offered her a special portrait shoot so she could express herself and have photos of her own. More and more stories like hers began popping up across the nation, and Horton wanted to empower those kids with their own portrait sessions too – and that's how The Art of Confidence Project was born. We spoke with Horton to learn more about his project empowering youth across the country and how he's capturing their portraits with his Sony α9 and a combination of Sony lenses.
Behind The Shot – see how this photographer created these powerful portraits with a purpose.
"I don't think she had yet had an emotional release from that situation of being denied her school photos," Horton explains of his first subject for the project. "I wanted something from the series that would be raw and authentic. Sure, we could do really cute photos, but I wanted some expression in it. So I asked her, 'In that moment when you were denied your photos, when you were in tears – I want you to think about that and let all that emotion out.' She asked, 'Can I scream?' And I told her she could do whatever she wanted and to release whatever she was feeling. She put one foot forward, leaned back and let her muscles show while letting out a lion roar with little cackles in it. That's how I got this shot."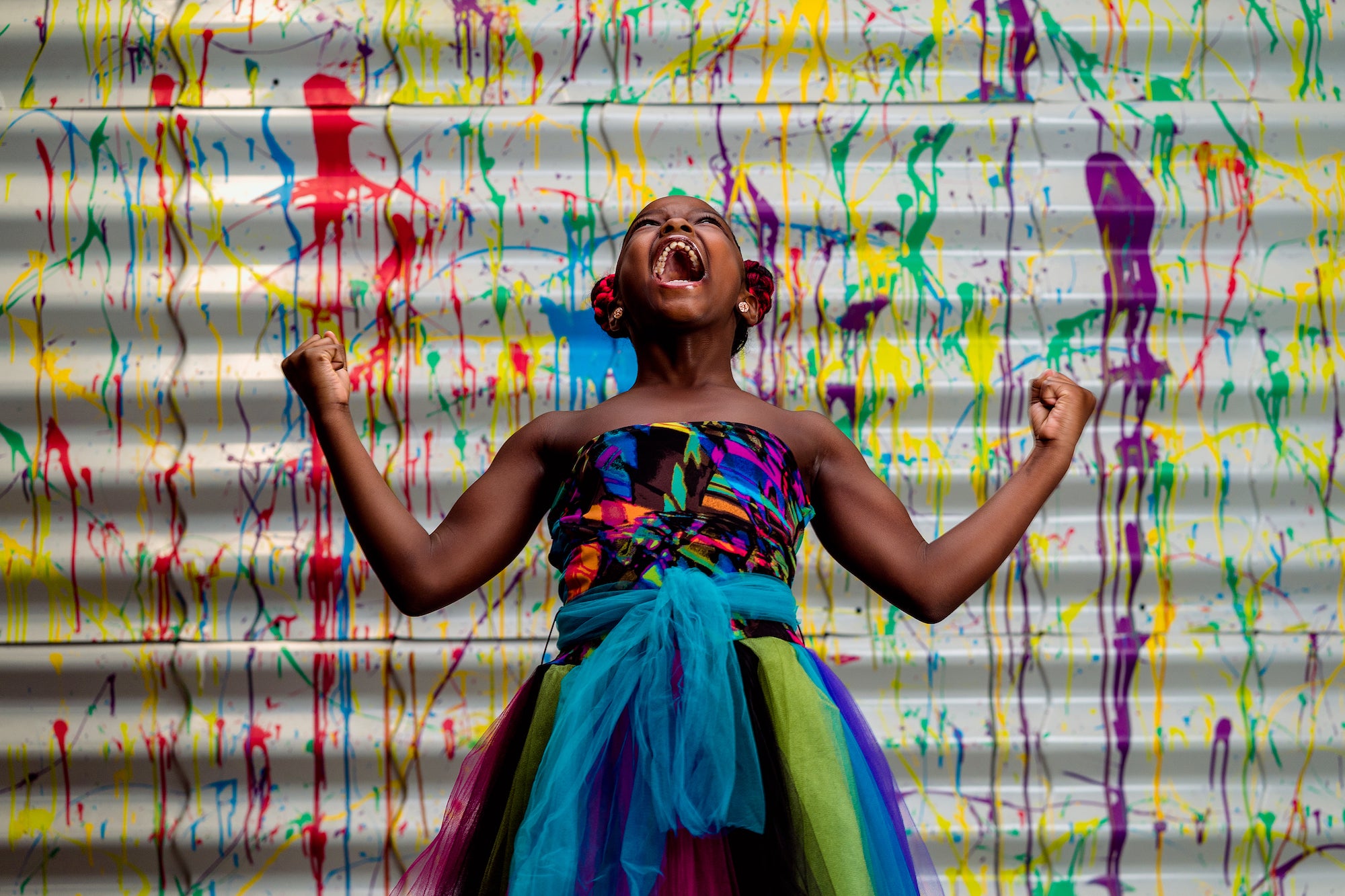 Photo by Jermaine Horton. Sony α9. Sony 85mm f/1.8. 1/50-sec., f/4, ISO 320
"I had the Sony α9 with my Sony 85mm f/1.8 and Sony 70-200mm f/2.8 G Master for this shoot. I chose the Sony 85mm f/1.8 for this photo because it tracks subjects so well. It just snaps and finds exactly where I need to go, there's no hunting. The focal length was absolutely perfect for what I was trying to accomplish. I had the Westcott FJ400 Rapid Box Switch boomed directly overhead for lighting. I got a little bit closer to the background because I wanted the background in focus versus bringing her back from it where it would give you that depth of field and bokeh. I wanted those colors to just splash in and to try to match it with her screaming. The way the splashes are just thrown in there helps match her expression and give off that feeling."
"I typically use the Sony α9 for when I'm shooting sports, but I used it for this shoot too because of the Real-time Tracking Eye AF. You can see in the photo her face is kind of hidden because she leaned back to scream, but the tracking picks it up so perfectly and makes my job so much easier. I also used it for the In-Camera Image Stabilization and shot everything handheld. It's so balanced that I don't have any issue or need to worry about camera shake."
When another child popped up in the news with a similar story – his school told him he had to cut his long hair to conform to the school's dress code – Horton again stepped in to offer the child a portrait session where he could proudly be his authentic self. He captured a similar image of this child posing in what he now calls "The Release."
"This shot in particular is called 'The Release,'" explains Horton. "It's where the child gets to release the emotional toll that's been on him or her by screaming and letting it all out. For this photo I'm focused on what can truly make him stand out. I don't want the background to dominate or even be the focus. It's all about him in this moment."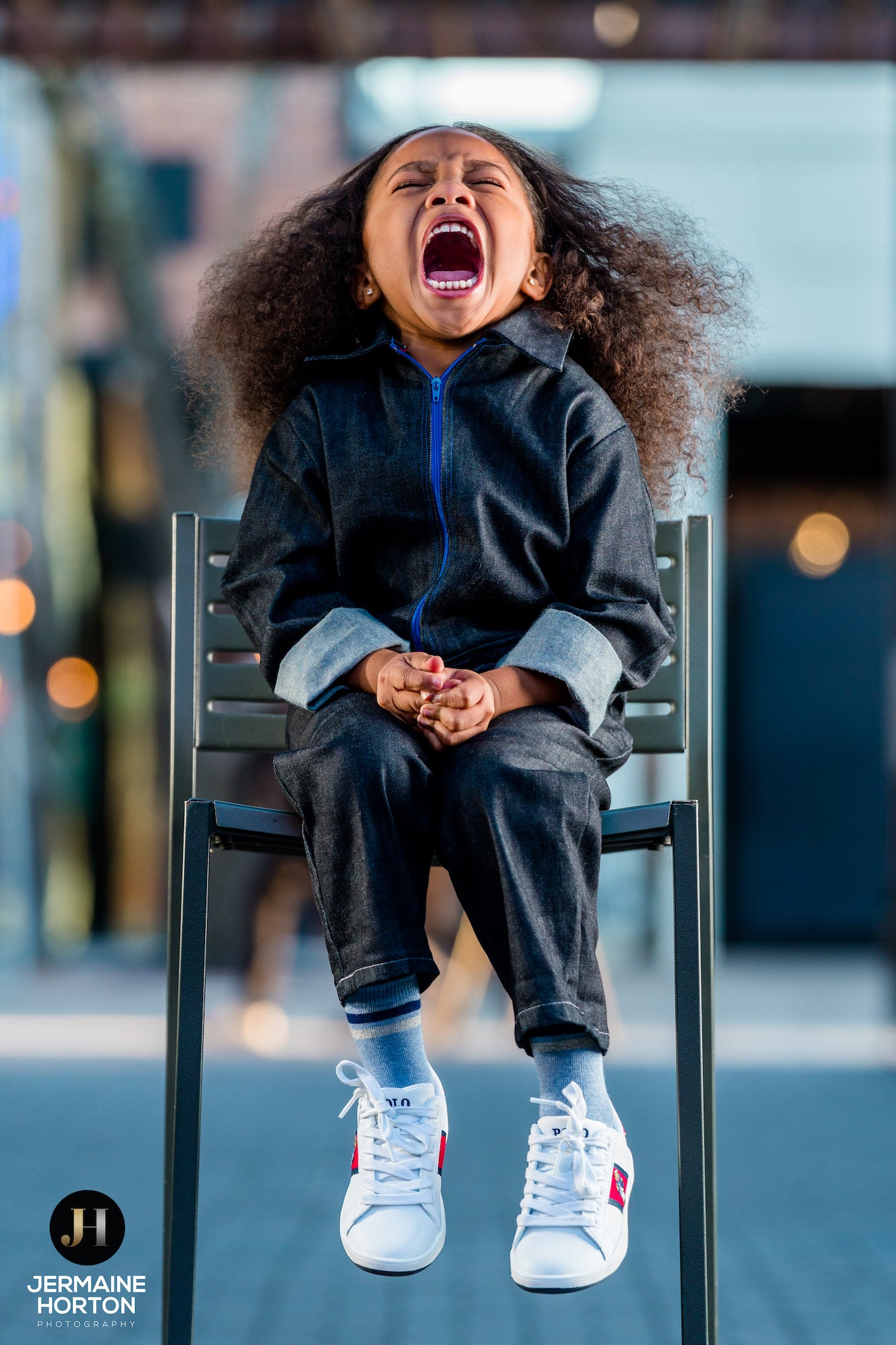 Photo by Jermaine Horton. Sony α9. Sony 70-200mm f/2.8 G Master. 1/160-sec., f/4, ISO 400
"I used my Sony α9 and Sony 70-200mm f/2.8 for this shot because I knew this lens, with its compression, would bring that background in but also give me the bokeh and melt the background away, so my subject was the only thing that mattered. The α9 is so great with tracking and because we are dealing with a child that is moving around and then screaming doing fast moments. I knew this camera was perfect for the job."
"When I'm doing the release shot, the right lens is crucial. Especially with children whose attention spans are short – the goal is to get the shot in one take. I knew I wanted light coming from both sides, so I had a Westcott FJ400 with Westcott Rapid Box M and a Stella Pro CLx8 from the other side with Westcott Rapid Box M – both double diffused for that soft lighting I like. I knew that I was going to use a series of burst shots so I wanted a lens that was fast and accurate. I use this same lens for capturing sports, so for motion I knew this was a good fit. I saw a chair that was huge and was perfect to put the little one in that would bring the focus to him. Then we count 1, 2, 3 release and I have him let out his roar, and this is what we got. Since he was kicked out of school because his hair was too long we didn't want to braid it or pull it back, we wanted it out so the world can see his hair and how precious and beautiful he is … with his amazing hair."
Another story broke national headlines about a kid who was suspended from school because his dreads were too long and he was told he couldn't walk for graduation. Horton traveled to his area and arranged for a portrait session at a local studio where he could use a dark backdrop to highlight a hair toss. "Many times when you do a hair toss, people catch the hair as it's moving toward the middle away from the face. I wanted to capture it just as it was starting to cover the face to create almost lines with his jaw. This one came out exactly as I saw it in my mind."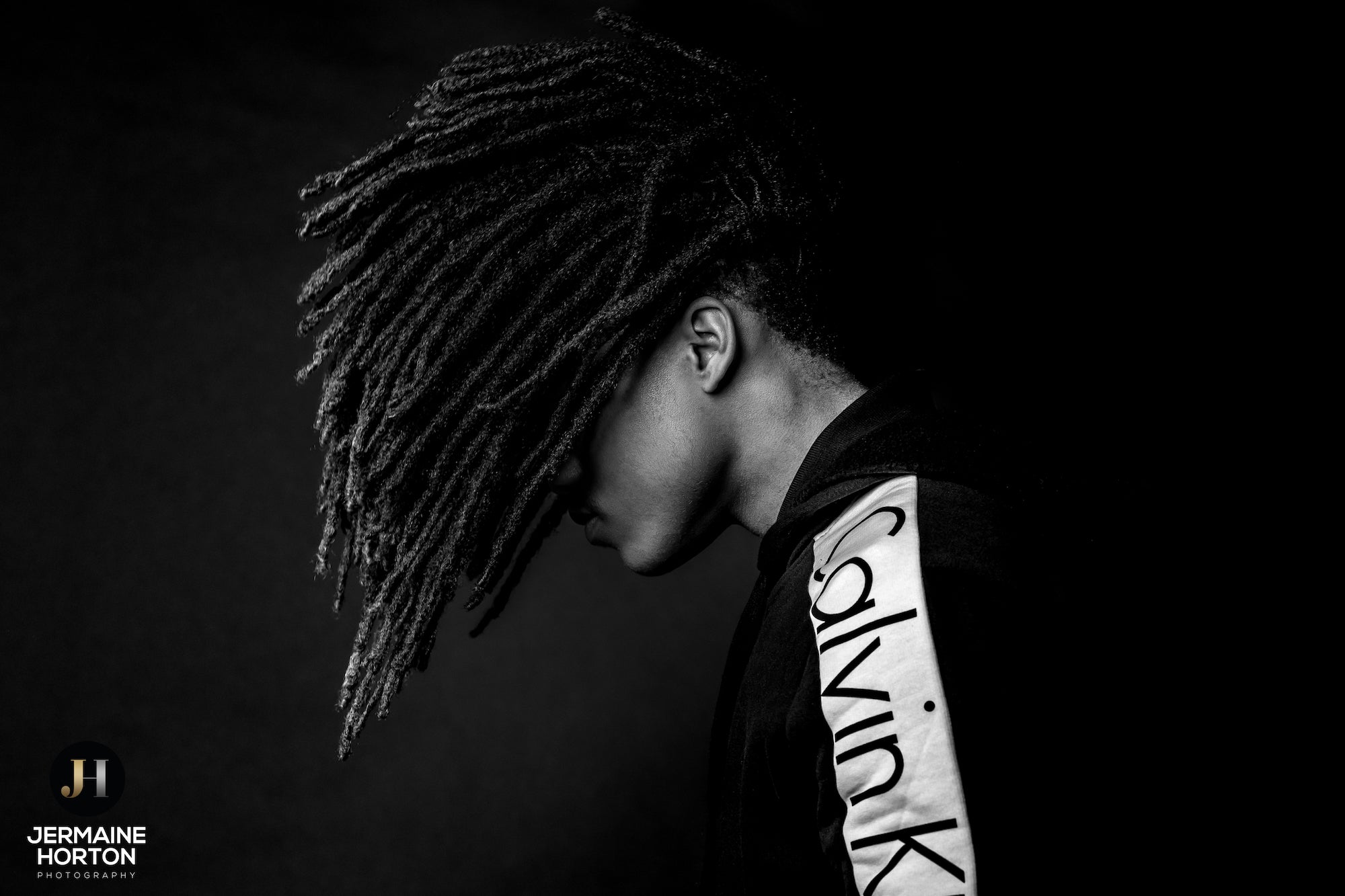 Photo by Jermaine Horton. Sony α9. Sony 135mm f/2.8 G Master. 1/200-sec., f/5.6, ISO 320
"For this shot I used my Sony α9 along with my Sony 135mm f/1.8 G Master because I knew I needed a camera to catch fast action and also a fast lens. The Sony α9 was my go-to camera for all of these shots because I know frame rate won't be an issue. The 135mm is my favorite for portraits. I just can't always use it because sometimes the space doesn't allow, so that's when I'd grab my Sony 85mm f/1.8. But the 135mm was a perfect fit for this."
The Art of Confidence Project is now a nonprofit organization and has gained national media attention, with Horton's work appearing on Good Morning America, the TODAY Show, USA Today, People Magazine and more. With these powerful portraits, the project is focused on helping empower our youth while restoring their confidence.
"So many times we see these kinds of things happen that can destroy a kid's confidence," says Horton. "So I decided to do something about it with The Art of Confidence Project. We have so many projects lined up. I want to restore confidence in youth across the country and empower them and give them hope."
See more about Jermaine Horton's gear for portraits, weddings, sports and more in his What's In My Bag article here.
See more of his work at jermainehorton.com and on Instagram @jermainehortonphotography. Follow The Art Of Confidence Project to see his latest series @TheArtOfConfidenceProject.