Karthik Subramaniam (@karthz) is a San Francisco-based photographer whose first place photograph in National Geographic's 'Pictures of the Year' photo contest is the product of preparation and patience. The stunning image captures the dynamic interaction of bald eagles in the snow at the Chilkat Bald Eagle Preserve in Alaska. It's the interaction that makes the image so special and so rare. Subramaniam is a software engineer when he's not making photographs and we connected with him to find out what it took to make this award-winning photograph and how he did it with his Sony Alpha 1 and Sony 600mm G Master.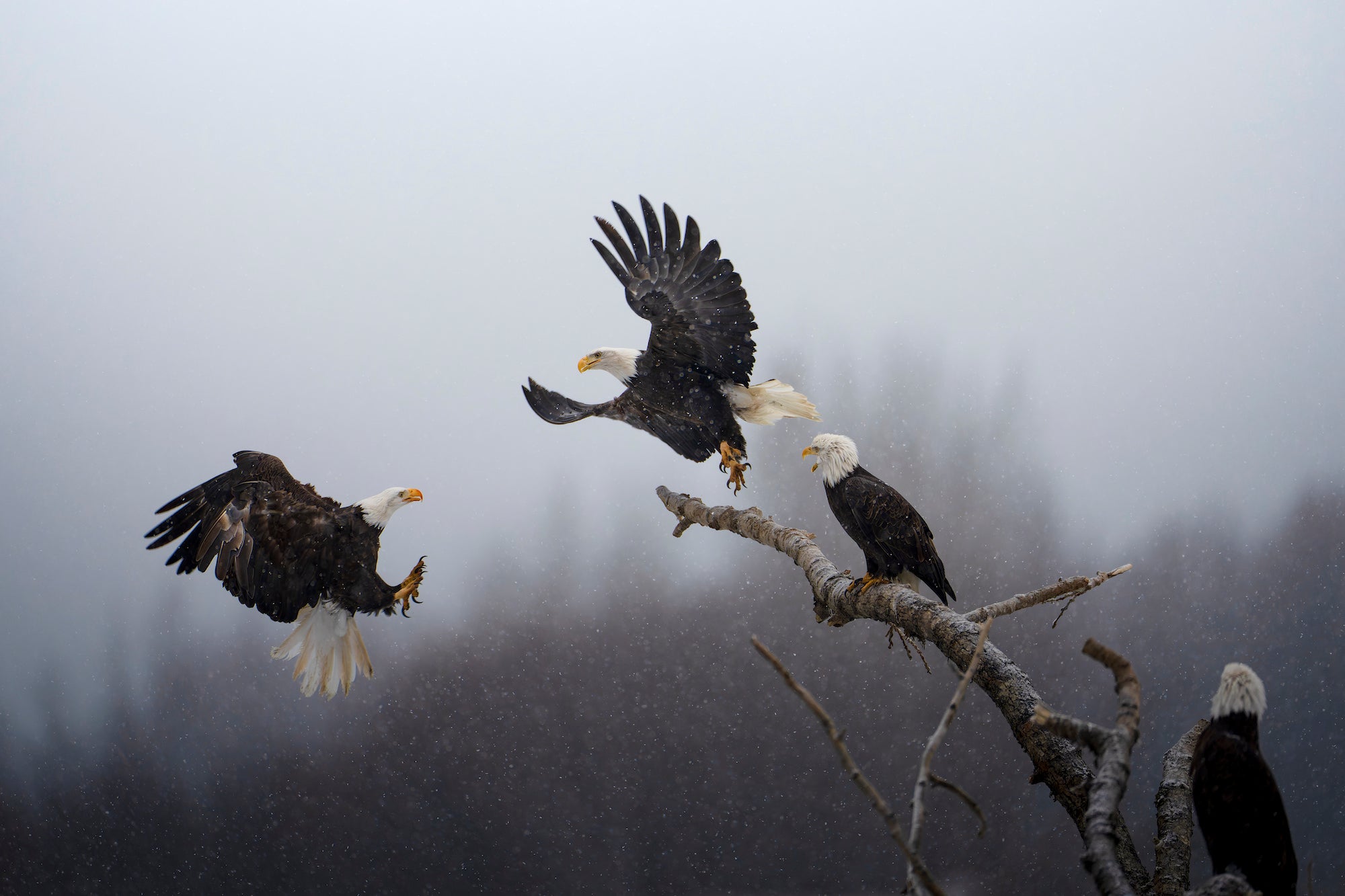 Photo by Karthik Subramaniam. Sony Alpha 1. Sony 600mm f/4 G Master. 1/1600-sec., f/4, ISO 1250
Photographer Karthik Subramaniam explains how he used the Sony Alpha 1 & Sony 600mm f/4 GM to capture this award-winning wildlife image.
I'm a software engineer by profession, and a hobbyist photographer. I have been taking photos of landscapes, cityscapes for a few years now and recently started photographing wildlife during the pandemic. Wildlife photography can be daunting, but it can also be pretty rewarding when I get an image that I'm happy with.
Making Sense Out Of Chaos

Every year in November, hundreds of bald eagles gather at Chilkat Bald Eagle Preserve near Haines, Alaska to feast on salmon. I visited there last two Novembers to photograph them.
During both my visits, I went with a shot list in mind. For bald eagles, fighting or any kind of interaction shot is always on top of my list in a place like Chilkat where the scene is perfectly set up for that.
Studying their behavior patterns helped me anticipate some of their actions. For example, when an eagle drags salmon to a dry spot, other eagles in the area would inevitably fly there to claim their share and that leads to chaotic action. They also seemed to have some favorite spots to hangout and usually commotion ensues when an eagle wants an already occupied spot. This photo was taken during one such commotion.
Reliable, Lightweight Gear

I shot this image with the Sony Alpha 1 and Sony 600mm f/4 G Master lens. I preordered the Alpha 1 on the very first day it was available for preorder. It quickly became my go-to camera body for all genres of photography I do, especially for wildlife. Speed, reliability, familiarity, auto focus are all simply unbeatable. In fact, I took a second Alpha 1 body on this trip to Alaska as my backup body.
The Sony 600mm f/4 G Master lens is a special lens. My wildlife photography journey pretty much took an upward trajectory after I started using this lens. It's lightweight for a 600 prime and the image quality is unparalleled. It's my go-to lens for wildlife photography now.
For an image like this with fast paced action that I would have easily missed if I hadn't been ready with my gear, the gear that I chose was absolutely the right choice.
Magic On The Last Day

It was the final day of my week-long photography trip and just a few hours before my ferry departed. I was at an inlet, with my gear all set up and photographing this perch that was popular among the eagles. At this moment, the perch already had three eagles, and when I saw another come nearby on the ground, I was on full alert. I took a few shots when the newly arrived eagle started flying towards the already perched eagle. And this one image was my instant favorite since it shows both of them on full alert, keeping the viewers curious on what happened next. The other two eagles on the perch also seem to be a captive audience which adds to the chaos of the scene.
My setup included a sturdy Gitzo 5 series tripod, Wimberley gimbal head along with my Sony Alpha 1 and Sony 600mm f/4 G Master lens. My settings for the photo were: 1/1600-sec at f/4 ISO 1250, 600mm. I used continuous auto-focus, zone tracking focus area, left my shutter on High burst, and my camera focused beautifully on the main subjects without a glitch.
Light Editing
I used DxO PureRAW 2 to remove noise. I usually use DxO on my high ISO wildlife images. After that, I used Adobe Lightroom to edit this image. I wanted to retain the integrity of the image so I went pretty light on editing. I used a radial filter to lower the exposure of the bottom half of the image, to make the viewers' eyes focus on the main subjects of the image.
See more of Karthik Subramaniam's work on Instagram @karthz.