Jeff Oliver (@savedbymtns) is a long-distance hiker and photographer based wherever he's set up his tent that night. He's spent the past four years thru hiking the Appalachian Trail, Pacific Crest Trail, and Continental Divide Trail and vlogging his experiences. While hiking the trails, Oliver developed a passion for photographing landscapes, wildlife and nature. He described his passion by stating, "Hiking 2-3000 thousand miles is hard enough, let alone with 10lbs of camera gear on my back. It's gotta be a passion at that point." Recently, we came across this macro image and wanted to learn more about it. Read below as he shares the story behind the shot.
Photographer and long-distance hiker Jeff Oliver shares how he captured this image with his Sony Alpha 7 IV and Sony 90mm f/2.8 G Macro lens.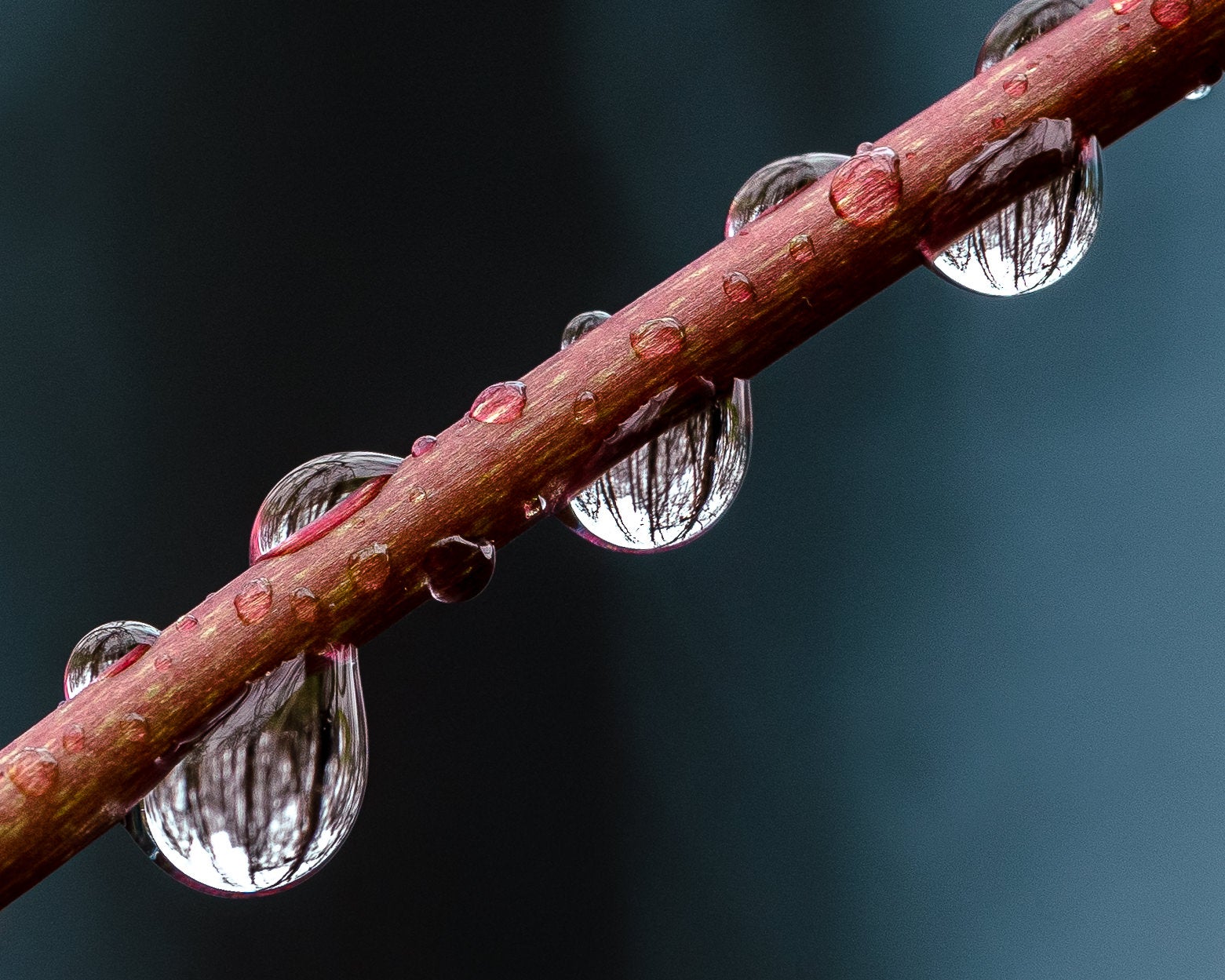 Photo by Jeff Oliver. Sony Alpha 7 IV. Sony 90mm f/2.8 G Macro. 1/40-sec., f/8, ISO 320
The Scene
This particular photo was taken soon after a pretty heavy rain in North Georgia. I've always said, 'The rain brings out the best in the forest.' Everything just smells fresh and the colors are more vibrant after a rain.
On this day, I took a walk through the woods specifically to photograph raindrops or insects. I love how you can capture reflections in raindrops, which transforms an otherwise mundane photo into something much more interesting. I find that it forces the viewer of the photograph to scan the entire image for new details as they look longer.
The Gear
I usually go out with my Sony 200-600mm f/5.6-6.3 lens on my Sony Alpha 7 IV for birds and wildlife. Plus I bring my Sony 90mm f/2.8 G Macro on my Sony Alpha 7 III in my camera bag for any smaller details that might catch my eye.
However, on this day I went out with nothing but my Sony 90mm f/2.8 G Macro on my Sony Alpha 7 IV and a tripod. I really like the fully articulating screen on the Sony Alpha 7 IV camera for macro because your tripod tends to end up in some funky angles in tight places.
I should mention that I am completely new to macro photography, and at the time I took this shot, I had only had the 90mm macro for about a week and a half. That being said, I can already tell that it's an addictive way to photograph nature, albeit very frustrating.
The Shot
I originally took a series of six exposures with the intention of doing a photo stack to gather more detail in the reflection of the rain drops, but there was a slight breeze that day and I was worried that Photoshop wouldn't be able to work its magic on aligning the photos. I began to pack up my gear and thought, 'I should probably take one more single exposure with a higher f-stop just in case the photo stack doesn't work.' I'm glad I did because the single exposure I took turned out to be the one I settled on. My settings for the image were 1/40-sec., f/8 and ISO 320. I took the image focusing on the center of the stick using manual focus. Although it was overcast, I only used natural light and a slower shutter speed to gather enough light.
The Edit
To edit the image I used Adobe Lightroom. I used subject masking to isolate the stick from the background. I really wanted to separate the two to bring out the texture in the stick. I added a bit of vibrance to the subject mask, as well as other basic edits such as decreasing the highlights and blacks, increasing shadows and whites. I also added a bit of texture and clarity to bring out the detail in the woody bits. A few dust spots on my sensor needed to be removed using the spot removal tool but that's typical when you're always outside photographing in the elements.
Fall of 2022 Oliver is planning to hike the Scottish National Trail which spans 540 miles across the length of Scotland. Follow this journey and all of his others on his Instagram (@savedbymtns) and YouTube Channel.