Levi Fitze (@levifitze) is an 18-year-old photographer based in eastern Switzerland. "Since my early years I've been interested in nature and animals, especially birds. At age 10 I started birding and tried to spot as many birds as possible with my binoculars. About two years later, I wanted to capture my experiences in nature with my first small DSLR-Camera. That was the moment I fell in love with photography." The image below was recently honored in the 2022 Wildlife Photographer of the Year competition. Fitze's image, showing two Dunlins facing the elements, was highly commended in the 15-17 year-old category. We sat down with Fitze to learn more on how he captured it – keep reading as he shares his story behind the shot.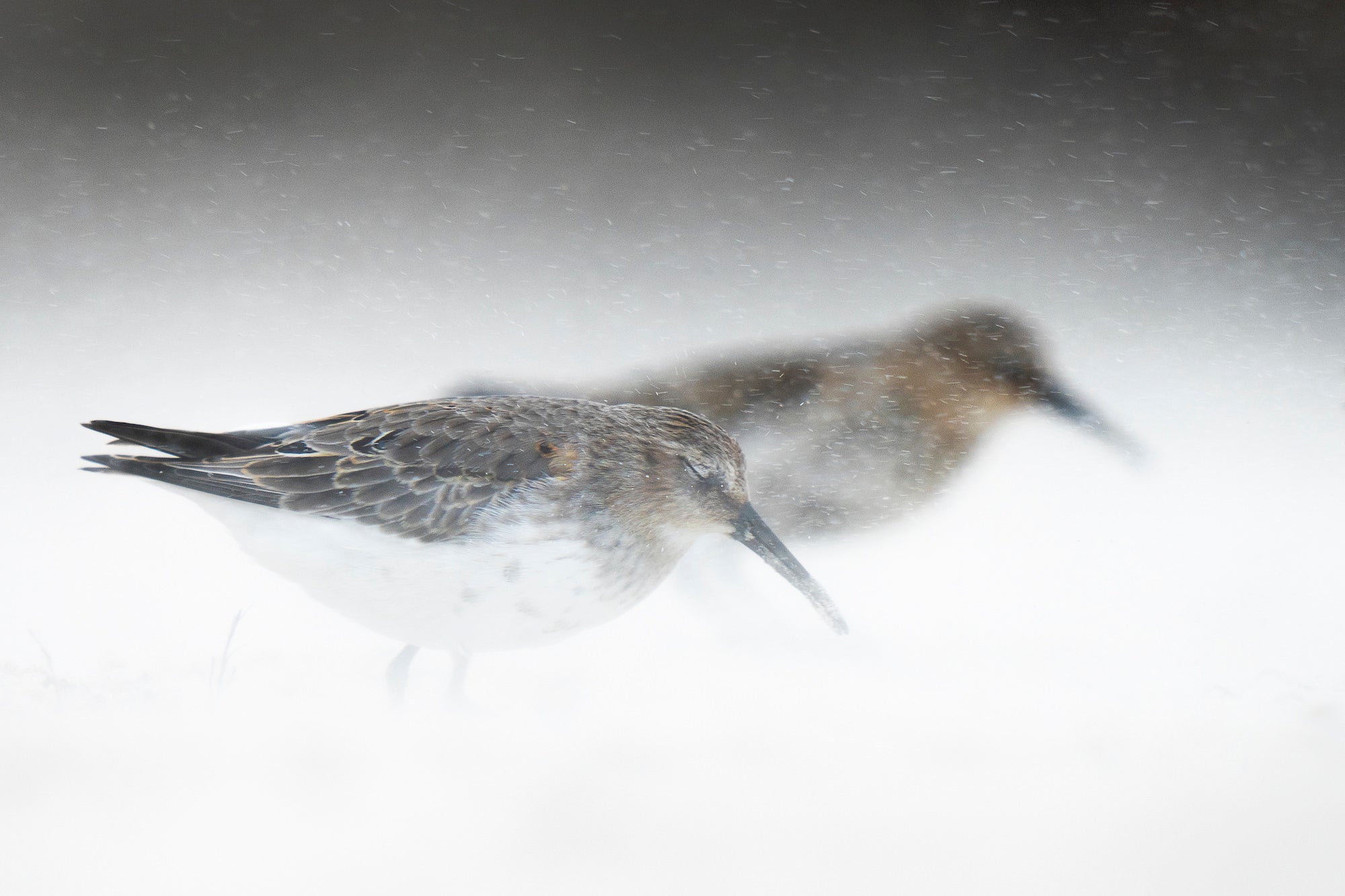 Photo By Levi Fitze. Sony Alpha 7R IV. Sony 400mm f/2.8 G Master. 1/1250-sec., f/2.8, ISO 125
Switzerland-based photographer Levi Fitze tells us the story behind this image of two Dunlins facing the elements.
Searching For Rare Birds
I took the awarded image on the small island Helgoland which is north of Germany. This island is famous for rare bird species during spring and autumn migration. I was there for the first time and it was incredible to see large numbers of rare and different bird species.
One day during my trip to Helgoland, I found a small group of shorebirds at the beach together with my good German friend Luca Lorenz. The weather was stormy and we noticed that the sand got blown over the ground. When I saw some Dunlins walking straight in this small sandstorm I decided to give it a try - even if it was pretty risky for my equipment because of the sand. When taking the first shots I realized that the sand wasn't really visible in the image. So I searched for a dark background and luckily found one. Thanks to the dark background, the sand became visible. I laid around one hour next to the Dunlins and made different kinds of images. This one was definitely my favorite from this great and sandy session.
A Sharp & Fast Prime Lens For Photos In A Sandstorm
I took this image with my main camera, the Sony Alpha 7R IV. I love the high resolution which this camera offers and often use it for large prints and to crop my images. For my trip to Helgoland I was lucky that Sony Switzerland loaned me the incredible Sony 400mm f/2.8 G Master prime lens. At the same time I had my Sony 200-600mm f/5.6-6.3 G with me during this trip. But I ended up taking almost all images with the Sony 400mm f/2.8 G Master, this one included.
I took the image with the following camera settings: 1/1250-sec at f/2.8, and with ISO 125. It was a stormy and dark scenery but thanks to aperture f/2.8 I was able to get low ISO values even with 1/1250-sec. Because I wanted to freeze the fast-blown sand, I shot with fast times of up to 1/4000-sec. By the way, my equipment survived the sandstorm more or less damage free!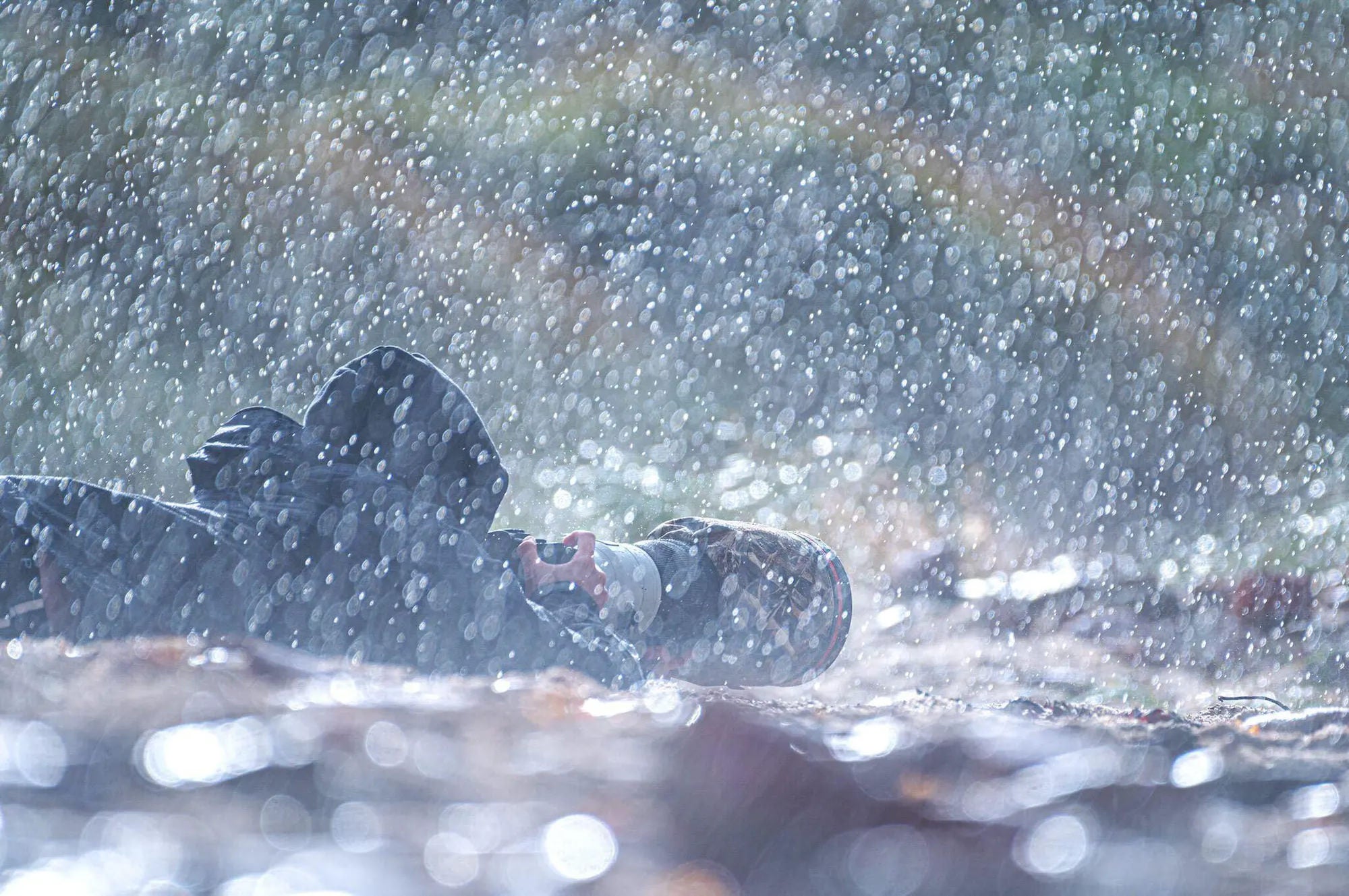 Photographer Levi Fitze photographing Dunlins with his Sony Alpha 7R IV and Sony 400mm f/2.8 G Master.
Minimal Editing
I usually don't edit very much. Usually contests such as Wildlife Photographer of the Year have strict rules when it comes to editing. Things such as retouching weren't allowed and since I try to edit my images according to contests guidelines I also just edit smaller things such as saturation, brightness, contrast, etc. I brightened up the white sand and gave the image more contrast in Photoshop Raw.
To see more of his work, be sure to follow Levi Fitze on Instagram @levifitze.