Lisa Devlin (@devlinphotos) is a wedding photographer and founder of the Photography Farm based in Brighton, UK. Before stepping into wedding photography, she spent 10 years in the music industry as a photographer, which you could say influences her current style as a wedding photographer. Her work steps just outside the realm of traditional wedding photography. It is elegant, unique and genuinely captivates anyone that comes across her work. We saw these portraits she took as part of a bridal shoot and wanted to learn more. Below Devlin breaks down how she works to bring multiple elements into the setting to create more of a narrative, and how she captured the images with a Sony Alpha 7 III and Sony 50mm f/1.4 and 35mm f/1.4 lenses.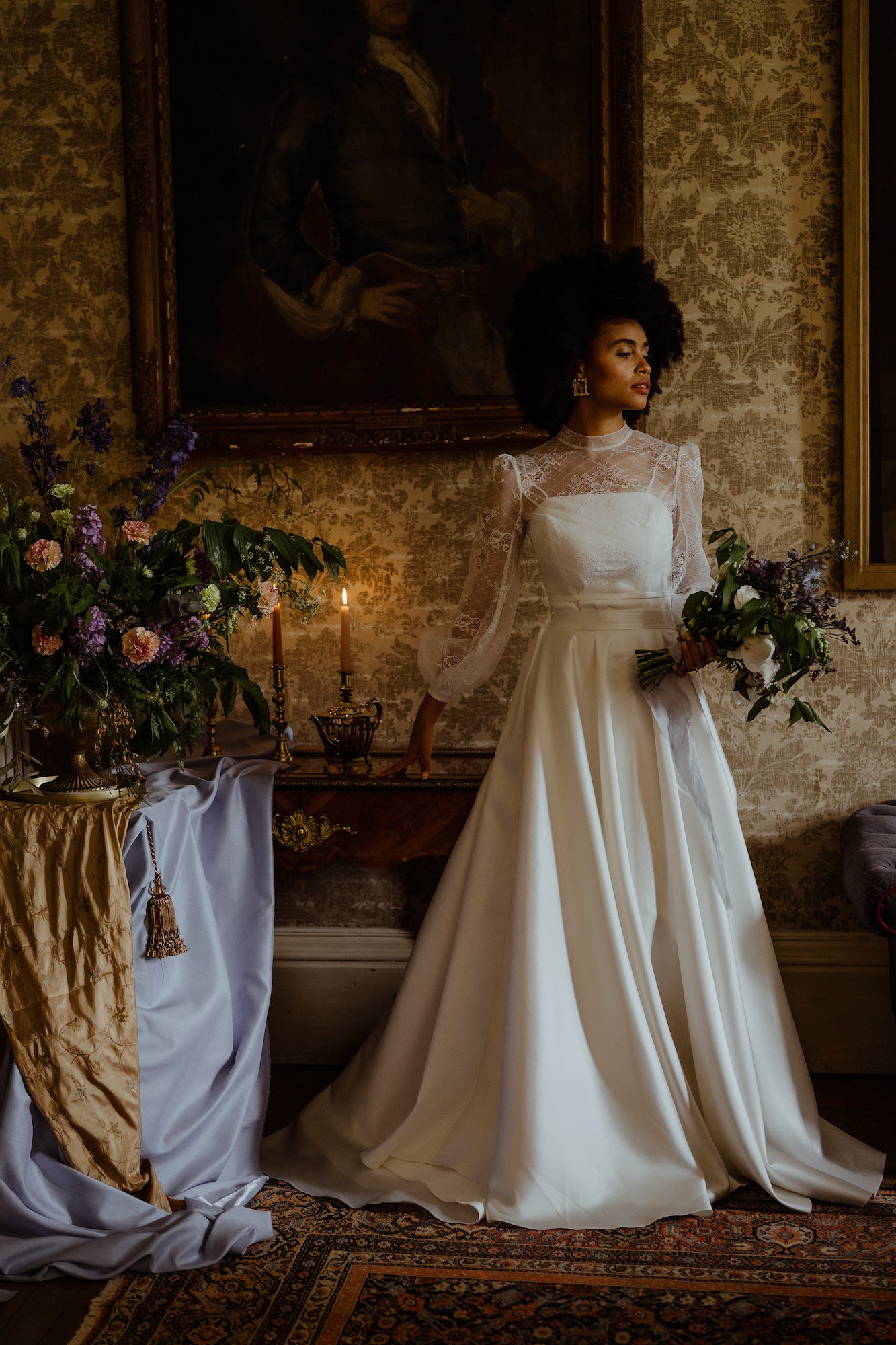 Photo By Lisa Devlin. Sony α7 III. Sony 50mm f/1.4. 1/640-sec., f/2, ISO 500
We get an inside look at how an elegant series of bridal photos was made in a 19th century "party house."
Establishing the Scene
The estate of Cambo is situated in the beautiful countryside of Fife, Scotland, and has a rich history that inspired this styled shoot. Often on a styled shoot, the model and the tablescape can be presented as separate entities, but I will usually look for ways to amalgamate the two so that the entire concept comes together in the images. Otherwise, it can just feel like a girl in a frock and then a load of stuff on the side.

At first, I tried her behind the table, but she felt a little lost there and overwhelmed by the setting. So I asked her to stand on a chair, but that looked too whimsical for the grandeur of the room. So finally, I tried her both seated in front of the table and in the corner of the room with a smaller styling vignette. In both of these scenarios, she was able to shine, and we could show off the beautiful gown and the florals.
The Gear
I was shooting on two Sony Alpha 7 III cameras, one with a Sony 50mm f/1.4 lens and one with the Sony 35mm f/1.4 lens. I use the 50mm for an editorial look to the images, and the 35mm for when I want to include more of the scene. I have to work fast to capture as much as possible in a very short space of time as we have photographers who have paid to attend and get shots for their portfolios, so I need to give them as much time as possible to get their own shots. I shoot handheld with the two cameras on a dual harness so that I can very quickly alternate between them both. This is when I am also incredibly thankful for my Alpha 7 III's Eye AF as it allows me to concentrate on my composition and framing while the camera nails the focus for me.
Inspired By The Past
Many people are shooting bridal and weddings in Scotland in a particular way. I love to see couples eloping. I love to see Glencoe, I love to see the Isle of Skye, I love to see the use of iconic landscapes and couples embracing that. Many photographers and inspiring photographers are using the landscape and doing it incredibly well. I feel like you don't see so many interiors in Scotland. I'm not someone that will go on hikes, but I will go to visit a museum. So I found it really inspiring that we had access to such a wonderful space at Cambo house.
In the 19th century, when the industrialists came up, there was a lot of new money, and I wanted to show their wealth. One of the things they did was build country houses as party houses, such as Cambo when they wanted to leave their main house City. This is where they went for the weekend, they would go shooting and fishing, have parties in the big ballrooms built in them. They were made for entertaining – that's what Cambo house is.
These houses are fascinating – they're literally the party house of that time. I think you feel that decade in them. When we were styling our models, we were thinking of the people who own these houses. They were the rebellious kids, the girls bringing home their girlfriends, the kind of kids that are old money, or they're rebellious. They have that looseness to them because they have that security of money and property behind them, and bring people into that. That is what we were imagining. I'd looked into the history of the property. And that's exactly what happened.

The house, at some point, was gifted to this extraordinary woman who traveled and was really ahead of her time. She was really into women's rights and used her privilege to help others, so I was trying to imagine the parties she would have had and felt inspired by those. And I think coming out of lockdown that's what we all wanted...we wanted a celebration.
Getting Creative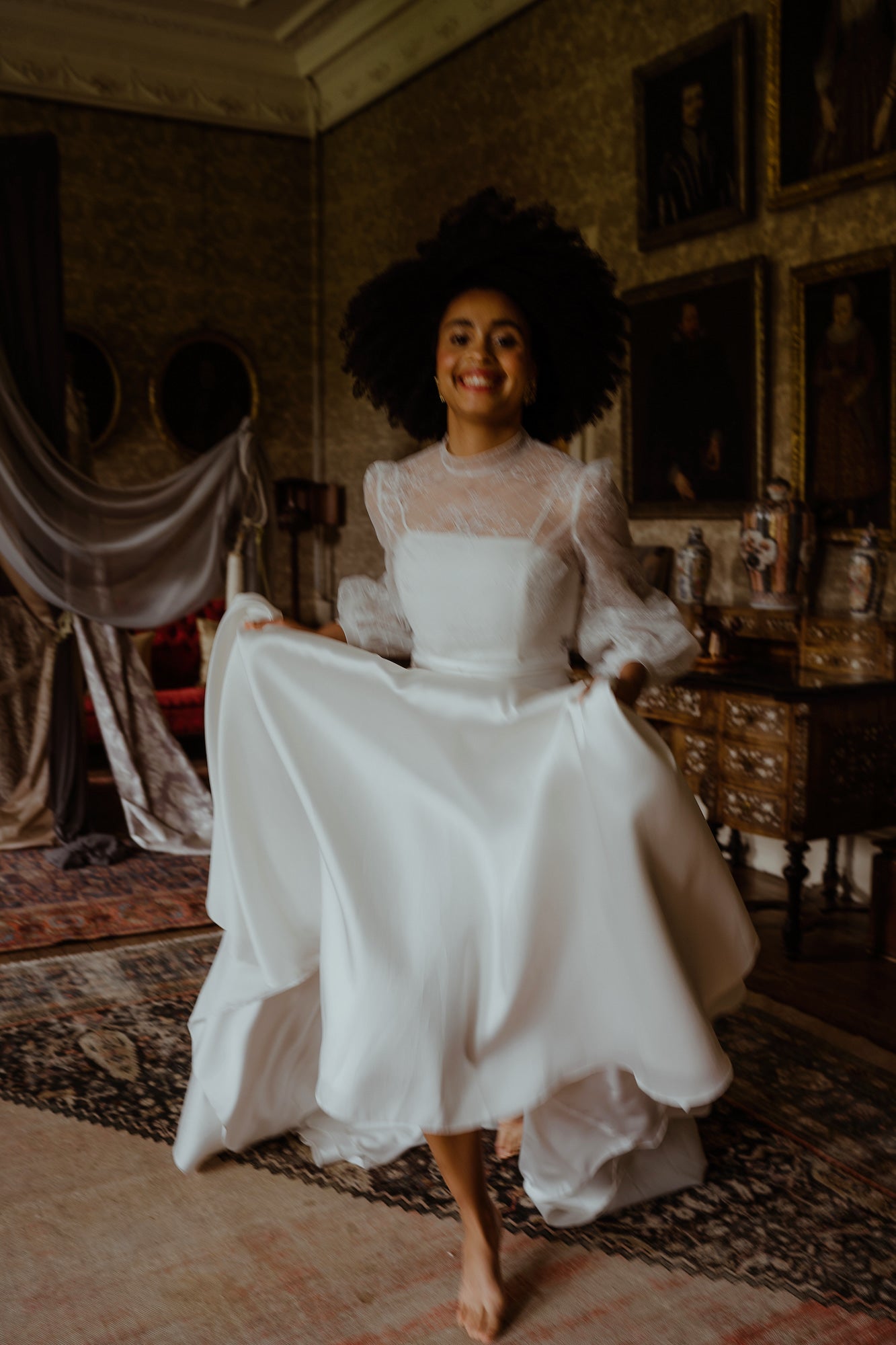 Photo by Lisa Devlin. Sony α7 III. Sony 35mm f/1.4. 1/100-sec., f/3.2, ISO 100.
My camera is so insanely accurate, and I like to get creative with what I can do with it. Recently, that has meant shooting with intentional movement and camera blur. I feel nostalgic for our 'happy accident' photos from the times when cameras were not as advanced as they are now. So when I have the space for creative play, I will always try a few experimental shots like the ones here with the model running. This was shot on the 35mm at f/3.2, 1/100-sec. and ISO 100. The low ISO and slower shutter speed meant that I would get movement and joyful energy to the image.
See more of Lisa Devlin's work on Instagram (@devlinphotos).