If you've yet to join our community in the Alpha Universe Forums, now is the time! We're excited to announce a few recent changes and enhancements to the Forums – like access to more Alpha Universe content, an easier way to spotlight gear in forum posts and more. You can also expect to see more forum changes in the future, so check back often! We're dedicated to making this space into a place for creators to collaborate, be inspired and learn from one another. Check out the Alpha Universe Forums today to ask questions, share your work and make connections.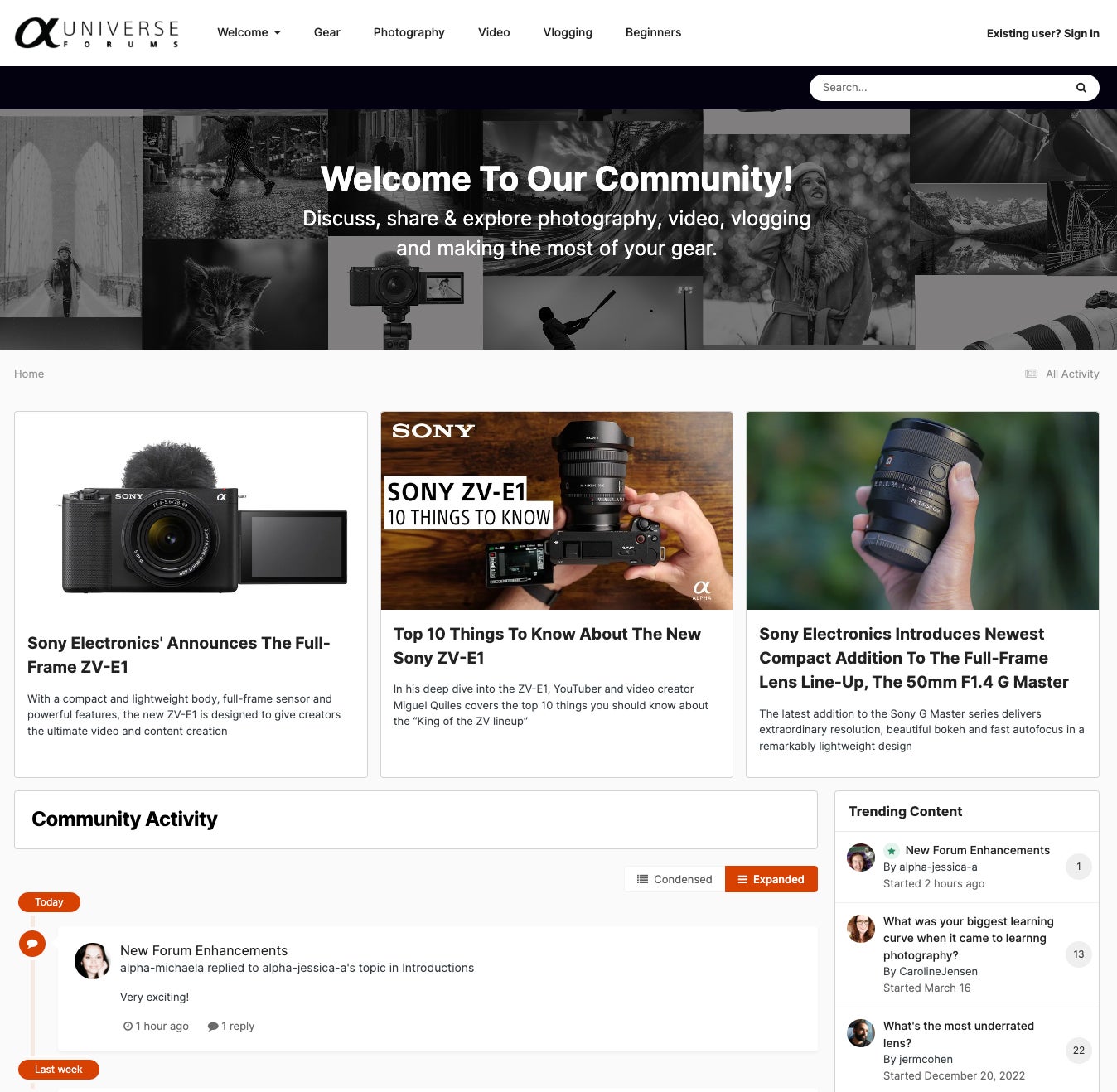 Join our community in the Alpha Universe Forums – now with exciting new enhancements to make it an even better experience for creators.
The Forums explore a wide variety of photo and video topics, giving creators the chance to discuss all of the things they love with likeminded people. It's also a great way to connect with and learn from your favorite Sony ambassadors, who you'll often find asking thoughtful questions, sharing meaningful advice and giving the inside scoop on gear they've used.

Sony Artisan Caroline Jensen posted in our Beginners Forums (geared toward those just starting out in photo and video) asking the question, "What was your biggest learning curve when it came to learning photography?" The wide range of answers from different photographers is fascinating – check out the thread to see what creators are saying and to add your own response.

Sony Artisan and professional portrait photographer Tony Gale posted a thread in the Beginners Forums showing a focal length comparison for portraits. His post shows how the different focal lengths look with similar framing for portraits – an excellent visual for beginners that also shows how the bokeh changes with longer focal lengths. Check out his post in the thread for more.

Sony Artisan, cinematographer and timelapse pro Drew Geraci recently posted a thread asking, "What's your biggest challenge shooting video on your own?" He loves the Sony ZV-E1 for vlogging but is wondering what other setups people use for video when shooting on your own. See what setups others are using and share your own in the thread.

Creator and Alpha Collective member Jeremy Cohen posted a thread for your thoughts on the most underrated Sony lens. "Ever since I bought the Sony 14mm 1.8 lens a couple months ago, I thought it would just be nice to have a super wide angle lens for certain situations. To my surprise, it's become one of my go-to lenses." See which lens others are choosing and share your choice in the thread.
Join the conversation and check out our new and improved Alpha Universe Forums today.