Pleun Bonekamp (@Pleun_Bonekamp) is a wildlife photographer who loves to travel to remote places in search for wildlife. Bonekamp shares those encounters with fellow nature enthusiasts on Instagram. "I feel most in my element when I find a wild animal and gain its trust so I can photograph its natural behavior," she explains. "The moment I enter their hidden life is magical. For me the photo itself is not the goal, but the experience and the memory of the wildlife encounter is." We wanted to learn more about the gear Bonekamp uses and how she creates revealing images with a super-telephoto G Master prime and a versatile G Master zoom to create stunning images and videos of wildlife. Keep reading as she explains what's in her bag.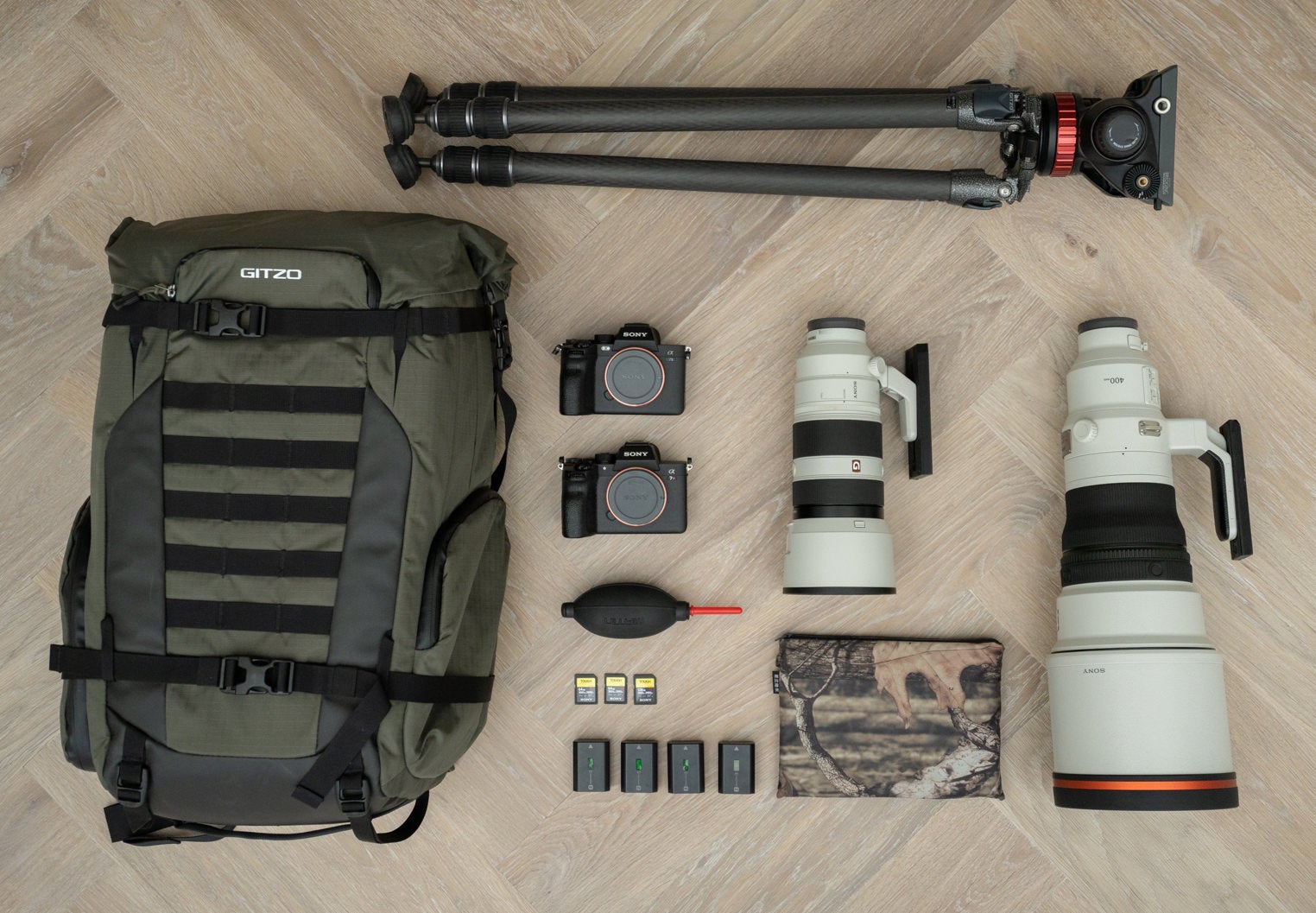 Using a pair of Sony Alpha cameras and G Master lenses, see how this wildlife photographer captures stunning images and videos of diverse wildlife.
In wildlife photography you normally only see the end result in the form of a photo or video. However, that is just the tip of the iceberg. Behind the scenes there is a whole process of scouting locations, researching the animals, (lots of) waiting, and gaining their trust. My choice of gear is therefore a trade-off between weight and quality. It needs to be as light as possible to carry around, however it should also have a sufficient focal length to get the animal more close in frame.
Cameras
Sony Alpha 7R IV: My Sony Alpha 7R IV is the core camera of my work. It has ample of resolution (61MP), which allows me to crop the photo afterwards while still retaining high quality. It also allows me to reframe the shot in post production, which is a very welcome option in wildlife photography. Normally, I only have a few seconds to capture the moment and it's very rare that the favorable composition is captured right away. Also, the animal eye detection helps me tremendously with getting sharp photos, as animals rarely sit still.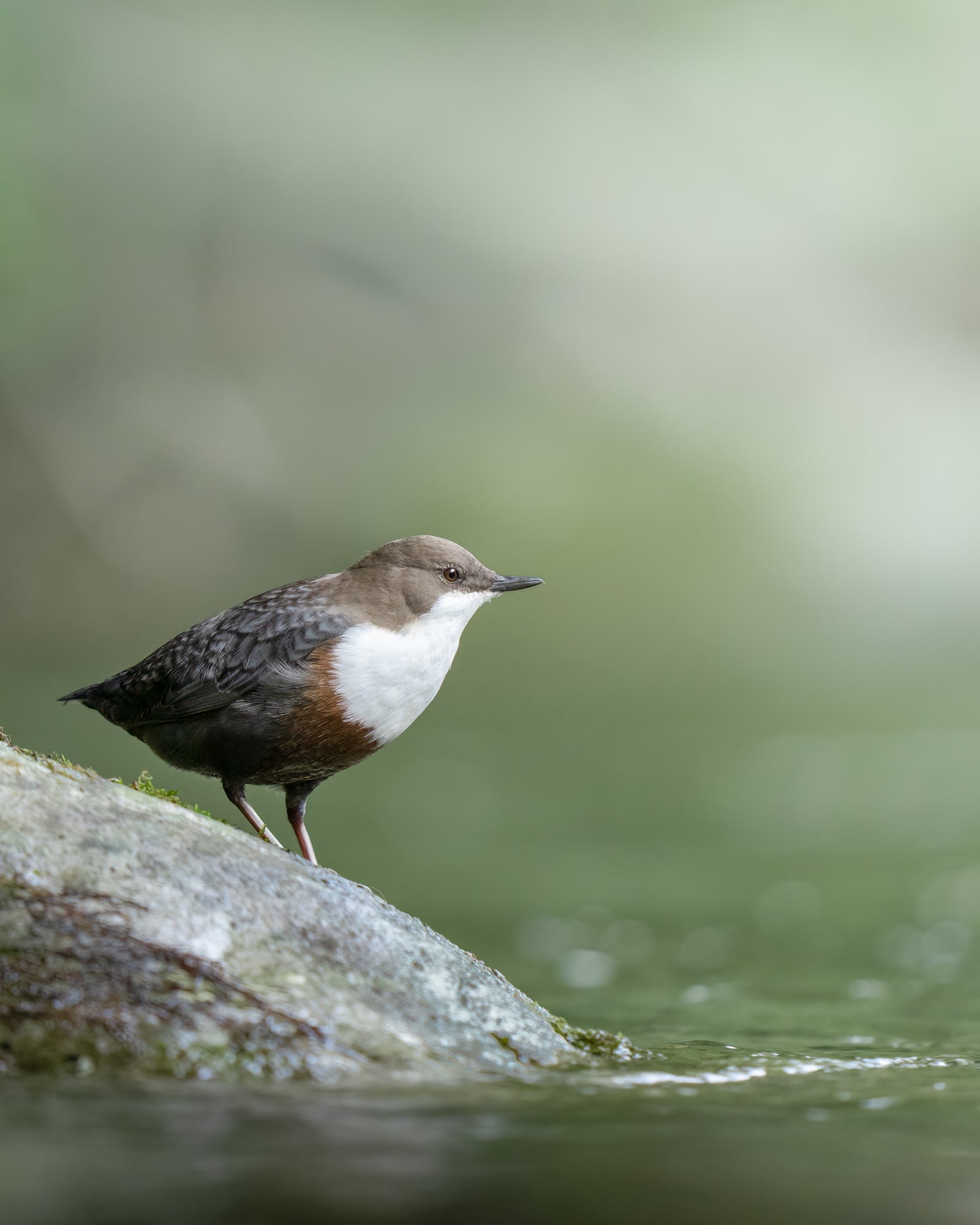 "While camping close to the Soča river (Slovenia) this dipper unexpectedly flew by. I immediately grabbed my camera and went into the ice cold water to get the best point of view. As these birds are rather skittish, I couldn't come very close. Luckily the high-resolution sensor of the Sony Alpha 7R IV allowed me to crop the shot afterwards into the composition I liked." Photo by Pleun Bonekamp. Sony Alpha 7R IV. Sony 400mm f/2.8 G Master. 1/250-sec., f/2.8, ISO 800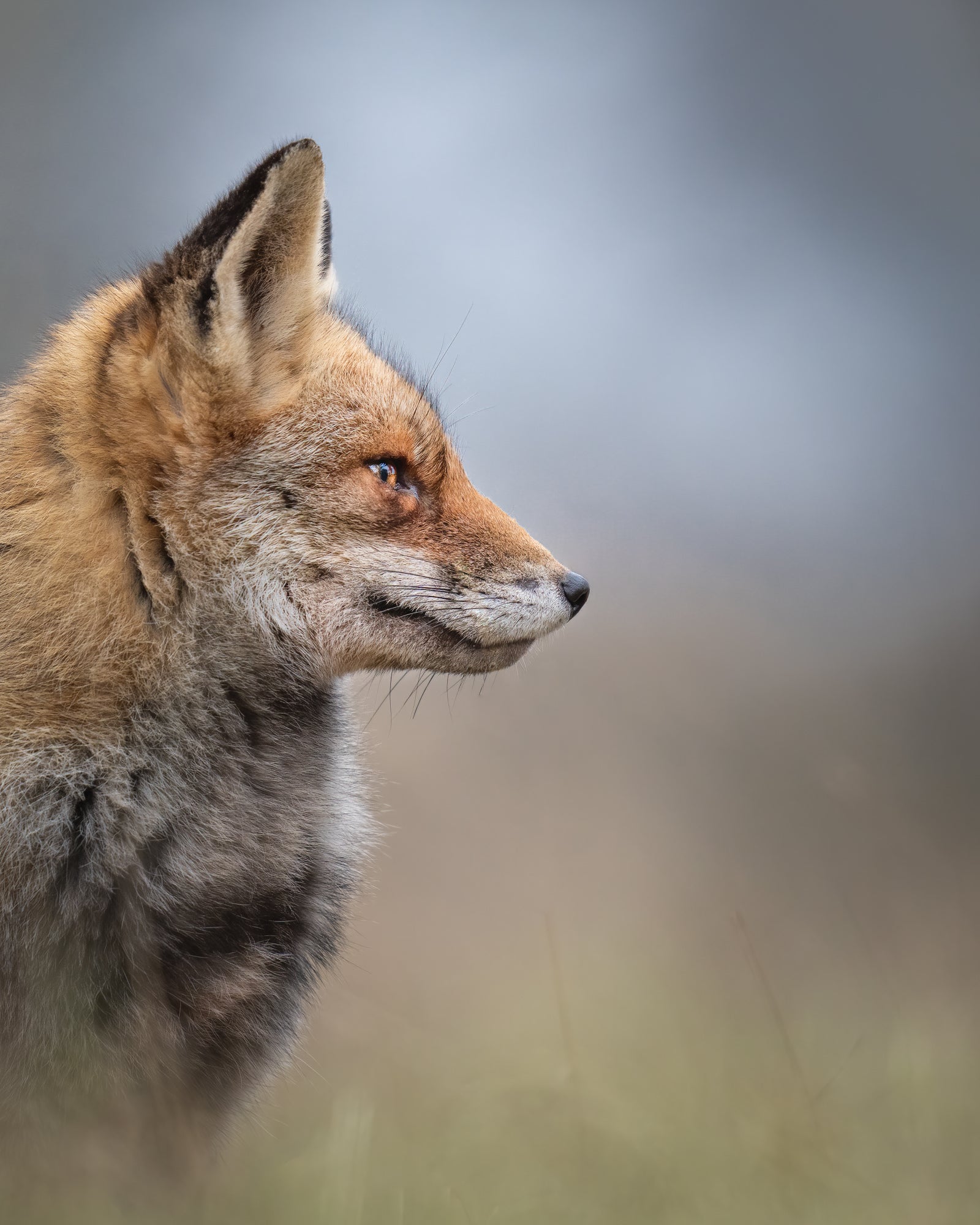 "On a winter day I came across this fox. It is one of my favorite photos taken due to the dreamy look, while the fox is crisp sharp." Photo by Pleun Bonekamp. Sony Alpha 7R IV. Sony 400mm f/2.8 G Master. 1/400-sec., f/2.8, ISO 1000
Sony Alpha 7S III: Recently, I have extended my gear kit with the Sony Alpha 7S III. Besides capturing stills, I also like to capture the moments on film and for me the Sony Alpha 7S III is the perfect camera for this. It allows me to film animals in 4K slow motion, which captures the animals' emotion in a more cinematic way. Furthermore, since I'm mostly photographing and filming in dark forest areas and during sunrise and sunset, the light conditions are normally quite poor. The Sony Alpha 7S III performs exceptionally well under these conditions, which makes a huge impact on the keeper rate of the shots.
Lenses
Sony 400mm f/2.8 G Master: In most cases the focal length of 400mm gives me enough reach to come close enough to wildlife. I therefore use my Sony 400mm f/2.8 lens as often as possible. It is extremely sharp and the autofocus is incredibly fast. F/2.8 allows me to separate the animal from the background.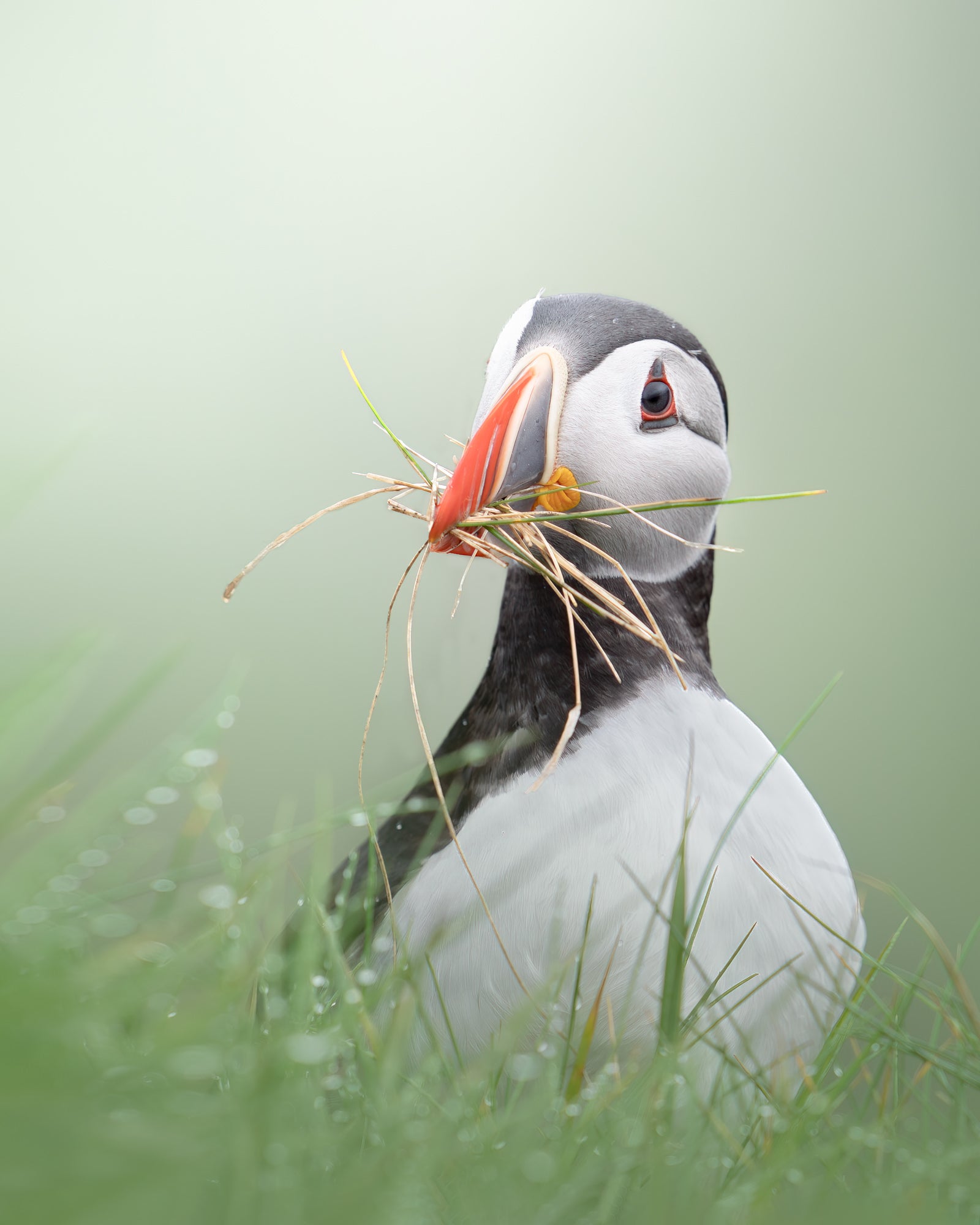 "Puffins only come to land to raise their chick during the summer months, and are out on the open sea for the rest of the year. I photographed this puffin in Norway, while he was collecting material to build its nest. I especially like the smooth bokeh and the sharpness of its beak and feathers." Photo by Pleun Bonekamp. Sony Alpha 7R IV. Sony 400mm f/2.8 G Master. 1/125-sec., f/3.5, ISO 100
Sony 100-400mm f/4.5-5.6: If weight is an issue, or when I do not want to take my whole backpack with me, my go-to lens is the Sony 100-400mm f/4.5-5.6 G Master. This is for example while I scout new locations, or when I can only bring one lens while traveling. It is a very versatile lens you can use for both tight portraits as for more general nature or landscape photography. This lens also comes in handy if I can come really close to animals, as the minimal focus distance of this lens is only ~1 meter. For comparison the minimal focus distance of the 400mm f/2.8 is ~2.7 meter. With this lens you can even fill the frame with small animals if you are close enough.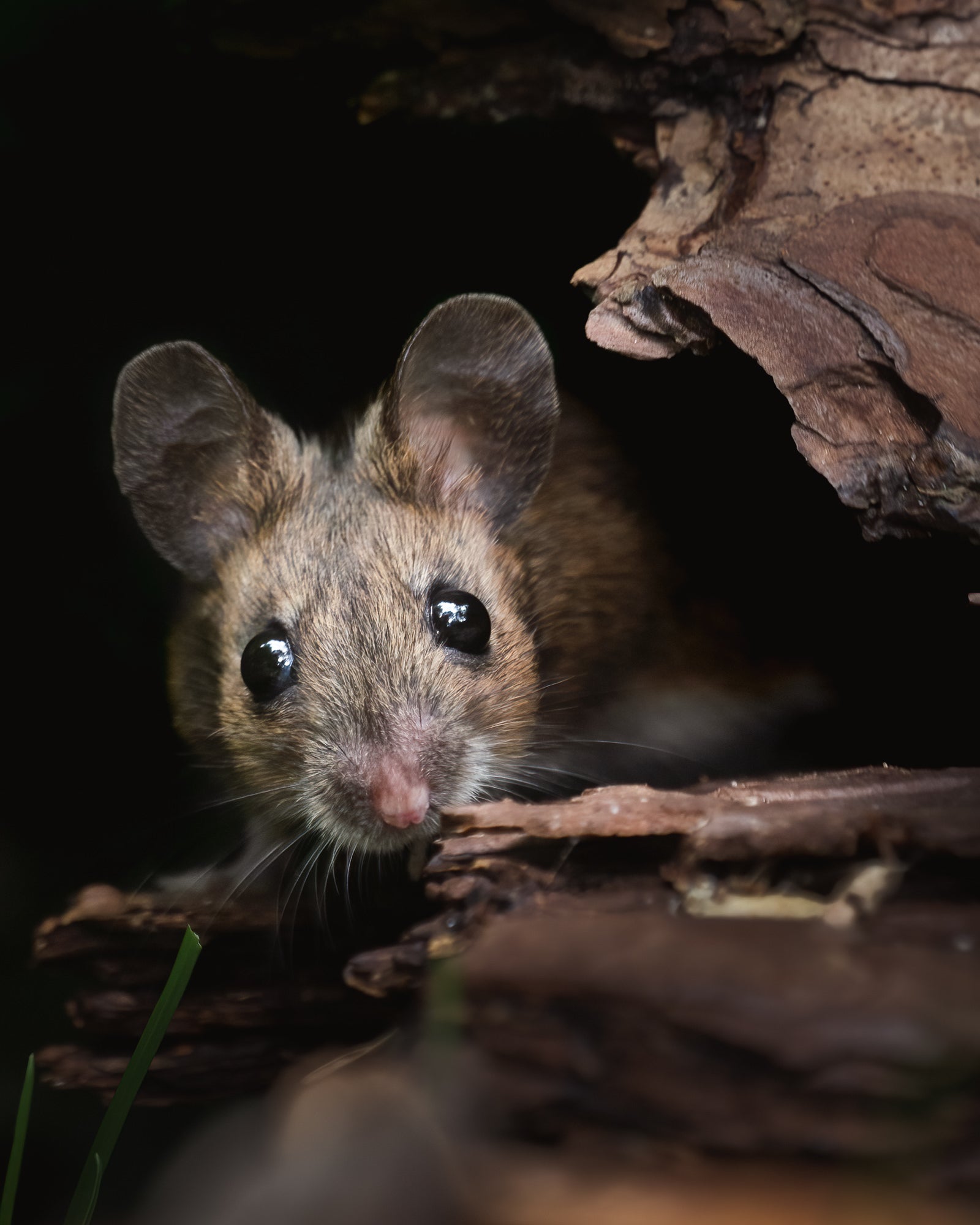 I gained the trust of this wood mouse, which was very curious what I was doing. He approached me to a distance of approximately 1.5 meters, which allowed me to take this portrait of him. Photo by Pleun Bonekamp. Sony Alpha 7R IV. Sony 100-400mm f/4.5-5.6 G Master. 1/100-sec., f/6.3, ISO 500
Accessories
Gitzo Tripod With Video Head: These really help to get sharp photos and smooth videos.
Gitzo 45L Bag: This bag is perfect to carry the 400mm f2.8, with the camera attached. I also use it as hand luggage on the plane with all the batteries and lenses.

Ghillie Suit Or Poncho: This is an essential piece to get closer to wildlife and I often wait in a strategic place in my camouflage clothes for animals to appear. When you cover yourself with camouflage clothes animals do not recognize you as a human anymore and do not see you as a treat.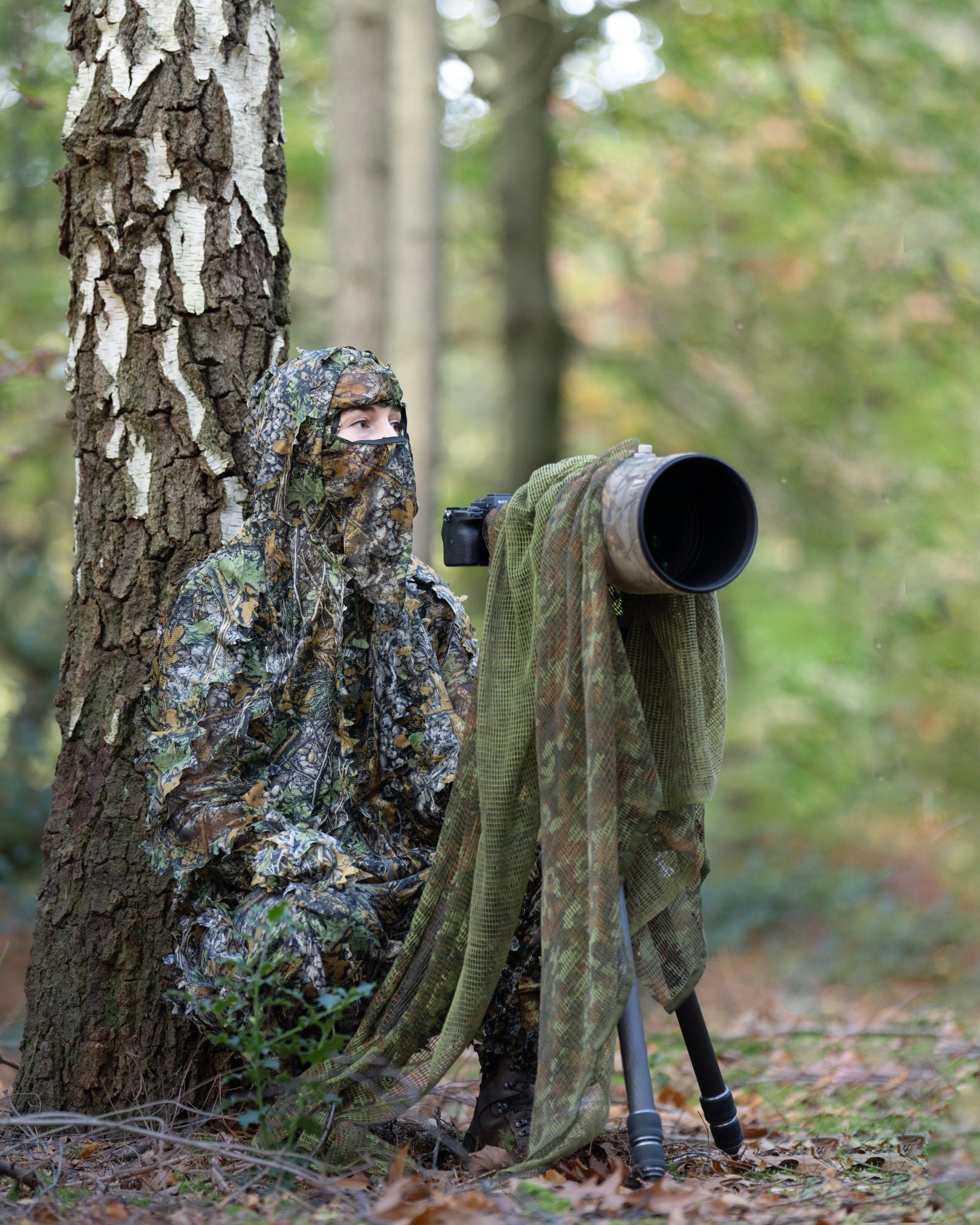 Pleun Bonekamp in her gillie suit
Batteries & Memory Card: I always have a sufficient amount of both. My worst nightmare is to run out of power or memory on critical moments.
Rain Cover Rolanpro: Folds very thin.
Remote Control: Mainly used to prevent shaking when pressing the shutter when using lower shutter speeds (<1/80s).
Quick Release Plate: To quickly change lenses.
Blower: To clean the sensor.
Food: I always bring a snack or two, preventing that hunger is driving me leaving a place.
Tick Removal Pen: I always carry this in my backpack to remove ticks as soon as possible to prevent diseases.
See more of Pleun Bonekamp work on Instagram @Pleun_Bonekamp.