My name is David Troeger (@jetlag), and when I'm not capturing the wonderful island of Aruba, I'm capturing the wonderful people of Stuttgart and Amsterdam. I first began working as a professional photographer by taking pictures for websites like aruba.com, along with several other travel and fashion magazines, both local and international. Now, I've called Germany home and am ready to face Europe, new challenges, and new possibilities. Here's the story behind creating these floral portraits.
See how photographer David Troeger used simple lighting, the right props and his Sony α7R IV & Sony 16-35mm f/2.8 GM for a series of beautiful floral portraits.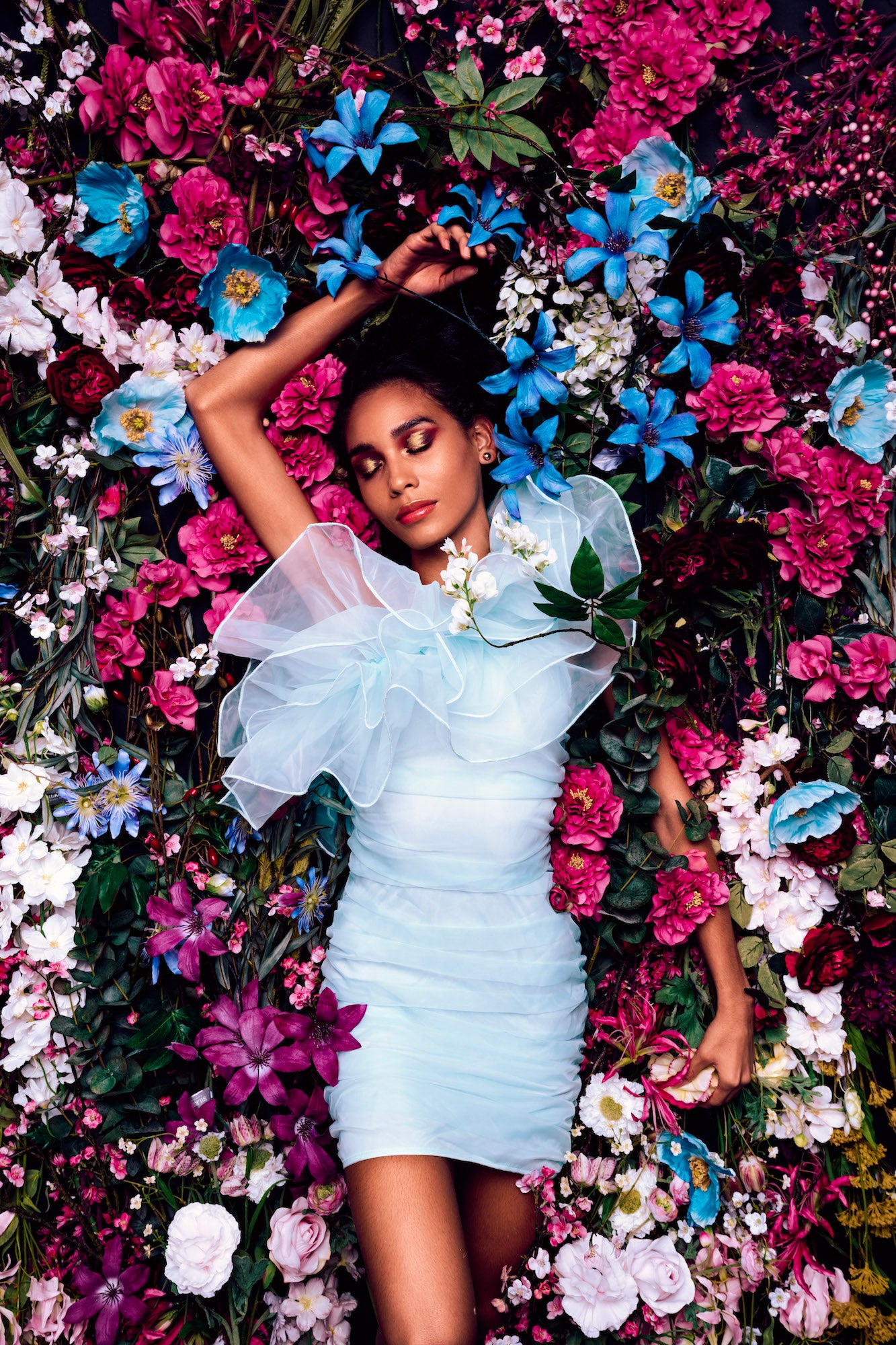 Photo by David Troeger. Sony α7R IV. Sony 16-35mm f/2.8 G Master. 1/500-sec., f/4.5, ISO 100
Inspiration
Originally inspired by Elena Iv-Skaya's Floral Wonderland, I was able to create my own adaptation in collaboration with a friend's artificial flower company. This was purely a passion project, so a lack of funding forced us to get creative and transform a small Amsterdam apartment into a one-day studio. Our zealous team of talents included model Dana Wong, stylists Jaimie van Munster and Jerrald Justin, and Mart van der Deen and his artificial flowers, without whom this project wouldn't have been possible.
My Gear
I shot this photo on my Sony α7R IV camera with the Sony 16-35mm f/2.8 G Master lens. The incredible resolution of this camera allows me to create large detailed prints of my work, which is a big pro if you want your work to be seen on walls, not just screens. I frequently use it's eye autofocus mode, which ensures the focus is always spot on, even in unusual or challenging situations, like when I'm unable to operate the camera up-close. I can honestly say that this piece of machinery is a joy to use, and I carry it with me wherever I go. The lens complimented it perfectly as well, due to its wide angle view and incredible sharpness, capturing every detail of the flower setup. All in all, I was ecstatic with the results.
How I Got The Shot
My main and only light for this shot was the large 175cm Elinchrom Rotalux Softbox powered by the Elinchrom ELB 500. It's the softest and most balanced light I've ever used, and pairs reliably well with the Sony camera. With the strong Elinchrom strobe, I was able to shoot at ISO 100 for the highest image quality at a shutter speed of 1/500 sec, with my aperture at f/4.5, twisting the lens to a 35mm zoom to fill the frame.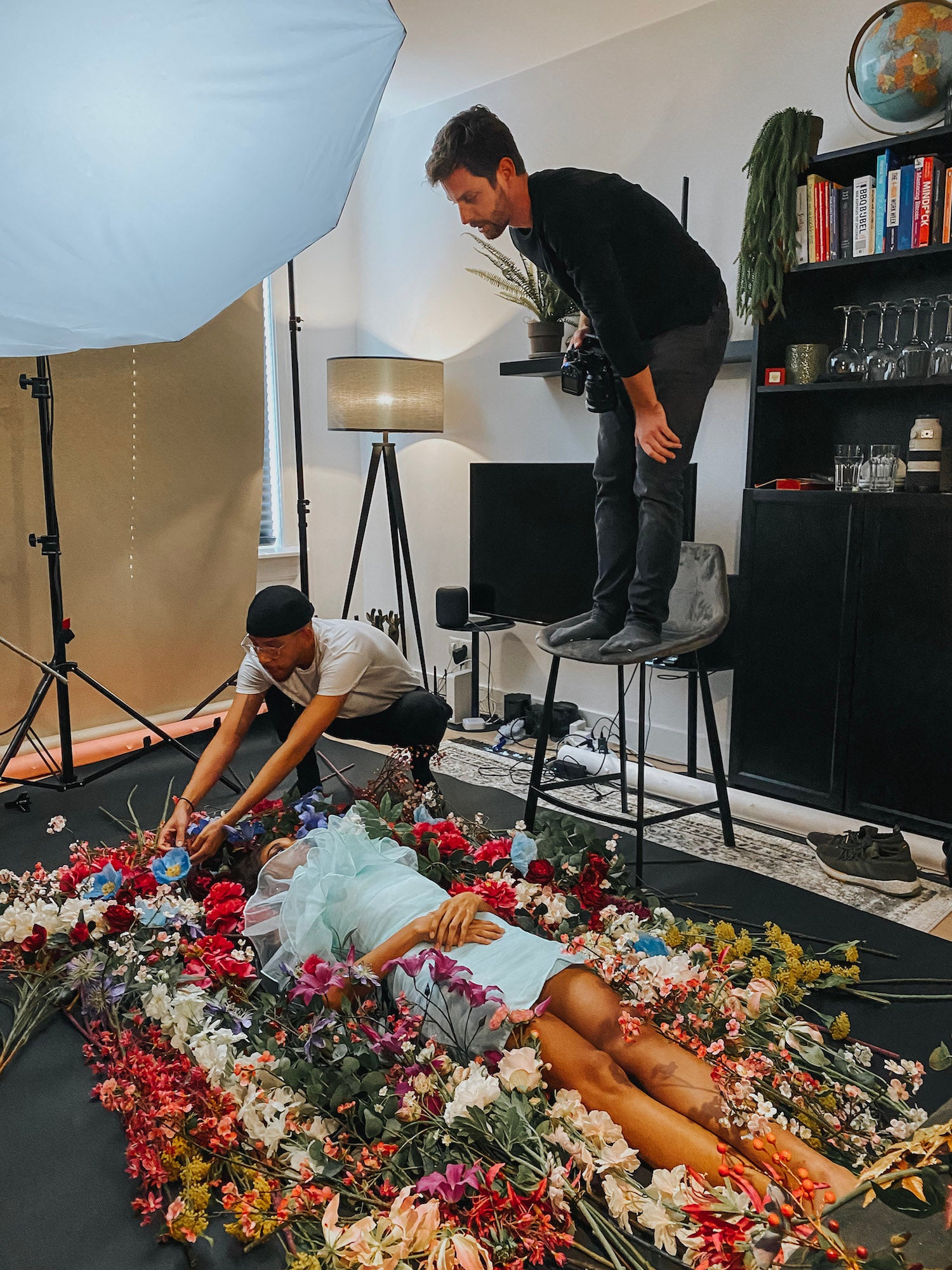 Finally, as the model sprawled out on the floor, surrounded by flowers, I was able to shoot from straight above to capture the image, thanks to the Sony α7R IV's articulating screen and — thankfully — a friend's tight grip on the chair that was holding me up. This goes to show that with the right equipment and the right people, you can create anything you can imagine.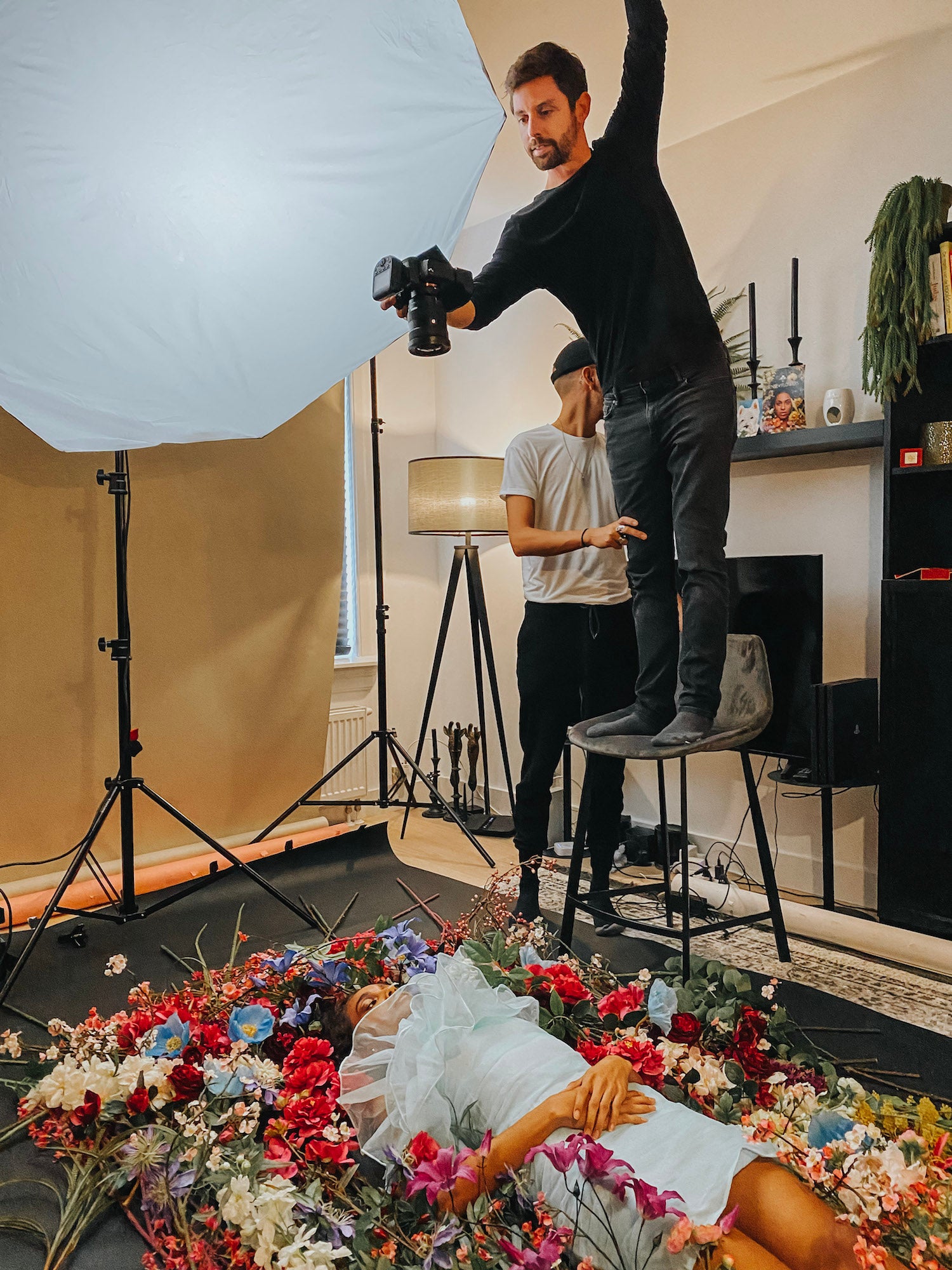 Post-Production
Last but not least: where there is digital, there is post. I prefer to start with Adobe Lightroom in order to adjust the exposure, contrast, white balance, and other minor tweaks, before heading into Photoshop for further retouching like frequency separation and color grading to perfect skin tones and texture. After giving the image a final once-over, I was proud of the result and ready to submit it for the world to see.