Fine art photographer Fran Forman combines her illustrative and photographic skills to create intriguing photo-paintings. She's a member of the Alpha Female community and you can see her work shared on the Alpha Female Facebook group. Her images can be interpreted in a number of ways, something she finds great interest in given her background in psychology. With work as creative as Forman's, it can be a challenge to know when to walk away from a piece and consider it finished. We connected with her to learn more about her process and how she decides when it's time to call it quits on manipulating an image and label her work complete.
See how this fine art photographer decides when to put a stop to post-processing and label her work complete.
"I'm considered a fine art photographer, but what I actually do is photomontage," says Forman. "I constantly take photographs, and then I recombine them and manipulate them. Rather than shoot a specific scene, as many photographers would do, I shoot and then use those pieces as source material to then create completely new scenes with. So it's kind of in the realm of magic realism, what I create."
The Photomontage Process
The process for creating photomontages isn't a short one. Forman is always taking photos of anything she finds interesting and adding them to her catalogue. Once an idea comes to mind, she pieces the images together to create something new. So when you look at one of her final images, you're actually looking at a composite of many images shot at different times.
"It's a fairly long laborious process," explains Forman. "I do a fair amount of shooting. What I tell my students to do is collect assets, or source material. When I travel or move around with my camera, that's when I am looking for things that are of interest to me or maybe have interesting lighting. I'm not always sure where it's going to end up. It's not as if I necessarily have an idea in my head ahead of time, but I'm just collecting images that are of interest to me. Once something strikes my interest, I just start combining things."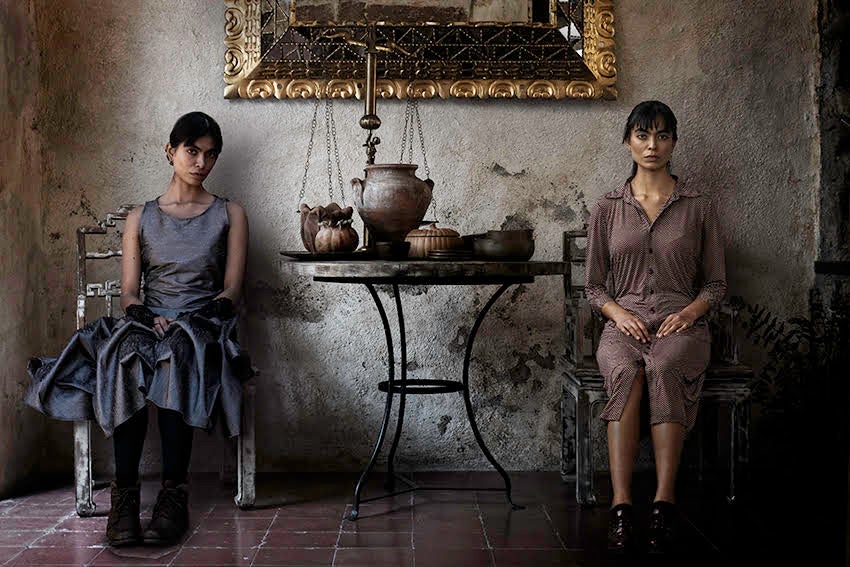 Photo Montage by Fran Forman.
"My post workflow always starts by putting all of my images on one of my hard drives and putting them in various folders. Then I make catalogs and organize everything in Lightroom, which makes it much easier to find things. Then from Lightroom, I bring an image into Photoshop. I live almost exclusively in Photoshop. That's what I got started on in 1992, so I've kind of grown up with Photoshop. Over the past three years I've been using another program called ON1, mostly for their filters and presets, but Photoshop is my main program. In Photoshop I use Camera Raw to develop the image. It's pretty simple post-processing in Camera Raw, but I still have the image solid against the background."
Knowing When To Walk Away
Fine art photographers create images of scenes that don't necessarily exist. When the idea lives nowhere but in your head, how do you know when it's finished? How do you know when to step away from your work and consider it complete? Forman gets asked these questions a lot, and they're not the easiest to answer.
"It's so much harder now to decide when your work is complete because there are an infinite number of choices," says Forman. "I mean, how does a composer know when they're done with a piece? I don't know. One of two things happens I suppose – I either get sick of it, or I hate it and I put it away and never look at it again."
"Or let's say I think it looks really good. I don't put it out in the world right away – I have this kind of stupid process. I transfer the image to my iPad and then I look at it in the morning, during the day, and as I'm going to sleep. I look at the way it flows and look for problems. Maybe the colors aren't right, or the shadows are too harsh. Since I'm creating the piece from my head, I really have to think about proportions and if shadows are falling in the right places. Invariably I will find something off about it, and then I go back and work on it if I decide it's worth continuing to work on. After a few days of touching the piece up, I either decide it's ready to go out into the world or I just abandon it altogether. I often cannibalize the photo's pieces since I'm working in layers on Photoshop. I can always reuse pieces if I want in a different image."
Forman's latest work can be seen in her book, "The Rest Between Two Notes: Selected Works" now available for pre-order. See more of Fran Forman's work at franforman.com and on Instagram @franforman.