Rachel Jones Ross (@rachel_jones_ross) is a member of the Alpha Imaging Collective and an Alpha Female who is all about adventure. She's backpacked the arctic tundra and chased the Northern Lights in Iceland. One thing she hasn't tried before? Sailing on a racing boat. So when she was asked to document a journey down the California coast, she jumped at the opportunity despite her lack of experience. For Ross' maiden voyage, she was shooting with a Sony α7R III to record both stills and video. It turned out to be more than she could have ever imagined. Ross, who is part of the team for Alpha Female 2.0, details the experience and shares how saying yes, setting aside doubt, and listening and learning from your mentors can enable you to get the job done and reach new heights in your career.
"The experience was bigger than any adventure I could have imagined. [B]ecause I was part of something bigger than myself." -Rachel Jones Ross
Saying Yes
I received a phone call from Sony, asking if I'd be interested in documenting a sailing trip from San Francisco to Los Angeles. I didn't have many details, but it sounded like a fun new adventure, so naturally I said yes. I probably should have asked a few more questions, because I truly wasn't prepared for just how much of an adventure it would be!
As the project unfolded, I learned the boat I'd be sailing on is none other than 'Maiden.' If that sounds even a little bit familiar, it's because Maiden is legendary. Maiden was the first sailboat crewed entirely by women in the grueling 1989 Whitbread Round the World Race, helmed by skipper Tracy Edwards. The documentary, Maiden, details their experience in that race. I've seen it no less than 12 times and it still moves me.
Setting Aside Doubt
Four days before the trip, I received an email stating "Rachel must be able to swim" and "Rachel must attend man overboard training." OK, I didn't mention that I don't really like to swim. I can do it, but the ocean is daunting. I was genuinely concerned that my clumsiness would cause a man overboard situation. Three days before the trip, I received an itinerary which indicated I'd have crew duties. That's fair, I thought. Hopefully they don't think I can cook, however, I can help with cleanup. Imagine my surprise when I learned all the women on the crew contribute to every job. This included me, even though I'd never set foot on a sailboat. Thoughts of not being enough – smart enough, strong enough, brave enough – invaded like a nasty head cold.
I'm not a sailor. I don't know the difference between a spinnaker and a boomvang and I've certainly never helmed a boat. Documenting the journey called for videos, which is not my area of expertise and if I'm being honest, neither is sports photography. Most of my work is with a tripod; I usually have all the time in the world to plan my shots. I would have to think about this project differently. I would have to use fast shutter speeds and react to my environment. What had I gotten myself into? My stomach felt hollow.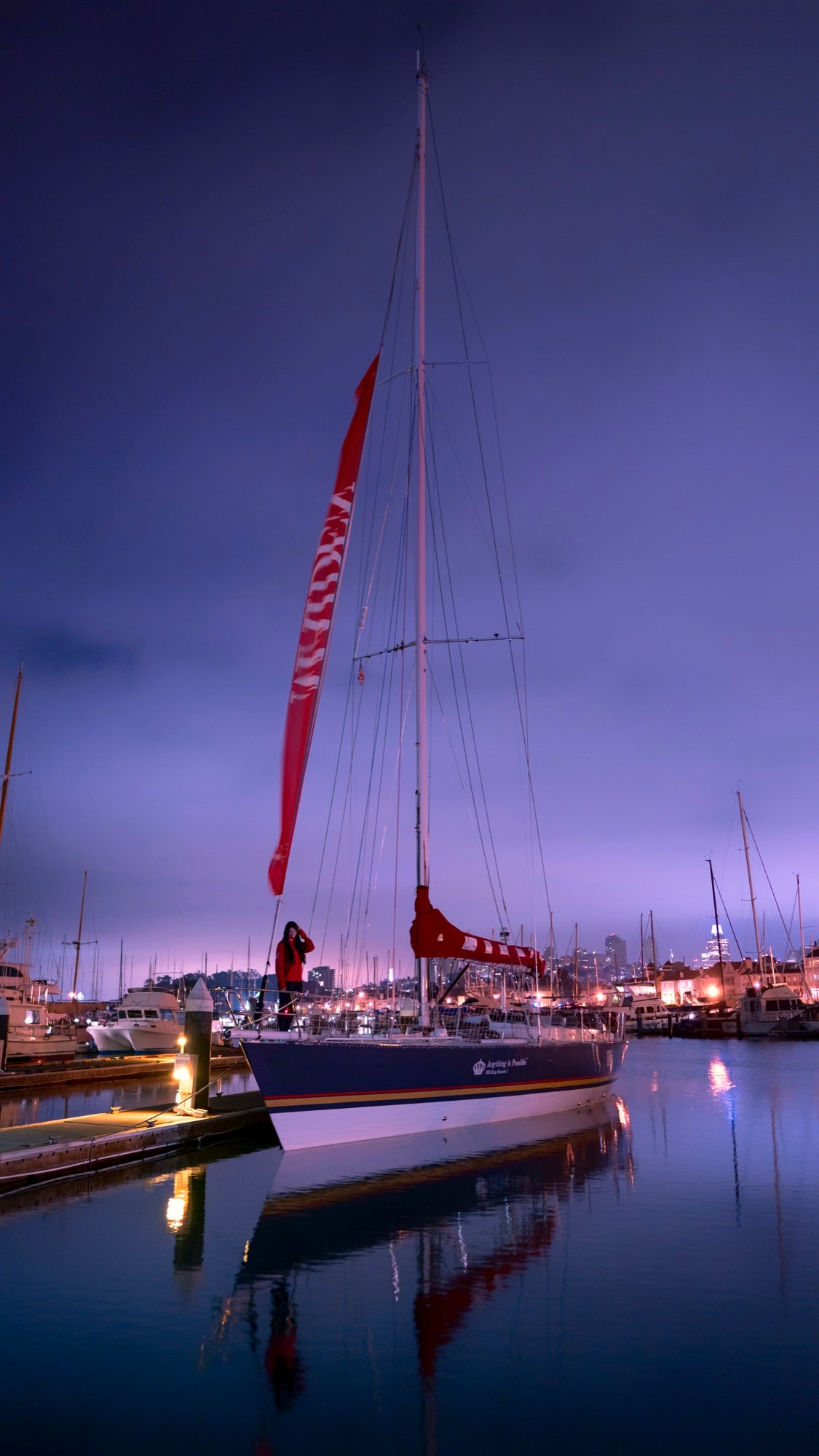 Sony α7R III, Sony 24mm f/1.4 G Master lens. Rachel Jones Ross on the Maiden at the San Francisco Yacht Club the night before departure.
Listening & Learning From Mentors
I arrived in San Francisco for man-overboard training two days before we set sail. As luck would have it, I was able to attend a screening of the documentary. The next thing I knew, I was sitting beside Jo Gooding and Angela Heath! These women were part of the original crew. Having seen the film so many times, I felt like I knew them. Their story was larger than life to me. I spoke with Jo and Angela after the film and asked what advice they have for me. Jo said, "find a spot on the boat that you feel comfortable in. And remember that there is a place for you there." Her words resonated with me. I might not be a sailor, but I can give Maiden my voice. That was my place.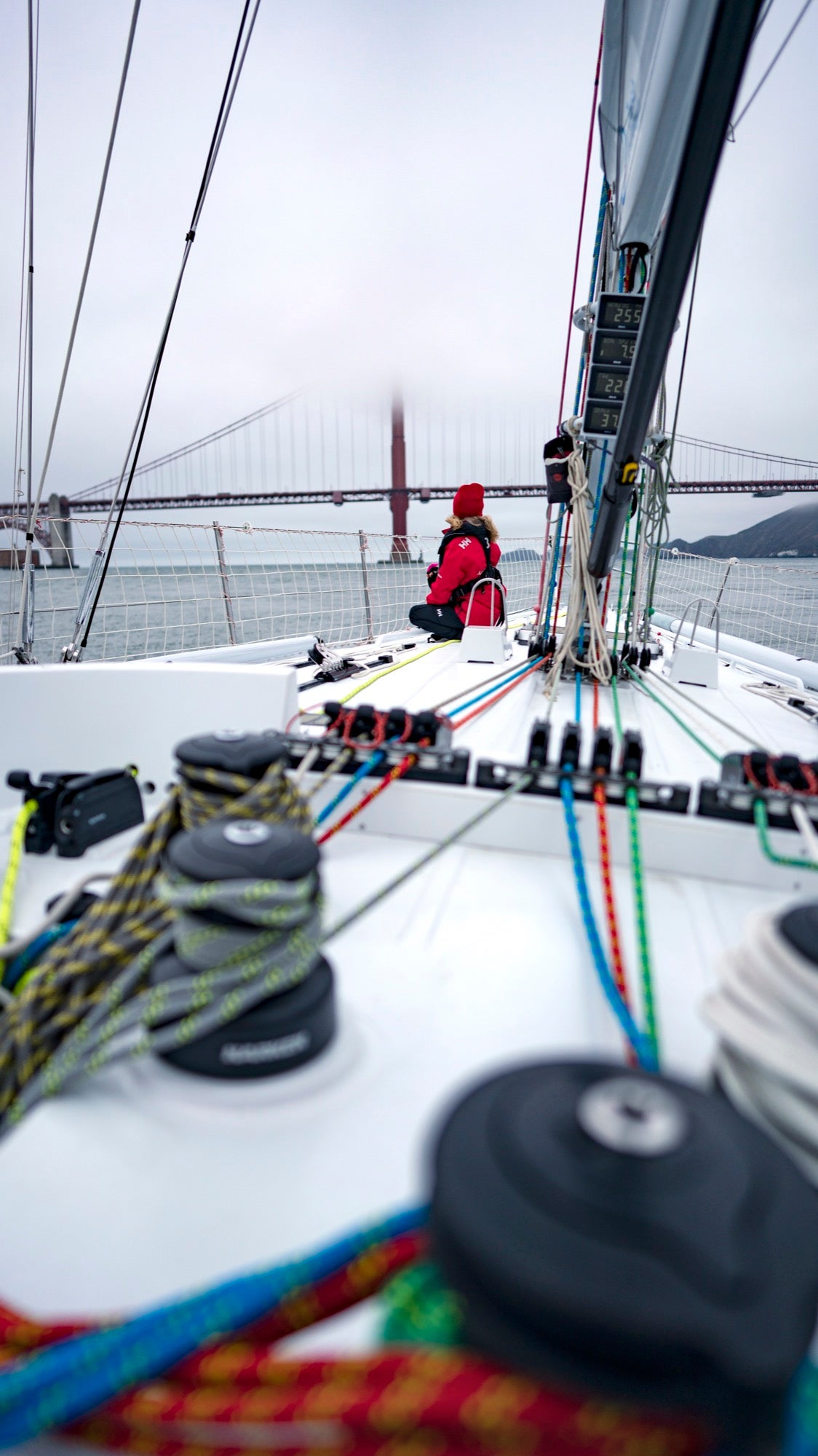 Sony α7R III, Sony 24mm f/1.4 G Master lens. Leaving San Francisco.
When departure day arrived, it was all very surreal. There wasn't much time for nerves. We weren't out of the Bay before skipper Wendy Tuck told me to put my camera away so I could learn how to tack. I did as I was instructed. The sails didn't rip, the boat didn't sink, and I didn't fall overboard. Things were off to a good start!
We weren't sailing long before we were greeted by a pod of dolphins, swimming and jumping alongside the boat. Whales started to breach off in the distance. I clipped my life jacket to the boat as I fought sea spray and my two left feet to film. "HARD TO PORT!!!!" full-time crewman Erica Lush (who happens to speak four languages) bellowed. "WHALE!!! HARD TO PORT!!" I don't think I registered what was happening, but I could see my body sliding across the boat. Then, the skipper yelled "HARD TO STARBOARD!!" My body slid back before the boat leveled out. Apparently, a whale got curious about us, and breached just inches from the bow.
Any fears I had about the ocean swallowing me up dissolved in that brief moment. Crewman Courtney Koos was a rockstar at the helm, not to mention the engineer on board. These women are legends.
Skipper Wendy Tuck was the first woman to win a round the world race. She's led many amateur sailors in the open water and took on the task of teaching me to sail. Her calm but firm guidance made me feel more at ease when I stepped up to take the helm on our second day. Guest crewman Ashley Perrin has sailed a staggering 130,000 miles throughout her career; a fact that I can't quite comprehend. That's the equivalent of circumnavigating the globe three times!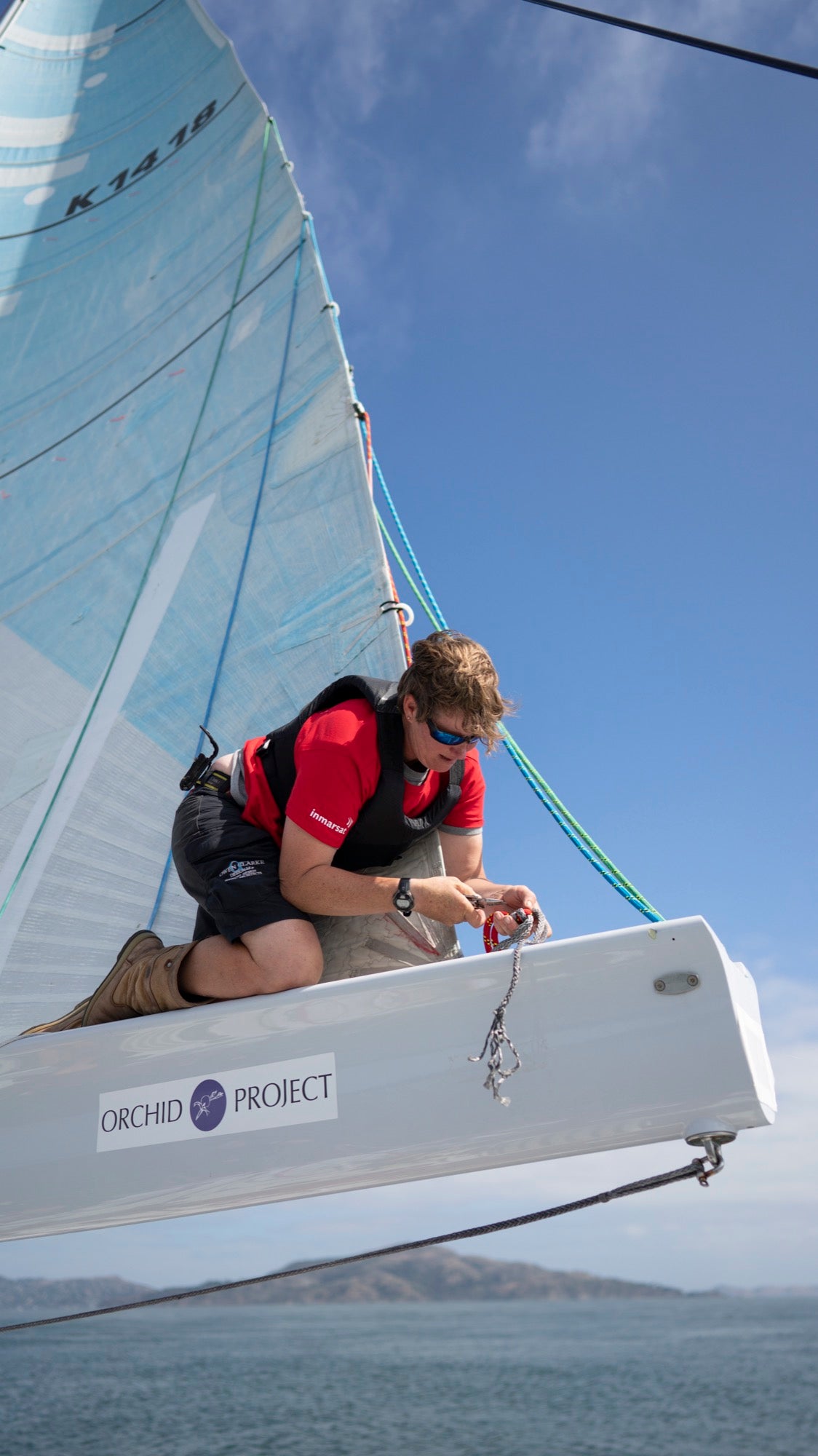 Sony α7R III, Sony 24mm f/1.4 G Master lens. Ashley Perrin at work on the end of Maiden's boom.
Not only do these women sail like they were born on a boat, they champion charitable organizations which focus on the well-being of women. Full-time crewman Belinda Henry admitted that she never imagined herself in this role. She never thought of herself as a feminist (I chuckled because she sounded just like Tracy does in the film). Belle's passion for inspiring and empowering young women is evident in everything she does. I had the opportunity to interview her about her work with 'Just a Drop' as she kept a watchful eye on guest crew Kellie Taylor at the helm.
Getting The Job Done
By the last day on the boat, I started to settle into a rhythm. The watches, the meals, and the motion of Maiden and her crew all felt a bit more natural. As I write this, I've been home for less than 24 hours, but I'm already vying to get back on the boat. The experience was bigger than any adventure I could have imagined. Not because I learned to sail. Rather, because I was part of something bigger than myself. I had the opportunity to add my voice to Maiden's mission to support education and opportunities for women, and become part of this amazing crew of courageous, compassionate women.
You can be part Maiden's mission, too. If you have dreams of sailing, Maiden has opportunities for both men and women to join the crew. However, you don't need to be a sailor to be part of Maiden's legacy. You can contribute by lending your voice to equal opportunities and education for women. You can also support the charitable work that Maiden and her crew champion on behalf of women all over the world. To learn more about how you can get involved, or follow Maiden's voyage, click HERE.
Set aside your own doubts and say yes to applying for Alpha Female before the deadline – September 15.

Apply now
.