In the early autumn, a friend and I embarked on a backcountry trip of a lifetime through the arctic tundra of the Yukon. For seven days, we hiked, camped under the aurora, cooked by a stream and photographed some of the most amazing mountain peaks and fall colors that I have ever seen. Packing for this trip required careful planning and attention to detail. Because I would be carrying clothing, camping gear and a week's worth of food in addition to my camera gear, every ounce of weight needed to be essential equipment. Even though my Sony Alpha mirrorless cameras and lenses are lighter than corresponding DSLR outfits, I still had to be strategic about what I brought along.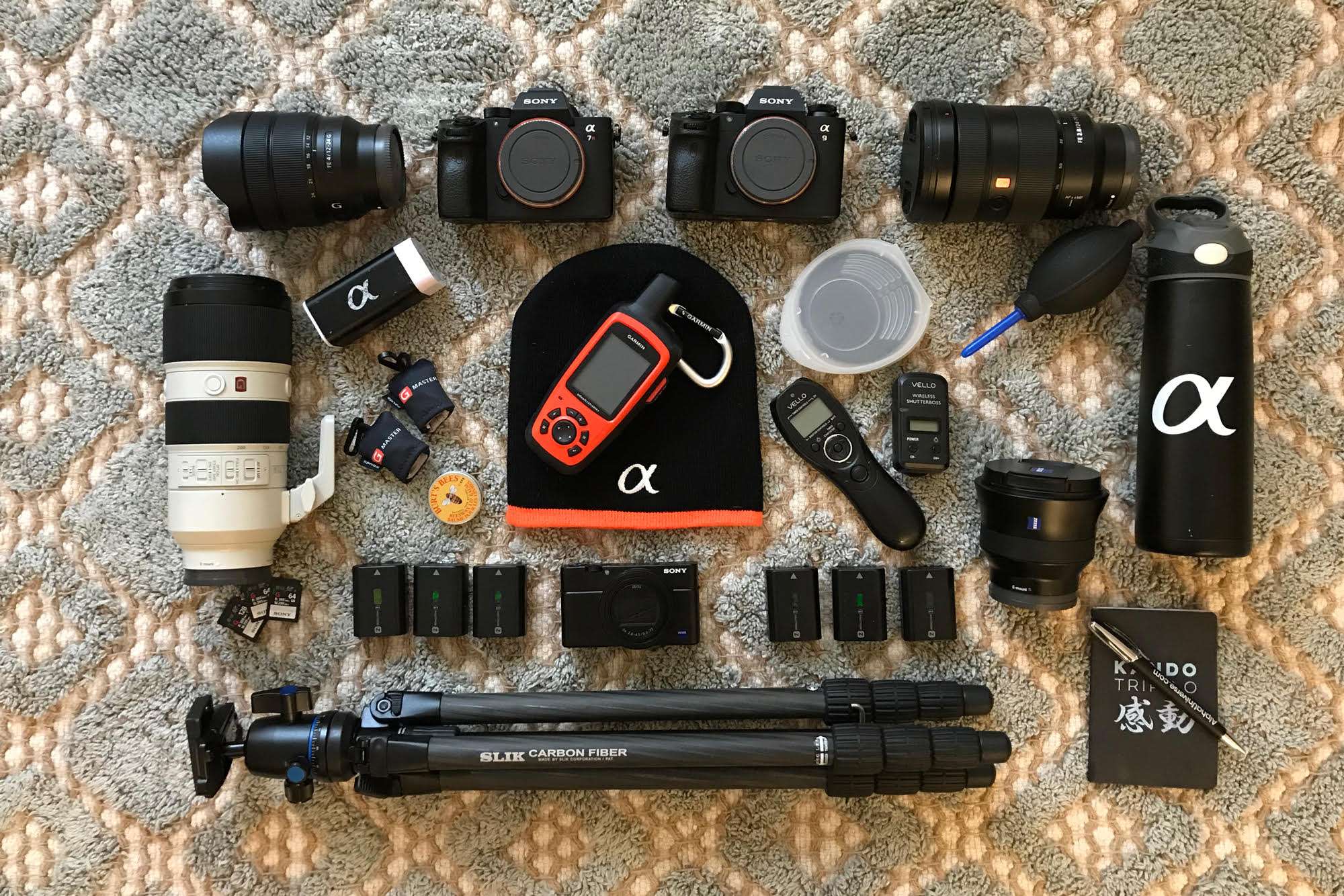 Cameras
Sony α7R III: This is my primary camera. As a landscape and astro photographer, I rely on the resolution of this 42-megapixel sensor. For this trip, however, I had to consider more than resolution when choosing a camera. First, the weather in the Yukon can be very unforgiving. Although it was autumn, we saw heavy snowfalls, and temperatures below zero degrees Celsius. I needed a camera that could stand up to harsh weather. I've shot with the α7R III in the depths of a Canadian winter and it has never let me down. Second, I couldn't charge batteries while I was camping so battery life was an important consideration. Typically, I can shoot for a full day (even when it is cold) on the α7R III battery and still have a charge to start the next day. I brought six extra batteries (one for each day) and despite shooting long days into long nights, I only used six batteries on my trip.
Sony α9: I borrowed the Sony α9 specifically for this trip and I completely fell in love with it. I typically do most of my shooting on a tripod, but on this trip I knew I would be doing some shooting from a helicopter, and that there was a possibility of seeing wildlife. I kept the 70-200mm f/2.8 G Master on the α9 most of the time. The combination of the α9's unparalleled autofocus at 20 frames-per-second with the long, fast lens, ensured that I never missed a moment when I saw bears, or mountain peaks briefly emerge.
Sony RX100 VI: This was a new addition to my gear bag over the summer, and I'm really glad that I brought it with me to the Yukon. Because my hiking pack was so heavy (60 pounds with all my camping gear!), there were many hikes that I did not want to stop and take my pack off to access my full frame cameras. I used the RX100 VI as a trail camera. It was brilliant. It's super sharp, and some of my favorite images were taken on that camera.
Lenses
Sony 12-24mm f/4: As a landscape shooter, I love to use a wide-angle lens close to small foregrounds. Doing so really opens up the possibilities for creating compelling landscape images. I used this lens the most, even when shooting the aurora because it gave me such unique foreground options.
Sony 24-70mm f/2.8 G Master: Typically, this lens is my primary lens when I travel. When I wasn't shooting crazy wide-angle shots, this was the alternate lens on my α7R III. It's so versatile – I use it for landscapes and for people. I love the bokeh I get with it.
Sony 70-200mm f/2.8 G Master: I developed a whole new level of appreciation for this lens on my trip to the Yukon. It was my go-to lens for shooting the peaks and wildlife, but I also got some amazing candid shots when we were in camp or waiting around for the aurora.
Zeiss Batis 18mm f/2.8: I brought this lens for shooting the aurora. I didn't end up using it very often as the Sony 12-24mm f/4 was my primary night lens. But there were a few occasions when I had two cameras shooting the aurora at the same time and this lens, which is designed for the Sony mirrorless system, is both fast and tack sharp.
Accessories
I really must thank B&H Photo for helping me out with gear. This was the first adventure like this that I have done, and B&H Photo helped me with the extra (but essential) items I needed for this trip.
Sony FE 2.0x Teleconverter: This small, lightweight piece of equipment turned my 70-200mm f/2.8 into the equivalent of a 140-400mm f/5.6. It was the perfect solution for longer focal-length shooting without having to pack another lens in my already heavy bag.
Extra batteries: I decided to bring enough batteries with me on the trip that I wouldn't have to worry about charging. In total I brought seven batteries, but I only used six over the course of the week. The battery life on the α9 and α7R III is amazing, even in cold weather.
Sony 64 GB SF-G Series UHS-II Memory Cards: I only shoot with Sony memory cards. I find that other brands don't keep up to the speed of my Sony cameras. I brought eight Sony 64 GB SF-G Series UHS-II memory cards to the Yukon because I couldn't back up any of my images while I was in the backcountry. These cards keep up with the α9's 20 fps shooting speed and they are also super fast to download.
Vello Wireless Shutterboss III: I use a remote shutter trigger for a variety of photography including astro-landscapes (when I use it to avoid camera shake), self-portraits (when I'm holding a light source in a night shot) and timelapse. This wireless remote has a range of 250' and runs off AAA batteries.
Camera Care: Keeping my gear clean and dry was a top priority. I brought tons of lens cloths, alcohol wipes and a blower for cleaning. I also had a rain sleeve to keep the camera dry while I was shooting, and I used silica gel packs in my camera bag to absorb any moisture.
Slik USA 724CF Tripod: This tripod has been all over the world with me. It's lightweight but solid enough to stand up to the elements.
Garmin InReach Explorer: This handy unit has GPS, weather updates, and I can even send text messages home to my family. It also connects directly with search and rescue. Luckily, the only messages I sent during my trip were to let my loved ones know I was having an amazing adventure!
If you're interested in seeing some of the photos from Rachel Jones Ross' adventure in the Yukon, connect with her on Instagram @rachel_jones_ross.