Portraits have stirred my soul for over a decade. I love to capture my subjects in classic light with a personality shining through. It was portrait photography that motivated me to switch to Sony originally when I saw what I was able to do with the Sony α7S and a single candle when shooting a portrait. My approach for portraiture is always very minimalistic in nature, with the focus always being on my subject. The gear I choose must work flawlessly to capture my vision while freeing my mind to interact with my subject. If the α7S brought me to the Sony mirrorless system, you could say the lenses have kept me here. I've moved from the α7S to the Sony α7 III and α7R II and, in my minimalist kit, I have three native E-mount prime lenses.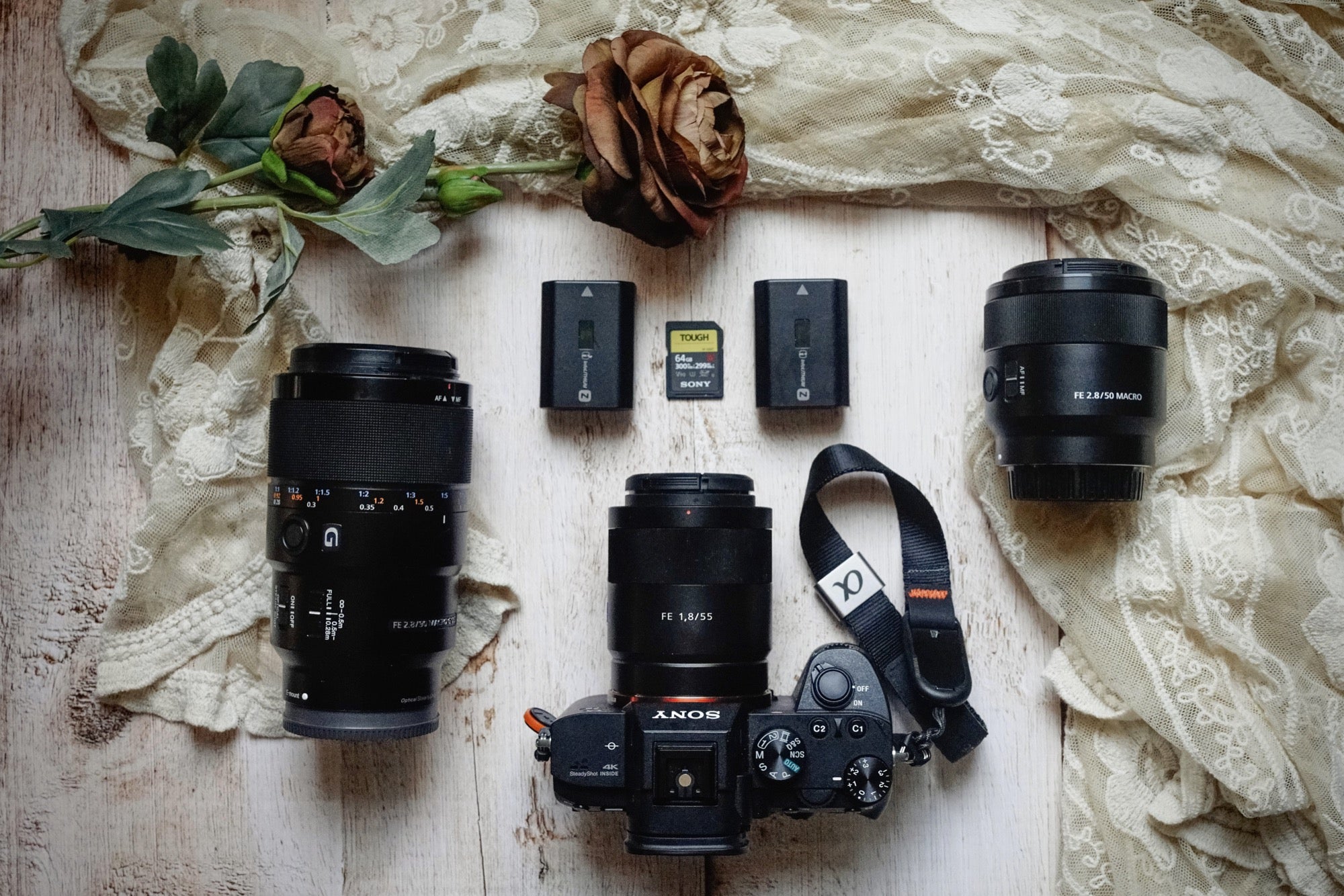 Cameras
α7 III: This camera has been my go-to for the last year. It has made portraiture incredibly easy with advanced Eye Autofocus. What used to be a tedious task of toggling focus points in years gone by has now become effortless. I can focus 100% of my attention on my subject while letting the Eye-AF continuously track their eye. My job is easier and it shows in the images.
α7R II: The α7R II gives me all the resolution I could ever want in an image. It's become by second portrait body since I started using the α7 III, but it's my go-to choice for the times when the shot has a lot of small details as it captures everything so sharply.
Lenses
Sony FE 90mm f/2.8 Macro G OSS: This is my workhorse lens. I never leave home without it! While it was designed for macro, it excels at portraits. I use this lens to capture details...eyelashes, hands, flowers, hair, etc. So much emotion can be conveyed through body posture and hands, and this lens lets me step back and take in the whole scene, but then move in quickly for spontaneous details that enhance my story. When details matter, this lens delivers in a way that I have not experienced with any other macro lens.
Sony 55mm f/1.8: The 55mm f/1.8 was my first Sony lens and it's still one of my absolute favorites. It's both light and crazy sharp. It also has beautiful color rendition. The fast f/1.8 aperture lets me be creative with depth of field and also shoot by the light of single, dim sources which I love to do. It's small and lightweight, and produces stellar images.
Sony FE 50mm f/2.8 Macro: The 50mm Macro is so lightweight and also gives me the close focusing distance I crave when capturing details. I will choose this lens over the 55mm when macro becomes a bigger portion of the session.
Accessories
Sony Tough Cards: I LOVE these cards! Gone are the days of the little write protection tab falling off or spilled coffee wrecking cards! The high tensile strength and durability of these cards gives me great peace of mind.
Extra batteries: I often forget to check my battery life, so I always tuck a couple fully-charged batteries in my bag, just in case. The α7 III's Z batteries last forever and I rarely need more than one for a full day of shooting! Still, there are times when I'm away from a power source for the day and for peace of mind I like to have backups.
Lace Kimonos: This multipurpose item can be worn or used to diffuse light! They can add a smooth or a dappled look to the light, while diffusing harshness, but they also fit many sizes so I can add a layer of femininity to any outfit my subject may be wearing. Nothing is as pretty as golden hour sun through lace, so I make sure to save room in my bag for at least one kimono!
Hobby Lobby Flowers: I always have a few silk flowers in my bag. I find that my subjects often relax faster if they have something to hold. Flowers are light and pack small, while adding beauty at the same time. They are truly multipurpose and perfect for feminine images!
Caroline Jensen is a Sony Artisan Of Imagery and one of the mentors in the Alpha Female program. You can learn more about Alpha Female here.