The wait is over. The second round of Alpha Female Creator-in-Residence is now open, and it's bigger and better than ever.
If you've been following Alpha Universe in the past year, you've seen our Alpha Female updates. Five women in the photography and video industries were selected to become the Alpha Female Creators-in-Residence, and to say the program was a success would be an understatement. Together with an enthusiastic and supportive community that put their full support around Alpha Female and turned it into a veritable movement, we were able to shine a light on women's challenges in photography and video, and contribute to the solution that someday soon, we hope, will lead to equal voices for all gender identifications.
As we went about the activities of the program's first iteration, we were also learning important lessons that we could put toward making Alpha Female 2.0 an even greater success. We learned a ton about the pace of the program—allow room for thinking and planning; about the program visibility—allow time and resources for the creation of content that will keep the community updated on our work; about the needs of the winners—more time with mentors and the Alpha Female team was paramount; about the program resources—we invested quite a bit more in our winners than originally planned, because it was the right thing to do and we wanted to see them succeed.
One of the biggest requests from the last round was the more intentional inclusion of filmmakers in the program. While we did have a documentarian among our Creators-in-Residence, the community wanted dedicated filmmakers to be a part of the program. So this year, we're excited to announce that we've added a spot to our roster, and now we have six Creator-in-Residence spots, two of which will be dedicated to filmmakers. Our endeavors in cinematography have evolved rapidly over the past year, and now we have more resources at our disposal, such as the recently opened Digital Media Production Center in Los Angeles and our collaboration with our Sony Pictures sister company. We're excited to welcome filmmakers into Alpha Female and to read through all the proposals for shorts that will be submitted to us.
Over the past year our beloved community has also grown in an "official" way, through the founding of the Alpha Female Facebook group. With over 2,100 members, this group's participants have proven to be a wealth of knowledge and selfless support for each other. One of the most important and gratifying things we've experienced has been the winning attitude of those who did not win one of the five Creator-in-Residence spots, but used the application as an opportunity to re-commit to their dreams, and pursue their long-term goals with renewed vigor and excitement. The application had been designed, indeed, with the goal of helping every single applicant, whether they won or not. With only five spots available and thousands of applications submitted, we wanted to ensure that the work put into the application would serve a higher purpose, and the process would be a clear reminder to every applicant of why they're committed to a career in the visual arts in the first place.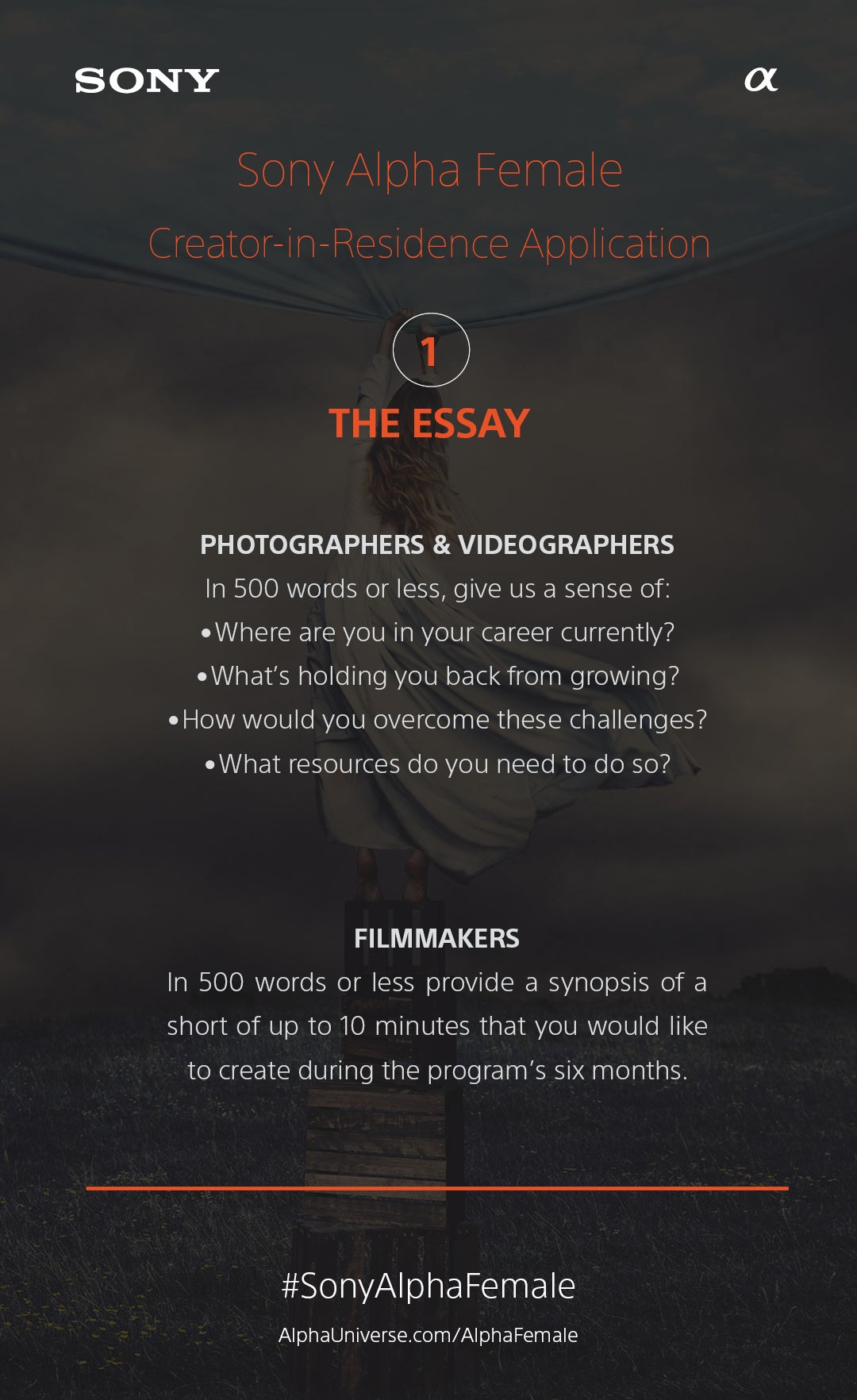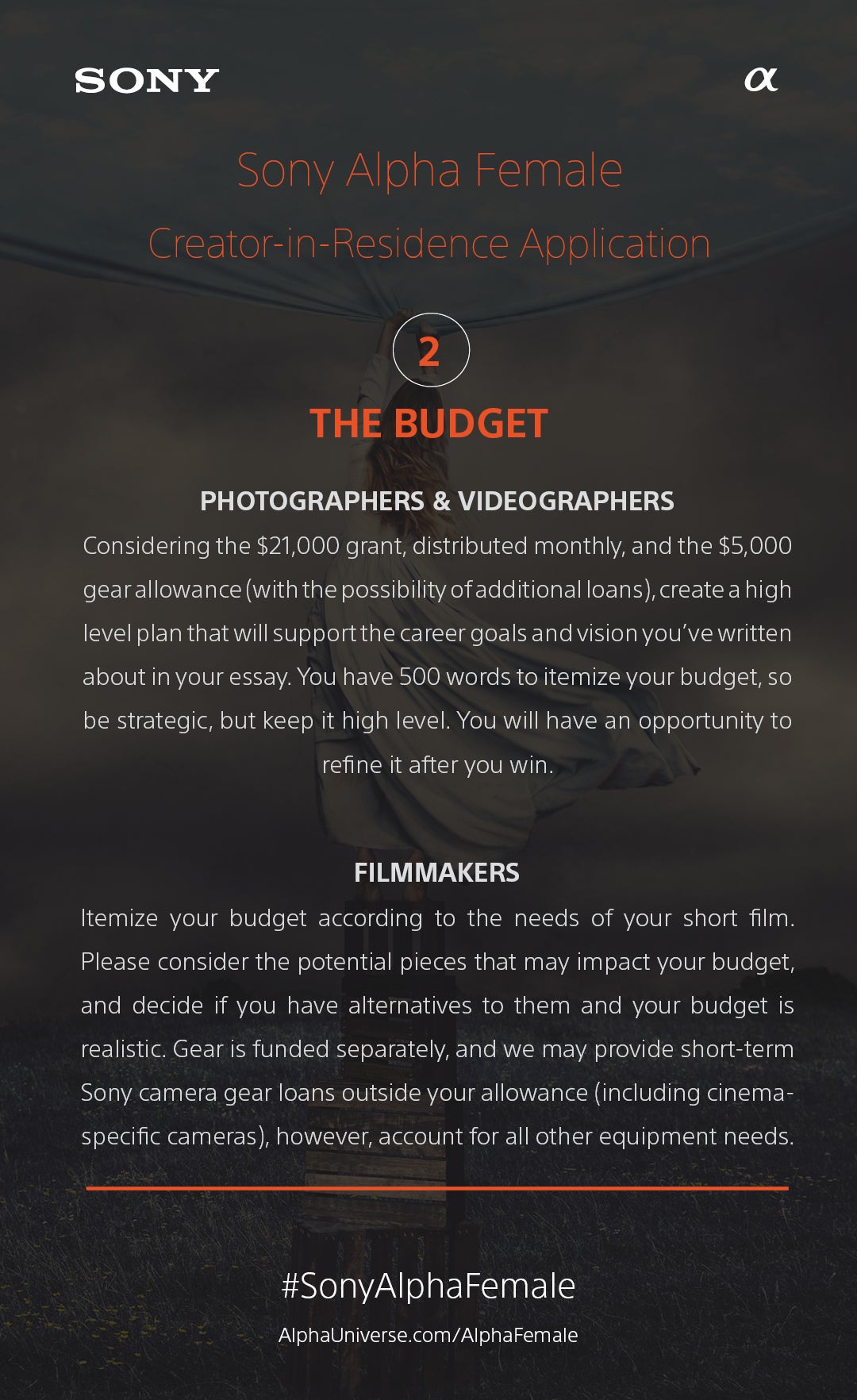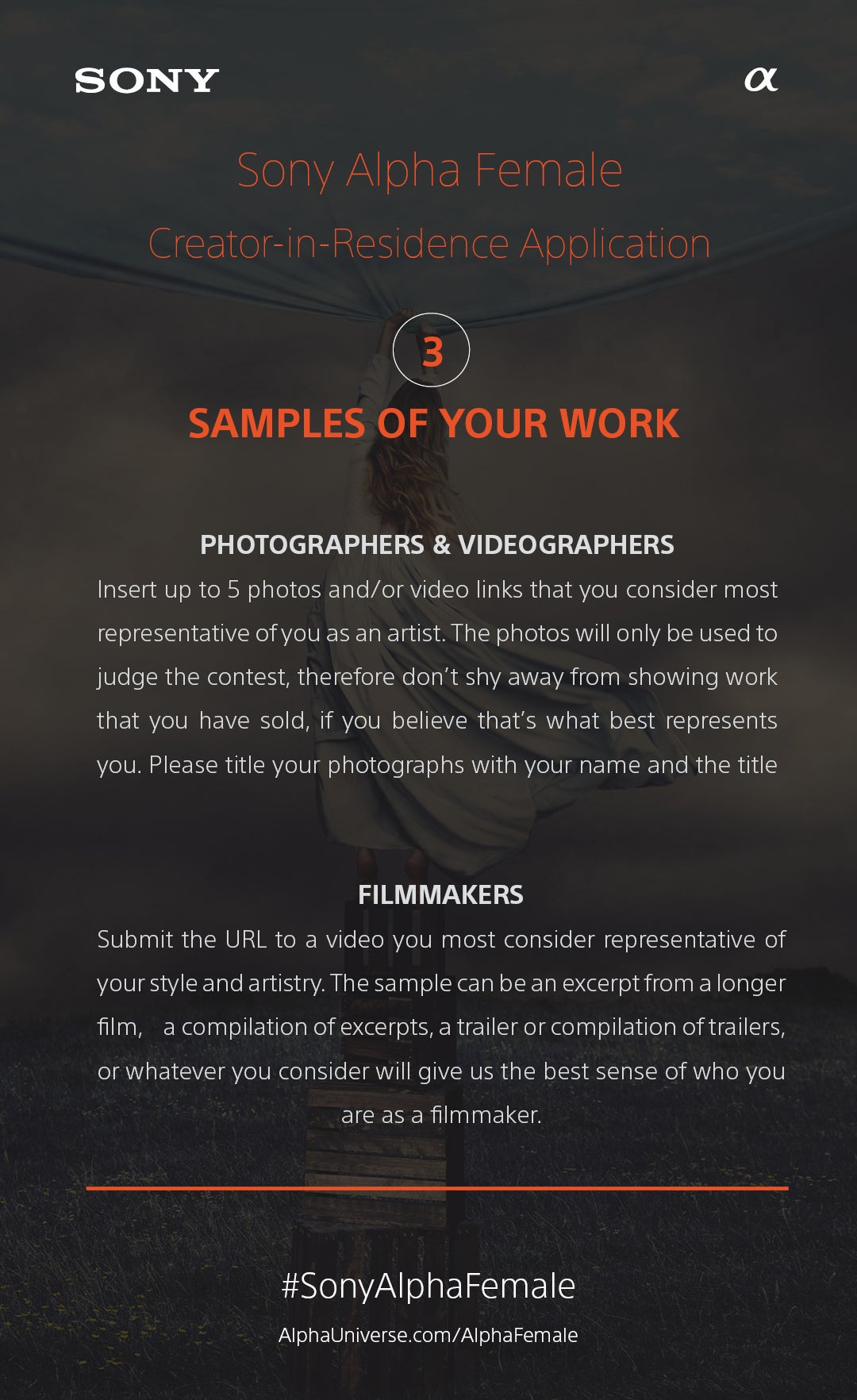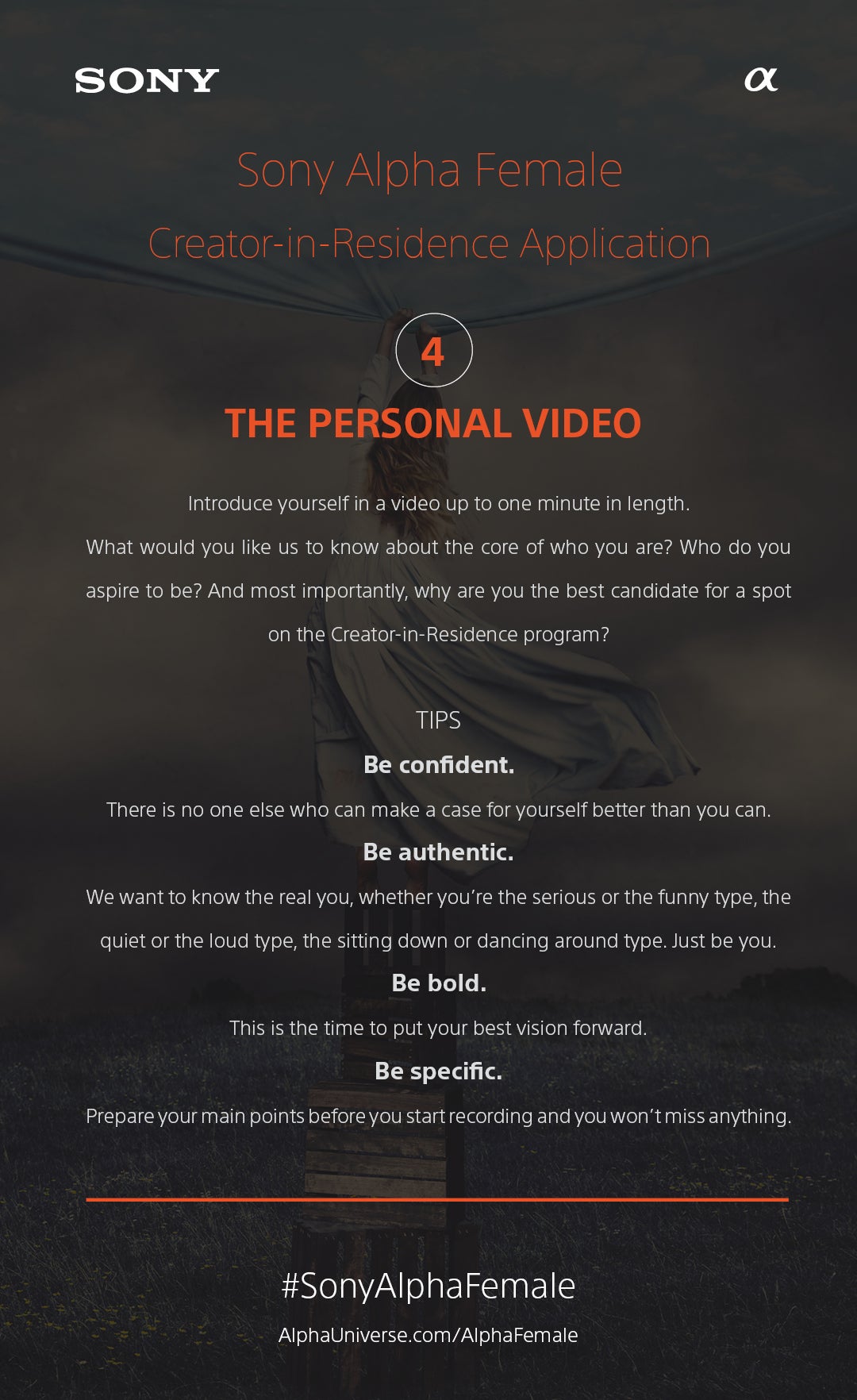 We expect the same showing and commitment this year, and if there's one thing we've learned is that submitting yourself to this program will absolutely and definitively help you regardless of whether you win or not. So if you're a woman who knows that a career in photography, videography, or filmmaking is your future no matter what, then please do yourself a big favor and take the time to apply. We're certain you won't regret it.
See you in the contest and good luck to everyone!