Internationally renowned photographer and Sony Artisan of Imagery Ira Block aims to make photographs that make the viewer feel as if they're actually standing there in the moment they were taken. He wants to create a connection between the viewer and the person he's photographing. Lens choice, and specifically choosing a focal length that creates a natural perspective, is an integral part of that process. 50mm is usually thought of as being "normal," but Block, like many great photojournalists, sees a little wider when he's shooting. He prefers 35mm and the latest addition to his camera bag is the new Sony 35mm f/1.8. It's a sleeper lens in the Sony native mirrorless lineup that gives Block a combination of performance, perspective, speed, size and value.
Sony α9. Sony 35mm f/1.8. "I was walking through some back streets in Asakusa, Japan which is an area where people are often dressed up in traditional kimonos. On the back streets, I came across this moment when these girls were fixing their hair and makeup and they were looking at themselves in selfie mode in their cameras. It's so bizarre. Here, you have traditional clothing, and everyone's on their cell phone, primping. Right after this they did a picture of themselves. I have a photo of that as well, but, I thought this was more of a moment."
"I usually carry one or two primes with me for low light shooting or night shooting," Block explains. "Typically, I would carry a 55mm f/1.8 because it's really an incredible lens, but as much as I like that lens, it isn't a focal length I usually shoot with. I need something a little wider. The 24mm f/1.4 is a terrific lens, but sometimes it's a bit too wide. This new 35mm f/1.8 fits perfectly for my style of shooting. For some people 50mm is their normal perspective, but for me, 35mm is the perspective that I see and this 35mm f/1.8, like the Sony 85mm f/1.8 is small, light and very sharp."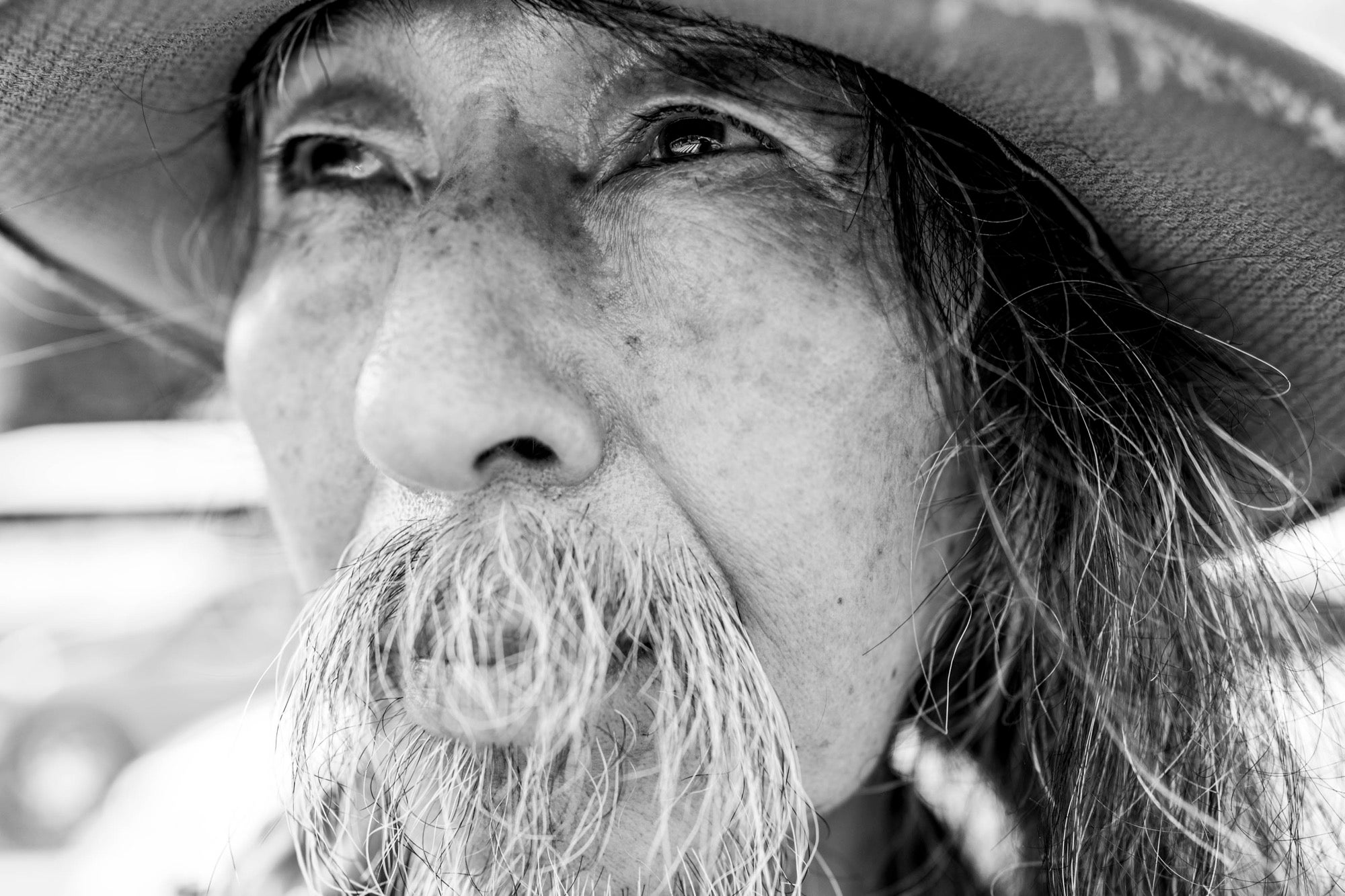 Sony α9. Sony 35mm f/1.8 "This just goes to show you can do portraits with these lenses and get in close. It gives a different effect. Here, of course, his beard and mustache were interesting to me, so the low angle brought that in. Then, you get into the eyes a bit. I did this in black and white because I just thought color wasn't necessary and would have distracted from the image. This photo also shows the versatility of the lens and how close it focuses. You'll notice there's not too much distortion. Sometimes, when you get close, the nose gets a little bigger, but with the 35mm f/1.8, you're not drawn to any distortion here. I tend to do a lot of my portraits horizontally, because I always feel that a vertical face, a face that's long and thin like this, in a vertical format, has no tension. Whereas, here, there seems to be a little bit of tension, just because of the framing."
Photographers can argue about whether 35mm or 50mm is a "normal" lens on a full-frame camera (one definition of normal uses the diagonal measurement of the frame, which in the case of full frame is about 43mm), but the bottom line for Block is that a photo made with a 35mm lens looks natural. "The lensing, that lens effect, isn't the first thing you notice when you look at a picture taken with the Sony 35mm f/1.8." says Block. "You're not aware of the photographic elements of the lens, there's no compression or distortion. The 35mm is very neutral to me, it's more pure. When I'm thinking of taking photos, I think I see somewhere around 35mm. If I'm just walking every day, I'm scanning the streets and I'm looking at what I'm doing. When I'm thinking about taking photos, my field of vision for what's going to make a good one is in that 35mm range."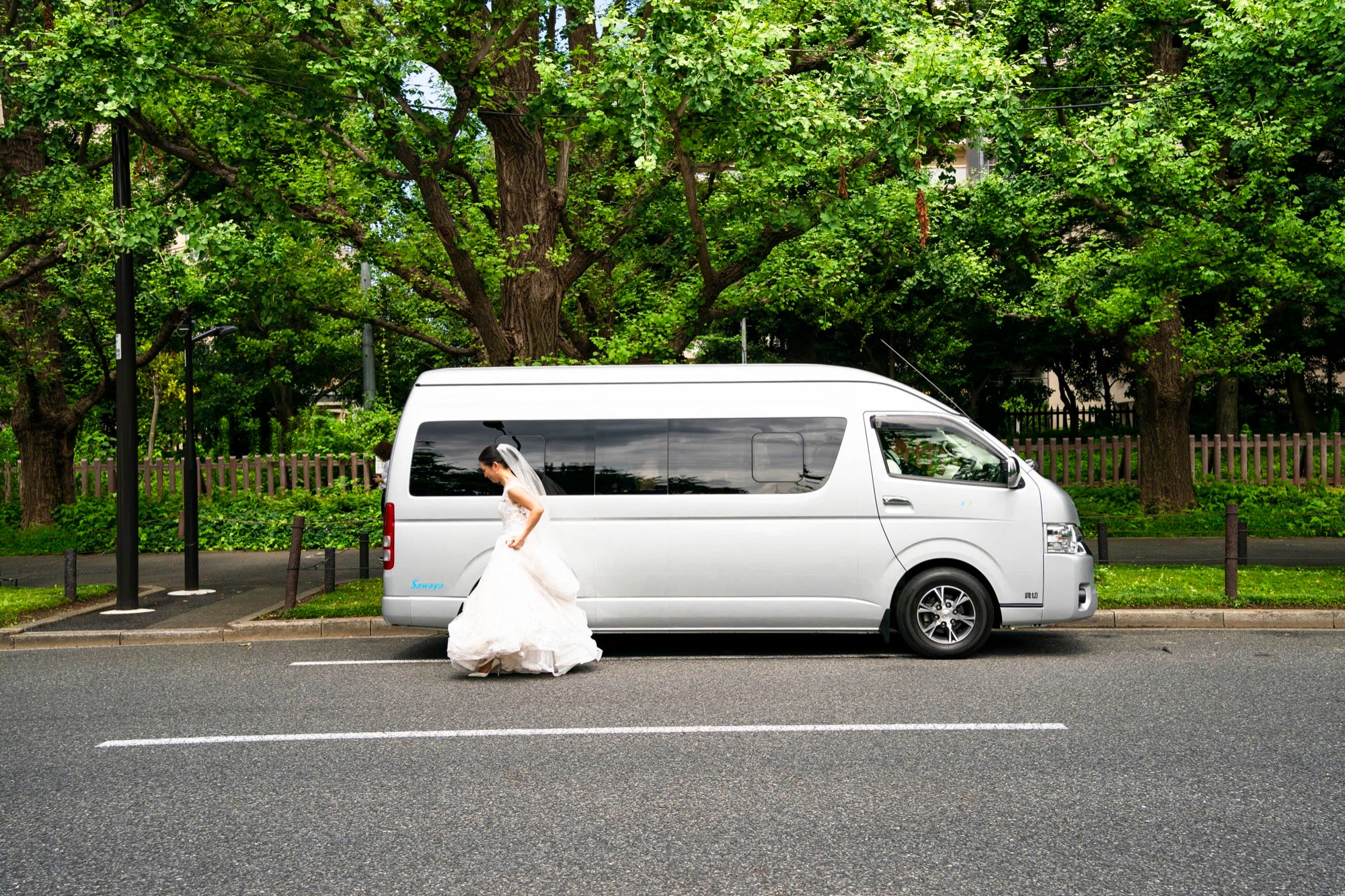 Sony α9. Sony 35mm f/1.8. "I had just gotten the 35mm f/1.8, I was walking around and I said to myself, "OK, I'm just going to put the lens on my camera and that's what I'm going to use." This bride was actually having her photos taken and I was across the street when I saw her walking by the van. I saw her position, and then I thought to myself, 'Damn, I'm across the street, I'm not going to be able to get in close. I wish I had a zoom lens with me.' That's the first thing that came into my mind. I thought if I had a zoom lens I could get closer, but then I just did what I could with the 35mm. When I got back to the computer and looked at it, I saw there was something nice about the line. The dark road, then the line in white, her, and then the white van. I thought, 'Wow. Here's a picture where the surroundings and the graphics really all come together. Everything's black and white except for these lovely trees that are the background canvas to the picture.'"
It's not only that you are unaware of the lens when you view the photo. Block says his subjects are also hardly aware of it when he's taking the photo, something that's important for much of his work on assignment. He often travels to different parts of the world documenting people and their cultures.
"For my work I have to connect with people," explains Block, "and connecting with people means getting them to feel relaxed around you so they continue to go on with what they're doing in their life instead of unnaturally posing. The 35mm f/1.8 is a very small lens that works for a lot of the photography that I do. It's a smaller piece of glass than the 35mm f/1.4 so people don't react differently when they see it pointed at them. It's a little wider than the 50mm so I'm able to get a bit more background when I'm photographing someone. I just like to keep the attention drawn away from the fact that I'm a photographer, and especially that I'm a professional photographer, so that people can be more in the moment."
See more of Ira Block's photography on Instagram @irablockphoto. Ira and the Alpha Imaging Collective are heading to Thailand. You can follow their adventure at #AICdoesThailand.