When I traveled to Morocco this year, my goal was to challenge myself to do something out of my comfort zone photographically. I decided to do street photography, which I don't usually do, so from the approach and composition to cameras setup and lens choices, it was a whole new experience. One thing I knew I had to do while I was there was to get the perfect portrait, and I ended up making that portrait in a slightly unconventional way. At least it was unconventional for me.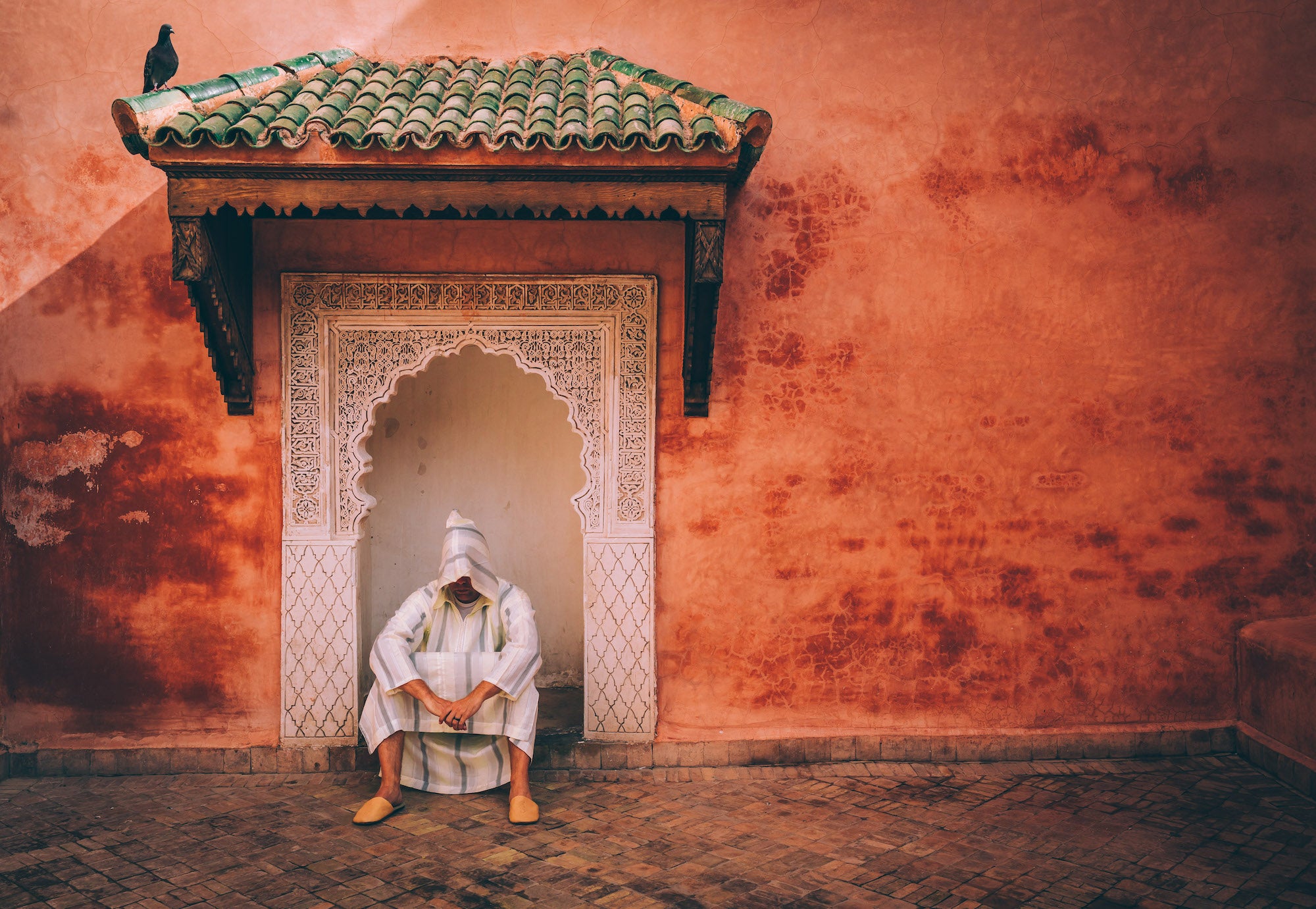 Sony α7R III. Sony 16-35mm f/2.8 G Master. 1/1250-sec., f/5, ISO 400.
Preparing for the trip, I had to mix up my gear to focus on street photography. I had my Sony α7R III which is my main camera and I brought two lenses, the Sony 16-35mm f/2.8 G Master and the Sony 55mm f/1.8. I had just purchased the 16-35mm f/2.8 G Master and it has become an immediate favorite. I planned to use it for architecture and my main walking around lens. The 55mm f/1.8 is the first Sony lens I ever bought and my plan was to use this one for portraits because it's so crisp and the best portrait lens I've ever shot with.
When The Best-Laid Plans Go Awry, Take Matters into Your Own Hands
I learned pretty quickly that I wouldn't be able to enlist one of the locals for the portrait I wanted, so I had to get creative. I went to the market and I bought the traditional Moroccan garb. I took traditional Moroccan slippers from the hotel. Then my wife and I walked around trying to find the right spot for what would now be a self portrait. When I saw this doorway I knew it would make for the perfect setting.
Because I wanted to capture the ornate Moroccan doorway and the wall, I actually ended up shooting with the 16-35mm f/2.8 G Master on my α7R III. To get the camera settings just right, I had my wife sit in the doorway while I made the adjustments. I was shooting in full manual mode to get the settings locked down for when we would be switching places. I set my ISO to 400, my aperture to f/5 and I adjusted the zoom to a focal length of 33mm. I set my shutter speed high at 1/1250-sec. in case the pigeon were to fly away during the shot and I set the camera's drive speed on high to ensure nothing would be missed by having that rapid succession of photos. (This is good technique to ensure a sharp photo, especially when the camera is handheld because as you press the shutter button you can introduce a slight amount of camera shake and if you're shooting a high speed burst, by the second or third frame any shake from your finger pressing the button has steadied out.) Actually, I wasn't really expecting the pigeon to stay there posing the entire time, but it did!
Once I had all of the camera settings in place, I traded spots with my wife so she could press the shutter. I'm very proud of how this turned out, especially because my wife was part of the process. Adding a human subject to a scene like this takes it from being a post card to a much more meaningful image. It makes it so much more powerful and I was able to do it in my style, my way.