James Sengul (@jamessengul) is a freelance photographer and videographer who has been a genuine enthusiast for more than 30 years. He has experience as a pro sports photographer, working at a daily newspaper and covering sports for 15 years. Photography is and always has been his passion, and he says he's never seen it as a 9 to 5 job. Now he's into wildlife photography. "Recent climate change and wildlife destruction brought me to wildlife photography. I think it's important to archive wildlife before it diminishes in front of our eyes. I would like to bring awareness without invading their space." We saw this photo of his, taken with the Sony Alpha 7R IV and Sony 200-600mm f/5.6-6.3 G and we connected with him to learn more. See more on his Alpha Universe Profile and create your own Alpha Universe Profile HERE for your chance to be featured on AlphaUniverse.com.
How a sports pro-turned wildlife photographer captured the drama of a combative moment, and why speed isn't necessarily his primary need in a camera.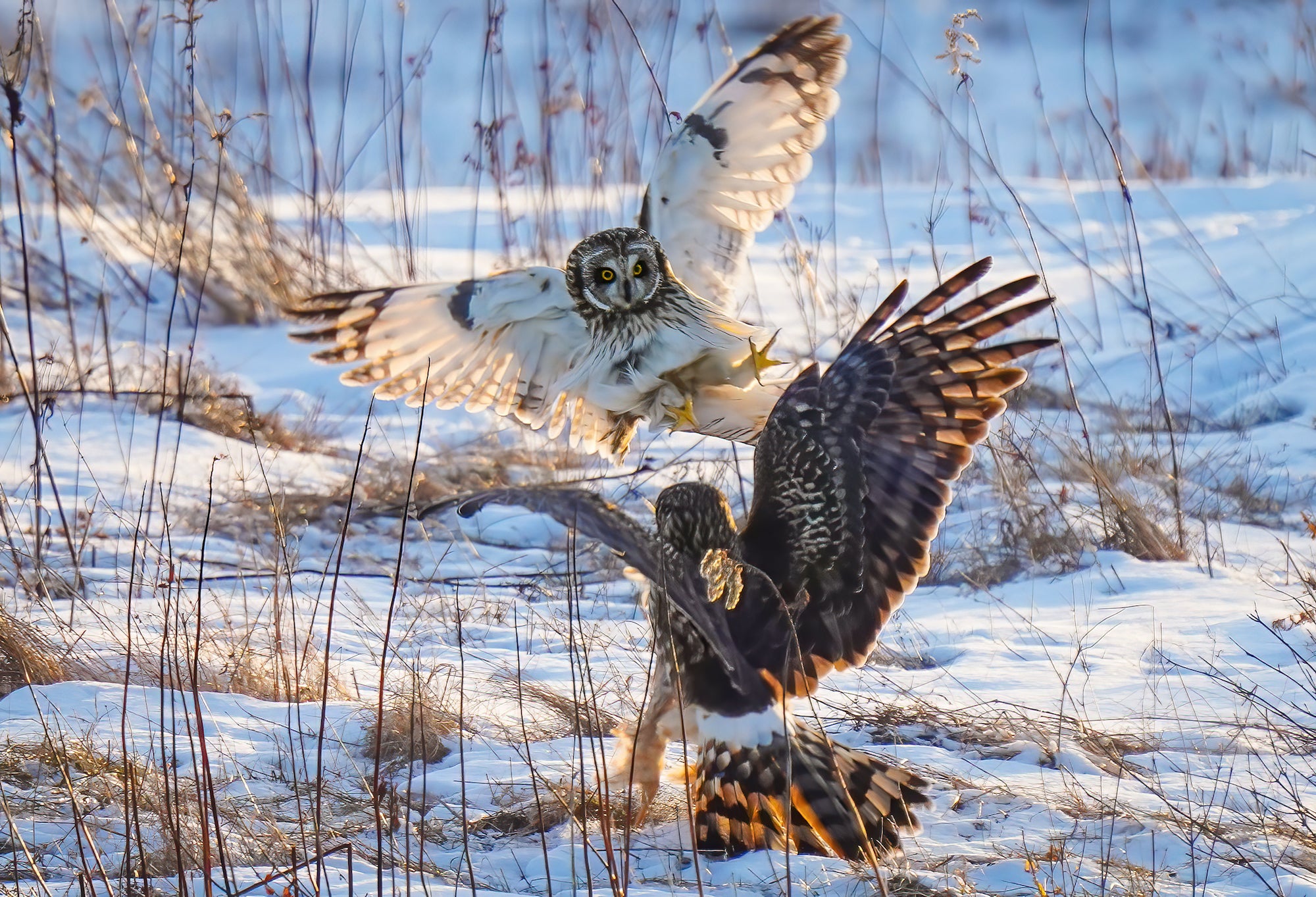 Photo by James Sengul. Sony Alpha 7R IV. Sony 200-600mm f/5.6-6.3 G. 1/1250-sec., f/6.3, ISO 800
The Scene
Short-eared owls come to Shawangunk Wildlife Refuge in upstate New York every year. Starting from November till end of March, the short-eared owl comes to this waste grassland for hunting. It's full of voles and field mice. Of course there are species like northern harriers going after the same prey. Sometimes they fight for the vole, sometimes they share their prey. You can see confrontation of those species all day long. It's incredible to witness wildlife as its best. Short-eared owls are especially playful and eventful which makes them joy to photograph. It's a challenge and very rewarding to photograph them interacting with each other and with northern harriers. Especially in winter sometimes I have to be there for 5-6 hours to get good shots in freezing weather.
Sony Magic
I started photography with a film-based Nikon back in the 80s. Then Canon introduced the EOS system with an autofocusing system which was a big step forward for action photography. I used the Canon System for more than 20 years but as a fan of technology, I saw that mirrorless cameras showed big promise. When everyone had doubt in mirrorless technology, Sony stepped up. I have been using a Sony Alpha 7R IV for six months now. I have to say it's the best camera I have ever used in every way. I was using a Sony 200-600mm from the beginning, but I recently bought a Sony 600mm G Master f/4 and I couldn't be happier. I believe Sony is the future of photography. They have resources and more enthusiasm for the business and it shows.
Creating The Image
The Sony Alpha 7R IV is not the fastest camera (the Alpha 1, Alpha 9 and Alpha 9 II are faster), but 60 megapixels and APS-C mode in 25 megapixel is a big deal for me when photographing wildlife. Even when I have a long reach, sometimes I have to crop the picture no matter what. Most wildlife photographers prefer the Sony Alpha 9 or Sony Alpha 9 II but I prefer the Sony Alpha 7R IV for cropping power without losing image quality. When I shoot birds I try to keep my shutter speed at least 1/1250-sec. I always follow short-eared owls when they are on the ground because this is a good opportunity for northern harriers to attack. Harriers usually follow owls to steal their prey. In this case the short-eared owl didn't have anything, but I was ready for their interaction.
As an old timer I'm not a big fan of post production, but I have to admit Sony cameras having 15 stops dynamic range is a big advantage. I like to shoot JPEG and light editing. I usually like to bump to colors as acceptable as possible. Sharpen and clarity if necessary and keep it as original as possible.
See more of Sengul's work on his Alpha Universe Profile. Join Alpha Universe and complete your public profile. It's free and you'll have a chance to be featured on Alpha Universe! Click here to learn more.