Photographer Nick Bellinger (@nickbellinger) enjoys long exposure and landscape photography and is known for capturing color and playing with light. We came across this Milky Way photo of his and connected with him to learn more about how he captured it with his Sony Alpha 7R III & Sony 16-35mm f/2.8 G Master. See more about this photo of the day below.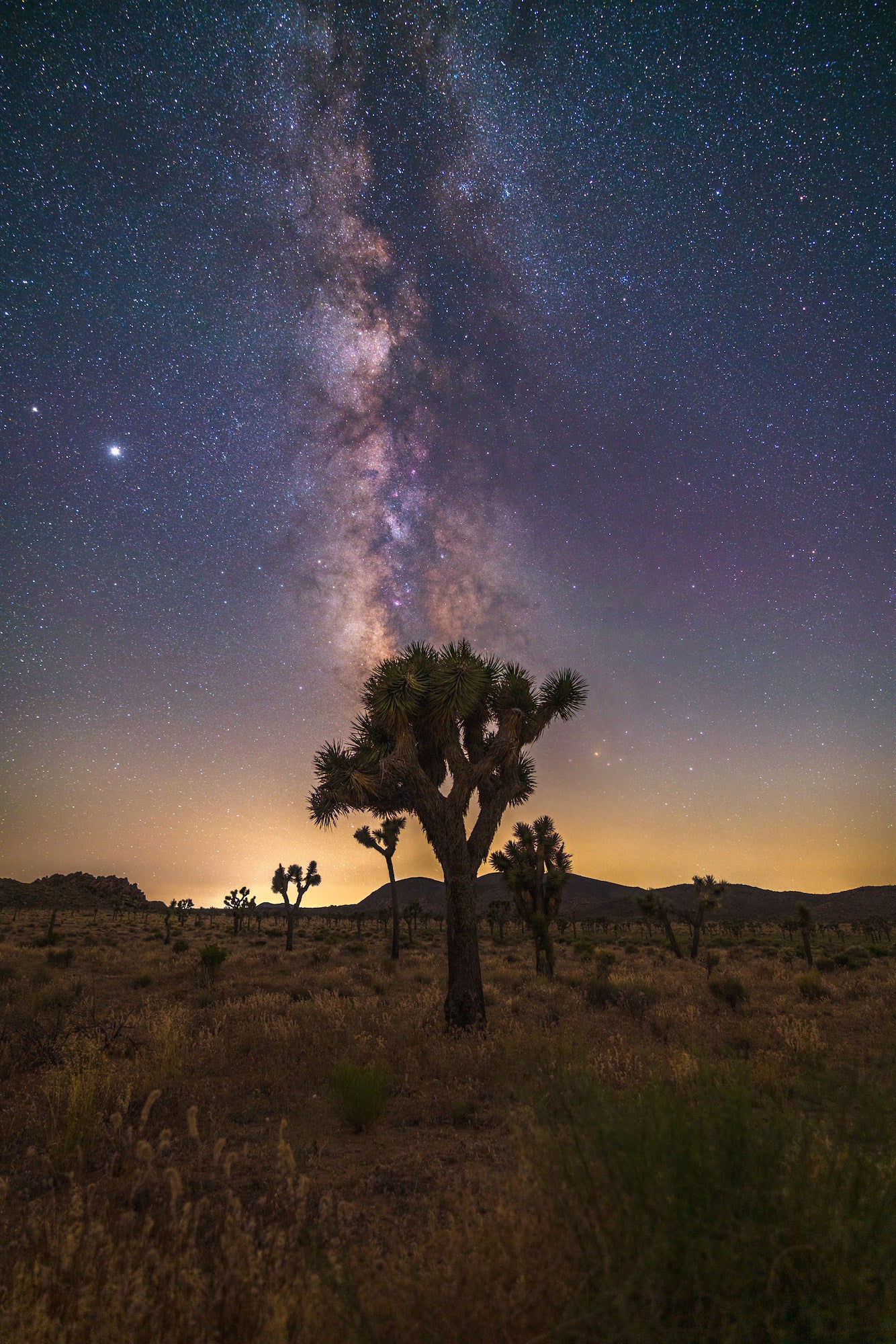 Photo by Nick Bellinger. Sony Alpha 7R III. Sony 16-35mm f/2.8 G Master. 152 secs., f/2.8, ISO 2000
See how photographer Nick Bellinger created this stacked Milky Way astro landscape shooting for detail in the foreground and a rich, starry sky.
The Scene
I shot this photo on a quick Milky Way trip to Joshua Tree with my girlfriend who is also a photographer. When you arrive at Joshua Tree at night, it is hard to find a composition because of how dark it is, especially during the new moon. It's also hard to find a spot to shoot that isn't a generic pull-off spot. On this night we were looking for a good Joshua Tree to shoot the Milky Way over, and as we were driving we spotted a dirt road and decided to explore down it. As we drove for a bit, shining the car lights into the abyss so we could see, my girlfriend noticed this tree that was perfectly under the Milky Way. We pulled over and set up our gear on the side of the road.
Astro With The Sony α7R III & Sony 16-35mm f/2.8 GM
For this photo I used the Sony Alpha 7R III and the Sony 16-35mm f/2.8 G Master. I really love using the Alpha 7R III for astro because of the way it handles noise at a high ISO. I am able to shoot at ISO 6400 or even ISO 12800 and still produce a quality image with a lot of detail and color. The camera's 42MP also gives me flexibility for cropping in if need be. When I'm shooting in the dark I use both the touch screen monitor and the electronic viewfinder (EVF) to help lock in focus and produce crisp stars. I love the 16-35mm f/2.8 GM as it is wide enough to capture the whole scene and the f/2.8 is fast enough to get amazing detail and sharpness in the foreground elements.
Stacking Images To Create One Final Shot
We got our gear setup on tripods with our composition showing the Milky Way core directly over the tree. I always use an intervalometer for timelapses and long exposure shots like this one to eliminate any camera shake my hand could produce. Due to the dark skies and because I want to get as much color and detail in the image as possible, I always stack my images and shoot them at a high ISO. Stacking them allows me to pull great color and detail from the image while also eliminating noise in post production.
For this final image, I took 15 shots of the Milky Way at 13 seconds and 12800 ISO, and then shot the foreground at 2000 ISO for 2.5 minutes. I then used a program called Starry Landscape Stacker to combine the sky images into one clean image and then blended that with the foreground in Photoshop.
See more of Nick Bellinger's work on Instagram @nickbellinger.