The perfect all-in-one zoom is a lens for every photographer's bag. It's just too convenient not to have. Everyone from National Geographic professionals to enthusiasts purchasing their first lens has a story about how it's been the tool that saved the day because of its versatility and the fact that it was on the camera when the decisive moment happened.
Originally designed for the NEX line, the Sony 18-200mm f/3.5-6.3 LE is compatible with APS-C format bodies like the α6300 and α6000, the 11X zoom range covers the full-frame equivalent of 27-300mm. Even with that broad range, the lens is both small and lightweight (2-3/4(d) x 3-7/8(l)" and 16.3ounces).
Writing in their article on The First Sony E-Mount Lenses You Should Buy, The Wirecutter characterizes the Sony 18-200 LE as a step-up option. "If you have a little bit more in your budget, we recommend the 18-200 mm f/3.5-6.3, which has that same optical stabilization system that we like about the 55-210 mm alongside equally good optics, but with the added bonus of being able to replace your kit lens thanks to its wide focal length when zoomed out. –Tim Barribeau, The Wirecutter
If the 18-200mm zoom range is the soul of this lens, the built-in Optical SteadyShot technology is its heart. The combination of 11x zoom and stabilization makes the lens an invaluable tool for travel photography in particular. When you can see something out of the corner of your eye, turn, zoom and shoot and know that the shot will be sharp and free of camera-shake-induced motion blur, you'll feel like there's nothing you can't capture.
When you don't know just what to expect on a day of shooting, this is the lens you want to have on your camera. From sweeping landscapes through portraits to sports and wildlife, this lens will cover it all.
Technology
Lens-based Optical Image Stabilization (OSS)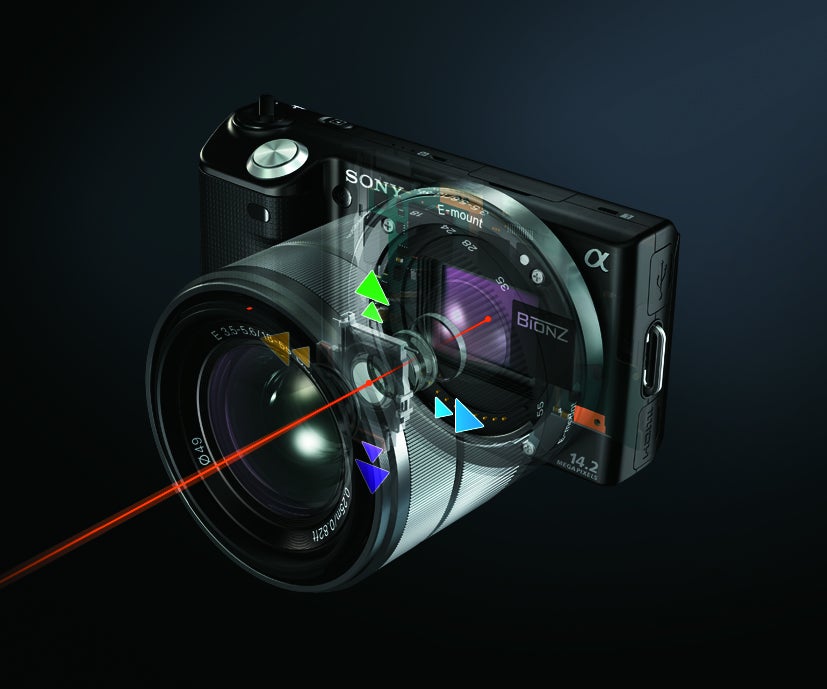 Gyro sensors built into the lens detect even the slightest movement, and the stabilization lens is precisely shifted to counteract any image blur that might occur. The use of precision, quiet linear motors and technology inherited from high-end Sony professional camcorders results in exceptionally quiet, effective image stabilization that contributes to high-quality movies as well as stills.
Circular Aperture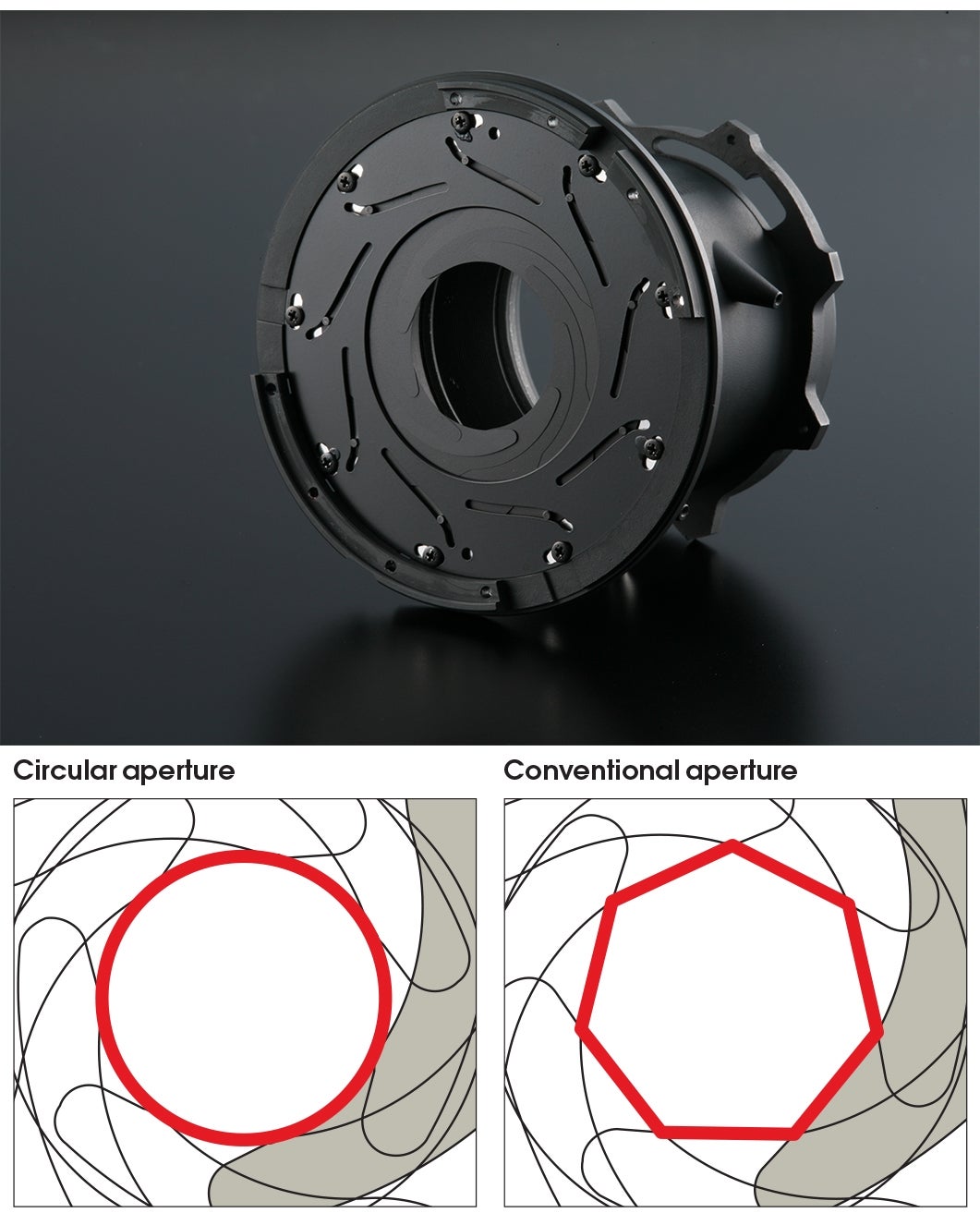 When changing your aperture to defocus the background, the light sources appear blurred. This 'bokeh' effect of the blurred background can be enhanced with circular aperture blades used in this lens. Conventional aperture blades have flat sides creating unappealing polygonal shaped defocussed points of light. α lenses overcome this problem through a unique design that keeps the aperture almost perfectly circular from its wide-open setting to when it is closed by 2 stops. Smoother, more natural defocusing can be obtained as a result.
ED (Extra-low Dispersion) Glass
As focal lengths get longer, lenses built with conventional optical glass have difficulties with chromatic aberration, and as a result images suffer from lower contrast, lower color quality, and lower resolution. ED glass dramatically reduces chromatic aberration at telephoto ranges, and provides superior contrast across the entire image, even at large aperture settings. Super ED glass provides enhanced compensation for chromatic aberration.
Aspherical Lens Elements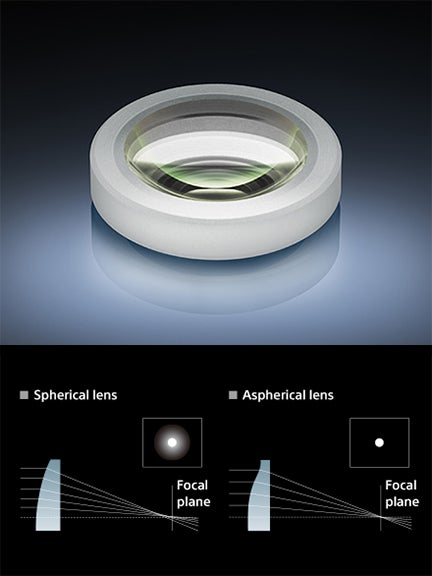 Aspherical lens design dramatically reduces spherical aberration while also reducing lens size and weight. Spherical aberration is a slight misalignment of the light rays projected on the image plane. This is caused by differences in refraction at different points on conventional spherical lenses which degrade image quality in large-aperture lenses. Specially shaped "aspherical" elements near the diaphragm restore alignment of light rays at the image plane, maintaining high sharpness and contrast even at maximum aperture and can also be used at other points in the optical path to reduce distortion. Well-designed aspherical elements can reduce the total number of elements required in the lens, thus reducing overall size and weight.
Advanced Aspherical (AA) elements are an evolved variant, featuring an extremely high thickness ratio between the center and periphery. AA elements are exceedingly difficult to produce, relying on the most advanced molding technology to consistently and precisely achieve the required shape and surface accuracy, resulting in significantly improved image accuracy and quality.
Internal Focusing
Only the middle groups of the optical system move to achieve focus, so the overall length of the lens does not change. Other important benefits include fast autofocusing and a short minimum focusing distance. Also, the filter thread at the front of the lens does not rotate, which is convenient if you're using a polarizing filter.