In early February I'll be in PyeongChang, South Korea to photograph the Winter Games. It will be my 13th Olympics between Summer, Winter and Youth Games. For South Korea, here's what I'm bringing: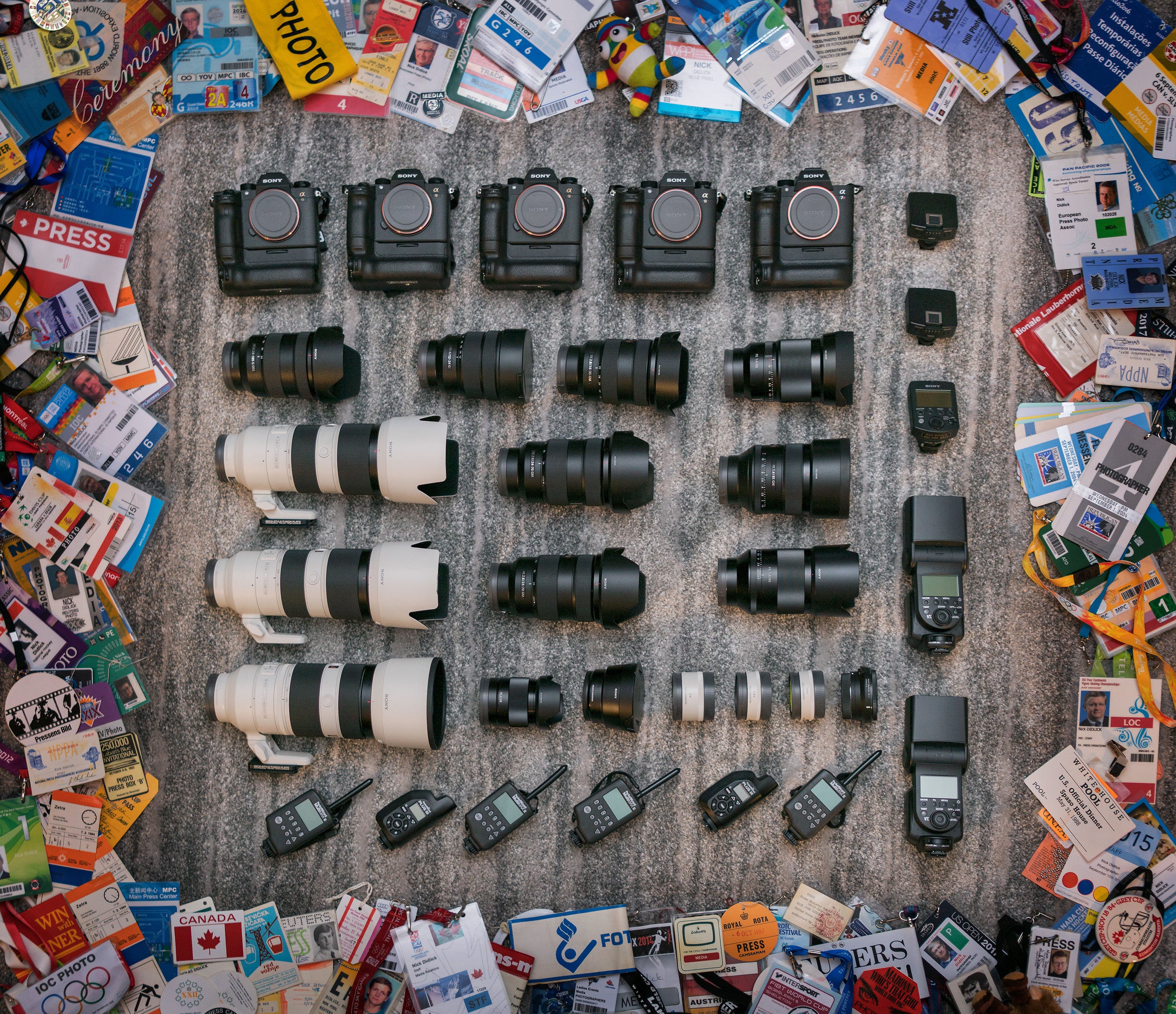 Cameras:
Sony α9: For these Winter Games I'm going to take four α9 cameras with vertical grips. The reason for four is that I'll be using two as my main cameras, and two as backups. Sony does have a PRO Support center in Korea, but regardless of support, I still like to carry extra cameras myself.
The two backup α9 bodies will also serve as remote cameras. I'll be able to operate up to two remote cameras at any time.
Sony α7R III: I'm also going to carry an α7R III with a vertical grip. I'll use this camera for high-resolution photos of the opening ceremonies, and also for photos of the venues. The venues will be dressed up really nicely, and I plan to take some beautiful long-exposure night shots with the α7R III.
I'll also be carrying a couple of cameras that aren't in the photo.
Sony RX1R II: The RX1R II is my favorite walking around camera. It has a beautiful lens and it's also high- resolution, so while I'm walking around I don't have to scrimp on image quality.
Sony RX10 IV: The ability to use the RX10 IV with its 600mm effective focal length lens on a remote has me very intrigued. I'm thinking about using it for some of the outdoor venues, like the ski jump where, depending on where you are, you actually need quite a long lens.
Lenses:
Sony 12-24mm f/4 G: The 12-24mm is going to be used fairly heavily. Because I'll be shooting with α9 cameras and they can shoot silently at 20fps, I'll be asking for permission to place a remote α9 with the 12-24mm really close to the action. I'll be trying to get a unique perspective with that setup.
Sony 16-35mm f/2.8 G Master, Sony 24-70mm f/2.8 G Master and Sony 70-200mm f/2.8 G Master: These three lenses are pretty standard in my kit. You will note that I have two 24-70mm's and two 70-200mm's coming with me. The extra two, are dedicated to my remote cameras, so I can put two cameras on remotes and still have those lenses available to use on the camera in my hands.
Sony 28mm f/2: The 28mm is a bit of a different lens for me. I won't be using it as a 28mm. Instead I'll use a clip-on fisheye converter on it to get a 180-degree perspective. I'll use that for things like the opening ceremonies. It's really cool to have an ultra-wide lens depending on where I end up, so I'll have people in the foreground and you'll see the entire spectacle.
Sony 35mm f/1.4, 50mm f/1.4, 85mm f/1.4: I've fallen in love with the ability to shoot wide open with these Sony lenses. In my previous life with another brand, I didn't have 100% confidence in shooting at f/1.4, even though those lenses were f/1.4. So far my experiences with my Sony 35mm, 50mm and 85mm f/1.4, wide open have been just stunning. That's how I'm planning to use these primes at the Olympics. Figure skating comes to mind, especially with high-speed turns, flips and other things. If I can get in to the right position, close enough, I'll use f/1.4 at a medium ISO and a really insanely fast shutter speed.
Sony 100-400mm f/4.5-5.6 G Master: The other big workhorse for me at this Olympics is going to be the 100-400mm f/4.5-5.6 G Master. I've had this lens since the Kentucky Derby, and I'm really in love with it. It's medium speed, but the image quality is really stunning, especially when combined with a 2X teleconverter.
Teleconverters: You'll see that I'm bringing a lot of teleconverters. I'll have two 1.4X, one that I'd use handheld, and the other 1.4X would go on the 70-200mm f/2.8 remote camera. I'll also have the 2X teleconverter for my 100-400mm.
Flash: I'll have a couple flashes with me, mostly for doing portraits of the athletes. There's two flashes, two wireless receivers and one wireless remote. Sometimes I get requests to shoot a medal-winning athlete and a day or two after the event we'll do a portrait session. This can vary from just outside in a snow bank, to actually in a venue not during competition. I do not use the flashes during an event itself. There are two things you cannot do during the Games…one is using a flash while competition is on, and the other is using a tripod, because it takes up space in the photo positions, which are always over-subscribed.
Adapter: I'm bringing a Sigma MC-11 adapter in case I borrow third party long fast lens in South Korea. Being able to use just about any lens on a Sony body is a huge advantage and I feel that when I use some third party lenses on my Sony α9 with the MC-11, it outperforms the branded camera bodies with the same lens.
Pocket Wizards: PocketWizard support for the Sony α9 is now 100%. With the new MultiMax II's and the PocketWizard Plus III's, the camera can automatically go to sleep, and one of the cool things about using a camera like the α9 which is almost totally electronic is that it wakes up and is ready to fire instantly. It's almost like me and my remote camera are directly connected...there's no delay in its triggering.
Winter sports, especially the Winter Olympics, is one of the toughest sporting events you can cover. You may be standing in an arena shooting figure skating one afternoon, and the next morning you're trying to climb the stairs up the ski jump course, or walk up the bobsled course. When you have a big, heavy pack of gear on, it's quite trying. Especially with the ice and snow that you encounter.
One of the great aspects of my Sony camera and lens lineup is the overall size and weight. Not having big, heavy DSLRs, or big, heavy 600mm f/4's or lenses likes that, means that I can carry more lenses to an assignment and be in better shape when I arrive there.
Nick Didlick is a professional photojournalist. You can follow him and see his photos from the Winter Games in PyeongChang on Instagram @asportspro and at his website, www.alphasports.pro.